Korean institutional investors continue aviation spree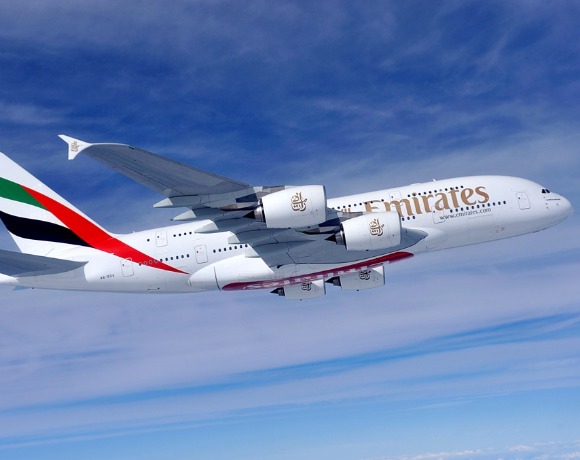 South Korea continues to be an abundant source of capital for aviation assets with institutional investors leading the charge. Private aircraft funds in Korea increased fourfold between 2012 and 2016 to reach $1.1 billion according to KG Zeroin, a fund rating company, with further growth expected this year. Ishka has identified ten deals since September 2016 totalling $1.6 billion, see table below.
Korean investors have typically invested in a narrow asset class of widebody aircraft and top-tier airline credits. However, the surge of investment from Korean investors has resulted in yields becoming depressed as competition between investors heat up. The Ishka View is that the Korean market is starting to mature with early evidence of deal diversification by Korean investors.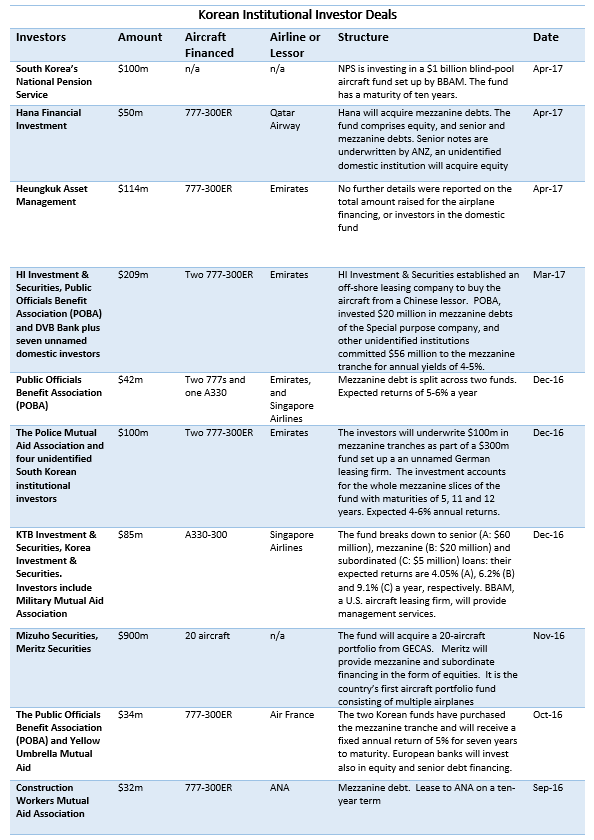 Source: Ishka research
Korean investors prefer widebody aircraft with top-tier carriers
Brokerage firms in Korea will typically act as arrangers on a deal by establishing a domestic fund, investing in a foreign fund, or underwriting investment so they can be sold on to other investors. Mezzanine debt financing is the most common investment, rather than senior secured notes or equity.
On the whole, Korean pension funds and insurance companies favour widebody aircraft with top-tier carriers, particularly the ME3 carriers, Emirates, Etihad and Qatar, as well as quality credits such as Singapore Airlines. Top of the asset list for investors are Boeing 777-300ERs, because they hold their value on the secondary market, and Airbus A330s. Though there have also been a number of transactions involving Airbus A380s since 2014.
"The Korean investors appear to gravitate towards wide bodies – partly to achieve the scale needed to make the deals work, and possibly also as a reflection of the airlines the funds invest in," says Simon Briscoe, a partner at Clifford Chance.
The quirk of the Korean market is that it has focussed on the most illiquid assets first, rather than the other way around. New investors in other jurisdictions prefer to invest in narrow body aircraft that can easily be re-leased. Too many Korean deals use the same assets for a familiar set of leasees, resulting in bid up asset prices. According to one source, investors have complained that deals are too similar.
The Korean market begins to get hotter
There is some evidence that a high volume of capital chasing these assets is depressing yields on investments in aircraft funds. Investors can commonly expect returns of 4-6% per annum, though this is down a couple of percentage points compared to two or three years ago. The danger is that asset inflation makes investing in, what is typically unsecured mezzanine debt, not worth the risk. Dongbu Insurance, for instance, has ceased investing in aircraft funds because returns are too low. While, pensions funds that were early investors in aircraft assets two or three years ago, are increasingly taking a break from aviation investments.
The number of available assets will act as a natural brake for investors, as will declining returns. And for the time being, the number of deals being completed is steady. However, there are signs that the market is maturing, with newer investors in particular, keen to explore new types of deals.
"To date, Korean investors have focussed on Middle Eastern and other blue chip carriers," says Chad Morgan, counsel at Clifford Chance. "We would expect to see more activity in this market when the investors get more comfortable with less credit-worthy airlines."
There is some evidence that this is starting to happen. In February 2017, the Military Mutual Aid Association, began investing in an aircraft leasing fund for Malaysia's AirAsia, a step away from top-tier carriers.
Typically, Korean institutional investors rely on arrangers or lessors to set up a leasing platform that they then invest in. But this is changing. In March 2017, HI Investment & Securities established an off-shore leasing company to buy two 777-300ER aircraft from a Chinese lessor for $209 million. Eight domestic investors, including the Public Officials Benefit Association (POBA) have invested in mezzanine debt issued by the special purpose company.
Slowing rates of return, may however be driving more risky investments. In an effort to increase yields, investors are showing an interest in blind-pool aircraft funds. One concern with blind-pool investments is that their higher risk profile can indicate late stage market rallies, just as asset prices begin to turn. For example, Korea's National Pension Service (NPS) is set to make its debut investment in a 10-year $1 billion blind-pool established by BBAM. NPS will make an investment of $100 million.
In the same vein, Castlelake is also arranging a blind-pool of up to $1 billion which is likely to attract around $200 million from Korean investors. The Public Officials Benefit Association (POBA) and the Korea Scientists and Engineers Mutual-aid Association have each entered around $50 million each. Korea Teachers' Pension and Korea Investment Corporation (KIC), the sovereign wealth fund of South Korea, are also considering. KIC plans to invest in at least one blind-pool aircraft fund this year which may or may not be this one.
Ishka View
In recent years, Korean funds investing in aviation assets have been a boon for the industry. However large amounts of capital can inflate asset values and crimp yields. In response, some Korean investors are moving out of their comfort zone in an attempt to increase yields, with brokers setting up leasing platforms directly and investing in blind-pool aircraft funds. These changes represent the next stage of development in the Korean intuitional market for aircraft assets. The question lingering over the space, is how keen Korean investors' appetites will remain if yields drop further, and what type of aircraft deals they may explore next in their quest for returns.

More related insights: