Capacity utilisation improves in Q1 2017 but will the trend continue?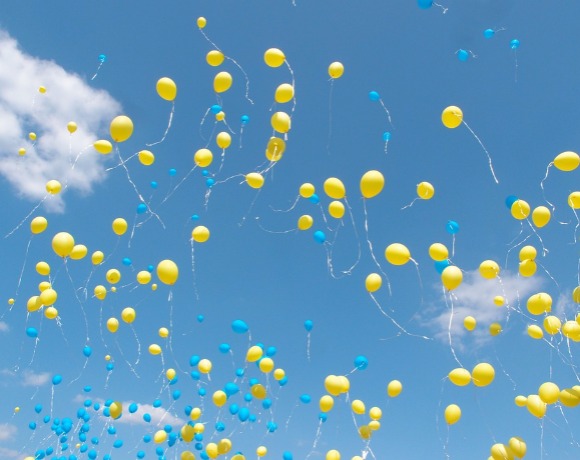 As per data released by IATA, global capacity utilisation has improved favourably in Q1 2017 (relative to same quarter in the previous year). This performance is in contrast to the trends seen on average during 2016. While traffic growth levels are more or less similar to 2016 Q1, it is the prudent capacity management that is worth taking note of. Global traffic grew by around 7% during the first quarter of 2017, same as last year, however, if this growth is seen in the context of capacity growth, the 2017 quarter inspires more confidence. Capacity grew by 5.5% in Q1 2017 much lower than 7% recorded during the same quarter previous year. Unsurprisingly, total load factors levels improved to more than 80% in 2017 from 78.7% in 2016. And while some regions have performed better than others, on average, all regions have reported better capacity utilisation levels in 2017. The Ishka View is that while it is too early to speculate whether 2017 will be better than 2016, the steps taken by airlines towards capacity management should be welcomed. Ultimately, how airlines respond to changing traffic conditions will determine their long-term sustainability and profitability.

Prudent approach

In a previous Insight (Will capacity growth outstrip air traffic?), Ishka highlighted how the gap between traffic growth and capacity growth has narrowed considerably since 2013. As capacity growth matches or exceeds traffic growth, airlines will eventually feel increasing pressure on their bottom-line. In other words, even if traffic grows at 11% but capacity by 13%, the negative effect of slower revenue growth but a faster rise in operating expenses would squeeze airlines' bottom-line. This was clearly evident in the Middle East in 2016. Emirates' 80% fall in profitability is a fall-out of the same trend (Could Emirates slide into the red?).
Traffic numbers from IATA for Q1 2017 suggest an optimistic development.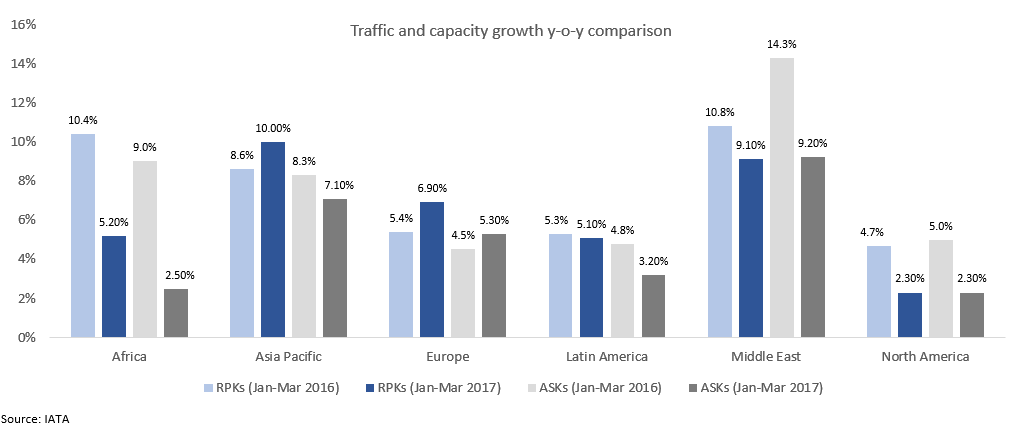 On a total market level, traffic growth in Q1 2017 was similar to Q1 2016 at 7%. The demand indicators were somewhat mixed when looking at individual market segments. According to IATA, the regions that experienced growth benefitted from low airfares and improving macroeconomic situations. And the regions that experienced slower traffic growth did so on account of softening in key demand drivers. Asia Pacific overtook Middle East to become the fastest growing region on the back of improvement in Chinese domestic market segment (see below) among other things.

Most critically, airlines responded favourably to the softness in traffic growth. Judging by the improvement in capacity utilisation, irrespective of whether traffic growth increased or decreased, capacity addition remained judicious vis-à-vis the same period last year. As a result, there was a favourable and positive improvement in load factors across all market segments.
Impressive performance in key domestic markets

Regions that previously recorded weak traffic growth have witnessed positive recovery in Q1 2017. All BRIC nations recorded positive traffic trends during the quarter. While Brazil still experienced a decline in traffic growth, it was significantly less than the previous year quarter. The country posted its first positive year-on-year traffic growth since July 2015 during March 2017. While India experienced lower traffic growth rate vis-à-vis same period last year, at 19.4%, it still was the fastest growing market segment globally. Traffic growth rate doubled in China following the improvement in services sector according to IATA. Russia witnessed the most impressive recovery – with traffic growth jumping to 14.4% in Q1 2017 from just 2.1% in Q1 2016. As per IATA, this was down to macroeconomic recovery on the back of stabling fuel prices.

Most importantly, the impressive performance was not restricted to traffic growth alone. Collectively, airlines on the above domestic segments demonstrated prudent capacity management. As a result, load factors improved favourably – which is key to long-term sustainability and profitability.
The Ishka View

Lower fuel prices previously have somewhat muted the negative effect of strong capacity expansion, however, now that fuel prices have started to recover, if capacity growth is not accompanied by a higher or equivalent traffic growth, airlines' bottom-line will become exposed. In some cases, even robust traffic growth is not sufficient to avoid declining profitability, as witnessed in-case of some Middle Eastern carriers. As such, a judicious capacity addition plan becomes critical for long-term sustainability and profitability. After several periods of a negative trend, the increase in the gap between traffic and capacity growth is a positive development. It demonstrates that airlines are responding to changing traffic conditions.

Ishka is optimistic of a continuation of this trend as major airlines have shown keen intent in re-adjusting their capacity addition plan. Q1 is probably among the more challenging quarters for airlines in terms of air traffic. Q2 and Q3 are usually better. If airlines maintain discipline in adding capacity, there is no reason why the positive performance seen during the first quarter cannot be replicated during the rest of 2017.

More related insights: