Covid-19 bailouts: Lufthansa bailout in question, countries mull new aid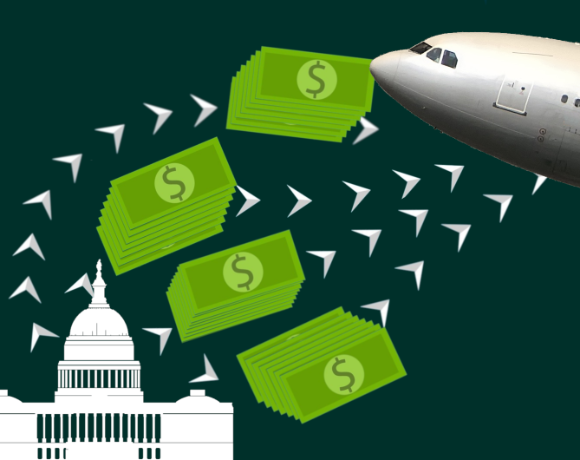 This is the fourteenth updated summary of airline demands for state support and bailout proposals by governments around the world.
The tables attached contain the demands or stakeholder approaches to date of 135 carriers (including airline subsidiaries inside holding groups) and 26 industry associations, as well as the policies or proposed measures of 69 countries and EU-level entities. Ishka estimates that as of 19th June governments are preparing or executing $113.24 billion in confirmed bailouts or assistance measures for airlines globally. Unconfirmed reports suggest the total tally could be as high as $125.9 billion.
Ishka's definition of government support for airlines encompasses any monetarily quantified relief measure provided by states or state-backed entities, including deferrals of taxes or operational charges, state-backed commercial loans and the nationalisation of airlines.
The tally of confirmed bailouts remained largely unchanged since the last update. Only one country, Bolivia, confirmed new state aid for an airline: Bs30.6 million ($4.43 million) for state-owned carrier Boliviana de Aviacion (BoA), according to a decree issued on 15th June.
The tally of bailouts still in the works (those yet to be confirmed) saw bigger adjustments with the addition of $2.9 billion:
- On 16th June, Portuguese Finance Minister Joao Leao said the government will provide the airline with a new loan estimated to be worth around €950 million ($1.1 billion) to TAP Air Portugal;
- Russia is reported to have drafted a support plan for Aeroflot which would involve the government and state bank VTB buying into a new share issue worth 80 billion roubles ($1.15 billion), Reuters reported on 17th June;
- Spain's Volotea said it is negotiating with state bank Instituto de Credito Oficial (ICO) a loan guarantee of over €100 million (over $112 million), the airline announced on 19th June;
- The Swedish government on 15th June put forward a proposal to the Swedish Parliament to support SAS with up to SEK 5 billion ($535 million) as part of the airline's recapitalisation plan.
The Ishka View
The Lufthansa bailout saga took an unexpected turn this week as the airline warned that it would "have to apply for bankruptcy protection proceedings" shortly after an extraordinary general assembly set for 25th June if the €9 billion ($9.9 billion) WSF bailout package fails to obtain enough support. The warning followed a statement by billionaire Heinz Hermann Thiele, Lufthansa's largest shareholder at 15%, that cast doubt on his support for the bailout package which requires a two-third majority vote. Thiele is against Germany taking a stake of up to 20% in the airline and is reportedly selling down €760 million ($851 million) in other stocks to raise cash. This uncomfortable situation for Lufthansa highlights how difficult it is for state aid to please all stakeholders. In some cases (Air France-KLM) industry bodies and observers have warned that the bailout packages rely excessively on debt, but Thiele has argued the French solution is preferable compared to greater government interference in Lufthansa, which he believes could hinder efforts to restructure the airline such as implementing job cuts.
One interesting pattern this week has been countries considering further aid for national airlines after initial commitments. Denmark, Sweden, Norway, Portugal and Russia look set to offer further support to air carriers after initial disbursements. The first two Scandinavian countries are set to participate in a SEK 12.5 billion ($1.3 billion) recapitalisation of Scandinavian Airlines (SAS) with Norway, a former shareholder, also considering taking part. All three had previously assisted SAS with various loan guarantees and, in continuing to assist the airline, they mimic the steps of Finland which also subscribed to Finnair shares earlier this month after granting loan guarantees in May. Portugal said the government will provide TAP Air Portugal with a loan estimated to be worth around €950 million ($1.1 billion) just days after obtaining European Commission approval for €1.2 billion ($1.4 billion) in urgent liquidity support. Russia, meanwhile, is reportedly preparing to buy into a share issue worth 80 billion roubles ($1.15 billion) by Aeroflot, days after the airline accessed allocations under a 23.4 billion rouble ($314.7 million) subsidy program for air carriers. The circumstances of these second measures vary, but they exemplify how financial aid allocations for airlines to date, whether big or small, may not mean the end of the road for state aid to airlines in each country.
State support tally
The charts below tally financial support for airlines (converted to US dollars) confirmed by 35 nations or public entities and, separately, proposed or unconfirmed financial assistance by 11 other states. For a detailed table: Click here to download the tables.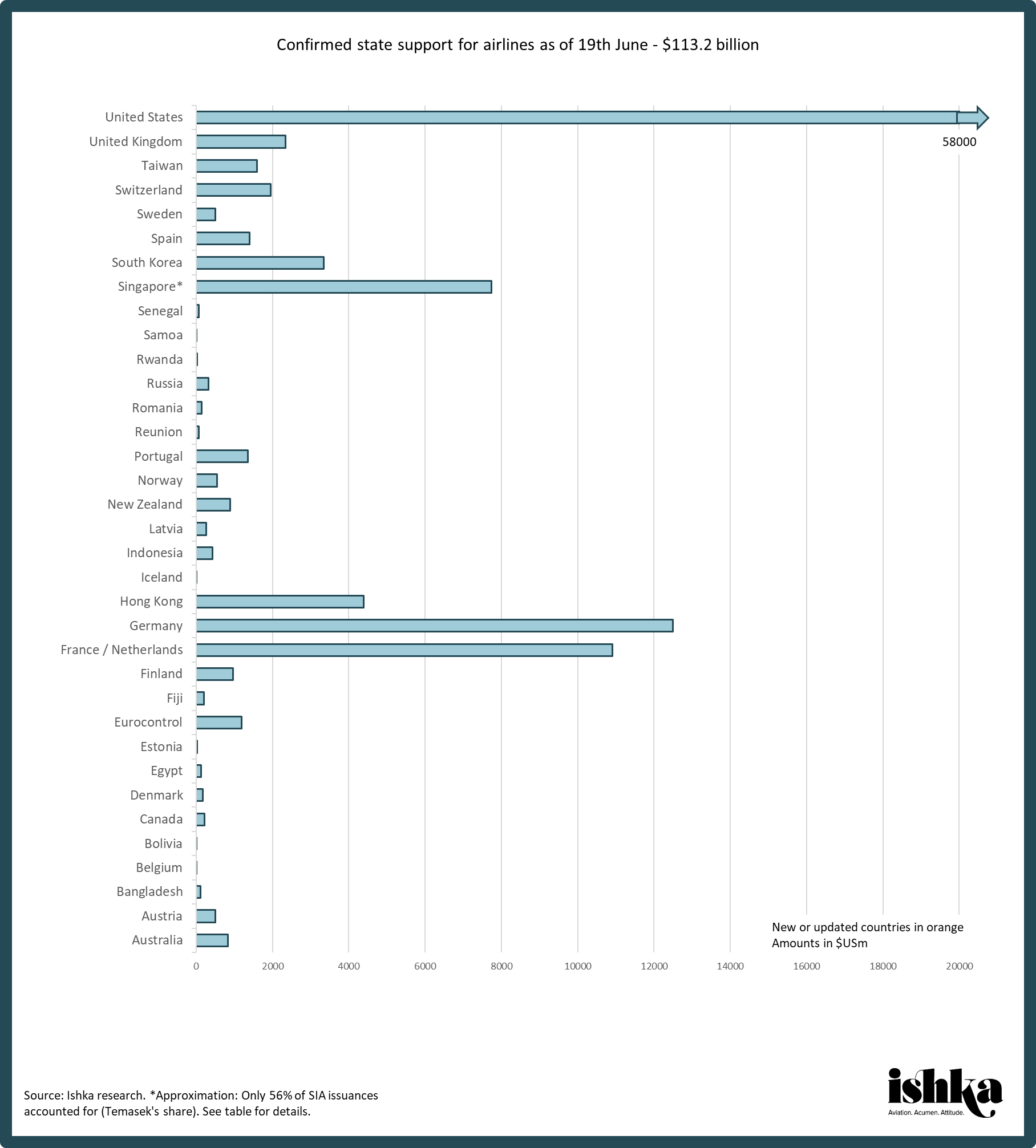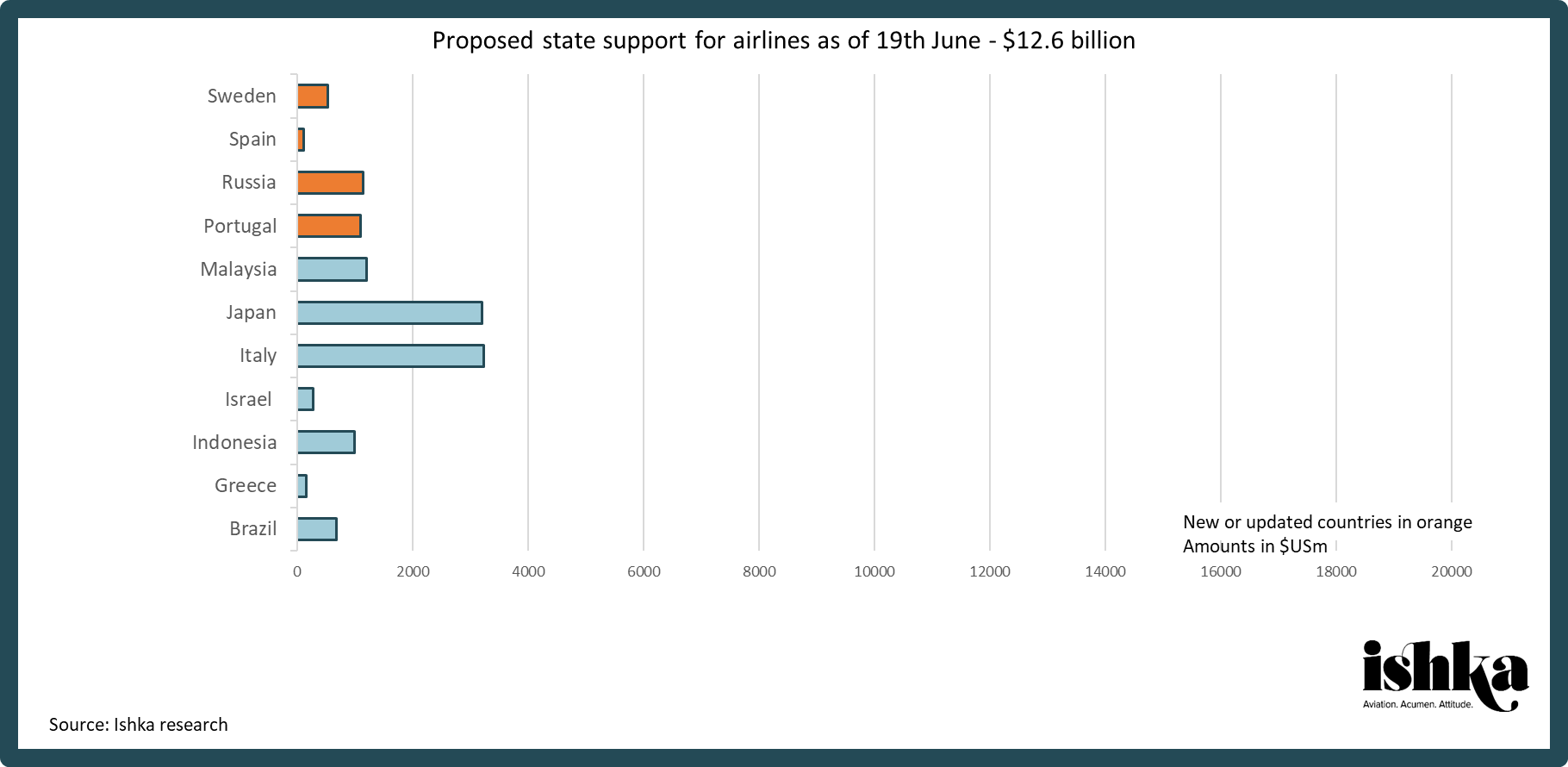 State Support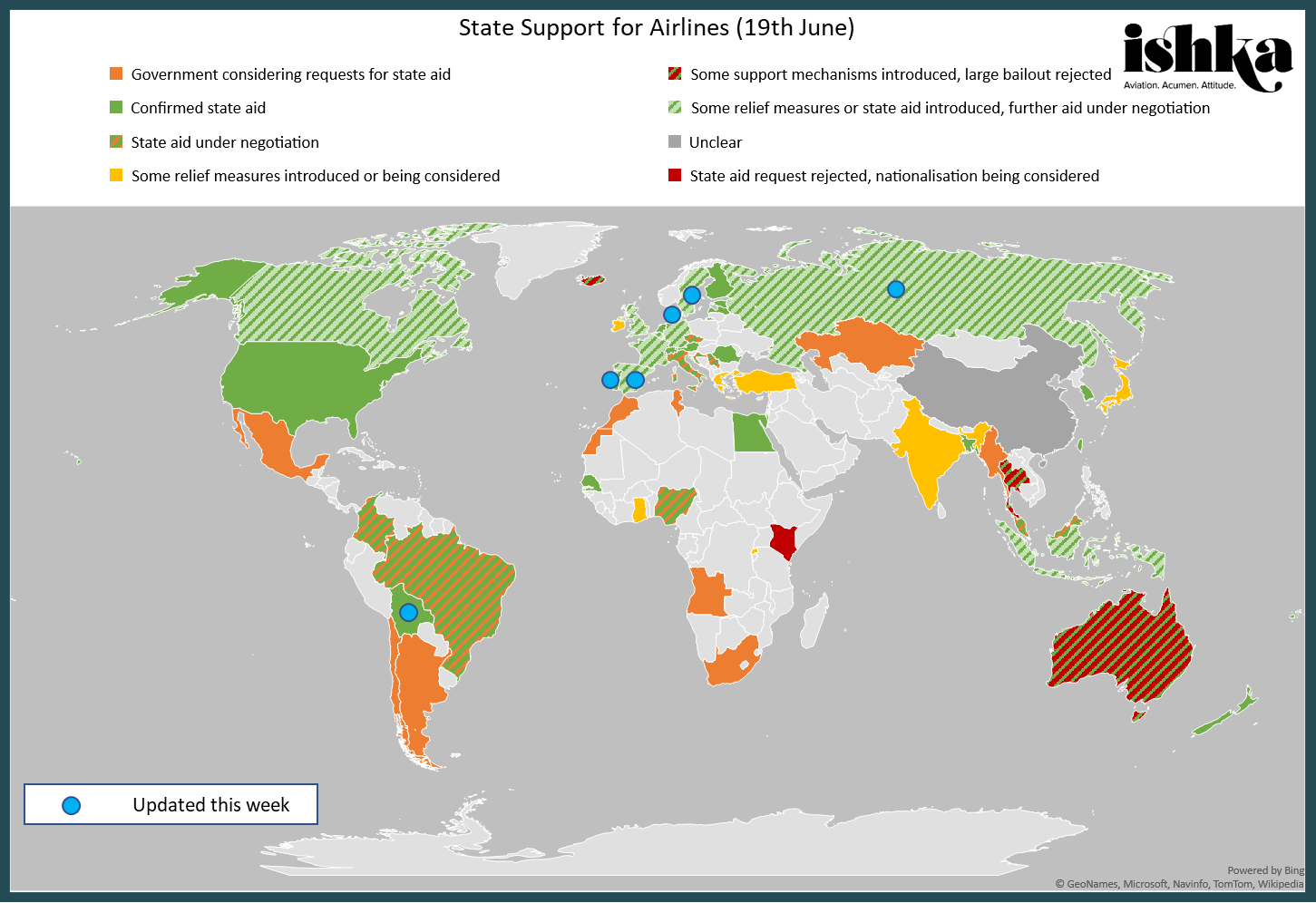 To view the latest table containing policies or proposed measures of 69 countries and EU-level entities: Click here to download the tables.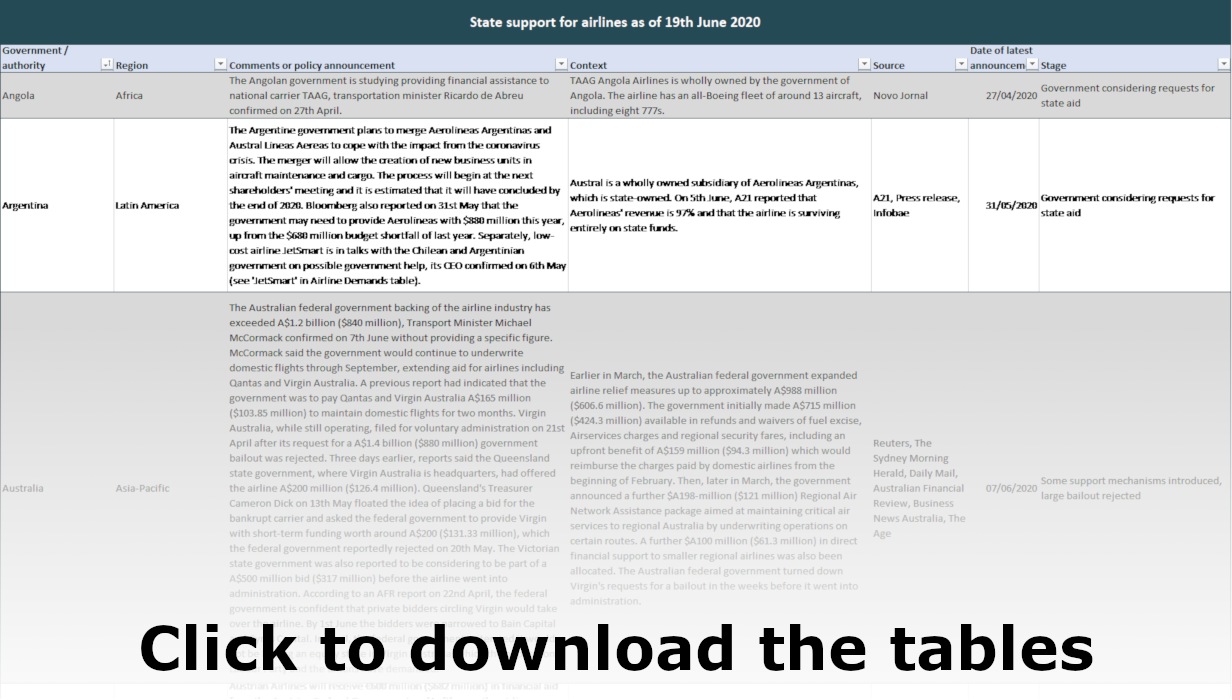 Airline requests
To view the latest table containing demands or stakeholder approaches of 132 carriers (including airline subsidiaries inside holding groups) and 25 industry associations: Click here to download the tables.