STRIKE THE RIGHT BALANCE BETWEEN RISK AND OPPORTUNITY
Airline Credit Profiles
Supercharge your airline analysis
Introducing a new, specialist subscription service delivering unlimited access to independent opinion and actionable data on the financial and operational health of multiple airlines worldwide.
"...Even if it is profitable, forcible capital outflows to the corporate parent may undermine the airline's ability to finance its fleet and route network strategy..."
"...Recent operational disruptions have cast a poor light on the airline's management, governance and brand image..."
Get the exclusive Ishka View and Ishka Scorecard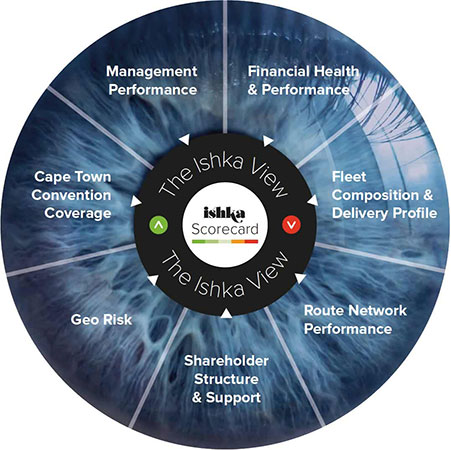 At the heart of an Airline Credit Profile is the Ishka Credit Score and The Ishka View – our team's expert opinion on an airline's key strengths versus its challenges.
The exclusive credit score on an individual airline is generated with six critical measures at its core: liquidity, leverage, gearing, average fleet age, load factors and EBITDAR margin.
The final credit score is underpinned by expert analysis and commentary from our team of global analysts, taking into consideration a holistic view of an airline's financials, management and shareholders, route network, fleet order book and the impact of recent events.
Actionable, calculated Ishka analysis utilising multiple, trusted data sources including Bloomberg, OAG and airline financial statements.
"...Fierce competition is likely to continue to compress yields and with unit costs exerting upward pressure, financial health will remain under pressure..."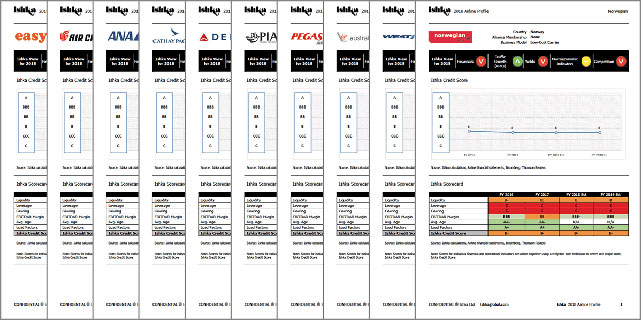 "...The biggest shortcoming in its financial position is an unsustainably high level of debt..."
Power your analysis with essential quantitative and qualitative information
Lessors
Including heads of risk, heads of origination, heads of remarketing / trading
1. Validate and benchmark credit analysis on existing lessees and airline RFPs at a click of a button
2. Save weeks of work and in-house resource to produce instant and comprehensive airline due diligence reports ahead of your competitors
3. Confidently identify, monitor and track viable opportunities to place and remarket aircraft with airline operators
4. Target marketing activity towards operators of particular aircraft types
5. Assess and understand short and long term liquidity pressures
Investors
including credit and risk portfolio managers, investment managers, heads of fixed income, head of alternative investments.
1. Benchmark internal analysis when dealing directly with an airline or via a lessor
2. Broaden understanding of the wider competitive environment
3. Compare and contrast a target airline's financial and operational performance against its peers
Airlines
including CEOs, CFOs, treasurers, heads of strategy
1. Conduct robust peer reviews and analysis
2. Understand the strategic competitive environment
3. Respond successfully to competitive threats
4. Stay ahead of market trends and developments
Banks
including credit and risk officers, heads of structured finance, heads of fixed income, heads of origination, capital markets and alt. investment teams
1. Identify viable airline/aircraft investment opportunities and formulate lending strategies
2. Measure and supplement in-house risk analysis when moving down the credit curve
3. Understand the competitive environment and respond to identified threats
4. Compile transaction documentation material for approval by credit committee
"...Their sizeable lease obligations mean its adjusted debt after capitalising leases is fairly high and is an area of concern; however, the airline's strong business model and the substantial growth potential currently alleviates those concerns...."
"...Capacity utilisation remains strong; however, as a result of the imbalance between revenues and costs even a load factor of about 88% falls short...."
Each Airline Credit Profile includes:
Each comprehensive Ishka Airline Credit Profile includes The Ishka Credit Scorecard and The Ishka View, plus expert opinion to strengthen your airline analysis from Ishka's dedicated Airline Credit Profiles team, including the latest analysis of an airline's:
Financial health and performance
Current fleet composition and delivery profile
Route network performance
Geopolitical Risk Review
Cape Town Convention coverage
Management
Shareholder structure and support