Has airline liquidity improved over the past four years?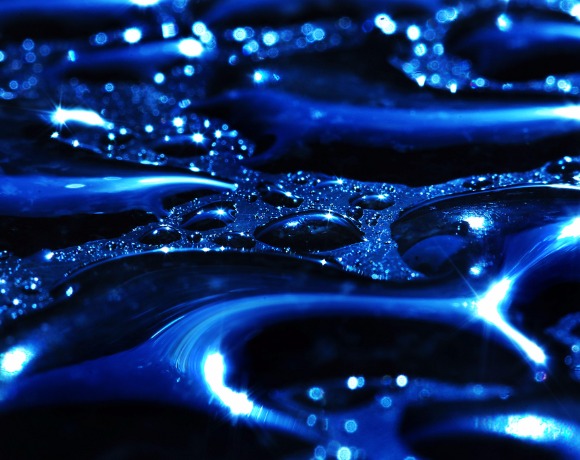 Airlines worldwide have had an extremely strong run over 2015 and 2016 which has helped to improve their financial position. Airline liquidity is one of the key indicators used in assessing airline financial health. Liquidity (also referred to as cash resources or cash reserves in this report) is measured as unrestricted cash and short-term investments as a percentage of annual revenues. As per Ishka's methodolgy, airlines with a minimum liquidity of 17.5% are considered to have adequate levels of liquid cash resources for working capital and financing needs.
Globally, liquidity has improved by an average annual rate of 4.1% over the four years from 2012 to 2016. However, there are a number of regional differences. European and Central American airlines witnessed the biggest improvements in their cash reserves during the period. Middle Eastern airlines, too, saw strong gains in their liquidity levels, however, the region's improvements are distorted to some extent by the inclusion of Qatar Airways. The Qatari flag carrier has sizeable cash resources but its historical financials are not available. The inclusion of Qatar Airways' financials in 2016 substantially improves the entire region's liquidity levels during the year. However, even if Qatar Airways is excluded, there has been an overall improvement in Middle Eastern airlines' cash reserves.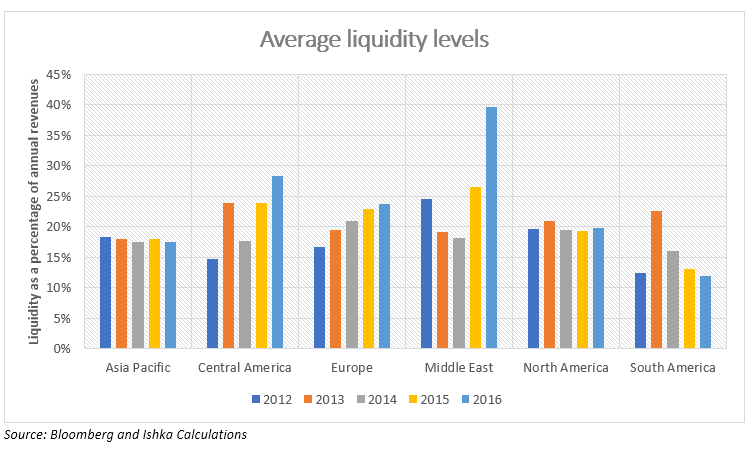 Asia Pacific and South American airlines on the other hand had weaker liquidity levels at the end of 2016 relative to 2012. However, despite this deterioration, Asia Pacific airlines, on average, still had adequate liquidity resources. Unsurprisingly, the South American airlines liquidity levels remain at concerningly low levels. Economic challenges and political unrests in Brazil, the largest and the most important market in the region weighed heavily on the performance of most airlines on the continent. The North American airlines maintained a status-quo in terms of liquidity levels with no concerning movements on either side.
Top gainers and losers
To highlight some of the key movements during the four years studied, most of the biggest positive movements was seen among European airlines. Finnair, IAG, SAS among others all witnessed substantial improvements in the cash holdings thanks to strong operating performances. Wizz Air, too, was among the biggest gainers in Europe, however, the airline's cash reserves received a significant boost from its IPO during 2015. Ryanair and easyJet also had healthy liquidity levels at the end of 2016.
Norwegian was among the biggest losers in the region as an ambitious expansion programme has substantially deteriorated the airline's balance sheet. To make matters worse, its operating performance, especially in 2015 and 2016, has not been as strong as it should have been.
The Central American airlines that Ishka studied all recorded improvements in liquidity between 2012 and 2016. Copa Holdings continues to go from strength to strength; it remains one of heathiest airlines globally from a credit worthiness perspective. Volaris and Aeromexico have successfully leveraged the strength of the Mexican air travel market with both airlines witnessing strong gains in cash reserves between 2012 and 2016. Volaris also benefitted from the IPO proceeds in 2013.
Asia Pacific has a mix of airlines with some having more than sufficient liquidity and others with extremely critical levels of cash reserves. Among the ones with the most concerning deterioration are the three major Chinese carriers – Air China, China Southern and China Eastern. All three airlines had limited cash reserves to start with and they had become even weaker by the end of 2016. In-fact they are among the weakest globally relative to the size of the contractual debt obligations and aircraft purchases. However, these airlines have the cushion of a strong financing source in the form of Chinese banks and are unlikely to face any cash shortages.
Among the North American airlines, although Delta's and United's liquidity levels are relatively lower than other global network carriers, both these airlines have sizeable credit lines and also strong operating cash flows.
The Ishka View

Having studied the liquidity levels of most major airlines, it appears most carriers maintain adequate liquidity levels barring a few exceptions. It is also important to understand that most airlines (but not all) typically have external liquidity arrangements in addition to their internal cash reserves. These pre-agreed credit lines (revolving credit facilities) allow airlines to access/borrow on a demand basis to support financing needs. Holding adequate cash reserves is critical for airlines especially at a time when there are more headwinds on the horizon.

Airlines primary rely on cash flows from operating activities as a source of liquidity. However, having adequate cash resources is fundamental to any business including aviation. Airlines typically tend to also park their funds in short-term investments that can be easily liquidated as, and when, required.

It allows companies to have the required buffer to manage regular cash obligations and unforeseen cash outflows. Airlines also need to maintain minimum liquidity as part of various financial and other covenants of credit facilities. And finally, and most importantly, cash resources are also used in financing aircraft purchases. In the absence of sufficient cash resources, airlines might be forced to borrow expensively which can affect their bottom-line or in worst case, not being able to honour their commitments.

On the other hand, holding too much cash can also be viewed as ineffective use of shareholder's capital, especially in the case of a publicly listed airline. Therefore, it is important for airlines to strike a balance when it comes to liquidity. As per Ishka, airlines with a minimum liquidity of 17.5% are considered to have adequate levels of liquid cash resources for working capital and financing needs.