Covid-19 bailouts: Cathay, Austrian, TAP receive state support (11th June)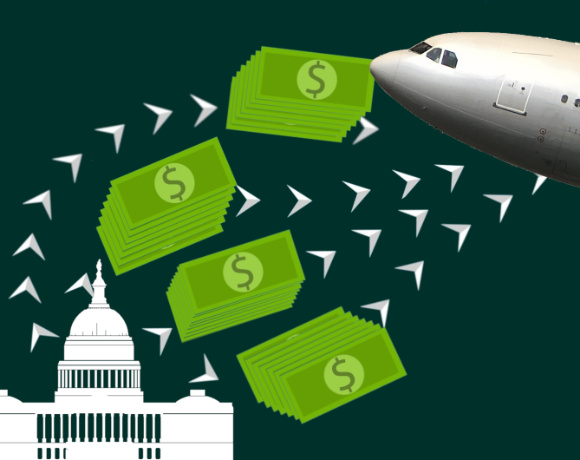 This is the thirteenth updated summary of airline demands for state support and bailout proposals by governments around the world.
The tables attached contain the demands or stakeholder approaches to date of 132 carriers (including airline subsidiaries inside holding groups) and 25 industry associations, as well as the policies or proposed measures of 69 countries and EU-level entities. Ishka estimates that as of 11th June governments are preparing or executing $113.23 billion in confirmed bailouts or assistance measures for airlines globally. Unconfirmed reports suggest the total tally could be as high as $123 billion.
Ishka's definition of government support for airlines encompasses any monetarily quantified relief measure provided by states or state-backed entities, including deferrals of taxes or operational charges, state-backed commercial loans and the nationalisation of airlines.
The tally of confirmed bailouts grew by nearly $7 billion since the last update following a flurry of announcements over the past week:
- Australia's support for air carriers grew by approximately $130 million after confirmation by the transport minister during a press conference that federal government backing has exceeded A$1.2 billion ($840 million);
- Austrian Airlines announced it will receive €600 million ($682 million) in financial aid. Excluding the €150 million equity contribution from parent Lufthansa, the bailout package contains €450 million ($512 million) in government measures or contributions;
- The government of the northern territory of Nunavut has spent C$24 million ($17.9 million) to support local carriers Canadian North and Calm Air;
- The European Commission on 10th June approved a €286 million ($325 million) state recapitalisation of Finnair through the subscription of new shares launched by the airline the same day;
- French all-business carrier La Compagnie has obtained a government guarantee for a €10 million ($11.35 million) loan;
- Cathay Pacific will get a HK$39bn ($5 billion) state-backed bailout, the airline announced on 9th June. The size of the government's deal could eventually rise to HK$29.2 billion ($3.77 billion), according to the airline;
- Ural Airlines announced it has borrowed 403 million rubles ($5.9 million) from state-owned bank Sberbank. That loan may be written off by the state if the airline adheres to job preservation conditions;
- The European Commission on 10th June announced it has approved a €1.2 billion ($1.36 billion) urgent liquidity support loan for TAP Air Portugal by the Portuguese government.
- South Korea's financial authorities will provide one trillion won ($828 million) in liquidity to Korean Air by issuing government-guaranteed bonds as early as the end of June.
The tally of bailouts still in the works (those yet to be confirmed) saw some adjustments resulting in a reduction of around $1.6 billion:
- The amount of the Austrian Airlines bailout, unchanged from previous estimates, was moved to the tally of confirmed state aid;
- A bailout deal reportedly proposed by the Israel Finance Ministry to El Al Israel Airlines came in at $250 million, lower than previously estimated ($400 million);
- The latest reports on a possible capital injection for Malaysia Airlines by sole owner sovereign fund Khazanah Nasional estimate as much as 5 billion ringgit ($1.2 billion), lower than the $2.2 billion previously reported.
The Ishka View
The near $7 billion in confirmed state aid for airlines added over the past week is one of the largest week-on-week increases since the start of this series and, unlike in previous updates, this time it comes from a variety of sources. The largest one, the Cathay bailout, is unique in the lack of media reporting leading up to its confirmation. Lawmakers were also not consulted before its announcement and it is reportedly the first time the city government has injected capital into a private company, underlining the importance of the airline industry for the special administrative region. The same can be said for South Korea which has committed to providing a further $828 million to Korean Air, taking the amount of state aid for airlines confirmed by Seoul to approximately $3.34 billion – one of the highest in the world.
Over in Europe the €1.2 billion ($1.36 billion) in urgent liquidity for TAP Air Portugal by the Portuguese government is one of the largest 'band-aid' contributions so far. The European Commission noted that TAP was already in financial difficulty as of December 2019, meaning it was not eligible to receive support under the Commission's State aid Temporary Framework used by the likes of SAS or Air France-KLM. Instead, the Commission assessed the measure under its guidelines on rescue and restructuring, which means that TAP will need to reimburse the loan or submit to a restructuring plan within six months to ensure future viability.
Finally, the Austrian Airlines bailout package, as expected, has set a reference for environmental conditions tied to state aid. The airline must cut carbon emissions by 50% by 2030 from 2018 levels, increase the fuel efficiency of aircraft by 1.5% per year and add 2% alternative fuels for shorter flights. The bailout also introduces fare anti-dumping mechanisms for all airlines in Austria, and the airline must eliminate flights for which there are rail alternatives of less than three hours. The airline also needs to set a minimum price of €40 per ticket. There will also be a €30 tax for short-haul flights, in addition to other measures. The Greens party, which is part of the governing coalition in Austria, played a big part in setting these demands.
Greenpeace Austria in comments to Euroactiv described the package as "basically positive" but said that overall a "historic opportunity has been missed" as the deal is not binding enough.
State support tally
The charts below tally financial support for airlines (converted to US dollars) confirmed by 34 nations or public entities and, separately, proposed or unconfirmed financial assistance by seven other states. For a detailed table: Click here to download the tables.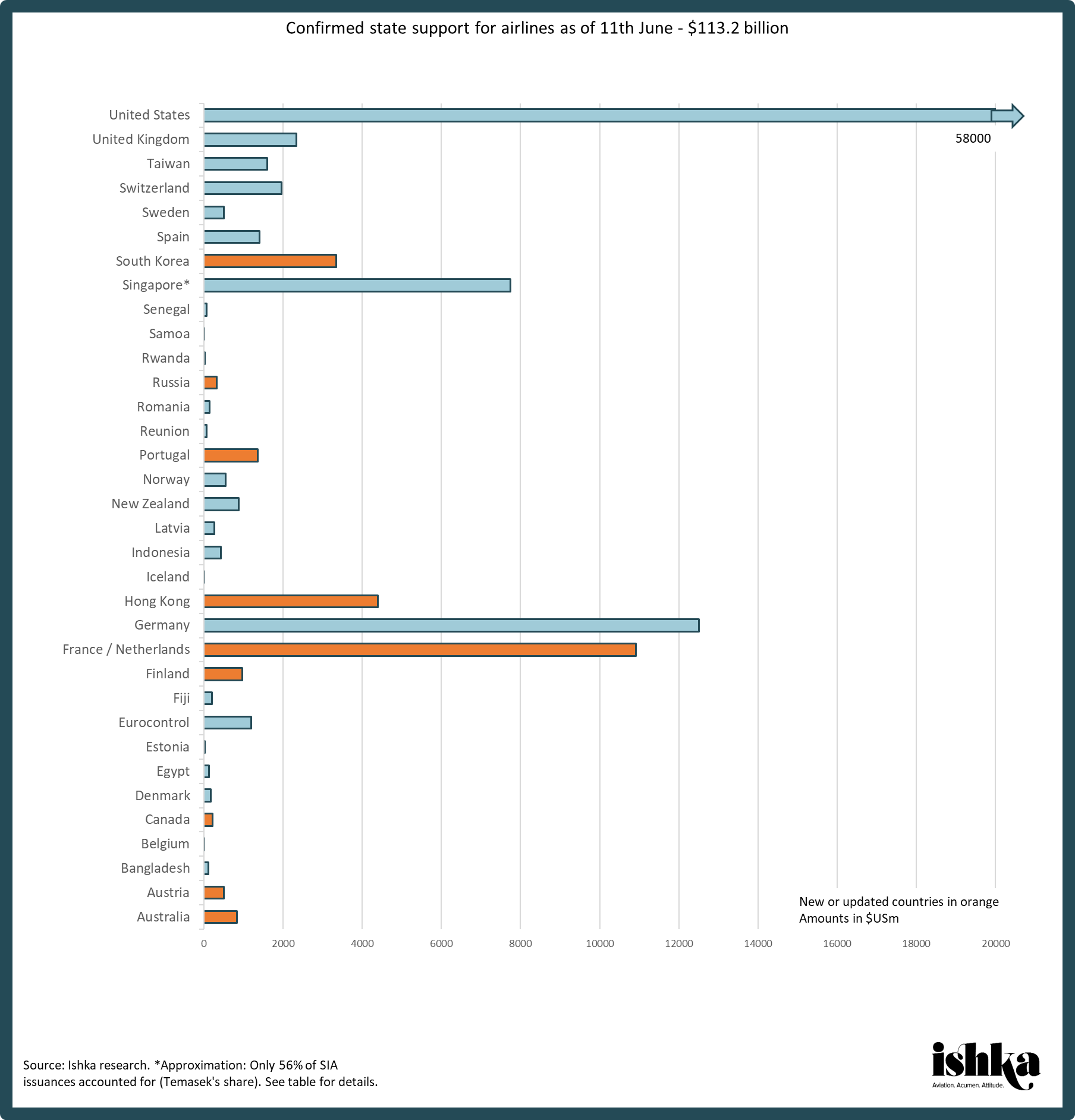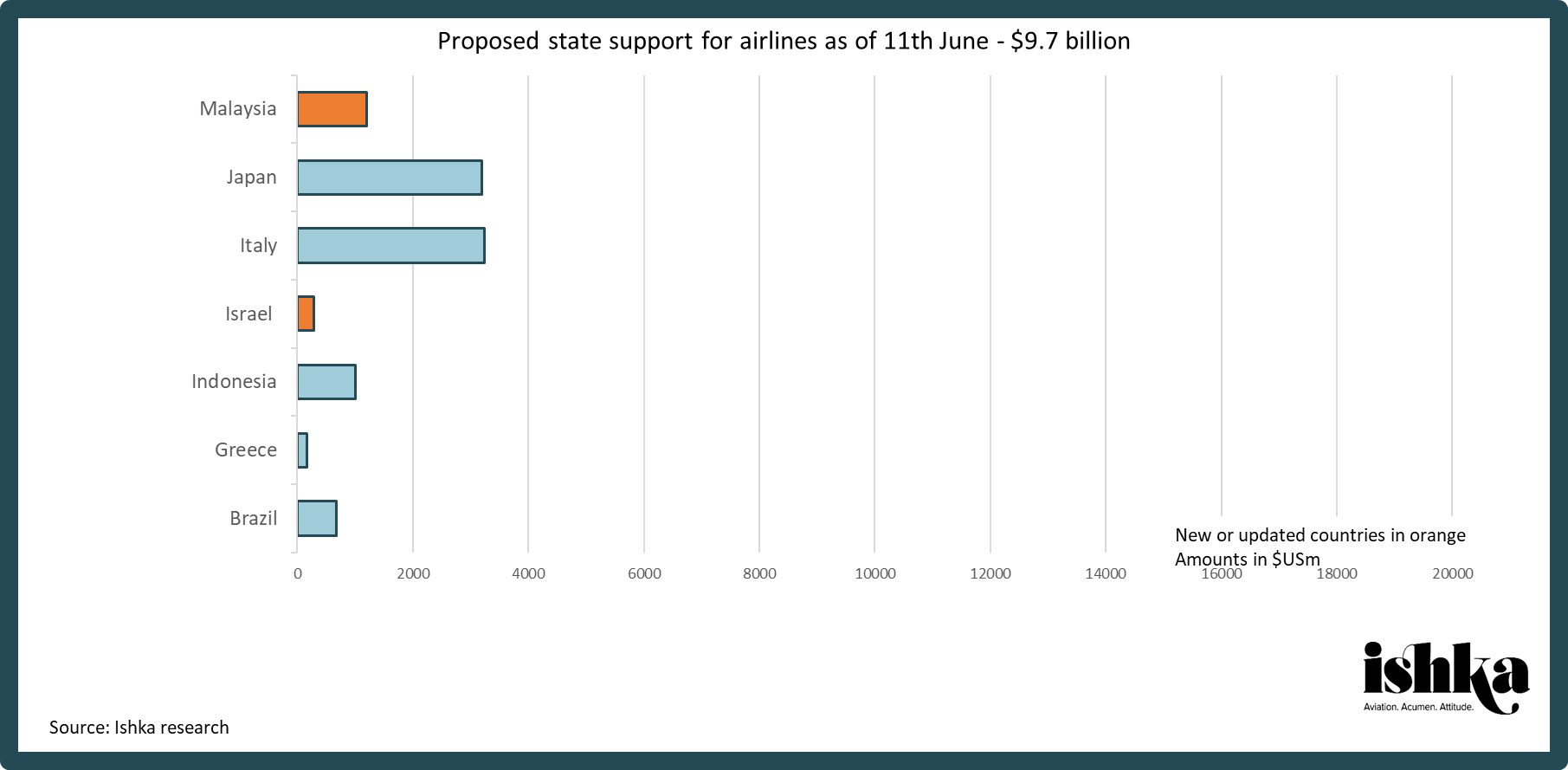 State Support
To view the latest table containing policies or proposed measures of 69 countries and EU-level entities: Click here to download the tables.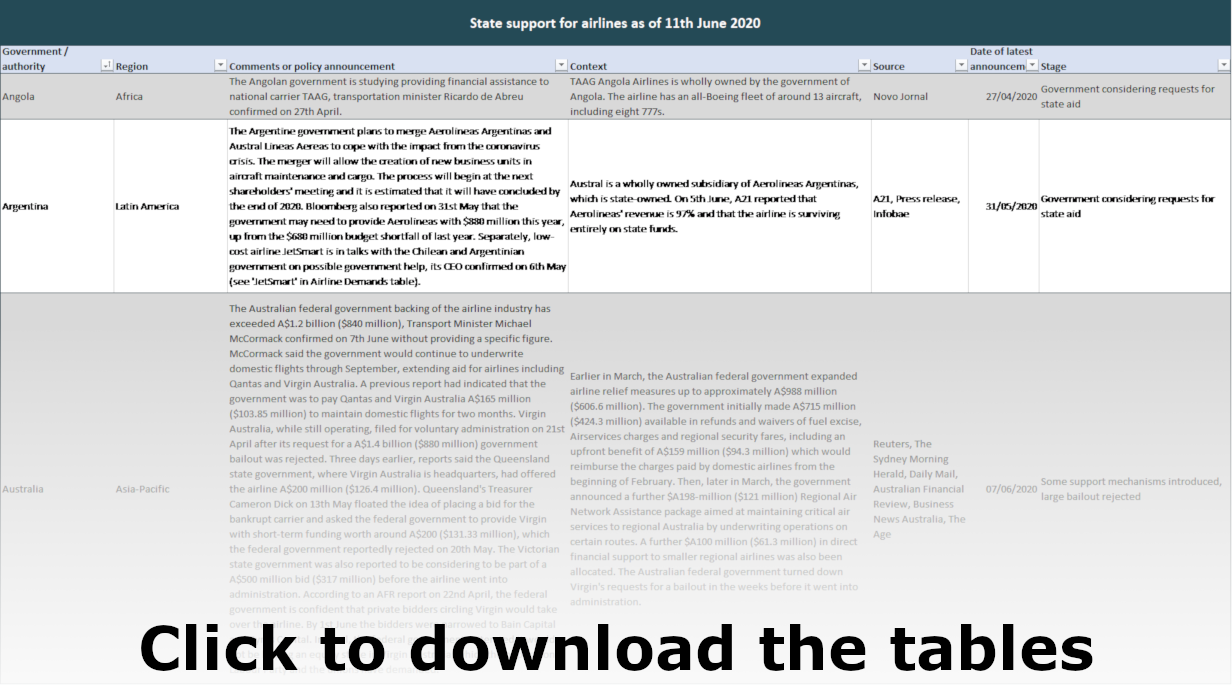 Airline requests
To view the latest table containing demands or stakeholder approaches of 132 carriers (including airline subsidiaries inside holding groups) and 25 industry associations: Click here to download the tables.