Covid-19 bailouts: Seven carriers get $2.8bn in new and additional aid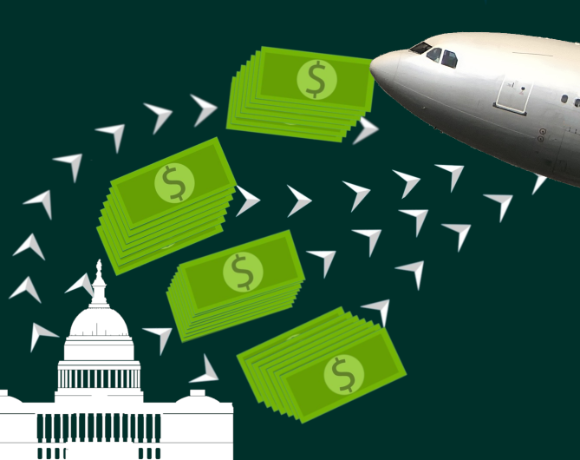 This is the twenty-first updated summary of airline demands for state support and bailout proposals by governments around the world.
The tables attached contain the demands or stakeholder approaches to date of 141 carriers (including airline subsidiaries inside holding groups) and 32 industry associations or stakeholders, as well as the policies or proposed measures of 81 countries and EU-level entities. Ishka estimates that as of 20th August governments are preparing or executing $125.82 billion in confirmed bailouts or assistance measures for airlines globally. Unconfirmed reports and allocations deemed likely suggest the total tally could be as high as $157.70 billion.
Ishka's definition of government support for airlines encompasses any monetarily quantified relief measure provided by states or state-backed entities, including deferrals of taxes or operational charges, state-backed commercial loans and the nationalisation of airlines.
The tally of confirmed bailouts grew by approximately $2.91 billion ($2.77 billion for seven airlines and $137 million in an expanded aviation support package) since the last update two weeks ago through the following changes and additions:
- The European Commission on 17th August approved Danish and Swedish plans to contribute up to SEK 11 billion ($1.27 billion) to the recapitalisation of SAS Scandinavian Airlines comprising SEK 6 billion ($695 million) by Denmark and SEK 5 billion ($579 million) by Sweden. Following the recapitalisation, a revolving credit facility (of which Denmark and Sweden granted 90% public guarantees at €137 million each) will be cancelled.
- The TUI Group in early August agreed a €1.2 billion ($1.4 billion) stabilisation package from Germany's Economic Stabilisation Fund (WSF), the airline announced on 12th August. Germany had previously granted the TUI Group a €1.8 billion ($2 billion) bridge loan on 8th April through German development bank KfW.
- The Icelandic Government has granted a state guarantee to the Icelandair for a credit facility amounting to up to $120 million, the airline announced in a statement on 18th August.
- Jordanian PM Omar Razzaz has authorised the Ministry of Finance to further increase Royal Jordanian's capital by JOD50 million ($70.5 million) for a five-year period, effective January 2021, the airline said in a statement on 6th August.
- The European Commission on 18th August announced it has approved, under EU State aid rules, €133 million ($159 million) in liquidity support to SATA Air Azores (SATA) granted by its sole shareholder, the Regional Government of Azores.
- Romania's government has reportedly adopted an emergency ordinance on the establishment of a legal framework for the granting of state aid to Blue Air and TAROM, according to reports on 14th and 15th August. Blue Air is to receive RON300 million ($74 million) and TAROM RON 317 million ($78 million) in state guarantees. The allocations were announced earlier in the year and were previously logged as $140 million combined, an amount now updated to the combined $152 million confirmed by the August reports.
- The Singaporean government on 17th August announced an allocation of S$187 million ($137 million) to support measures in the Enhanced Aviation Support Package up to March 2021, including cost relief for our airlines and to "support our local carriers to regain our air connectivity to the world."
The tally of bailouts still in the works (those yet to be confirmed) including likely allocations narrowed from $32.03 billion to $31.88 billion. Sweden's SEK 5 billion ($579 million) recapitalisation allocation, now confirmed, was replaced with the following additions:
- The Indonesian Transportation Ministry is working on a stimulus package worth Rp370 billion ($25 million) for airlines to be finalised in August, Director General of Air Transportation of the Ministry of Transportation Novie Riyanto announced on 11th August.
- The Italian government is now reported to be considering an allocation of €250 million ($300 million) to Alitalia's newco as well as €50 million ($60 million) to be split between airlines Neos, Blue Panorama and Air Dolomiti in an "August decree" to help the airline industry. The amount would add to the €3 billion ($3.24 billion) the country intends to give the renationalised airline via the 'Cura Italia' decree which will be subject of heavy EU scrutiny.
The Ishka View
It has now been five months since financial aid began to be sought by carriers outside of Asia, the epicenter of the pandemic. Some of the packages confirmed this week such as the one for Icelandair, SAS or the Romanian carriers respond to liquidity needs first voiced in the early days of the crisis. Others, like the Singaporean stimulus package extension or the latest TUI Group package show governments that acted decisively (and generously) in the spring now looking to shield airlines from a slower-than-anticipated rebound in air travel demand and a potential new slump triggered by second lockdowns.
State support tally
The charts below tally financial support for airlines (converted to US dollars) confirmed by 48 nations or public entities and, separately, proposed or unconfirmed financial assistance by 13 other states. For a detailed table: Click here to download the tables.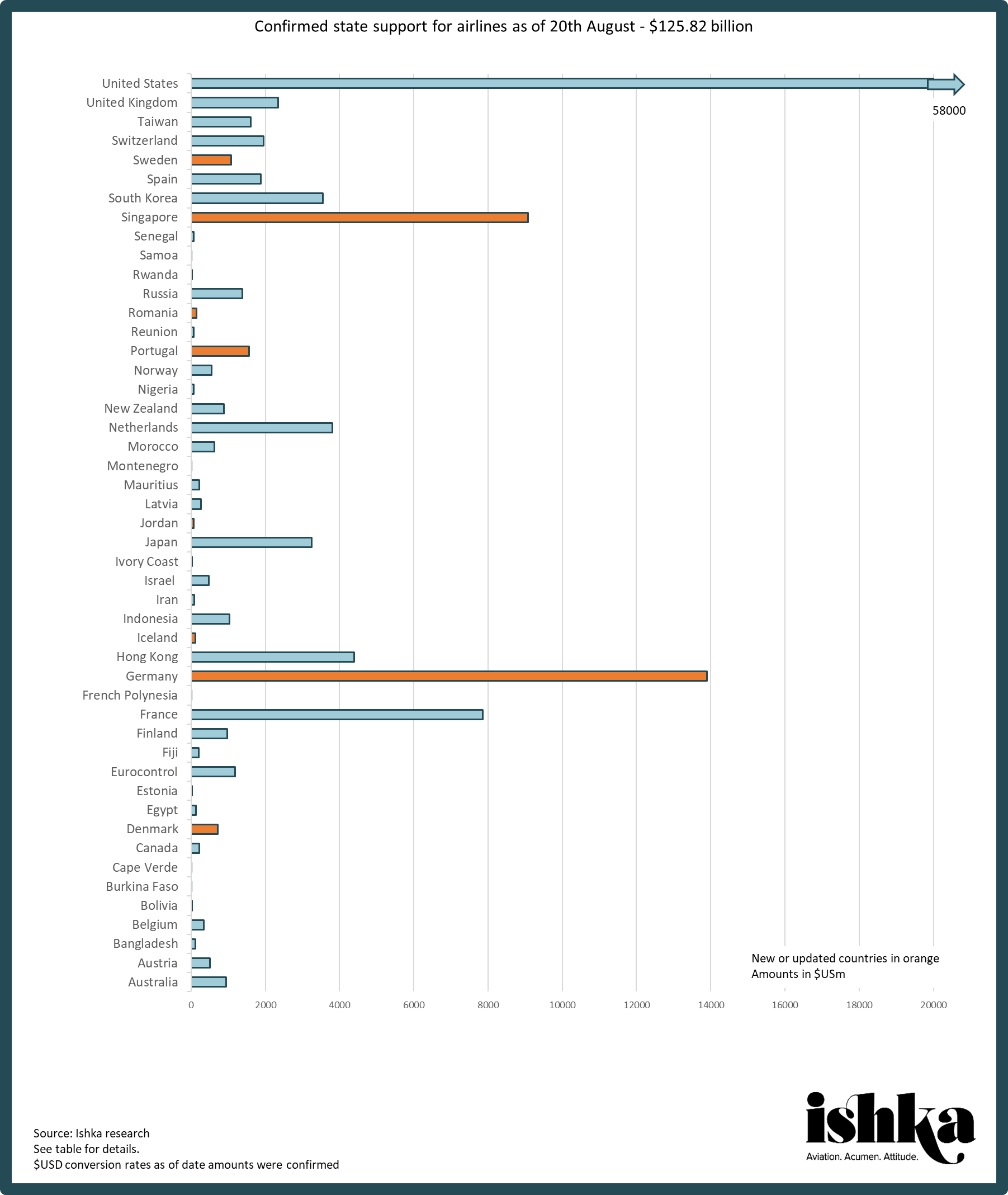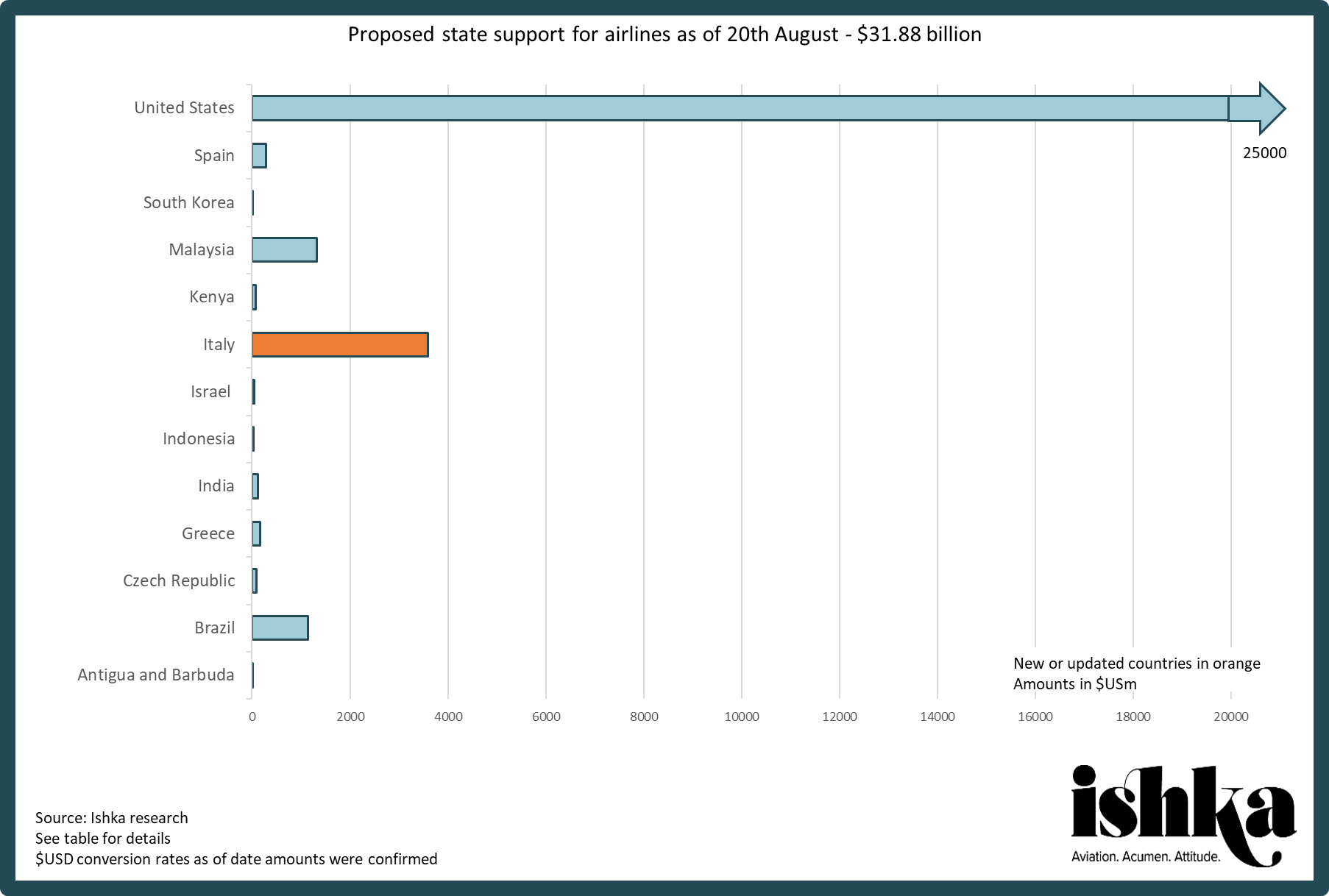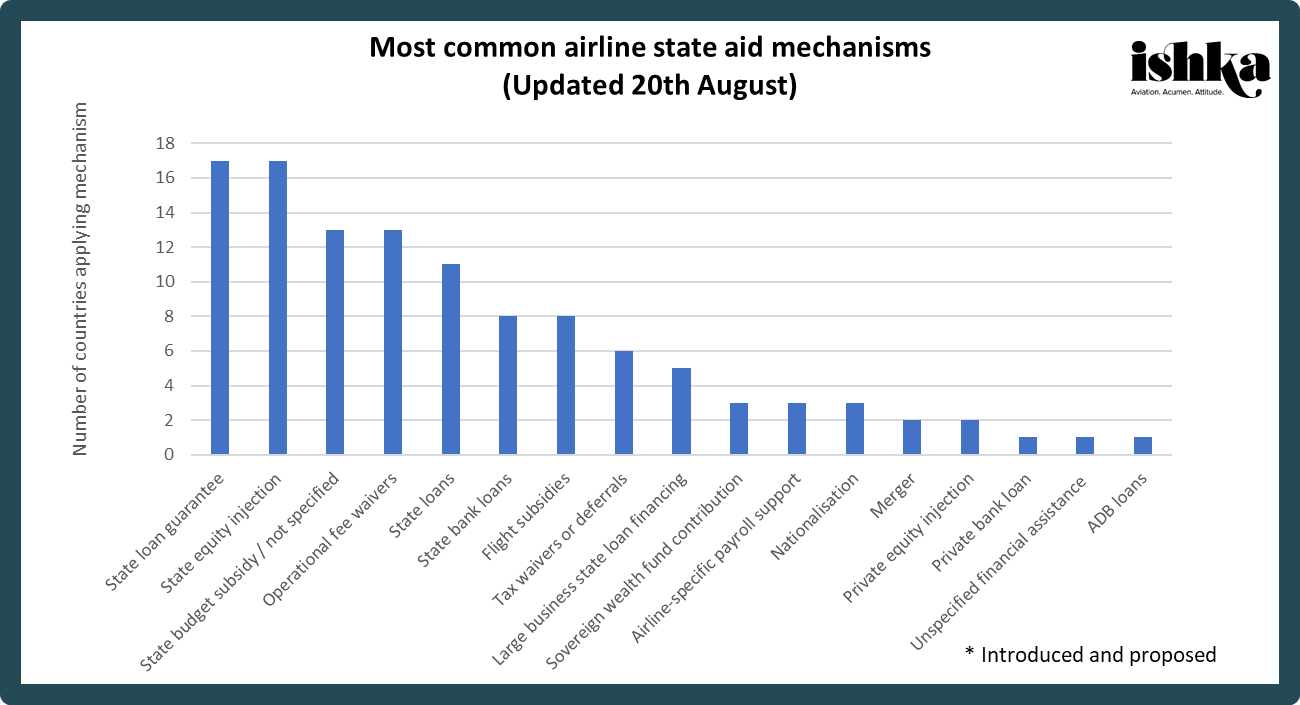 State Support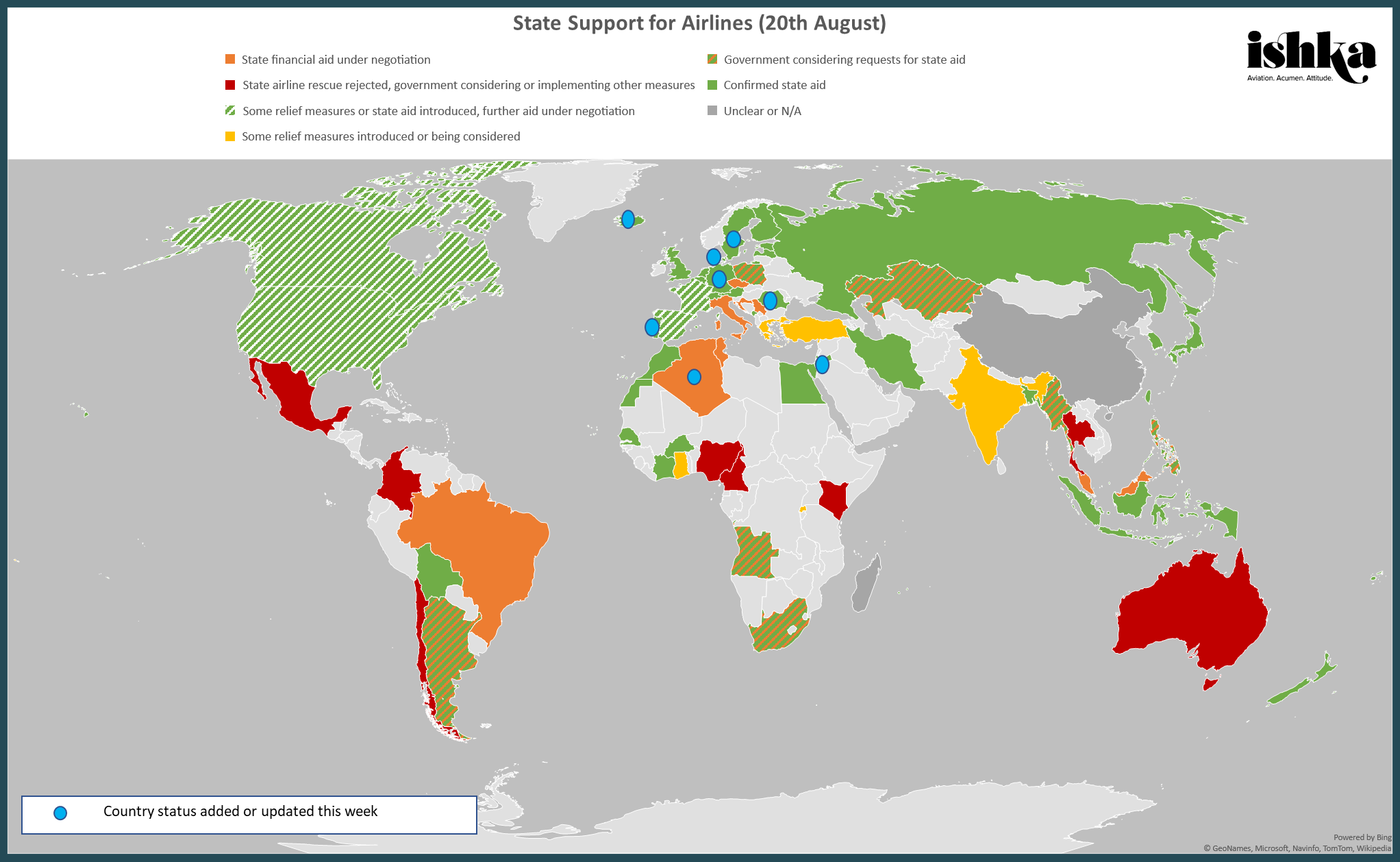 To view the latest table containing policies or proposed measures of 81 countries and EU-level entities: Click here to download the tables.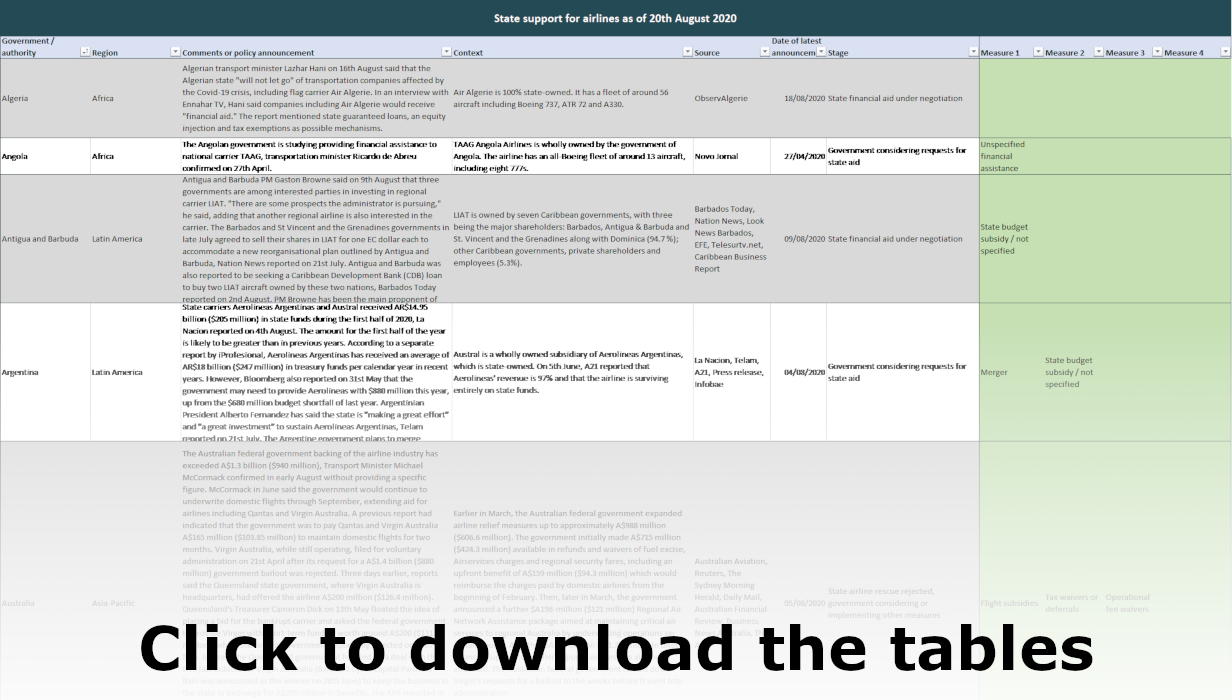 Airline requests
To view the latest table containing demands or stakeholder approaches of 141 carriers (including airline subsidiaries inside holding groups) and 32 industry associations: Click here to download the tables.