15-year-old aircraft values, Delta orders 30 more A321neos, Embraer's new turboprop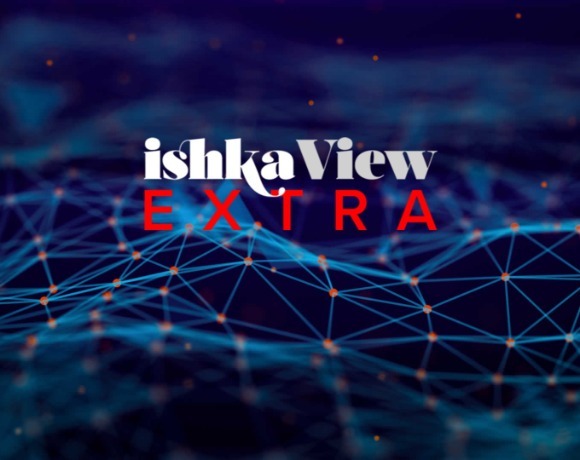 This is the 57th in a series of supplements to Ishka's 'Transaction Economics' service. It delivers 'the Ishka View' on events that have a bearing on the near-term performance of aircraft values, lease rates, and the market dynamics that matter, under today's market environment.
IMPACT INTELLIGENCE 16th AUGUST – 27th AUGUST 2021
TWO SPEED MARKETS...
Those first signs of a market recovery have been building, with some airlines putting in new orders with the OEMs. However, others are still re-negotiating existing orderbooks and continue pressing for government financial support. There is a gap between the top-tier and smaller carriers, which is becoming more pronounced.
A similar picture exists in the lessor market, where competition to place aircraft is high. The larger lessors continue to enjoy the better funding terms. In H1 2021 it was also reported that 60% of new deliveries were financed by Asian financial institutions. It is also expected that the AerCap-GECAS merger will put more pressure on the smaller players of the leasing sector. Good airline-lessor relationships are increasingly important.
CARGO CONVERSION LINE EXPANSION – with the ongoing momentum for freighter conversions, airline MRO and Engineering departments have been partnering with the conversion agencies to secure future conversion slots. The recent examples of Etihad and Ethiopian Airlines partnerships with IAI will provide food for thought for others.
AIRCRAFT VALUES & RENTALS: 15-YEAR-OLD AIRCRAFT
As part of our regular series, we provide a view on market values and lease rates, comparing our view today with our view at the start of last year. This week we are looking at 15-year-old aircraft, and the values of a 15-year-old aircraft today compared to a 15-year-old at the start of 2020. The values and lease rates assume aircraft are off lease and available at each point in time and are illustrative of the changes seen to current market values (CMV) and market lease rates (MLR) rates over the last 18 months.
As airlines get a better sense of the market recovery (and demand) the values of older aircraft continue to be flexed as more aircraft flow through the market. PBH lease deals, rather than fixed rentals, are common in many new leases, at least for the initial months of an agreement, but our MLR rate is intended to reflect the underlying sentiment for that aircraft and vintage. The overall volume of surplus aircraft and availability (freighters excepted) continues to pressure the pricing levels, whether through sale or lease. It will take time for some of the capacity overhang to be absorbed.
We hope these numbers are not the end of a discussion, but the start of one. We look forward to our readership keeping us informed – if you are paying more (or less) on a new deal, please let us know! These numbers reflect unencumbered assets; aircraft placed on decent leases with good credits can generate a different set of results.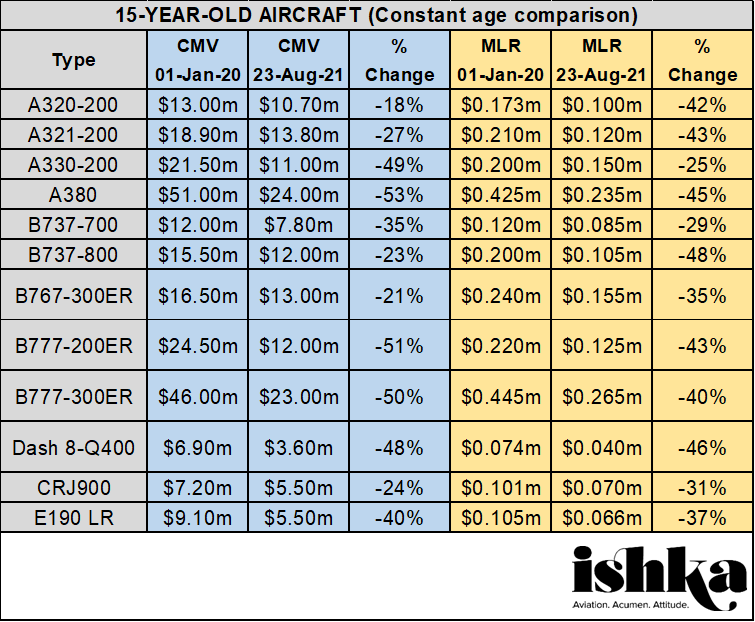 NOTE: The Values behind the above data reflect lease-free aircraft and reflect what might be achievable based on prevailing market conditions. ISTAT definitions apply. Values reflect Basic Configuration aircraft in 'half-life' condition. In reality, many aircraft are likely to be of a higher than basic specification. This data is for comparative and trend observation purposes. For more detailed appraisal and valuation information please contact the Ishka team.
THE ISHKA INDICATORS
Delta Air Lines has converted purchase rights to orders for another 30 A321neos, adding to the existing order for 125 A321s making a total of 155 A321neos. Delta's A321neos, powered by Pratt & Whitney PW1100Gs will be configured with 194 seats (20/42/132) for use on the airlines' domestic network, complementing the existing A321ceos. The first of its 155 A321neos delivers in early 2022, many of which will come from the Airbus Mobile, Alabama facility, from which Delta has already taken delivery of 87 Airbus aircraft since 2016. Delta holds purchase rights for an additional 70 A321neos.
Alaska Airlines is also pushing on with its fleet growth by converting another 12 options for B737 MAX 9s with deliveries through 2023 (10) and 2024 (2), adding to the 13 option conversions made in May 2021, also for 2023/24 delivery. Alaska now has total firm orders for 93 B737 MAX 9s of which five are in service. Alaska will add 25 options to replace the ones that have been exercised.
CALC has announced its H1 2021 results, which include total revenues of HK$1.5852 billion (same period last year H1 2020 was HK$1.6359 billion). Overall profit in H1 increased by 10.8% to HK$353.5 million. The profit attributable to shareholders dropped by 8.7% from the same period last year, amounting to HK$302.6 million. In H1 2021 the Group delivered six aircraft, sold four aircraft, and disassembled one. As of 30th June, CALC had 129 aircraft in its fleet, including 104 owned and 25 managed aircraft. 88.5% of the owned fleet are narrowbodies and 77.9% were leased to Chinese airlines including Hong Kong, Macau and Taiwan. The average age of the fleet was 6.5 years with an average remaining lease tenor of seven years. The fleet utilization rate was at 100% for the period. As of the end of June 2021, CALCs order backlog included 254 aircraft (158 Airbus, 66 Boeing and 30 COMAC). During H1, the lessor signed for 30 ARJ21 aircraft from COMAC to be delivered up to 2026 and adjusted its order book with Boeing from 92 to 66 aircraft. The lessor reports that it is going to sign sale and leaseback deals for more than 10 aircraft over the next six months with Chinese airlines.
BOC Aviation signed 26 lease commitments in H1 2021. All of its aircraft deliveries up to 2023 are now placed with airline customers. In H1 2021 BOCA took delivery of 34 aircraft, of which six were acquired by their airline customers on delivery. The company sold nine aircraft in H1 from its owned fleet and three from its managed fleet. Utilisation of the owned aircraft was 99.6%. The company's portfolio comprises of 536 aircraft, with an orderbook of another 122 aircraft, that are due to be delivered by the end of 2024.
SHOW ME THE MONEY…
airBaltic has received approval from its shareholders to provide additional equity. The motion now needs approval from the European Commission. The plan is to return the investment to the Latvian state in the future. Goshawk is extending the $500 million secured warehouse facility that was originally granted in 2015, to July 2023. The extension will allow the lessor to continue to finance narrowbody asset types. China Airlines has approved a cash capital injection plan for its subsidiary Mandarin Airlines, for $71.6 million.
TRANSACTIONS UPDATE…
Danish Air Transport will take delivery of one ATR72-600 on lease from NAC. Kargo Xpress will take delivery of two B737-800BCFs on lease through GECAS. The aircraft are expected to deliver in October and December 2021. The cargo airline started operations this summer and has plans to expand services. Avation PLC is selling an A220-300 from its portfolio. The aircraft is leased to airBaltic and the lessor will realise a gain when the deal closes next month. Montrose Global completed a sale and leaseback of a Beechcraft King Air 300 with Singapore-based Asian Corporate Aviation Management (ACAM). The aircraft will be operated by ACAM. Alitalia's successor ITA is reportedly acquiring seven A330s, 44 A320s and one Embraer regional jet from Alitalia. Air Serbia acquired a second B737-700 from SmartWings on wet lease. Aeroflot took delivery of an A321 and transferred one B737-800 to Pobeda and two A320s and five Sukhoi Superjet 100s to Rossiya, as part of the group's fleet redistribution. The airline has now a fleet of 345 aircraft. Jackson Square Aviation has confirmed the sale/leaseback of three new A320neos with Spirit Airlines. An A321neo has been delivered to Wizz Air under a JOL structure arranged by JP Lease Products & Services – the 12-year financing was closed by CA-CIB. CA-CIB was also the overall arranger, facility agent and security trustee for a JOLCO financing of two B777-200LRFs operated by Lufthansa Cargo, with FPG acting as equity underwriter.
SPOOLING UP…
Emerald Airlines has reached agreement with Chorus Aviation Capital to take delivery of six ATR72-600s. The airline is expecting the first aircraft this month with the five remaining aircraft arriving over the next 12 months. The Irish regional airline has also struck a 10-year deal to operate regional services for Aer Lingus from January 2023 and will eventually operate 14 ATR72-600s. WestAf, based in Algiers is the country's first low cost airline and plans to offer domestic services as well as services to Spain and France with five Dash 8-Q400s. Polar Airlines plans to modernise their fleet by adding two Dash 8-300s through a Japanese supplier. The aircraft are expected by the end of the year, whilst a third one is expected by 2024. Parent company Yakutia Airlines already operates three Dash 8s. StarFlyer will add its first A320neo in 2023, as part of its A320ceo replacement plan. Three A320neos will be acquired on 8–10-year leases from SMBC Aviation Capital, delivering in 2023, 2024 and 2025. Options are held on two more for 2025.
SPOOLING DOWN…
Korean Air will retire its A380 fleet (including Asiana A380s) by 2026 and its B747s by 2031. Korean's A380s are on average around 10 years old (Asiana are six years old), while the B747s are on average five years old. The other dual A380/B747-8 operator Lufthansa, has grounded its A380s but will keep its B747s in service. Air New Zealand has announced its plans for a future fleet in 2027. The airline will retire all seven B777-300ERs by 2027 and rely on the B787 for its long haul services. Two B777-300ERs will be replaced by the first two of eight B787-10s by 2025. The other five B777-300ERs will be replaced by B787-10s over the following two years. By 2027 ANZ will be operating 20 B787-9s and -10s, 33 A320/A321s, 29 ATR72s and 23 Dash 8s. Pobeda, Aeroflot's low cost unit, has cancelled its commitment to acquire 20 B737 MAXs that were due to be leased from GECAS (five) and SMBC (15), due to the ongoing B737 MAX flight restrictions in the Russian Federation. The airline will continue to acquire second hand B737s from Aeroflot during 2022 and 2023. Fiji Airways is returning two A330s to Etihad Airways several months earlier than scheduled. Philippine Airlines has reportedly returned two aircraft to lessors and deferred all new deliveries of aircraft that were initially expected by the end of this year, to the end of 2030. The airline has readjusted its orderbook according to the forecast recovery of travel demand. Turkish Airlines is understood to have amended its orderbook with Boeing for 75 B737 MAXs - 10 orders are reportedly removed while another 40 orders are turned into options. Delivery dates for 13 of the B737 MAXs are also rescheduled.
CARGO CORNER…
Etihad Airways has entered partnership with Israel Aerospace Industries to open a B777-300ER P2F conversion facility. The first conversion line will open up in Abu Dhabi for B777-300ERSF conversions with a second to follow later. IAI is currently the only one performing B777-300ER conversions in partnership with GECAS. IAI has also recently agreed a partnership with Ethiopian Airlines for B767-30ER P2F conversions at the airline's MRO facilities in Ethiopia.
DHL noted in its half year results that three B777Fs were delivered in the first half-year and advance payments were made for another eight B777Fs that had been ordered in 2020. BBAM has reached agreement with Elbe Flugzeugwerke for A320/A321 P2F orders and options, bringing the lessor's total number of A320/A321P2F conversions to 20. The conversions will be carried out by EFW over the next four years. BBAM holds an option to add new conversion slots every year from 2026 onwards. BBAM's new order means that EFW will have a full conversion line with a minimum of five slots per year. The MD-11F continues to flow in and out of service – while FedEx is reactivating some stored MD11Fs, and Western Global Airlines is adding another MD11F, Lufthansa is stepping down its MD-11Fs, with the last two retiring end 2021. C&L Aviation Services has completed the first cargo conversion of a Saab 340B+model. The operator has signed an agreement with C&L to complete five more Saab 340B+ conversions in 2021 and 2022. Three Iberia A330-200s are to be acquired and converted at the Airbus Getafe facilities into MRTT Multi-Role Tanker Transports for the Spanish Air Force, as part of a defence spending package that includes acquiring 40 law enforcement helicopters. Qantas Group plans to acquire two additional A321F freighters in H1 2022. Copa Airlines is to convert two owned B737-800s to B737-800BCFs, having committed to conversion slots with Boeing.
THE AIRCRAFT VIEW
Boeing recently paused delivery of the B787 pending an FAA evaluation prompted by quality issues on the aircraft's nose. Lessors have reported in recent earnings calls that they are not able to identify when deliveries will resume. There were recently around 100 B787s in Boeing's undelivered inventory, with Boeing expecting to deliver fewer than half of those this year. Embraer's latest earnings report has provided an updated view of its proposed new turboprop, for which it is also seeking a project partner. The fuselage, based on the E1 jet airframe, now features two rear-mounted turboprop engines on pylons either side of a T-tail, to reduce engine noise. To balance the aircraft's weight, the wing is also re-located. If launched, the new 70-90 seat aircraft will compete with the ATR42/72 and Dash 8-Q400 and could be available by the 2027/28 timeframe.