Rising fuel costs put pressure on ticket prices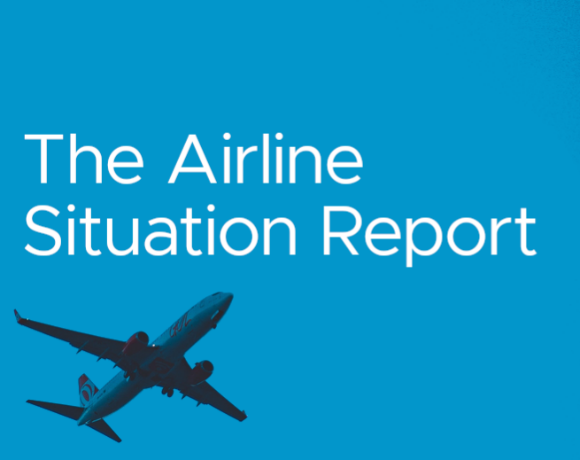 A dramatic rise in fuel price since the start of the year is placing pressure on airlines to raise ticket prices to help preserve yields. Pent-up passenger demand has given US carriers enough pricing power to announce airfare increases. In contrast, European counterparts are utilising hedging strategies to mitigate the immediate effects of the oil price surge, but they too have started raising fares via fuel surcharges, targeting long-haul flights.
Meanwhile, Europe's three major airline groups, Lufthansa, IAG and Air France-KLM, reported improved capacity and revenues in Q4 2021, although still below pre-pandemic levels. Strong performances from the cargo businesses of Lufthansa Group and IAG accounted for an increased proportion of the groups' total revenues. However, Omicron and other Covid disruptions continued to affect airlines' recovery throughout 2021.
Atlantic split on fuel price response
US airlines have seen demand return strongly since the start of March 2022, with the mainline carriers Delta, United and American reporting some of the highest ticket sales ever earlier in the month. This gives them some flexibility to raise fares to offset the high fuel prices and balance the risk of disincentivizing demand, particularly as most US carriers, with the exception of Southwest and Alaska, do not use hedging to manage fuel price risk. Their peers across the Atlantic, which have significantly smaller domestic markets than US airlines, have been relatively subdued regarding demand – although many are reporting being close to pre-pandemic capacity for the upcoming Easter and Summer holiday travel periods. However, similar to their US counterparts, they are starting to feel the effect of rising fuel prices.
Amongst the main European carriers, Ryanair has 80% of its fuel consumption for 2022 hedged at $63 a barrel. Wizz Air, which was until recently unhedged, in early March announced that it was capping its fuel cost exposure with zero-cost hedges for four months; the locked fuel prices are however, likely to be higher than Ryanair. Meanwhile Lufthansa has 63% of its fuel consumption for 2022 hedged at $74 a barrel, while British Airways is 60% hedged for the full year - the airline did not reveal at what price. Air France-KLM, which has hedged 72% of its Q1 2022 fuel consumption and 63% of its Q2 2022 consumption, will also add a fuel surcharge on long-haul ticket prices that will vary depending on destination and travel class. Lufthansa has followed suit, adding surcharges on all of its long-haul routes.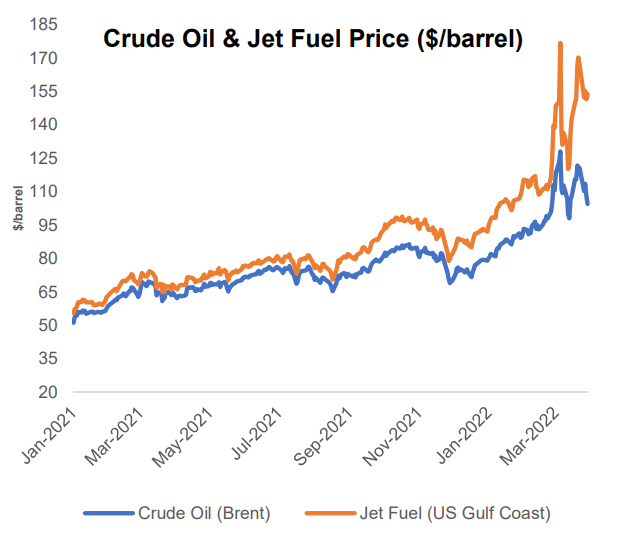 Q4 results: mixed bag for European airline groups
Lufthansa Group reported another challenging year in 2021, despite an improving operating environment and more passenger traffic y-o-y; the number of passengers carried were still only around a third of pre-pandemic level. Positively however, total revenue recovered at a stronger rate than passenger traffic, reaching 46% of its 2019 levels, driven by the strong performance of the group's cargo business. Lufthansa Cargo, which generated over 40% more revenue during the year than in 2020, recorded an adjusted EBIT of EUR1.5b, double the amount recorded in the previous year, mainly due to further yield increases and cost efficiency improvements. Lufthansa's MRO unit, Lufthansa Technik also performed strongly and remained profitable, benefiting from the increasing demand related to the industry recovery. The catering and inflight services unit, LSG Group, was supported by the recovery in the North American market but nevertheless slipped marginally into the red.
IAG's operations and financial performance continued to be impacted by the global travel restrictions with various markets being affected at different times in 2021. In October and November, the airline group saw its long-haul bookings reach 80% of pre-pandemic levels, with the opening of the North Atlantic corridor playing a main role. However, a surge in Omicron infections in late November and December had an immediate effect on traffic and near-term bookings. Nevertheless, IAG expects the North Atlantic routes to reach full 2019 capacity level by summer 2022. Bookings for the Easter and Summer holiday periods are also understood to be strong.
IAG, like Lufthansa, reported record revenues from its cargo business unit, IAG Cargo, up 50% on 2019 level and accounting for 20% of the group's total 2021 revenue (Lufthansa: 25%). The business unit expects to also return more of its passenger belly hold network as capacity is restored.
Operationally, Air France-KLM continually outperformed both IAG and Lufthansa in 2021, returning capacity (in ASKs) more aggressively and capturing more of the pre-pandemic traffic (in RPKs) and passenger numbers each quarter during the year. While AF-KLM started the year carrying around 20% of its pre-pandemic passenger numbers in Q1, it ended the year carrying 65% of its Q4 2019 passenger numbers in the last quarter. In comparison, both LH Group and IAG started the year carrying around 10% of pre-pandemic passenger numbers, and ended the year carrying just above half of their pre-COVID passenger numbers respectively in Q4 2021. However, this does not appear to have translated to better financial performance at AF-KLM compared to its other two peers.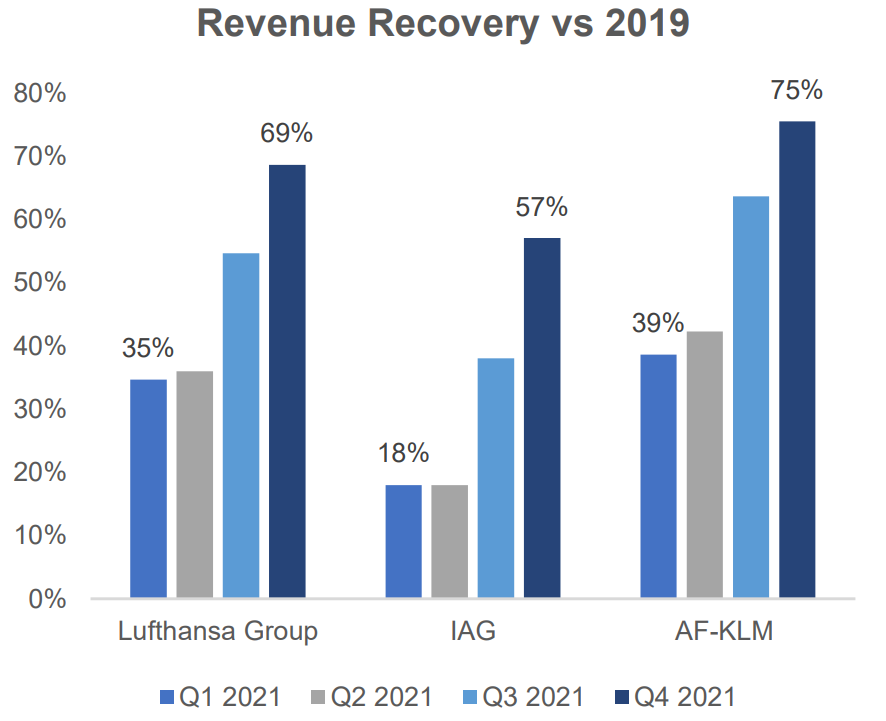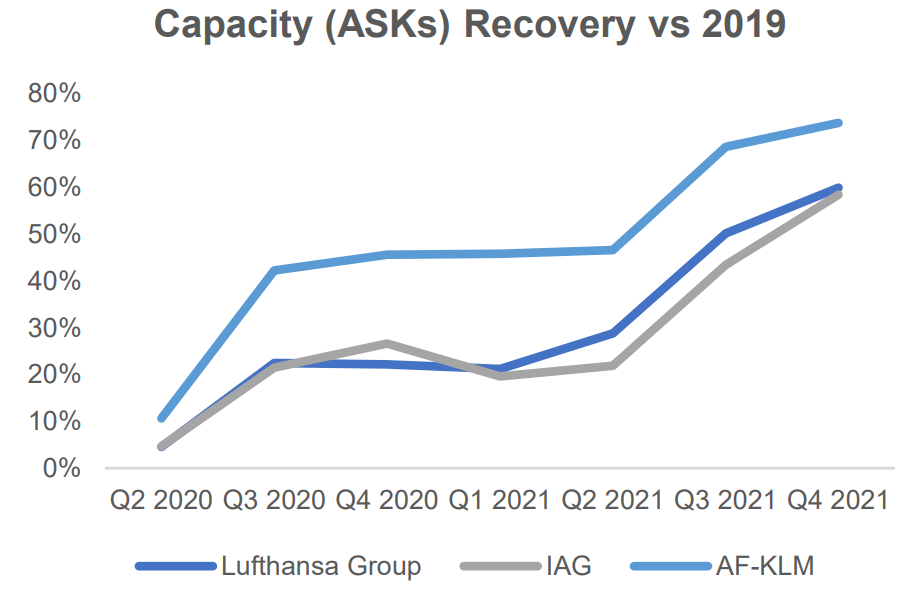 Global capacity dips, then recovers
Global capacity has experienced some volatility in recent weeks. After hovering around the 82 million mark for nearly a month, it fell by a million in the Week of 21st March before recovering once again to more than 83 million in the Week of 28th March.
The main drivers of the volatility have been developments in China and Western Europe. The former, which continues to deal with its most severe COVID outbreak, has put several cities under lockdown including Shanghai. Therefore, it is no surprise that airline capacity in China has trended downwards in recent weeks, by ca. 16% in the Week of 14th and ca. 10% in the Week of 28th March. Positively though, most other key markets in Asia Pacific exhibited strong growth in recent weeks, which offset some of the decline in China.
Capacity trends in Western Europe, particularly in the Week of 28th March were even more encouraging. Most markets saw a double-digit w/w increase with overall capacity across the whole continent up by nearly 17% despite a near 26% reduction in Russia.
Elsewhere, the Middle East and Africa also saw growth (between 2-3%, w/w) in the Week of 28th March, however, Latin America saw a downward adjustment of a similar margin mainly driven by adjustments by LATAM Airlines Group across several markets. There were no notable changes across North America.


Other key updates
Smartwings Group's restructuring plan for Czech Airlines, which was approved by a Czech insolvency court in February, has also been approved by the airline's creditors.
Air Austral will receive a EUR6m loan from Caisse des dépôts et de Consignation (CDC), a French public sector financial institution. It is expected the funds will provide the airline with sufficient liquidity until May 2022.
Air New Zealand has announced a NZD 2.2 billion ($1.5 billion) recapitalisation package consisting of three parts – a pro rata rights offering, an issuance of redeemable shares to the New Zealand government, and a government loan.
Aeroméxico has concluded its restructuring plan and emerged from Chapter 11 bankruptcy protection with the equity of the reorganised company at ca. $2.6 billion, after it gained access to $1.5 billion in new capital.
LATAM's bankruptcy process has also made progress, with the airline receiving court approval for its Chapter 11 Disclosure Statement. The airline now needs to seek creditor approval, after which the court will evaluate the restructuring plan in May 2022. LATAM hopes to emerge from Chapter 11 in the second half of 2022.
Click here, or on the image below, to read the full PDF report.