Could Emirates slide into the red?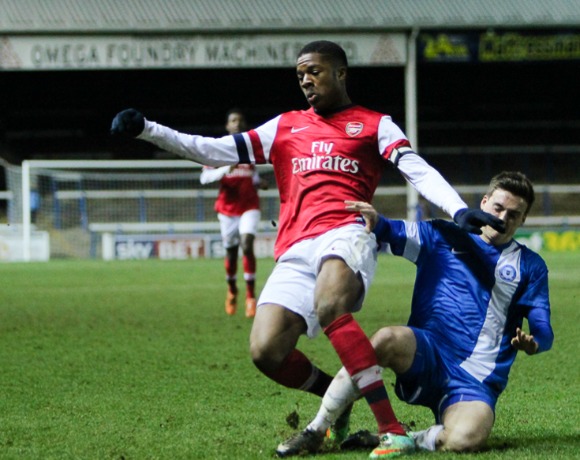 Emirates Group, which includes Emirates Airlines, the flag carrier of Dubai and dnata, an air services firm, recorded an 80% drop last Friday in net profit in FY 2016/17. This is a significant decline for one of the fastest growing major airline groups in the world, and also one of the most profitable. The fall in profitability is entirely attributed to the airline segment of the group, which blamed softening macroeconomic conditions for its woes. The question is whether the airline will slide further into the red. The Ishka View is that the airline's profit recovery, or improvement, will now depend on its capacity management. The airline needs to accept the changing traffic conditions and adapt its growth plans accordingly in-order to halt the slide in profitability.
The gap between traffic and capacity growth narrows

Emirates' fall in profitability can be primarily attributed to macroeconomic factors which has slowed traffic growth. In a previous Insight (Will capacity growth outstrip air traffic?), Ishka highlighted how the narrowing gap between traffic and capacity growth especially in the Middle East was a concerning trend. The region's airlines, including Emirates, have experienced successive years of softening capacity utilisation.

While traffic growth was robust, however, it was not in-line with capacity growth. As such, capacity utilisation went down significantly in FY 2016/17.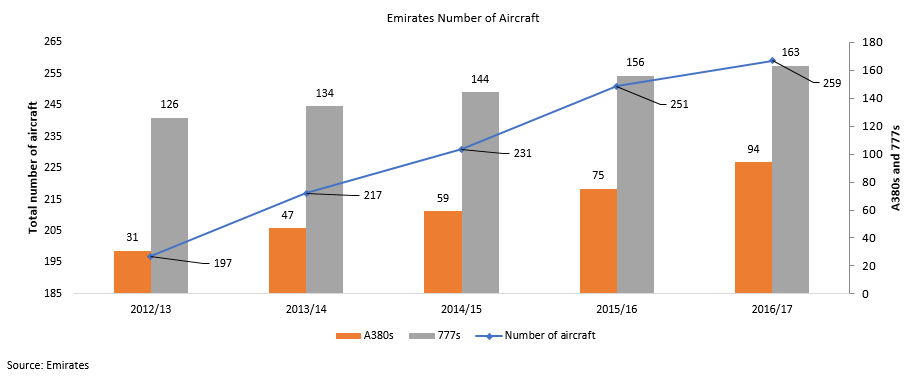 Emirates added 35 new aircraft but retired 27 older aircraft in FY 2016/17 as part of its fleet modernisation strategy. The airline, which is the world's largest operator of A380s and 777s, inducted 19 A380s and seven 777s in its fleet during that period. There is no denying that the A380 and 777 are fundamental to Emirates' business model, however, the airline is under constant pressure to maintain high utilisation for its high-capacity aircraft. The airline needs to watch its costs. The risk of a higher cost base is that it can quickly wipe out the bottom-line if not accompanied by revenue growth, especially when the general market softens, as it has done in the last two years for Emirates.
In addition to falling capacity utilisation, lower fares mean that the airline's yields have remained under pressure. A weak global economic environment, geopolitical challenges in some key markets, and currency woes have resulted in revenues remaining virtually flat in FY 2016/17 compared to the previous year.
Emirates' bottom line has significantly depreciated thanks to higher operating expenses which were not supported by additional revenues. Revenue growth has been constrained for several years. It was partly thanks to cheaper fuel costs that Emirates booked a profit last year despite revenues declining by 3%. While revenues remained flat in FY 2016/17, operating expenses (including depreciation and amortisation and aircraft lease expenses) jumped by nearly 8%, wiping out the bottom-line. In summary, while capacity growth played its part, and contributed to a rise in operating expenses, traffic growth failed to make any impact on revenues.
Positive steps towards capacity management
Emirates, in December 2016, deferred deliveries for 12 A380s over 2017 and 2018 (six each year). It appears most Middle Eastern airlines are taking steps to manage their capacity and the results are already visible. Looking across all the Middle Eastern airlines Q1 2017 has seen some improvement in some key traffic metrics. Relative to Q1 2016, the gap between traffic growth and capacity growth has narrowed considerably for these carriers.

Earlier, capacity growth was much faster than traffic growth. While capacity utilisation and traffic growth were both down, capacity increase was more in-line with traffic growth, suggesting that the Middle Eastern carriers, including Emirates, are adopting a more prudent and sustainable approach.

The Ishka View

Even after its dramatic 80% fall in net profits Emirates Airlines remains one of the strongest and most profitable airlines in the world. The carrier has experienced years of robust performance. Between FY 2012/13 and FY 2015/16, the airline's profitability rose by a compounded annual growth rate of 46% before falling by 82% in FY 2016/17 alone. The primary reason for the airline's weak year was softening macroeconomic conditions which slowed traffic growth but also limited revenue growth. In addition, the airline's cost base jumped substantially (relative to last year) on the back of increased capacity.

The combination of a flat top-line and rising cost base squeezed the bottom-line. The Ishka View is that airline needs a more prudent capacity management plan and more restraint in adding capacity, especially with the risk of further macroeconomic and regulatory challenges e.g. the US laptop ban. Emirates has already taken steps to adjust its capacity addition and has deferred several A380 deliveries from its original schedule. Whether this results in improved performance remains to be seen, however, these steps are in the right direction for the airline's long-term profitability.