European Airlines' labour efficiency in two charts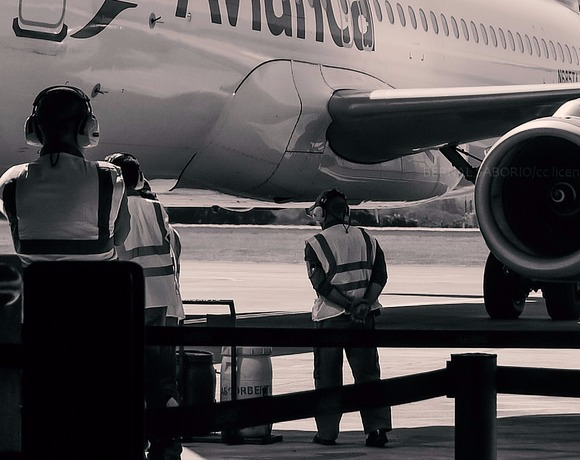 Most legacy airlines in Europe struggle with labour issues in one form or another. Frequent strike actions can disturb an airline's operations costing it substantial sums of money. Alitalia's current troubles also highlight the importance of labour productivity among airlines. While labour is not the sole reason for the airline's troubles, it is certainly among the carrier's key challenges. A strike by Alitalia's staff in May 2017 protesting against cost-cutting plans led to cancellation of nearly 60% of its scheduled flights for the day.
In addition, most of these legacy carriers also suffer from bloated workforce levels. In contrast, the European low-cost carriers (LCCs) have a much more productive workforce. LCCs manage to fly significantly more passengers relative to the number of employees compared to a full-service carriers (FSCs). While a full-service network model is different to a low-cost model and the number of passengers to employee ratio cannot be at similar levels, the significantly wider gap makes it difficult for the FSCs to compete with low-cost carriers (LCC). Ishka studies the two-key metrics of labour productivity of some of the major European airlines to analyse how they stack-up against one another.
Aer Lingus' hybrid model generates the most revenues per employee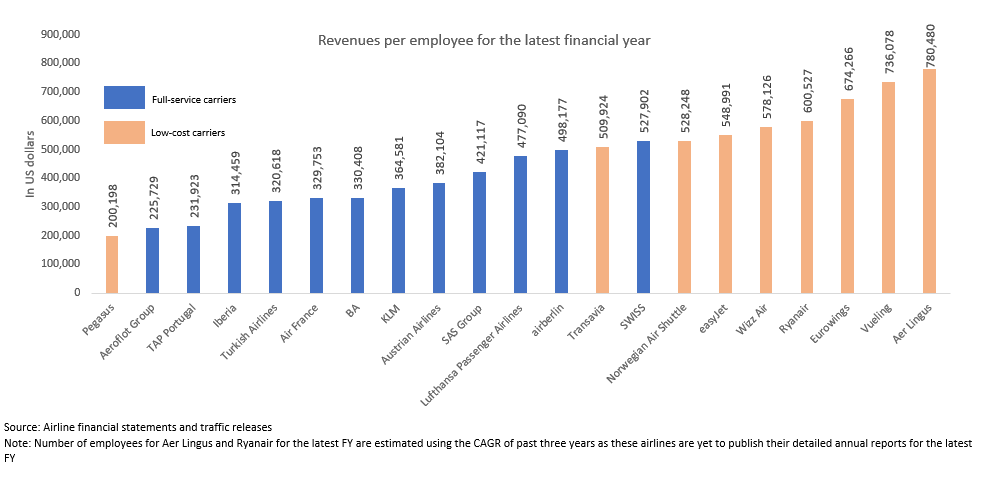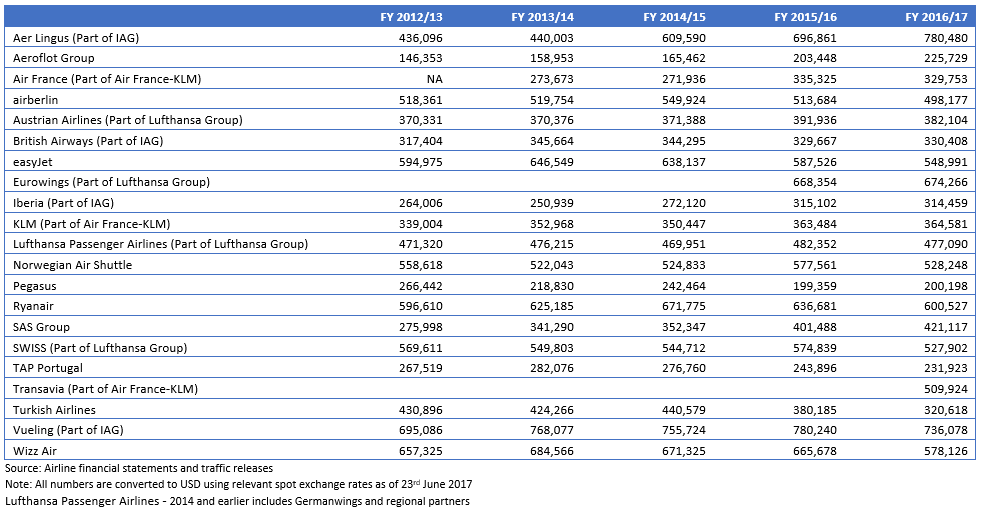 Ishka has considered individual airlines within the larger airline groups as these are separate airline companies with their own independent operations. As expected, the LCCs outperform their full-service rivals in terms of revenues generated per employee. The whole ethos of the low-cost model is based on maximising returns from minimal resources and therefore it is not surprising to see that the likes of Ryanair and Vueling generating nearly twice as much revenues per employee as their full-service rivals. However, it is important to note that as the LCCs do not provide the variety of services as the FSCs, they do not need as many resources in terms of man-power. Nevertheless, the gap between the revenue generated per employee by the two models is still fairly wide. And this clearly shows the labour efficiency is a significant source of competitive advantage for the LCCs.
The most interesting development above has been with Aer Lingus which has nearly doubled its income per employee during the past five years. Aer Lingus is a semi low-cost short-to-medium haul carrier and has been under IAG ownership since 2015. It has undergone massive overhaul during the past decade – it went from being an oversized full-service flag carrier to a lean & efficient LCC. Aer Lingus appears to have successfully adopted itself in-line with the changing market dynamics and the results especially in terms of labour efficiency are clearly visible now. While most carriers listed above have shown some level of improvement in the past five years, some have seen marked deterioration. Pegasus seems to be standout – for a LCC, the airline generates the least revenues per employee among all European airlines Ishka studied. The company has been hit hard by the growing geopolitical crisis within Turkey. While the airline continues to experience fast revenue growth, it is still much less than the rate at which it has inducted additional personnel and resources. As such, the airline fares very poorly in terms of revenue to employee vis-à-vis other carriers.
LCCs significantly outperform the FSCs in terms of Pax per employee
Unsurprisingly, the LCCs also carry significantly more passengers per employee than their FSC rivals. The top 9 airlines with the highest passengers to employee ratio are all LCCs.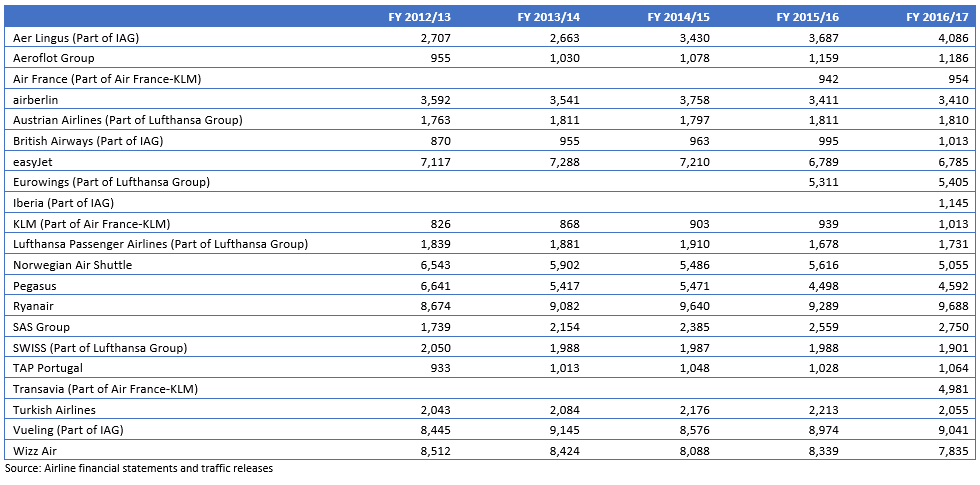 As FSCs have struggled to compete with the cost efficiency levels of LCCs, many of large airline groups have incorporated their own low-cost models either through organic or inorganic means. IAG which is the holding company for British Airways and Iberia, both FSCs, eventually went on to acquire Vueling Airlines in its portfolio. And now the firm has also launched a new airline, LEVEL, to counter the rise of low-cost long-haul carriers such as Norwegian Air Shuttle. Similarly, Air France-KLM which is the parent for Air France and KLM, also operates low-cost venture, Transavia. And the Lufthansa Group which comprises of several flag carriers of the region, operates Eurowings.
Labour and European FSCs at frequent cross-roads
Shifting market dynamics is pushing airlines, especially FSCs, to constantly pursue cost cutting/savings measures and improve organisational efficiencies. This means the FSCs with significantly higher workforce frequently run into issues with their employees as most cost-cutting programmes always involve some form of employee redundancies. All the FSCs listed above have been through some form of employee redundancy programme during the past decade and as such have been impacted by labour strike action several times. Alitalia, Italy's flag carrier, was forced into administration in May 2017 following the rejection of a new restructuring plan by its employees. Subsequently, its employees have also resorted to further strike action protesting against certain measures to restructure the airline.
The Ishka View

Personnel expenses are the second largest operating expense category for airlines. Traditionally, network carriers, especially state-owned flag carriers, worldwide have tended to have substantially higher number of employees than the business would technically require. Also, these employees tend to represented by strong labour unions adding an additional level of challenge in ensuring efficiency. The strong labour laws in Europe means that the probability of a labour strike remains high especially as airlines continue to implement restructuring measures. While it is understandable for network carriers to have weaker numbers vis-à-vis low-cost model, some legacy carriers like Air France and BA still appear significantly overstaffed.

Their passengers to employee numbers are much lower than LCCs which require their organisations to be as lean as possible. However, these airlines have responded through various other measures that enable them to compete against the highly efficient LCCs. Those European FSCs that have responded through a combination of restructuring measures and incorporating low-cost segments within their groups appear to be successfully competing against the pure LCCs in the region e.g. BA, Lufthansa, Iberia, Aer Lingus and now even Air-France-KLM to some extent. And those that have failed to evolve such as the likes of Alitalia and airberlin have an uncertain future ahead of them.

More related insights: