German retail investors express concern over A380s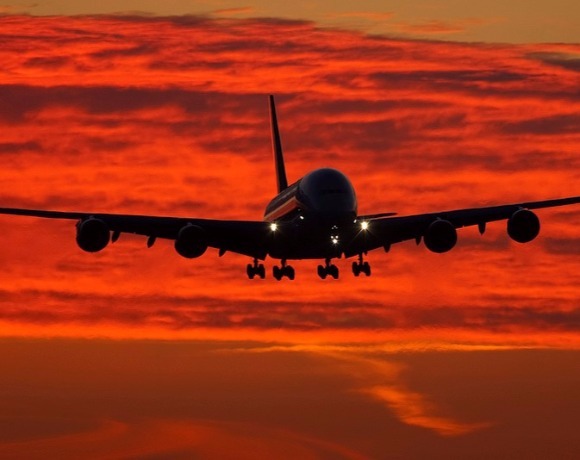 German retail investors appear worried about the long-term prospects of the A380. German investors have been an active buyer of A380s via German closed-end funds and have an unusually high exposure to the aircraft type.
Since 2006 a total of 20 closed-end German funds have raised €1.6 billion ($1.9 billion) in equity capital used to finance 21 A380 aircraft. As a recent Scope report highlights, in the last ten years more than half of retail investments in German aircraft funds were devoted to the A380.
But as concern mounts as to the A380s' secondary market prospects, A380 closed-end funds have been trading at a steep discount. Since 2009 aircraft A380 funds traded on Fondsbörse Deutschland, a secondary market in Germany, for closed-end funds have shrunk to just over 50% of their nominal value with a few funds seeing as much as 70% of their value discounted. Funds typically trade at a discount on the platform and even performing funds can expect a discount of 20%. However, the size of the discounts and their overall trend indicates a broad concern from the German investors over the asset.
"What you can see is the discounts for the A380 funds have been growing for the last 18 months," comments Frank Netscher, an analyst at Scope. "For the first funds that have aircraft coming off lease and who will need to find an exit solution for their assets are trading at 30% of the original share price and that drastic drop is a significant trend."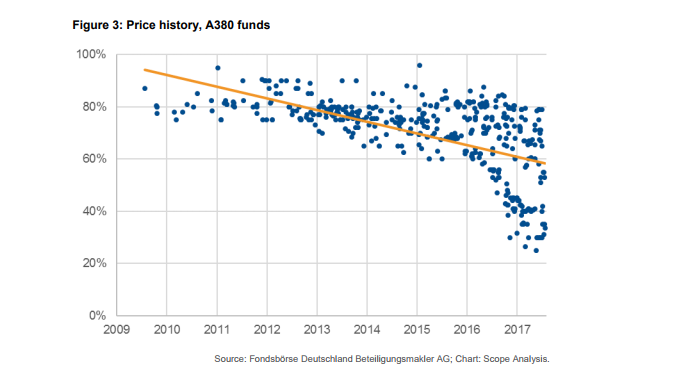 A big plane to place
There has been diminishing appetite generally from retail investors for aircraft funds. There have been no new closed-end aircraft funds for anything but regional jets in the last two years. The last three closed–end retail funds to finance widebodies were issued in 2013 and financed two A380s and one 777. Ishka understands the funds took the best part of two years to raise the financing.
Investors in these closed end-aircraft funds derive a return from both the income generated by the aircraft lease, and the eventual sale of the asset after the fund matures. The initial leases for the A380 have all been successful so far. All the funds leased the A380s to established carriers such as Air France, Emirates and Singapore Airlines on 10 year leases. As Scope points out none of the lessees have defaulted and all lease payments have been made. Most investors will have recouped their initial capital, and the leases will have repaid the loans used to fund the aircraft purchase. The question is over the size of the return after the initial lease expires as the aircraft becomes the unencumbered property of investors.
Netscher comments: "The original target return for these Airbus A380 funds would have been 7% - 9%. They paid around $200 million for the assets when they acquired them. No one knows exactly what the value is now, which is part of the problem, but if they sell it after 10 years for half of what they paid for, the investors would be looking at a return of 2% - 3% before taxes. They wouldn't have any capital losses but 2%-3% in a closed-end fund is a pretty disappointing return."
Ishka understands that the A380 funds' asset managers have tempered investor expectations by stating that they could anticipate a discount of 45% - 55% after 10 years.
The worst-case scenario for investors is if the aircraft is forced to be sold for part-out at a much bigger discount. Netscher says under these scenarios investors could even face the possibility of a loss, "it could happen, but no one really knows what the part-out value is. It would be a surprise if the discounts are much bigger as it would be different to the information communicated to the investors. It would also be a PR disaster. They have hundreds of retail investors in each single fund."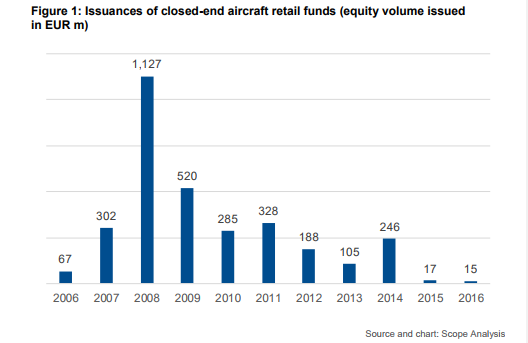 The Ishka View
German investors are clearly spooked by the future prospects for the A380, which is reflected in the steep discounts seen in the traded aircraft closed-end retail funds. There are good reasons to be concerned about the prospects of the A380 secondary market which remains for the most part untested.

Aircraft in these A380 funds coming off lease have essentially three potential exit strategies: they can either have their leases extended, sell the aircraft to another operator, or else sell the aircraft for part-out. Dr. Peter's Group has the first aircraft returning in October from Singapore Airlines and will be forced to choose one of these solutions.
Finding new operators for A380s is a difficult task. Fewer airports can handle regular A380s operations that require both the airfield and terminal infrastructure to cope with it. Portuguese wet-lease operator, Hi Fly, recently acquired two A380s which are expected to be operational by spring 2018, and represent a fascinating move for the operator, and one which will be closely watched by the aviation market. It is a concern that A380s are coming straight from a flag carrier, and bypassing typical 'secondary' carriers to end up with a wet-lease charter, but finding a home for older A380s requires creative solutions. Is this an indication of the type of operation used A380s will end up in?
Despite the above, the level of expected demand for A380 in the secondary market remains uncertain. Demand for new A380s has also dipped. 2017 has so far seen no new orders and two cancellations, while 2016 saw two orders and two cancellations, effectively cancelling each other out. Although the official A380 backlog stands at 102 aircraft, Ishka considers the real backlog is much smaller, with at least 40 aircraft currently looking doubtful as to whether they will ever deliver.
photo: Marten Visser
More related insights: