BA returns with hybrid EETC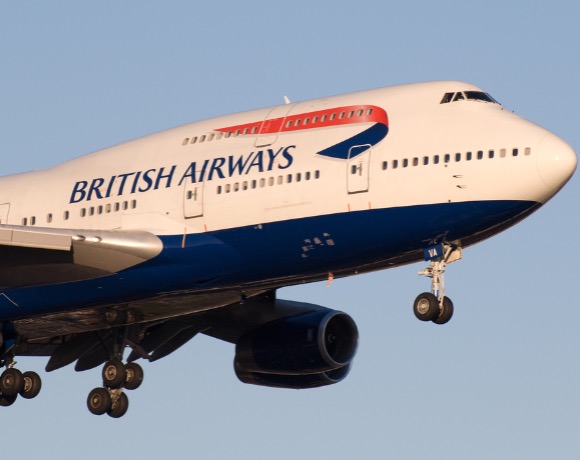 British Airways has returned to the EETC market as it priced its second issuance last week after a five-year absence since its 2013 debut. British Airways' $608.74 million EETC was combined with Jolco equity for an $870 million transaction. The pass-through certificates were split between a $409.783 million class AA certificates with a 3.80% coupon and a $198.957 million class A certificates with a coupon of 4.125%.
The deal will be used to fund 10 new aircraft (seven Airbus A320neo, one Boeing 787-8, and two Boeing 787-9s) scheduled to be delivered between March 2018 and October 2018 and to refinance one 787-8 delivered in September 2017, according to Fitch. Sources close to the financing indicate that British Airways utilised the EETC structure because of the amount of aircraft it needed to fund.

"BA have had excellent access to the bank market. Over the last five years they haven't had a batch of aircraft, and enough volume, to justify doing a EETC- till now. They are replacing aircraft so their capex schedule has more aircraft that could go into a EETC," explains one source familiar with the deal.
BBAM is the structuring agent for NBB and the JOLCO equity investors while Citi was the sole structuring agent, global coordinator and joint bookrunner for the EETC deal. Deutsche Bank and JP Morgan were the joint active EETC bookrunner. Ishka understands that National Australia Bank provided the 18-month liquidity provider, and was the depositary bank on the deal. BA's return also indicates how attractive the EETC market has been with regards to new issuances. Air Canada recently issued a CAD301 million privately placed EETC (see Ishka's recent Insight). BA's recent deal achieved an average weighted coupon of 3.90%- significantly cheaper than the 2013 deal - which had a weighted average coupon of 4.85%.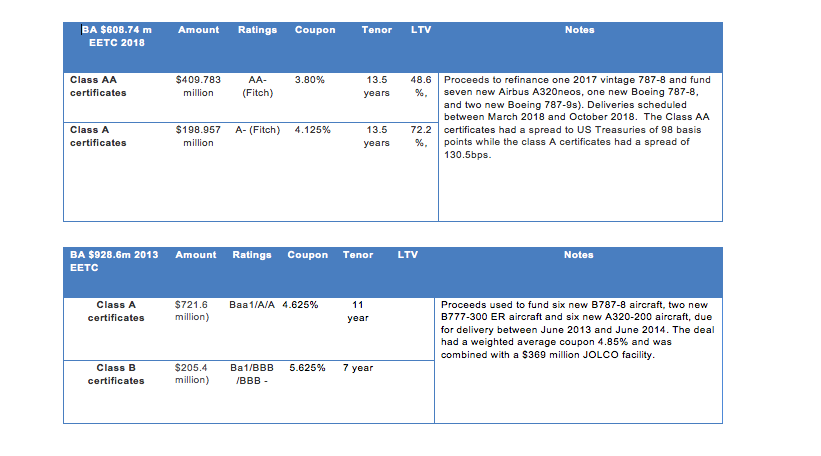 Source Ishka research
British Airways' reliance on Jolcos
Sources indicate that British Airways has been an active user of the JOLCO market. IAG Group's consolidated financials reveal that the Group, which also includes subsidiaries Aer Lingus, Iberia and Vueling, had a total adjusted net debt of $7.75 billion at the end of January 2017 split between EUR1.93 billion of loans and EUR6.602 billion of finance leases.
The Group's results also included YEN 63,978 million ($609.1 million) of yen-denominated finance leases. IAG also has access to cheap bank debt. The Group has EUR278 million of floating rate euro mortgage loans secured on aircraft with an interest of between 0.17% and 1.17%.
IAG's loans and finance leases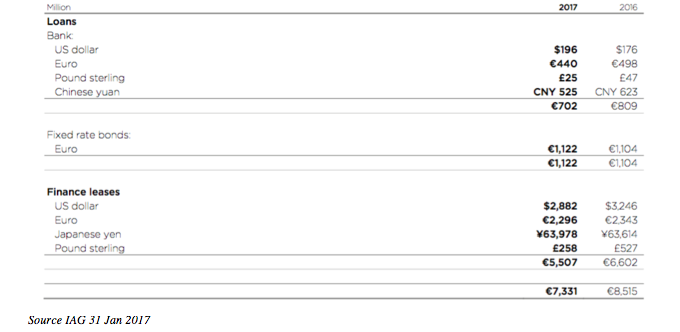 The Ishka View
Pricing on the BA's recent deal was comparable to other EETCs, and investors are continually looking for new names in this market, which remains relatively constrained to US carriers- Air Canada's recent EETC is an exception to that rule. Attention will be focused on the favourable pricing for BA's recent EETC, which priced at the equivalent of 106 basis points over three-month Libor.
However, sources indicate that the returns on the JOLCO equity portion have been impressively cheap. BA is a familiar, and coveted name, among Japanese tax investors, which helps explains why the rumoured returns on the equity were below the cost of the all-in debt. BA's timing has been fortunate in that the EETC market has been offering airlines competitive coupons over the last 12 months and this latest deal priced more tightly than BA's last EETC in 2013. This latest EETC also helps diversify the airline's funding sources, a useful strategy if bank margins start to creep up from their current lows.
Photo: https://www.flickr.com/photos/bribri/