Ethiopian MAX crash overshadows ISTAT conference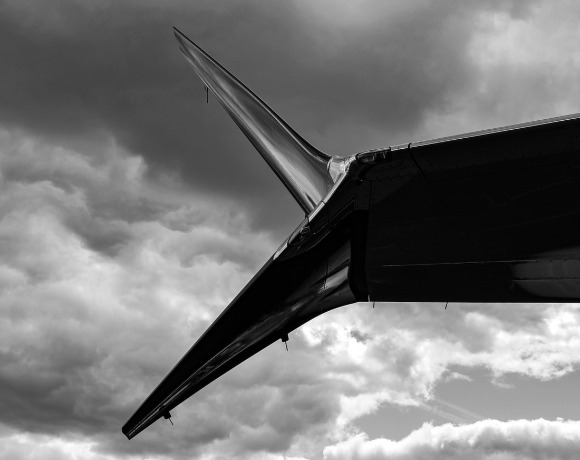 Aviation financiers are still digesting the impact of an Ethiopian Airlines crash involving a five-month-old 737 MAX (MSN 62540). The aircraft went down six minutes after take-off on route to Nairobi at 08:44 local time, Sunday 10th March, killing all 157 people on board. Civil aviation authorities in China and Indonesia have all grounded 737 MAX aircraft in response to the crash and Australia and Singapore have banned 737 MAXs from their airspace. Thus far around 30 airlines have grounded their 737 MAXs.
The crash is the second in five months to occur during take-off with a newly delivered 737 MAX. On 29th October 2018, a Lion Air aircraft (MSN 43000) on lease from CMIG Leasing crashed into the sea off Indonesia twelve minutes after departing. All 189 passengers and crew were killed. This 737 was delivered three months before the crash on 14th August 2018.
Speaking at ISTAT America, Randy Tinseth, Vice President of Marketing at Boeing Commercial Airplanes, stated the manufacturer wanted to express the "deepest condolences to family and loved ones" of those killed in the crash and added that a Boeing technical team was "enroute to help with the investigations."

China grounds domestic 737 MAXs
Following this second 737 MAX crash, the Civil Aviation Administration of China (CAAC) has issued a request for all domestic Chinese airlines to cease operation of the aircraft before 18:00 on 11th March. "In view of the fact that the two air crashes involved newly delivered Boeing 737-8 aircraft, and they both occurred in the take-off phase, there are certain similarities," the CAAC wrote, adding it had a zero-tolerance policy for safety risks.
The action affects 13 airlines and 97 aircraft – roughly a quarter of the global 737 MAX fleet. Liu Shaoyong, chairman of airline China Eastern, told local financial newspaper Caixin that is would only consider resuming 737 MAX flights once Boeing proved there was no fault in the aircraft's design to link the two crashes.
The Indonesian Transport Ministry similarly announced that 737 MAXs would be grounded until inspections beginning on 12th March found the aircraft to be safe. The aircraft grounded are ten operated by Lion Air (MSN 42990, 42995, 42996, 42997, 42988, 42985, 42986, 42994, 42998, 43001) and one operated by Garuda Indonesia (MSN 62093). Australia's Civil Aviation Safety Authority described banning 737 MAXs in Australian airspace as a "temporary suspension" until there is more information on the "safety risks of continued operations of the Boeing 737 MAX to and from Australia."
Cayman Airways has also grounded its two 737 MAXs (MSN 63561 and 63809), the second of which had only been delivered last Thursday. President and chief executive, Fabian Whorms, said the airline was "putting the safety of our passengers and crew first". South Korean authorities have begun special inspections of 737 MAXs but are yet to announce whether they should be grounded. Korean airlines Eastar Jet has, however, ceased flying its two MAXs, as have Moroccan flag carrier Royal Air Maroc, Aeromexico, Aerolineas Argentinas and GOL Airlines (Brazil).
Global 737 MAX fleet
Click here to download the data behind the chart.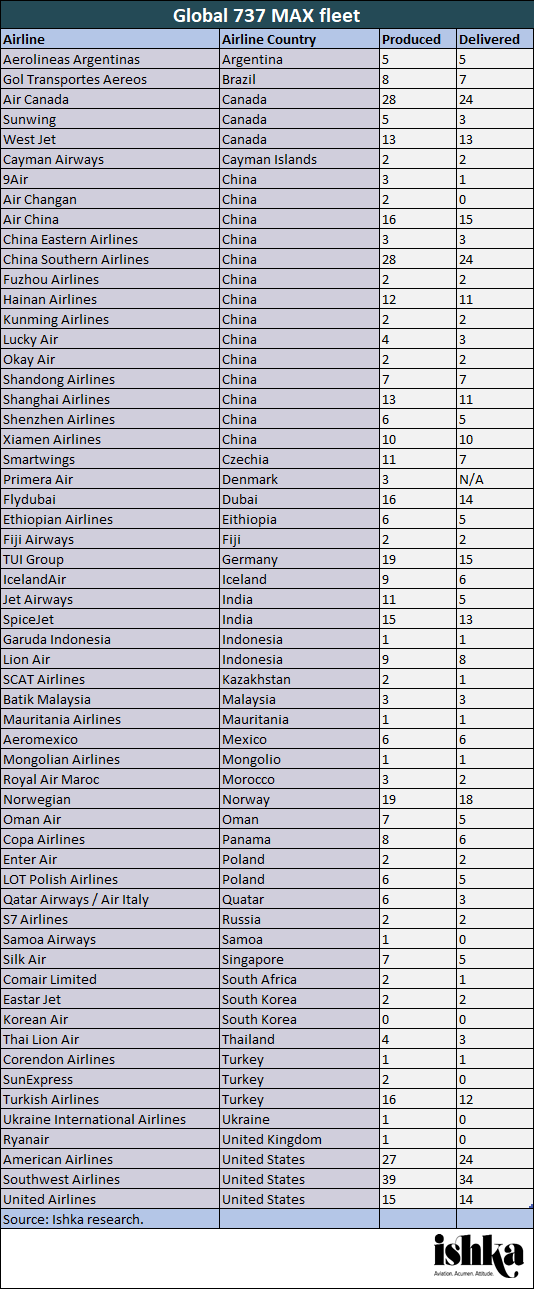 Click here to download the data behind the chart
Chinese 737 MAX fleet
Click here to download the data behind the chart.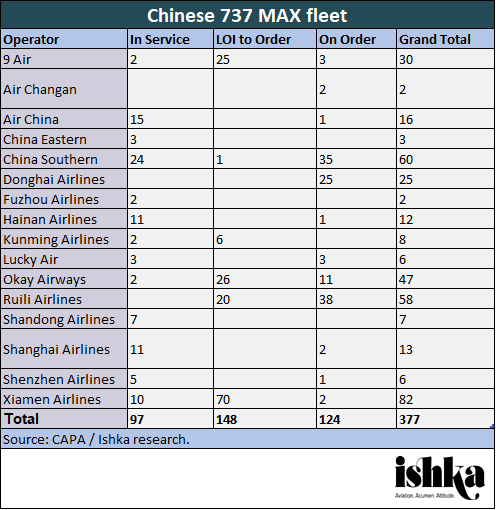 Click here to download the data behind the chart.
New anti-stall feature
The Ethiopian Airlines aircraft was delivered on 15th November last year. It was not leased. According to Ethiopian Airlines chief executive officer Tewolde GebreMariam, the pilot had reported difficulties and had asked to return to Addis Ababa shortly after take-off. GebreMariam added that the 737 MAX 8 had not reported any obvious issues on an earlier flight from Johannesburg. Ethiopian Airlines, which has been flying since 1946, operated five 737 MAXs as of the end of January 2019 and has orders for a further 25.
A preliminary report on the Lion Air crash by Indonesia's National Transportation Safety Committee released in November 2018 stated that the 737 MAX's anti-stall system, known as the Manoeuvring Characteristics Augmentation System (MCAS), was reacting to incorrect flight data. New to the 737 MAX 8 and 9, MCAS pitches the plane's nose down when sensor data indicates that the aircraft is possibly stalling. The committee did not, however, name a cause for the crash, which is still under investigation.
Boeing's 'biggest crisis'
Boeing's share price dropped 13.3% from $422.54 to $372.95 within minutes of trading opening on 11th March, the day after the crash. Bloomberg, calling the 737 MAX crashes Boeing's 'biggest crisis', reported that this was the biggest slide in Boeing's share price since 17th September 2001, the first day of trading after the 9/11 attacks.
While the 737 MAX has been suspended in four countries now, no news of cancelled orders has come. Ishka calculates that there are currently 124 737 MAXs on order in China. Lion Air was reportedly rethinking $22 billion worth of 747 MAX orders in December 2018 after disputes over where responsibility for the crash lay, however no more news of any cancellation has come since.
The Ishka View
It is hard to underestimate the immediate pressure on Boeing to offer some reassurance to its customers following the crash – something that will be extremely difficult for them to offer until an investigation is completed. The aircraft's black box has been recovered, but it will likely be days, if not weeks, before the authorities will be able to shed some light on the tragic crash.
This could be the start of what looks likely to be a lengthy crisis for Boeing. The MAX aircraft is vital for Boeing's long-term growth and is expected to generate the bulk of the OEM's commercial aircraft revenues, much of this coming from China. Although many lessors have ordered MAXs – it is Boeing's fastest selling aircraft – it is likely to take months for Boeing to offer enough evidence to Chinese civil aviation authorities that the MAX is safe to operate. Most airlines will have to keep paying the leases even if the aircraft are grounded. Privately lessors have been complaining about low MAX lease rates, and Ishka suspects lease rate pressures are only going to get worse if airlines stop operating the aircraft, even if just temporarily because of safety concerns.
---

More related insights: