Garuda joins list of struggling state carriers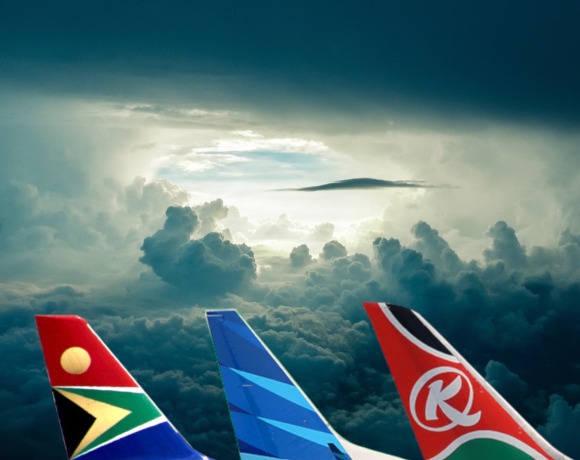 Garuda Indonesia (Garuda) is likely to declare a loss for 2018 after Indonesian authorities ordered the airline to restate its 2018 financial results. Ishka estimates that the airline will record losses of between $200 million to $300 million when $240 million in one-off revenue that the airline had not yet received from PT Mahata Aero Teknologi is deducted from its 2018 financials.
It now joins a list of loss-making state carriers. Ishka examines three of the weakest state carriers: Garuda, Kenya Airways and South African Airways (SAA) which together lost a combined $719 million in 2017 alone.
Garuda Indonesia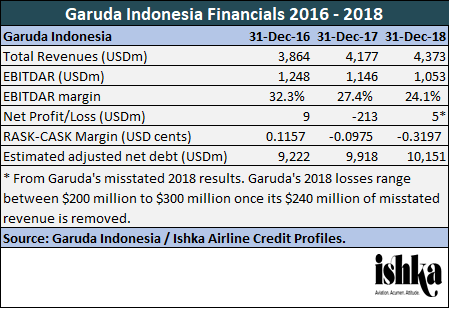 Click here to download the data behind the chart.
Garuda made news recently after Indonesia's Financial Services Authority ordered it to restate its 2018 financial results and pay a $17,700 fine for accounting violations. Regulators claim that Garuda misstated $242 million in one-off revenue for a contract providing in-flight entertainment and onboard WiFi.
Garuda had a 2018 net profit margin of only 0.1% on $5 million of profits with the misstated revenues – which was at least an improvement on 2017's -5.1%. Without the $240 million, however, Garuda again dips back into a net loss position, with a net profit margin of -5% to -10%. News of the accounting violation sent Garuda's shares down 7.58% from 396 IDR ($0.028) on the 27th June to 366 IDR ($0.026) on 28th June. The airline ended 2018 with $10,151 million in adjusted net debt and has had consistently and unsustainably high debt for the last three years.
The incident could lead to some (welcome) changes in governance practice. Garuda has seen several management shake-ups in recent years. The airline has had three CEOs since 2014, with both the outgoing two fired. The airline discharged Arif Wibowo in 2017 after 2017 Q1 losses of $283.8 million and allegations of corruption. Successor Pahala Mansury was fired in September 2018 after implementing controversial cost-cutting measures. The current CEO, known as Ari Ashkara, is Garuda's former CFO. Currently, 60.54% of Garuda's shares are held by the Indonesian Government and 25.62% by Trans Airways.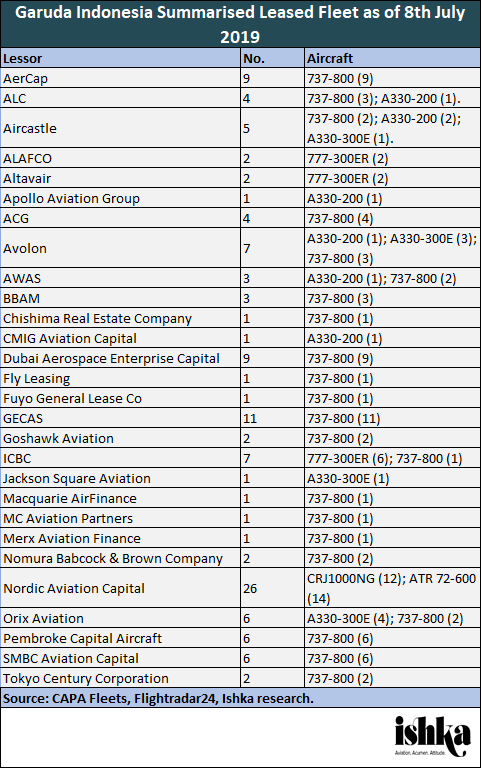 Click here to download the full fleet list.
Kenya Airways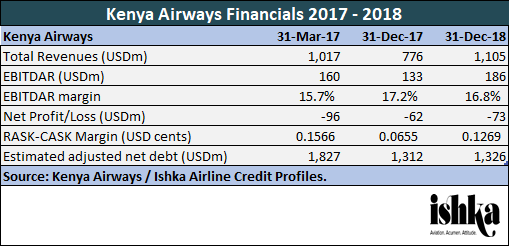 Click here to download to the data behind the chart.
Kenya Airways has lost around $232 million in the last three years and has reported yearly losses since 2012. In its annual reports, the airline often cites fierce competition from cheaper regional rivals like Ethiopian Airlines and unsuccessful fuel hedging policies as reasons for its losses. In 2016, the airline posted the highest-ever yearly corporate loss in the country: $251 million.
Kenya Airways' financials began to recover in 2017 following a restructuring programme that focused on route expansion, scaling back operations and rid the airline of some of its widebodies. However, Kenya Airways' chairman described the airline as "heavily impacted" by 2018's high fuel prices and last year the airline's financials again deteriorated. Auditors in the airline's 2018 report noted "material uncertainty" surrounding the airline's ability to continue operations.
The airline's largest shareholder is the Kenyan Government at 48.9%, increased from 29.8% after a 2016 state bailout converted $182 million of the airline's $267 million debt to the government into equity. A consortium of 11 commercial Kenyan banks also gained a 38.1% stake in the airline through a similar debt-to-equity swap. KQ Lenders Company, an SPV ultimately controlled by the consortium, converted $167.2 million of Kenya Airway's $217.24m debt. Air France-KLM holds a 7.8% stake, diluted from 26.73% after the government and banks' shares increased.
According to CAPA Fleets, currently 51% of Kenya Airways' 37-aircraft fleet is leased, with an average age of 7.8 years. Just over half (53%) of its leased aircraft are 737 NGs (ten aircraft). The other half comprises of three 787-8s and six ERJ190s. Last month, the airline's board announced it was looking to double its fleet within the next five years.
Two of Kenya's ERJ100s are currently inactive after one (MSN 19000468) came loose from its wheel clamps during services, colliding with the other parked jet (MSN 19000594). A Facebook post by Kenya Airways stated that both were "substantially damaged", but that no one was injured.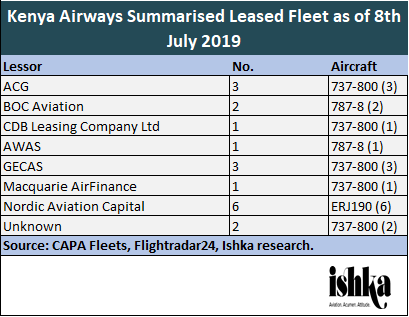 Click here to download the full fleet list.
South African Airways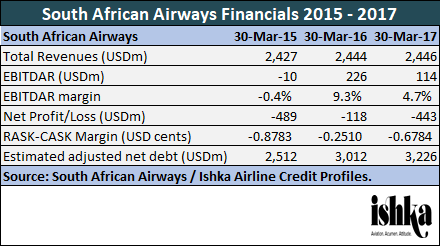 Click here to download the data behind the chart.
South African Airways (SAA) has been loss-making for eight years, with a total loss between 2015 and 2017 of $1.05 billion. It has not published financial results for 2018, however, disclosed in a media briefing that it needs $270.3 million to last into 2020 and has $621.7 million of debt maturing later this year.
SAA has seen many a management shuffle in recent years and its executives have been repeatedly accused of corruption – usually by other SAA executives. Former SAA senior employees are currently testifying at South Africa's ongoing state capture inquest. The airline has burnt through nine permanent and acting CEOs this decade (see earlier Insight), with the latest quitting last month, claiming that SAA's debt was "unsustainable" and that government financial support (and even clarity about that financial support) was lacking.
Despite this, according to outgoing CEO Vuyani Jarana, SAA received $336.7 million of government funding in 2018 and 2019. Jarana states that "a big chunk" of that has already gone to pay off imminently maturing debt and that the government has not given any more financial commitments to the airline since.
80% of SAA's fleet is leased, with the airline owning 11 A340-600s with an average age of 15 years. SAA's LLC Mango has an all-leased fleet of 14 737 NGs with an average age of 18.6 years.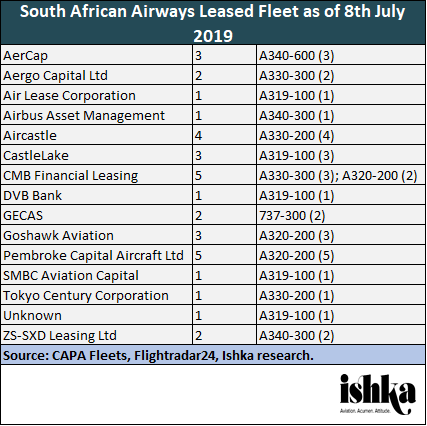 Click here to download the full fleet list.
The Ishka View
The mounting losses of Kenya Airways, South African Airways (SAA) and Garuda Indonesia (Garuda) in recent years highlight the importance of state support. The financials of SAA and Kenya Airways in particular demand attention from investors and lessors, and it is unclear whether a similarly loss-making private airline would still be operational.
Ishka's opinion is that Garuda is in a relatively healthier financial state than the other two airlines and, correspondingly, has required less emergency state funding. Its domestic market position was solidified when Garuda's low-cost subsidiary, Citilink, took over Sriwijaya, Indonesia's third largest airline group. The Sriwijaya and Garuda airline groups consist of four airlines and nearly half of Indonesia's domestic market.
Mismanagement has also been a primary driver of the poor performance for these airlines. SAA and Garuda have in particular been rocked by corruption scandals and SAA's rotating door of upper management denies the airline the stability it needs to return to profitability. Garuda's $13.13 million of fines in 2018 alone makes clear the financial costs of poor management.
For more details on each of these airlines, check out Ishka's Airline Credit Profiles. Ishka's Airline Credit Profile service delivers essential intelligence for lessors, asset managers, investors and suppliers to assess airlines, benchmark ABS deals and for airlines to conduct powerful competitive analysis. For more information please contact Chris Keene: [email protected] or +44 (0) 20 3176 6392.
---

More related insights: