Macro headwinds to challenge weaker carriers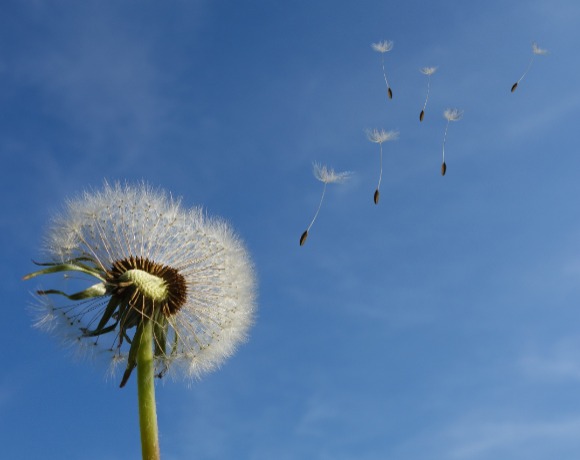 Following a difficult 2018, when the mismatch between revenue and cost growth negatively affected many airlines, some weaker airlines have seen their balance sheet deteriorate further.
2019 has seen several new headwinds emerge. Escalating trade conflicts and geopolitical tensions have put downward pressure on economic growth, while a strong US$ has put additional inflationary pressures on non-US carriers. The chart below highlights the most recent full-year estimated leverage levels for some of 2018's weaker airlines, with Delta Air Lines for comparison.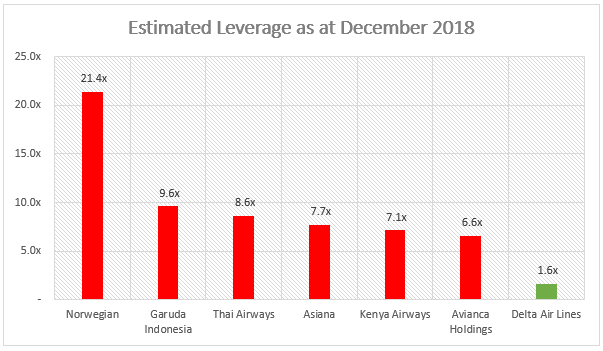 Source: Ishka Airline Credit Profiles and airline data. Leverage is derived by dividing estimated net debt (capitalised annual aircraft rentals by a factor of 8 plus balance sheet debt minus all liquid cash resources) by EBITDAR. These numbers are prior to the adoption of IFRS16 lease accounting. The 2018 numbers are likely to be revised following full adoption of IFRS16.
The airlines (minus Delta) in the chart are significantly leveraged at the same time as facing adverse macroeconomic and carrier-specific condition. Colombia's Avianca Holdings is in the midst of a major financial restructuring exercise and has voluntarily deferred some long-term leases and principal payments. Norwegian's precarious financial position is well-documented as the carrier continues to monetise its assets to raise short-term liquidity. Asiana is in the midst of a creditor-led restructuring, while Thai Airways' uncontrollable leverage is becoming a concern as tourist traffic to Thailand slows down.
Most of these carriers have adapted to the changing market conditions and are undertaking steps to improve their financial position. These airlines have initiated ambitious cost-cutting programmes and scaled back on growth plans to limit capital expenditures. While these steps are encouraging, recent macroeconomic developments will challenge their recovery.
Waning traffic growth
In July 2019, the International Monetary Fund (IMF) released revised GDP forecast (fourth revision since July 2018) for all major economies. The agency now expects the global economy to grow by 3.2% in 2019, down from 3.9% forecasted in July 2018. An escalation in trade conflicts, rising geopolitical tensions (particularly in the Middle East), uncertainty in policy making and a failure to initiate much needed structural reforms (mainly Latin America) have been the key reasons behind the downgrade. While no one forecasts a recession just as yet, some macroeconomic and financial experts point towards the inverting yield curve and weak business sentiment in major economies as signs of the weakening prospects.
GDP Growth Estimates by IMF in 2019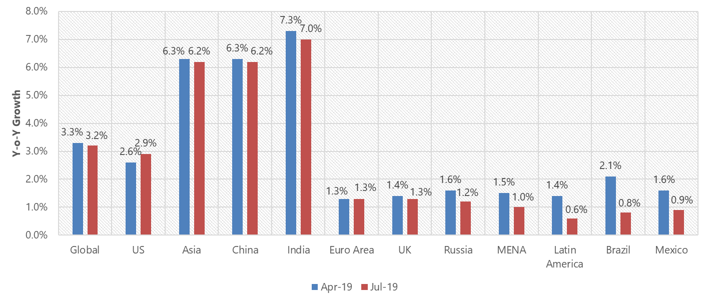 Source: IMF
While traffic growth has remained resilient and continues to better long-term average, there has been a gradual slowdown in the pace of growth. After rising 7.6% and 6.5% in 2017 and 2018, traffic growth has averaged 4.7% in the first six months of 2019. This compares to 7% during the same period of 2018. Economic slowdown is not the only reason behind the slowdown, and there have been other factors like capacity rationalisation, airline failures (Jet Airways and Avianca Brazil) and even the MAX grounding which has limited the capacity available in the market, also affecting traffic growth.
Year-on-Year RPK Growth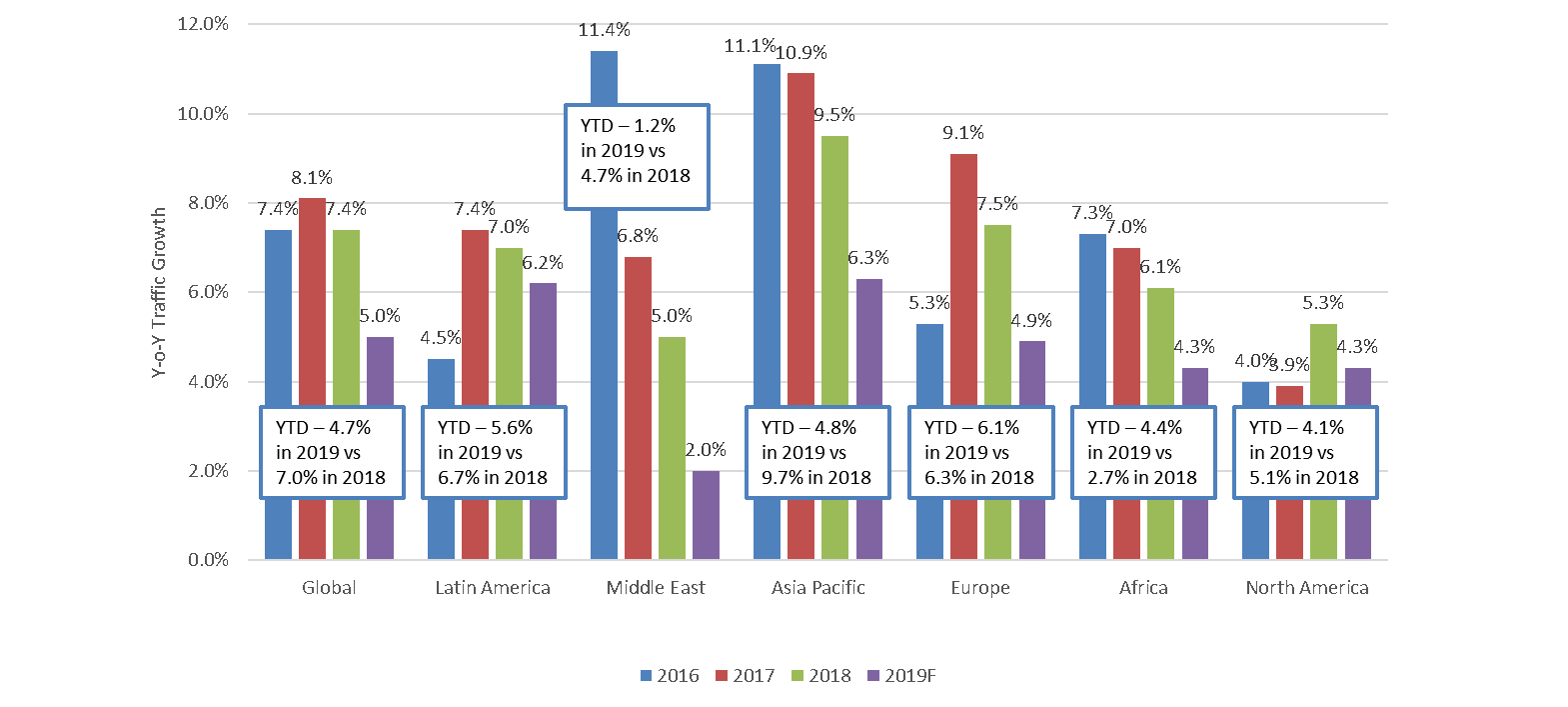 Source: IATA
Currency woes
In the first half of 2019, while most American carriers have achieved strong year-on-year improvements in operating profitability, unfavourable currency movements have been particularly impactful on weaker non-US carriers. The deterioration in the value of most emerging market currencies in Asia Pacific and Latin America against the US dollar has continued to impact the revenue–cost dynamics of carriers in those regions. Asiana Airlines, for example, blamed a weak won against the dollar, along with lower cargo demand and the US-China trade war, for 2019 Q2 losses of $167 million. While Avianca attributed lower revenues in H1 2019 to 'currency weakness' and mismatch between capacity and demand.
In non-US markets – most of which are highly fragmented – competitive pressures have limited the recovery in yields and unit revenues. While currency volatility and a stronger US dollar has inflicted greater inflationary pressures resulting in costs continuing to rise faster than unit revenues.
Around the world
Each jurisdiction furthermore faces its own demons. Asia Pacific, unsurprisingly, remains the fastest growing region driven by the two of the fastest growing aviation markets (China and India) in the world. As elsewhere, risks to traffic growth mainly emanate from the economic pressure and regional geopolitical disputes. Localised issues (Jet Airways collapse) also had a temporary yet meaningful negative impact on RPK growth numbers. However, the market has generally recovered.
Latin America has been among the better performing regions in terms of traffic growth despite the concerns around economic growth. Traffic growth has averaged high single digits driven mainly due to the growth of international segment. The domestic markets (Brazil, Colombia, Peru, Ecuador) are relatively weak. After a few years of declining traffic growth, Brazil is showing signs of recovery and traffic growth is picking up in response. Traffic statistics from 2017 and 2018 show positive traffic growth in domestic Brazil (4.7% in 2018 vs 3.5%) in 2017, while Latin America as a whole has added traffic at a double-digit rate.
In the Middle East, political and economic disputes are spilling onto tourist traffic. Airlines are still adjusting to external developments mainly due to geopolitical tensions and restrictive travel policies (travel bans, laptop bans) in key Western markets which has slowed traffic growth to low single digits.
Africa, on the other hand, has seen a modest improvement as the major economies continue path towards recovery. The region benefits from a low-base and as soon as there are signs of stability and economic improvement, the region experiences meaningful growth in traffic. Nevertheless, downside risks remain, as a result of major structural limitations. Many of the region's airlines are surviving solely on state-aid and undergoing restructuring.
The Ishka View
Most of these carriers are in the midst formal restructuring, however, the situation remains fragile. In addition to the unfavourable currency movements and slowing traffic growth, these carriers will need to manage the tough competitive scenario. On the macroeconomic front, while there have been attempts to reconcile and reach on some kind of agreement on trade, it has so far been unsuccessful and volatile. And it is this uncertain environment that will continue to create challenges for airlines currently restructuring.
---

More related insights: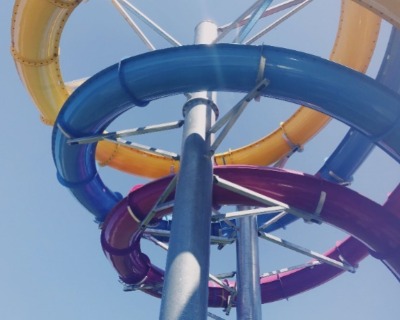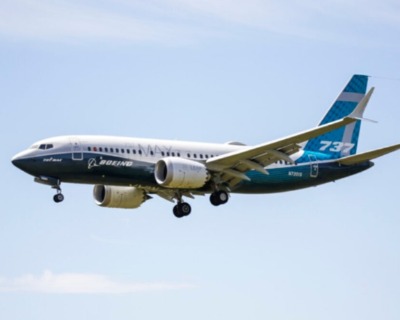 Boeing posts decade's worst Q3 results
Boeing has reported its worst Q3 results this decade. On every metric supplied, Boeing hit either record lows or highs in what CFO Greg Smith described as "the most difficult [moment] in our company's 100-plus year history." more
30/10/2020