On watch: Sriwijaya Air reeling from fleet groundings and state debts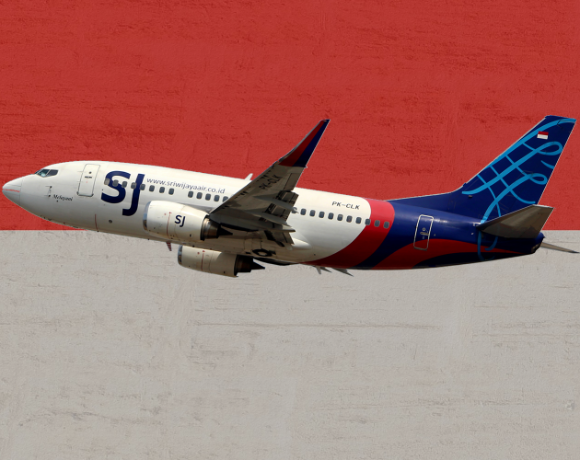 Indonesian private carrier Sriwijaya Air is on a mission to bring around half of its fleet back into service after a dispute with former commercial partner Garuda Indonesia in the last quarter crippled its operations. The fallout from the rescinded cooperation agreement, which allowed Garuda to exert control over debt-laden Sriwijaya, cast doubts over the survival of the country's third-largest airline.
Ishka understands that approximately 20 out of 44 aircraft (45%) of Sriwijaya and its subsidiary NAM Air's fleet have ceased operating at various points since June last year. Sriwijaya, currently on Ishka's watch list (consult Ishka's Airline Credit Profiles), was also delinquent on lease payments to at least one lessor last year and had accumulated debts of around $180 million as of September 2019.
Most of Sriwijaya's debts are to state-owned enterprises (SOE) including subsidiaries of Garuda (chiefly $118.7 million to MRO subsidiary GMF AeroAsia), state airport operators Angkasa Pura I and Angkasa Pura II, and state bank BNI. This led to suggestions, including by officials of the SOE Ministry in October, that the outstanding amounts could be settled through a debt-for-equity swap, but this option faltered as the Garuda-Sriwijaya cooperation agreement came to a premature end in the final months of 2019.
A tortuous partnership
Sriwijaya and Garuda Indonesia's low-cost unit Citilink entered into an operational cooperation agreement in November 2018 to relieve Sriwijaya from repaying outstanding dues to the latter. The deal allowed the two carriers to leverage their combined domestic market share of 46% against market leader Lion Air (51%).
Under the agreement Garuda (via Citilink) managed Sriwijaya's aircraft and became entitled to a management fee amounting to 5% of net operating revenue and profit-sharing amounting to 65% of operating profit (later increased to 95%).
The agreement appeared to have yielded good results in the first quarter of 2019, with Sriwijaya reporting net profits of Rp41.1 billion ($3 million) – up from approximately $35.5 million in losses in Q1 2018 – and Garuda turning a $20.4 million profit after a loss-making 2018. Despite this positive experience, the deal collapsed over the course of Q4 2019 partly due to discontent by Sriwijaya with the profit-sharing terms.
The timeline below includes some of the key moments of this convoluted partnership.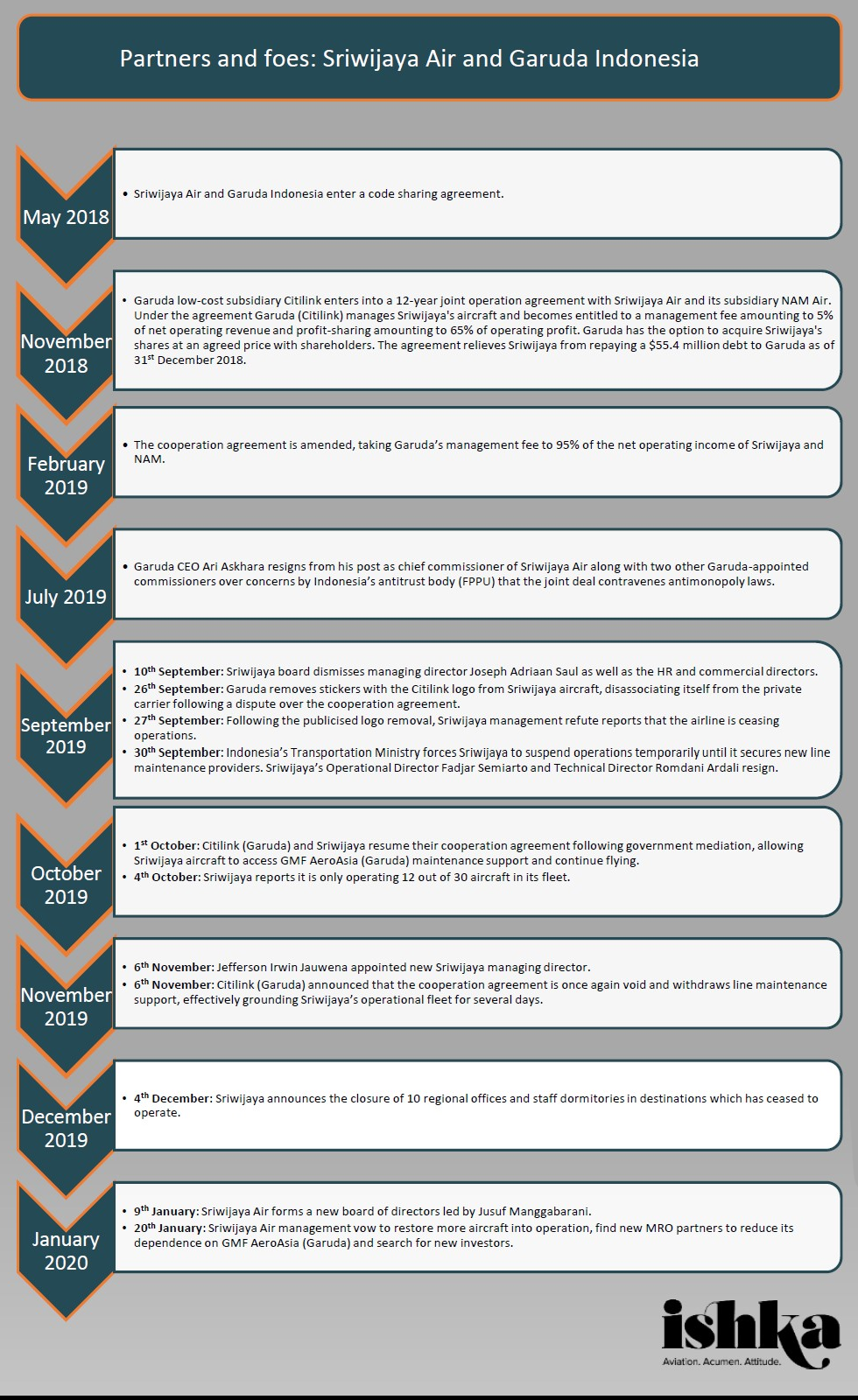 Source: Ishka research
Lessor exposure
Approximately 26 aircraft in Sriwijaya Air and NAM Air fleets are leased – around 59% of the total. The leased portfolio includes five 737-500 aircraft (all managed by GECAS), 19 737-800s (with as many as nine of these in aircraft ABS portfolios) and two 737-900ERs (both in Aergo's METAL 2017-1 ABS).
Of the 26 aircraft, 12 have not been operating in recent weeks or months. Except for MSN 30033 (an AerCap 737-800 which the lessor confirmed is undergoing a C-check in Singapore), the remaining aircraft stopped operating for unclear reasons at various points between July and November last year – presumably as a result of line maintenance shortages due to the Garuda GMG AeroAsia fallout.
One of the 737-800s on the ground since November, MSN 30702, belongs to aircraft ABS AASET2018-3. In a Kroll report published on 3rd June 2019 summarising recent activity at AASET 2018-3, Sriwijaya Air was said to be "more than 30 days delinquent on lease payments" for that aircraft.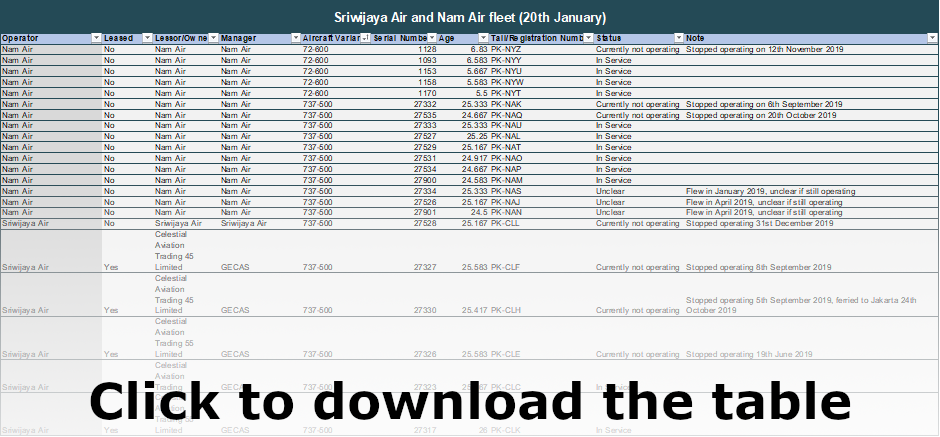 Source: CAPA Fleets, Indonesian Aircraft Register, Flightradar24 and Ishka research
Click here to download the data behind the chart.
Ishka understands that only two leased aircraft have left Sriwijaya's fleet in recent months to be returned to their respective lessors – both 20-year-old 737-800s. They are MSN 28381 (Aircastle, due for freighter conversion) and MSN 27985 (ex-AerCap, now registered to K2 Aircraft Aviation). Both aircraft were ferried to the US in November.
At the end of March, Sriwijaya became one of the first airlines to cancel commitments to lease 737 MAX aircraft. At least one of the aircraft, a 737-9 MAX listed by CAPA as owned by Air Lease Corporation (MSN 43391) and never delivered, has been painted in a Sriwijaya livery.
The Ishka View
Sriwijaya faces an uncertain future. The failed agreement with Garuda Indonesia subsidiary Citilink offered certainty for the repayment of the bulk of its debt to the state by funnelling profits to Garuda but now, back on its own feet, its long-term viability is under question. At a press event in Jakarta on 20th January, finance director Andreas Gunawan told newspaper Republika that Sriwijaya will search for "strategic investors," domestic or foreign before reconsidering plans for an IPO at a later stage. The airline is currently owned by Indonesian entrepreneur Chandra Lie, who founded the carrier in 2003.
Meanwhile, Jefferson Jauwena, who was appointed managing director of Sriwijaya in November, told journalists at the same event that the airline is working to return three aircraft to service by the end of the month and is working on diversifying its MRO provider base to diminish its dependence on GMF AeroAsia. The airline has also introduced free baggage allowance of 20kg to entice more travellers to continue booking with Sriwijaya. It remains to be seen whether these measures will be enough to counter months of widespread negative reporting in Indonesian media, including a probe into the airworthiness of its aircraft in November.
For more information on airlines currently "On Watch", consult Ishka's Airline Credit Profiles.
---

More related insights: