Coronavirus: South Korean airlines take further financial hit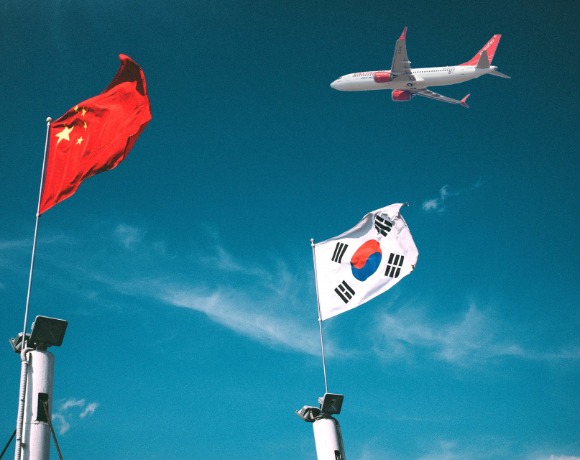 Correction: An earlier version of this article incorrectly stated that Zephyrus-managed ZCAP 2018-1 included one 737-800 on lease to Eastar Jet. ZCAP 2018-1 does not have exposure to Eastar Jet.
Update: Jeju Air agreed to buy Eastar Jet for a discounted price on 2nd March: 54.5 billion won ($45.49 million), a lower price than the previous preliminary price of 69.5 billion ($58.9 million).
Airlines in South Korea with already debilitated financials are seeing their situation deteriorate due to the coronavirus outbreak, as sharp cuts to capacity and weaker passenger demand dent their revenues.
This week South Korea moved from being another economic side-casualty in China's periphery to becoming the second-largest epicentre of the coronavirus epidemic, with the city of Daegu alone accounting for 1,766 cases, including 13 deaths, as of publication.
Eastar Jet, a budget carrier with an all-leased fleet of 24 737 NG and MAX aircraft, is one of the worst positioned to weather the new travel slump, having suffered its own share of difficulties last year. Ishka examines recent developments at Eastar and Asiana Airlines, another South Korean airline with a turbulent recent past.
A rocky year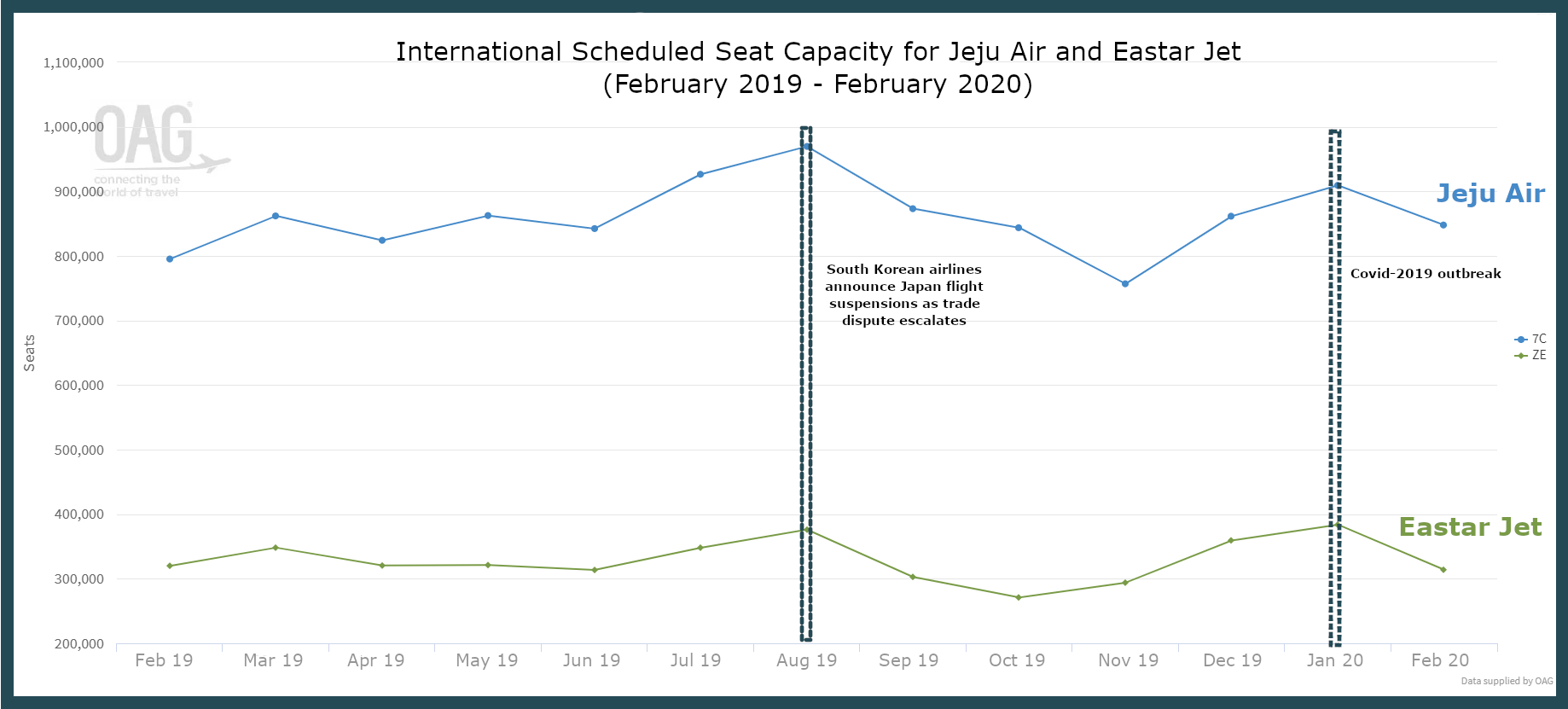 Source: OAG
South Korea is a highly competitive air travel market. The country has seen the number of scheduled airlines grow from just three in 2008 to eight today. The five additions in the past 12 years include Eastar Jet, a small LCC that launched commercial operations in 2009 and is currently the country's seventh-largest airline, and Jeju Air, the largest and most established LCC. Jeju announced its intention to acquire Eastar at the end of last year – this deal, however, could fall through (see section below).
Airlines in South Korea have been through a rocky 12 months. Carriers suspended hundreds of flights to Japan from August 2019 onwards following a deterioration in relations between the two nations. Japan and China are the biggest international markets for airlines in South Korea, exposing mainline carriers, especially LCCs like Jeju and Eastar, that had a significant portion of their capacity deployed to the two countries, to a drop in passenger demand. Flights to Japan accounted for 46% of Eastar's international routes in 2018, according to the South Korean transport ministry.
More recently, cancellations to Northeast Asian destinations, not least China, have increased following the Covid-2019 outbreak. Travel to and from South Korea from other nations is also being increasingly restricted following the Daegu outbreak.
Eastar Jet in a difficult place
Eastar has seen its financial situation deteriorate over the past 12 months. The airline has gone from planning an IPO in 2020 to coping with the grounding of its two MAX aircraft and the unexpected changes in travel demand. In September, it asked cabin crew members to take unpaid leave as part of an emergency cost-cutting plan. Eastar had amassed "tens of billions of won in losses," according to an internal memo on its website.
Things looked up for creditors when Jeju Air signed an MOU to buy a 51% stake in Eastar for approximately $58.9 million in December 2019 (see Insight: 'Airlines on watch: HKA aircraft impounded, Sriwijaya limps on'). The acquisition was due to close in January, but it was delayed after the due diligence process reportedly found an irregular corporate structure at Eastar.
Now there are doubts as to whether Jeju Air will complete the acquisition. The airline posted a loss of KRW 34.8 billion ($28.6 million) in 2019 compared to an operating profit of KRW 102.3 billion ($84.2 million) the previous year and is also reeling from the effects of the coronavirus.
Jeju Air CEO Lee Seok-Joo said in mid-February that the airline would need to rely on debt to sustain its business from June this year if conditions do not improve, the Maeil Business News Korea newspaper reported on 17th February. A report by the Shina Ilbo newspaper on 26th February said Jeju Air is having qualms about completing the Eastar acquisition due to its own liquidity woes.
Recent news coverage of Eastar suggests its financial situation is worsening. The Chosun Ilbo newspaper on 25th February said Eastar will only pay 40% of salaries this month while a spokesperson of fuel supplier Hyundai Oilbank told newspaper Asia Today on 19th February that it had stopped supplying fuel to the airline at Gimpo Airport in Seoul due to unpaid bills.
Lessor exposure
According to CAPA Fleets, Eastar has an all-leased fleet of 737 aircraft: 20 737-800, two 737-900ER and two 737-8 MAX. The NGs average 12 years in age. Lessors with exposure to Eastar Jet include AMCK Aviation, Kahala Aviation, Macquarie AirFinance and FPG Amentum (managed on behalf of Global Aircraft Fund I). Ishka estimates these entities have the biggest exposure to Eastar Jet with a total of 10 aircraft.
The remaining leased aircraft comprise mostly assets in aircraft ABS portfolios. The ones with the largest exposure are World Star Aviation-managed Sprite 2017-1 (three 737-800, including one at Thai Eastar Jet, 14.2% of the portfolio by value) and BBAM-managed Horizon 2018-1 (two 737-800, 9.73% of portfolio) and Horizon 2019-1 (two 737-800, 12.12% of portfolio and largest lessee).
Other ABS with exposure to Eastar are Avolon-managed SAPA 2018-1 (one 737-800, 1.6% of portfolio) and Carlyle-managed AASET 2018-1 (one 737-800, 4.8% of portfolio).
Asiana's pending takeover
Another airline of concern is Asiana Airlines, which has been on Ishka's watch list (See Ishka's Airline Credit Profiles for more information on Asiana).
South Korea's second-largest airline has been one the most impacted by the coronavirus outside of China. It has asked ground crew, cabin crew and maintenance workers to take unpaid leave while senior executives have offered to resign and repay part of their salaries.
The airline has suspended several routes throughout Northeast Asia, particularly China, and reduced frequencies or cancelled services to Europe and Southeast Asia. Despite the impact of the coronavirus, HDC Hyundai Development Co., which is in the process of acquiring Asiana (see Insight: 'Airlines on watch: HKA aircraft impounded, Sriwijaya limps on'), has said it will not change its plan to buy a KRW 2.2 trillion ($1.85 billion) stake in the airline, The Korea Herald reported on 18th February.
The Ishka View
At the time of publication, Ishka is not aware of South Korean carriers requesting rental holidays for leased aircraft. However, as the impact of the coronavirus grows, it is likely that more airlines in Asia-Pacific will need a helping hand from creditors and lessors – as has been the case with Chinese carriers (see Insight: 'Coronavirus prompts Chinese airlines to seek rental holidays').
Among the South Korean carriers, Ishka notes that Eastar is the most concerning airline credit given its recent trajectory. Other carriers in the country moving to palliate the effects of Covid-2019 on travel demand include two Asiana budget subsidiaries: Air Seoul and Air Busan. Air Seoul has suspended ticket sales for international flights in the next two weeks and imposed a 30% pay cut for employees, according to a report by Ch-Aviation, while Air Busan has invited employees to take unpaid leave and suspended 78% of its international routes in March, The Korea Herald reported on 24th February.
Ishka notes that both airlines have all-leased fleets with one-third of Air Busan's 27 aircraft currently in ABS portfolios and at least one in Air Seoul's seven leased aircraft in an ABS, based on CAPA Fleets data.
---

More related insights: