Coronavirus likely to "test" ABS servicers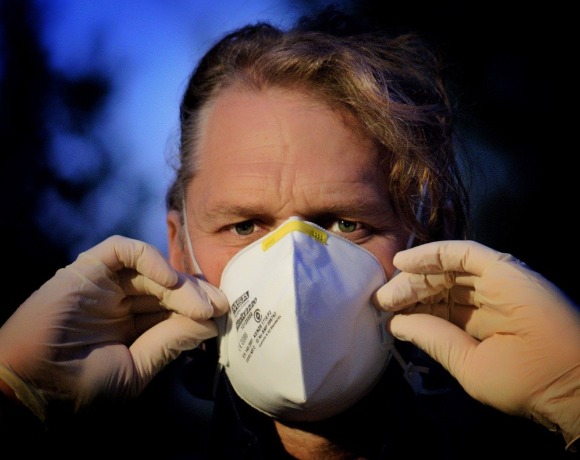 Multiple airline requests for rent deferrals and the stress placed on the airline industry globally as air traffic volumes drop are likely to place a strain on aircraft ABS servicers, warns one industry source close to the market. He adds that aircraft ABS servicers could face challenging decisions on which airline lessees they will need to support in order to minimise the cashflow disruption to deals.
Aircraft ABS deals have several structures designed to protect investors including liquidity facilities and debt traps triggered by either the debt service cover ratio and the level of aircraft utilisation which funnels cash into the senior debt notes.

"It's actually pretty hard to default an ABS," mused one financier active in the market speaking last month "and the recent performance history of the product has been pretty good."
However, the introduction of widespread travel bans due to the Covid-19 outbreak has led multiple airlines to seek government support to help deal with depressed passenger revenues globally, raising questions on their ability to pay aircraft rents on time.
In early March, before the US travel ban was announced, Fitch announced in a webinar that the coronavirus was not having an immediate impact on aircraft lessor ratings and stated that the virus had not caused declines in cashflows in any of the 31 outstanding aircraft ABS rated by Fitch.
However, the rating agency did warn that it would take "several months" for any impact to be noticed on cashflows. The agency stated it viewed both the coronavirus pandemic and the 737 MAX grounding as a "near-term" risk but added that the crisis would likely "test" some ABS servicers.
In the same webinar Fitch also warned that ratings for lessors could be impacted if the pandemic caused "elevated airline bankruptcies," if airlines started to refuse aircraft deliveries from their orderbooks, or if travel bans depressed passenger demand and caused problems for lessors looking to repossess or redeploy aircraft. On Monday Fitch revised its sector outlook for global aircraft lessors to negative from stable citing the spread of the coronavirus.
In a webinar last week Kroll stated that it was planning to report on which aircraft ABS deals "may be at risk" due to the crisis and, separately, warned in a research note that the short-term demand for air travel could reduce the amount of cash available for ABS transactions

Aircraft ABS market on hold due to Covid-19

Aviation ABS issuance appears to have stopped completely in March amid coronavirus uncertainty and, volatility in the capital markets. The inactivity surrounding ABS deals contrasts with a fairly active first two months of the year. Over $2 billion of debt was issued for aircraft and engine ABS deals in January and February.
However, no new deals have been issued for nearly a month since Willis Lease Finance Corporation priced its $366 million ABS on the 18th of February.
Ishka understands that the uncertainty surrounding the coronavirus has meant that several potential ABS sponsors are waiting before tapping the market but sources state it is not clear when the market will be open for new issuances. In an Ishka interview published this week GECAS CEO Greg Conlon stated that there is "probably a dozen [aircraft ABS] deals" in the works to be issued in 2020. "There's a lot of these deals in the queue and when they think it's stable, you will probably see a lot of them start flowing through again," he told Ishka. GECAS has been an active issuer in the ABS market.
Widening spreads but investor appetite still there

A week ago, before the US travel ban was announced, sources indicated that ABS debt investors appeared more open but still cautious to new deals, while ABS equity investors had paused any investments in the sector with initial bid talks on debt spreads widening. Now, however, sources state that the entire market has paused.
"If you are offering debt and it is a decent portfolio it is probably on hold," explains one source active in the market. "Any portfolio with Asian exposure is being analysed closely and people are nervous about going to market. If you are selling a tradeable e-note as part of the ABS that is not on pause that has just stopped. Investors are not looking at that in any material sense at the moment. If there are defaults or restructurings that is where you are going to find potential holes."

"There is a clear distinction as a number of issuers are only offering rated debt notes and other issuers are selling equity at the same time. If you are looking to sell equity you are not going to come to market to do the debt and then wait for ages."
Sources indicate that there was still – in theory – investor appetite for aircraft ABS debt, but add that spreads widened last week in the secondary market for aircraft ABS A and B Class notes, as investors priced in the additional risk. However, a recent rally in US 10-year treasuries and the subsequent drop in yields has helped offset the widening in spreads – somewhat reducing the impact.
"We have seen A and Bs go from low 200s to low 400s in the secondary market last week and seen some selective trading this week at wider levels," indicates one financier familiar with the ABS market. "Spreads for aircraft ABS A tranches are basically where it was about a year and a half ago in terms of coupon."
"But we have seen decent demand for these products even recently. Even last week there was continued interest from debt investors. Now that will have changed over the weekend but many of these pension and insurance funds need to put their money to work. Delta managed to price its EETC earlier this month and that was despite disruption to the capital markets even then."
Only one aircraft ABS deal in 2020 has been pulled after coming to market. KDAC 2020-1 was a $629.8 million ABS split across three classes of debt notes which planned to refinance the KDAC 2017-1 transaction with a concurrent tradeable e note placement. KDAC is the sponsor of the ABS – a joint venture between KKR and DVB. The ABS included a portfolio of 34 aircraft split between 26 narrowbodies and eight widebodies. The aircraft in the portfolio had a weighted average age of approximately 13.8 years and a weighted average remaining lease term of approximately 2.8 years.
Ishka understands that the deal was not primarily pulled because of the impact of the coronavirus. The transaction was an opportunistic refinancing based on a reverse inquiry on a substantial portion of the debt and designed to allow KKR to divest a portion of the equity of the ABS through the tradeable e-note market. However, given the costs imposed by an early prepayment expiring in December 2020 the deal failed to meet the desired return hurdles for the equity portion and, despite attracting a number of bids on the equity, was pulled in February before the potential impact of the coronavirus outbreak became evident.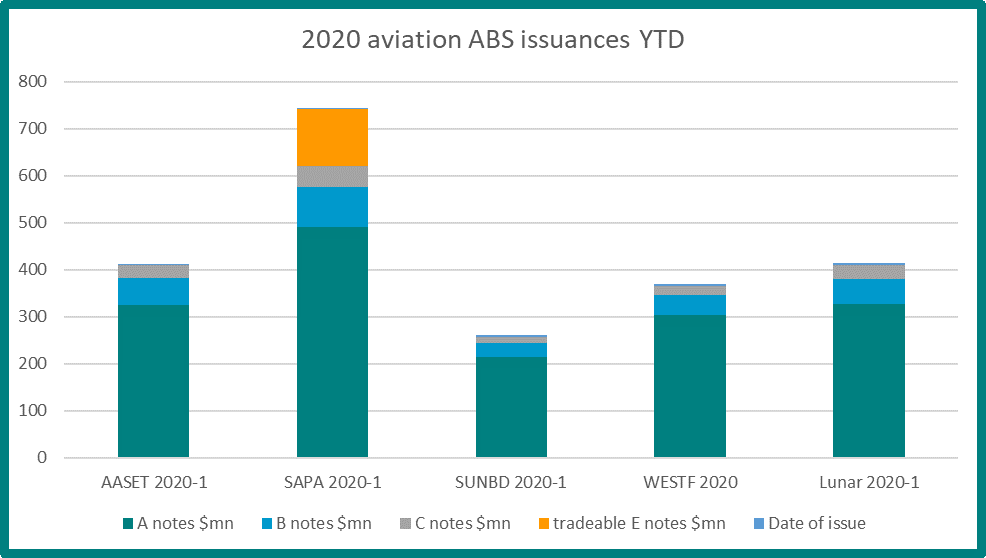 Source: Bloomberg/ Ishka research



The Ishka View

Aircraft ABS transactions have structural features designed to protect investors. However, the scale of the Covid-19 crisis is unprecedented. The widespread demand for rent deferrals and the number of airlines asking for government support (most large carriers in Europe and North America) is just an indication of the revenue pressure facing the airlines. It is unclear how severely the crisis will impact cashflows to aircraft ABS deals and a natural lag in reporting means it could be a few months before ratings agencies get a better picture on the scale of the issue. One thing the crisis is likely to do is to highlight the differences between servicers, many of whom will likely face hard choices as to how to support their lessees while minimising potential disruption to their ABS portfolios.
Separately, KDAC's deal being pulled is partly due to the relatively thin and nascent nature of the aircraft ABS equity and tradeable e-note market. Sources say there are anywhere between 20-30 active equity accounts for aircraft ABS. Thanks to the coronavirus it is not clear how quickly either equity or debt investors will return to the aircraft ABS market.