Covid-19: Brazil extends airline aid as Latin America closes borders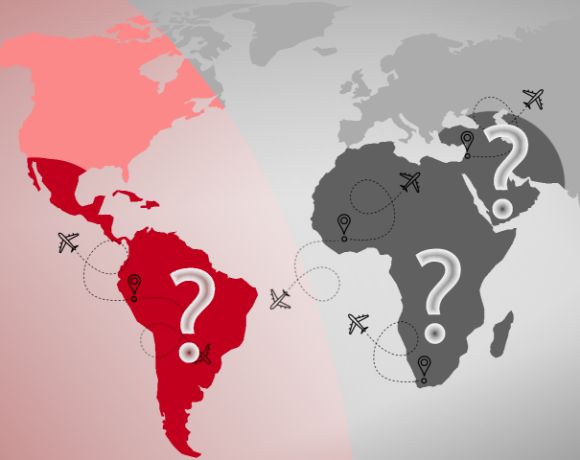 Brazilian airlines are set to receive government aid as countries in Latin America rush to close their borders.
As Ishka goes to press, Latin America has among the fewest incidences of reported coronavirus cases globally. While Asia Pacific scheduled capacity plunged in February (though there has been some recovery since then) and Europe's is currently sinking, capacity trends from Latin America have remained more resilient.
However, a flurry of travel bans and individual airline route suspensions are set to plunge scheduled capacity far below the current levels recorded by OAG. As passenger demand disappears from these regions, airlines are turning to their governments for state aid.
The countries with more than 10 cases of coronavirus in Latin America are: Brazil (321), Chile (201), Peru (117), Mexico (82), Argentina (79), Panama (69), Colombia (65), Ecuador (58), Costa Rica (50), Venezuela (33), the Dominican Republic (21), Martinique (16), Jamaica (12) and Bolivia (11). All data on Covid-19 infection rates is sourced from John Hopkins University and is correct as of 18th March 2020.
While much focus remains on Europe, North America and the Asia Pacific, Ishka reviews how the Covid-19 pandemic is impacting aviation in other areas of the world. Another previous report focuses on Africa and the Middle East (see Insight: 'Covid-19: Will African, Middle Eastern airlines survive on state-backing?').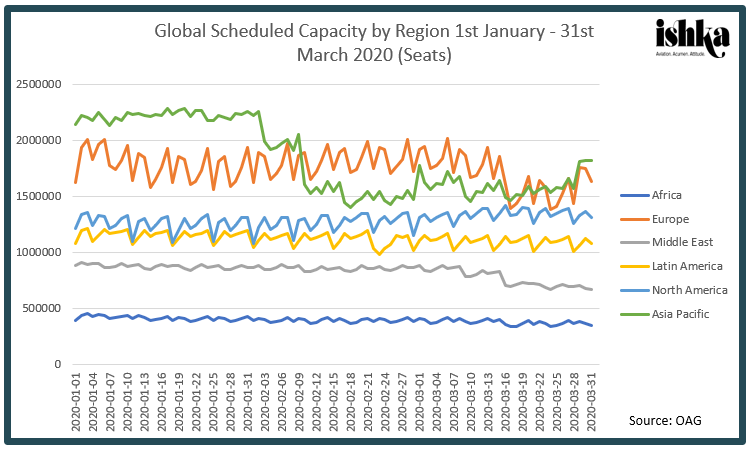 Brazil extends airline aid
The Brazil government is one of the first globally to commit to financial aid for airlines during the coronavirus. It is currently preparing a rescue package to airlines which includes a three-month tax deferral such as those on airline tickets and potentially jet fuel. A spokesperson from Brazil's Infrastructure Ministry emphasised that airlines these would be deferrals, not tax cuts. The National Civil Aviation Agency of Brazil (ANAC) has also suspended airport slots rules until October 2020.
Chile-based carrier LATAM has admitted to appealing for state aid, but Chile has so far dismissed the idea. "I want to be super clear about this," said Chilean economy minister Lucas Palacio. "We are prioritizing people, and I think it's rushed. I think it's wishful thinking, for one company to be asking something of that nature."
Preventive travel bans, route cuts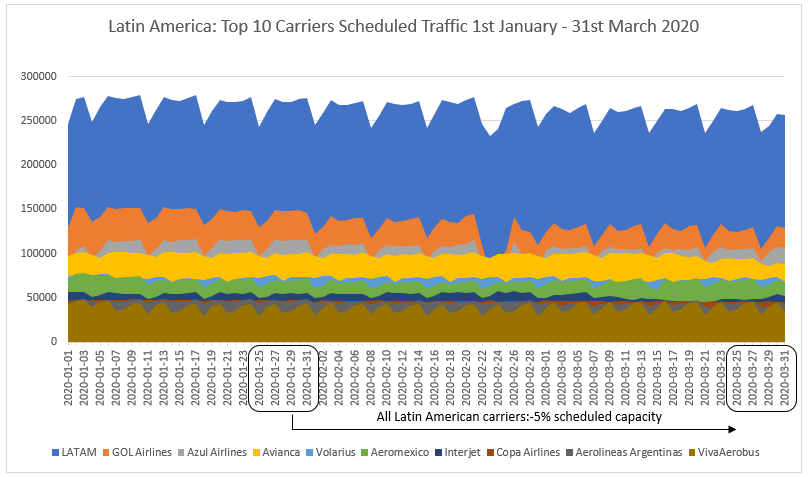 Souce: OAG
Latin America has 947 confirmed cases of coronavirus as Ishka goes to press. Much of its aviation industry's response has therefore been preventive route suspensions to more infected countries, either internationally or, often, to Europe. While current data shows Latin American carriers have reduced their scheduled capacity by only 5% at the end of March compared to the end of January, the scale and pace at which airlines have announced schedule changes, it will take some time for all updates to filter through.
However, over the past few days, individual carriers in Latin American have announced drastic cuts. Of Latin America's top ten airlines by capacity, seven have announced route suspensions. Between just the capacity cuts announced by these airlines (LATAM, Avianca, GOL, Interjet, Aeromexico, Copa), this amounts to a 33% reduction to Latin America's total scheduled capacity for the last two weeks of March – six times higher than anticipated in scheduled capacity losses. (Interjet, which is on Ishka's Airline Credit on watch list, is reducing its capacity by 40%.)
Beyond capacity cuts, Brazilian low-cost carrier Azul is putting incremental aircraft deliveries on hold, while continuing its replacement of E1s to E2s, according to a press release. Panama-based Copa Airlines admitted in a SEC filing that it cannot rule out a total temporary shutdown.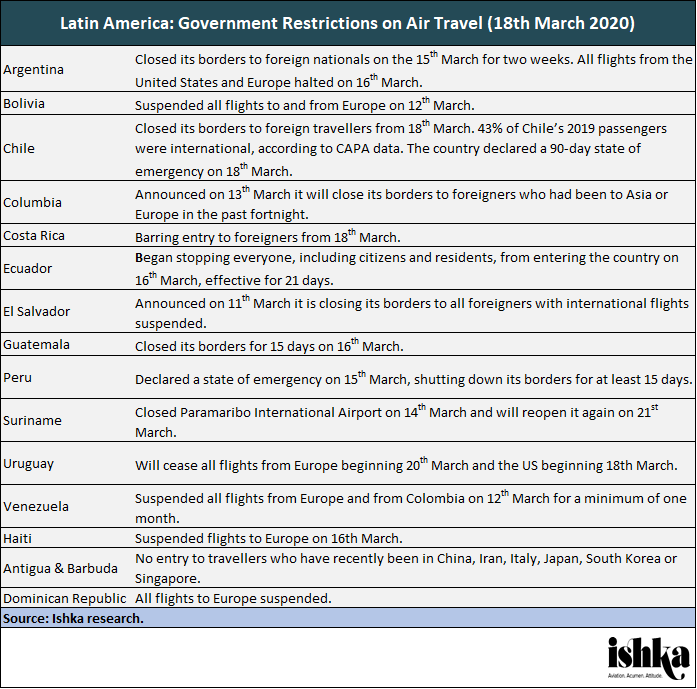 The Ishka View
Latin America has relatively low rates of infection and most countries in the region are not yet explicitly discussing airline aid, as is happening more broadly in the US and in Europe. An exception is Brazil, which is home to two of Latin America's biggest airlines (GOL Airlines and Azul Airlines).
But more cuts and travel bans are coming. The actual traffic numbers for Latin America are likely to be much lower than the current scheduled traffic. As the coronavirus crisis continues, scheduled traffic will alter rapidly as countries enforce travel bans and individual airlines suspend routes. As such, this data gives a snapshot of airlines' expectations before the swift developments in the Covid-19 pandemic that have occurred over the past few days.
While, naturally, the countries with the most cases are reacting the most severely, other regions, now relatively unaffected, will soon follow in their footsteps as the virus spreads. Following Australia and Brazil, the most likely assistance coming airlines' way, generally, is in the form of operational cost waivers, such as tax deferrals.
Ishka will follow this report with looks at how the coronavirus is impacting the Middle East and African markets (see Insight: 'Covid-19: Will African, Middle Eastern airlines survive on state-backing?').
---

More related insights: