Covid-19 bailouts: Airline demands vs government support (9th April)
This is the fourth updated summary of airline demands for state support and bailout offers by governments around the world.
The tables below contain the demands or policies of 54 carriers or airline holding groups and 19 industry associations, as well as the policies or proposed measures of 38 countries and EU-level entities. Based on the collected reports, Ishka estimates that as of 9th April governments are preparing or executing $75.2 billion in bailouts or assistance measures for airlines around the world, or nearly $92 billion including unconfirmed reports.
Ishka's definition of government support for airlines encompasses any monetarily quantified relief measure provided by states or state-backed entities, including deferrals of taxes or operational charges, state-backed commercial loans and the nationalisation of airlines.
Additions to this tally since Ishka's last update on 2nd April comprise:
- Deferred payments by European air navigation service providers worth $1.19 billion for all airlines;
- a further $258 million relief package by the Hong Kong Airport Authority;
- $0.7 million in flight subsidies for Icelandair;
- $740 million in commercial paper issuances by EasyJet using a Bank of England facility;
- and $200 million in financing from Export Development Canada for two airlines (previously $100 million).
The tally of unconfirmed reports grew by $6.5 billion after a French junior minister labeled "not unrealistic" the possibility of Air-France KLM receiving French and Dutch state loans for that amount.
The Ishka View
The amount of confirmed state assistance tallied by Ishka has only increased by 3% from last week's $72.8 billion, and the bulk of that remains the $58 billion for US Airlines allocated in the CARES Act. Around the world, efforts to bail out airlines are progressing but for the most part are yet to yield concrete results. Ishka expects more relief packages to be announced in Europe in the coming weeks, but likely longer in Asia given the apparent lack of tangible lobbying efforts so far.
Conrad Clifford, IATA's Regional Vice President for Asia-Pacific, noted in a research note on 3rd April that while Australia, New Zealand and Singapore have announced substantial financial aid packages for airlines, other countries in the region "including India, Indonesia, Japan, Malaysia, the Philippines, Republic of Korea, Sri Lanka and Thailand," have yet to take "decisive and effective action." Ishka notes that while South Korea, through the Korea Development Bank, has offered assistance to low-cost carriers and reports suggest that Malaysia is preparing to announce significant measures in coming days or weeks, there are yet to be signs of government intervention by many other countries in the Asia-Pacific region.
Meanwhile, environmentalist groups, particularly in Europe, began to mobilise more aggressively last week against favourable treatment to airlines in this crisis, strengthening the opposition against airline demands. On 6th April, more than 250 organisations from 25 countries published an open letter titled #SavePeopleNotPlanes directed to governments urging them to resist aviation lobby attempts to provide bailouts, calling instead for protection for workers and climate-first transitionary measures. Greenpeace, through its publication Unearthed, also published on 7th April internal IATA documents prescribing regional petitioning strategies and a letter by Emirates to the Port Authority of New York and New Jersey calling for tax concessions and waivers of operational charges in an effort to shame aviation lobbying efforts.
State support tally
The table below tallies financial support measures for airlines (converted to US dollars) confirmed by 15 nations and state entities and, separately, amounts reported to be allocated by six states to airlines but not yet confirmed. Ishka estimates that governments are preparing or executing $75.2 billion in bailouts for airlines around the world (confirmed reports). Unconfirmed reports suggest a further $16.7 billion could soon be allocated by six other states, for a total tally of $91.97 billion.
State support for airlines as of 9th April 2020 (tally)
Government / authority
Amount (USD millions) - Confirmed
Amount (USD millions) - Unconfirmed reports
Concept [See State Support table for more details]
Australia
606.6
Refunds and waivers of fuel excise, Airservices charges and regional security fares totalling, including an upfront benefit of A$159 million ($94.3 million) which would reimburse the charges paid by domestic airlines from the beginning of February.
Brazil
2000
Brazilian newspaper O Globo reported on 24th March that the support of national development bank BNDES for airlines would be in the region of R$ 10 billion ($2 billion). The newspaper roughly reinstated this estimate on 6th April, saying the three largest airlines in the country (LATAM, Azul, GOL), would need around R$3 billion each in debentures guaranteed by the BNDES.
Canada
200
Export Development Canada will provide Toronto-based Porter Airlines with C$135 million ($100 million) in commercial financing secured by a portion of its fleet of 29 aircraft. Chorus Aviation (which controls regional and charter operators Jazz Aviation) has also executed a letter of offer with EDC to provide an unsecured US$100 million revolving credit facility.
Denmark / Sweden
652
The governments of Sweden and Denmark are offering credit guarantees 3 billion Swedish kronor ($302 million) to SAS and a further 3.5 billion Swedish kronor ($350 million) in credit guarantees for other airlines.
European Air Navigation Service Providers (ANSPs)
1190
The ANSPs, 41 member states of Eurocontrol, have agreed to delay payments worth 1.1 billion euros ($1.19 billion) due for air navigation services in February through May. Payment of February's charges were delayed to November 2020, with payments for March, April and May delayed to 2021.
Finland
645
Finland will guarantee Finnair's 600 million euro ($645 million) pension premium loan to aid the flag carrier.
France / Netherlands
6500
A French junior minister said on 8th April that a figure of 6 billion euros ($6.5 billion) in government loans by France and the Netherlands to help Air France-KLM is "not unrealistic."
Germany
2000
The TUI Group has been granted a €1.8 billion ($2 billion) bridge loan from German development bank KfW.
Hong Kong
593
HK$4.6 billion ($340 million) in relief measures for airlines from the Hong Kong Airport Authority (AA), including unsold ticket purchases, waivers of taxes, parking fees and ATC charges.
Iceland
0.7
Iceland will pay carrier Icelandair up to 100 million krona ($717,000) to keep some flights to and from Iceland open for three weeks, according to Icelandic daily Morgunbladid.
Italy
764
The Italian government is reportedly due to allocate up to €700 million ($764 million) in a fund to nationalise flag carrier Alitalia.
Latvia
164.3
Latvia's Cabinet of Ministers conceptually supports allocating EUR 150 million ($164.3 million) into the base capital of Latvia's national airline airBaltic, according to minutes of a 24th March government meeting.
Malaysia
2200
Airlines in Malaysia could get up to RM10 billion ($2.2 billion) in loans guaranteed by sovereign wealth fund Khazanah Nasional Bhd.
New Zealand
524.3
The New Zealand government has offered a NZ $900 million ($524.3 million) loan to Air New Zealand.
Norway
552
The EFTA Surveillance Authority (ESA) on 31st March approved Norway's implementation of a guarantee package of NOK 6 billion ($552 million) for air transportation to be primarily given to Norwegian, SAS and Wideroe.
Singapore*
7747
The Singaporean government will provide S$350 million ($243 million) of support to airlines. Separately, flag carrier Singapore Airlines announced the issue of S$5.3 billion ($3.7 billion) in new equity and raise up to S$9.7 billion ($6.7 billion) on 26th March to bolster liquidity. SIA's largest shareholder (56%) Temasek, a sovereign wealth fund, committed to subscribing to its pro-rata entitlement and backstop the balance.
South Korea
152
Funds disbursed so far by the Korean Development Bank (KDB) to South Korean low-cost airlines. The state-owned bank is reportedly planning to lend up to KRW 300 billion ($242 million) to airlines, including the amounts confirmed so far.
Switzerland
5140
According to a report by the Sonntagszeitung newspaper, the Swiss federal government could be preparing to announce support measures for airlines worth 3-5 billion francs ($3.08 billion to $5.14 billion).
Taiwan
1600
Government announced help of T$50 billion ($1.6 billion) for airlines.
United Kingdom
740
EasyJet has issued £600m ($740 million) of Commercial Paper through the Bank of England's Covid Corporate Financing Facility (CCFF).
United States
58000
A $58 billion bailout for US airlines ($61 billion including grants for contractors) was signed into law by President Donald Trump on 27th March as part of the CARES Act.
Total
75202.6
16768.3
Ishka research *Approximation: Only 56% of SIA issuances accounted for (Temasek's share)
Click here to download the tables.
For an expanded table of state support measures including a further 17 countries and EU-level entities: Click here to download the tables.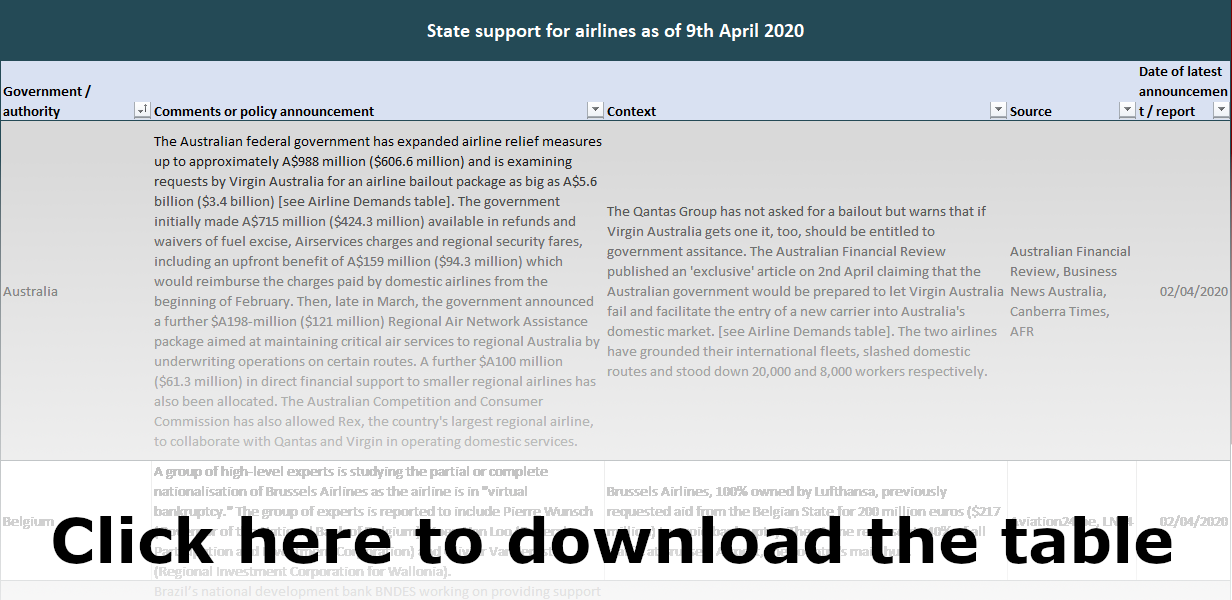 Click here to download the tables.
Airline requests
The table below lists the demands for state aid, hints at the possible need for state support or criticism of government assistance by 54 carriers and airline holding groups, some of which have already seen their demands met, as well as 19 trade associations and industry groups. Collectively, the airlines represented in this table operate the vast majority of the world's passenger aircraft.
Airline demands for state support as of 9th April 2020
Airline
Comments or demands
Context
Source
Date of latest announcement / report
AirAsia Group
AirAsia is negotiating for loans instead of an outright bailout from the Malaysian federal government, co-founder Tony Fernandes said on 2nd April. "No bailout, we don't need a bailout; obviously many airlines are looking at loans," he said, adding that "if available in Malaysia or Thailand and such" the company would look for government loans. According to a report on The Star newspaper on 8th April, AirAsia is also asking various government and airport authorities for waivers of parking and station charges. The report says the government had offered a 15% parking discount but AirAsia wanted a total waiver.
Airlines in Malaysia could get up to RM10 billion ($2.2 billion) in loans guaranteed by sovereign wealth fund Khazanah Nasional Bhd, the New Straits Times reported on 1st April. [See State Support table]
Malay Mail, The Star
4/2/2020
Air Belgium
Air Belgium will request support from the Belgian government for several million euros. "We cannot survive without it," CEO Niky Terzakis said as quoted by Belgian newspaper HLN.
Air Belgium is a small scheduled and charter airline with a fleet of four A340-300 aircraft.
HLN
3/23/2020
Air Canada
Air Canada was one of the first carriers to request federal government assistance in North America. CEO Calin Rovinescu said on 16th March in a statement: "We understand that the governments of the United States and many European countries such as Germany, France, Italy, Norway and others have approved or are considering assistance for their airline industries in one form or another. Under these circumstances, we believe that the Canadian airline industry should also see similar assistance, whether through forbearance of taxes, landing fees and other charges that form part of the aviation burden in Canada or otherwise until the industry stabilizes." The airline on 8th April said it will adopt the Canada Emergency Wage Subsidy for the benefit of 36,000 Canada-based employees.
The Financial Post on 27th March reported that the Canadian federal government has met with representatives from Canada's airline industry, including calls between Prime Minister Justin Trudeau and the CEOs of Air Canada and WestJet Airlines.
Air Canada, Financial Post
4/8/2020
Air Carriers Association of the Philippines (ACAP)
ACAP has called on the government to urgently provide guarantees on debt, six-month emergency credit lines apart from long-term loans with low interest rates and a waiver of navigational and airport charges, which are currently being deferred. ACAP emphasised the assistance was not a "handout at the expense of the Filipino taxpayers" but access to working capital as airlines have ongoing expenses while main revenue streams have evaporated.
ACAP represents Philippines Airlines, Cebu Pacific and AirAsia Philippines. Philippine Finance Secretary Carlos Dominguez III told reporters in a text message on 31st March that the government would ask the central bank BSP to "support banks that support their clients, including their airlines." ACAP however said in its latest letter it was yet to receive a formal response from the government.
Philippine Daily Inquirer, ANN
4/1/2020
Air Transport Association of Canada (ATAC)
In a third letter to the government on 6th April, ATAC called the government to refund the equivalent of four months execise tax on aviation fuel purchased in Ontario back to the purchaser. In a previous letter, on 29th March, ATAC asked the government "to act immediately to table a financial aid package for the commercial aviation industry." ATAC said Canada was lagging behind other governments around the world. ATAC asked for three key element in the aid package: 1) direct financial aid including wage subsidies, tax rebates, reimbursement of aviation fuel excise taxes 2) taxes and charges relief, including a suspension of the federal aviation fuel tax, ground rent charges at airports and navigation fees and 3) loans and loan guarantees of C$2 billion ($1.4 billion) for commercial air operators, including MRO and other service providers.
ATAC members include Chorus Aviation, Flair Airlines, Inuit Air, Sunwing and around 70 other small operators. Air Canada, WestJet and Air Transat are not part of ATAC.
ATAC
4/6/2020
Airlines for America (A4A) - trade association
A4A saw its demands met in the $58 billion provisions for air carriers under the CARES Act signed by US President Donald Trump on 27th March (see State Support table). In a statement issued the same day, A4A "applauded" the signing of the Act. "We remain hopeful that the federal government will expeditiously release these funds with as few restrictions as possible to ensure airlines are able to utilize these provisions and meet our payroll."
A4A's demands to congress, now met, were last expressed in a letter to the US Congress on 21st March signed by the CEOs of Alaska Air, American Airlines, Atlas Air, Delta Air Lines, FedEx Express, Hawaiian Airlines, JetBlue Airways, Southwest Airlines, United Airlines, UPS Airlines as well as the A4A CEO.
A4A
3/27/2020
Airlines for Europe (A4E) and European Regions Airline Association (ERA) - trade associations
A4E's core demands are: 1) Deferment or waiver of aviation taxes at EU or national level, including provisions applicable to aviation in the Energy Taxation Directive (Council Directive 95/60/EC). 2) EU261 clarity: Immediate clarity for airlines and passengers on COVID-19 counting as an extraordinary circumstance under Regulation 261/air passenger rights 3) Slot rule: Waiver of the 80/20 airport slots rule beyond the summer 4) "stimulus package" from EU funds for airlines via guarantees or credit facilities. The third of these demands was met on 26th March, when the European Parliament voted in favour of an extension to the waiver of slot rules until 24th October [see 'European Parliament' in the State Support table]
A4E members account for more than 70% of Europe's air journeys. They include Aegean Airlines, airBaltic, Air France-KLM, Cargolux, easyJet, Finnair, Icelandair, IAG Group, Jet2, Lufthansa Group, Norwegian, Ryanair Holdings, Smartwings, TAP Air Portugal, TUI Group, and Volotea.
A4E - Open letter to EU Transport Ministers
3/26/2020
Airlines UK
In a letter on 8th April Airlines UK welcomed a decision by the Department of Transport to defer payment of Air Navigation charges for February to May 2020 for a period of 14 months. Previously, in a letter from Airlines UK to transport secretary Grant Shapps seen by Sky News the industry group urged the government to suspend - rather than defer - air passenger duty payments for six months and waive ATC and CAA charges. It also repeated a call (shared by A4E) for a moratorium of claims under the EU261 passenger rights regulation. In the letter Airlines UK said carriers should also be permitted to issue vouchers instead of refunds and, should refunds be required, carriers should be permitted to defer payment until the crisis period is over. Separately, on 28th March, Airlines UK sent a letter to UK Treasurer Rishi Sunak signed by 40 MPs asking the government to "urgently review its measures" to support the UK aviation industry, including "on a range of taxes and industry charges, regulatory easements and the adaptation of the Job Retention Scheme to take account of the unique aviation context."
Airlines UK members include British Airways, DHL, EasyJet, Jet2, Norwegian, Ryanair, TUI Airways, Virgin Atlantic and Titan Airways. KLM is an associate member.
Airlines UK, Sky News
4/8/2020
ALTA (Latin American and Caribbean Air Transport Association)
ALTA on 7th April reiterated in a new letter to regional governments the following demands: 1) Aid the continuity of the services provided by airlines, airports, air navigation service providers, and associate services that will jointly support the return of commercial air traffic by ensuring the economic and financial sustainability of the aviation industry. 2) The inclusion of the aviation sector in any national scheme or special aid package to provide relief for the current dire situation. 3) The facilitation of debt renegotiation and to allow for government budgets to be reinvested in the aviation sector. 4) The adjustment of working conditions for companies and employees to be jointly agreed upon as a contingency measure. 5) Flexibility with respect to slot rules and other non-safety related provisions which can permit the industry to return to operations more rapidly once the contingency is over. 6) Provide temporary relief in the requirement to develop infrastructure, particularly in order to comply with level of service obligations or projects that are not immediately required by the industry. 7) Relax quality of service obligations until operations return to normal.
ALTA represents "90 percent of the region's commercial air traffic." The latest letter seeks to reiterate ALTA's message to governments on 6th March, when they asked for states to work with the air travel industry to "guarantee its viability," including relaxing slot rules, reducing taxes and other levies. Speaking to Reuters on 17th March, ALTA chief Luis Felipe de Oliveira said he has been sending letters to regional governments and called for "drastic and immediate action."
ALTA, Reuters
4/7/2020
American Airlines
American Airlines has seen its financial assistance demands met through the $58 billion bailout air carriers in the CARES Act signed on 27th March by US President Donald Trump. The airline said in a message to employees on 30th March it intends to apply for $12 billion in government aid provided through the Act.
American Airlines, like other major US carriers, expressed its demands through the A4A trade association (see above). The airline had confirmed in separate statements (reflected in previous versions of this table) that it was engaged in conversations with the government.
Video message to employees
3/30/2020
ANA - All Nippon Airways
ANA Holdings will request a government guarantee for part of the 1.3 trillion yen ($12 billion) in credit lines that ANA is asking from public- and private-sector lenders, according to the Nikkei newspaper. ANA is also requesting 300 billion yen ($2.75 billion) in loans from a lending program run by the government-backed Development Bank of Japan.
The report states that ANA, Japan's largest airline by revenues and passenger numbers, is losing 100 billion yen ($919 million) monthly amid fixed costs and severely reduced revenue. The company has reportedly cancelled nearly 90% of its international services.
Nikkei Asian Review
4/7/2020
Arab Air Carriers' Organization (AACO)
AACO is calling on Arab governments to adopt 1) tax relief for airlines for a period of two years 2) speedy financial support packages for airlines to retain workers 3) government-supported grace period from paying lenders and suppliers 4) exempt airlines from paying user charges at airports and air navigation service providers 5) exempt airlines from passenger rights regulations 6) suspend slot rules in Arab airports 7) compensate airlines for net costs of sanitisation and monitoring to contain the spread of the virus. AACO renewed these and other demands in a joint statement with the Arab Tourism Organization, the Arab Civil Aviation Organization and the Arab Air Carriers' Organization o 31st March.
AACO represents 33 airlines in the Middle East and North Africa, including EgyptAir, Air Arabia, Emirates, Etihad, Flydubai, Flynas, Gulf Air, Kuwait Airways, MEA, Oman Air, Qatar Airways, Royal Air Maroc, Royal Jordanian and Saudia
AACO
3/31/2020
Arkia
Arkia's board of directors is expected meet next week to vote on the dissolution of the airline if it fails to receive state aid, news site Ynet reported on 8th April. Arkia chairman Avi Hurmero said if the Covid-19 crisis continues "there will be no escape" for Israeli airlines and would expect a merger among or between all three major Israeli airlines.
Arkia has a fleet of nine aircraft and is Israel's second-largest carrier.
Ynet
4/8/2020
Asiana
HDC Hyundai Development Co. has rejected reports stating it had requested the Export-Import Bank of Korea and Korea Development Bank (KDB) to provide financial support in relation to its acquisition of Asiana Airlines. The reports claimed HDC wants KDB to convert the 500 billion won ($410 million) worth of Asiana's perpetual bonds the bank has acquired into loans or to reschedule repayment of borrowing from creditor banks.
Loss-making and heavily indebted Asiana reportedly faces losses of 1 trillion won ($817.4 million) based on Q1 performance projections.
CAPA, JoongAng Daily, Business Korea, Pulse News
4/9/2020
Association of Asia Pacific Airlines (AAPA)
AAPA says Asia-Pacific airlines are facing revenue shortfalls of more than $60bn this year. It has called on governments to "rapidly" implement emergency relief measures such as: 1) suspension of payroll taxes, deferment or reduction in income taxes, extension of payment terms, waiver of ticket taxes & other government levies, taxes, dues and charges for 2020 2) Direct financial support for reduced revenues and liquidity support due to travel restrictions 3) Extension of interest-free loans or loan guarantees, and support for corporate bond markets either directly or to commercial banks to extend credit for affected companies 4) Direct financial support for individuals facing loss of livelihoods
AAPA's 15 airline members are: Air Astana, ANA, Asiana Airlines, Bangkok Airways, Cathay Pacific, China Airlines, Eva Air, Garuda Indonesia, Japan Airlines, Korean Air, Malaysia Airlines, Philippine Airlines, Royal Brunei, Singapore Airlines and Thai Airways
AAPA
3/19/2020
Azul
CEO John Rodgerson was quoted by Brazilian newspaper O Globo as saying that airlines "are not facing management issues, but the collateral effects of a war against a virus," and in backing the need of state support for airlines, pointed at the US plan to facilitate $50 billion in grants and loan guarantees to passenger airlines. In another interview published on 1st April by NeoFeed, Rodgerson says the measures being worked out by state-owned bank BNDES [see State Support table] is "good" and added that "the price of debt will impact the future of the industry, if you put financial conditions at a high cost, it will hinder the growth of the industry."
Azul has grounded 90% of its fleet, according to a separate interview with Rodgerson published on 1st April. Brazil is reportedly working out a financial assistance package for airlines worth approximately $2 billion [see State Support table].
O Globo, NeoFeed
4/1/2020
Blue Air
Blue Air has asked the Romanian government for a rescue loan of 42-45 million euros ($45.6-$48.9 million) at a preferential interest rate.
Blue Air is the largest Romanian air carrier and the second-biggest player in its market after Wizz Air. Romania's government approved a 37 million euro ($40.2 million) loan for the state-owned airline Tarom in February before the Covid-19 crisis.
Romania Insider
4/8/2020
Brussels Airlines
Brussels Airlines has requested aid from the Belgian State for 290 million euros ($315 million) according to a report on The Brussels Times on 4th April. The amount is higher than the 200 million euros is was reportedly due to request as of late March reports [see 'Belgium' in the State Support table for reports on the possible nationalisation of Brussels Airlines].
Brussels Airlines is part of the Lufthansa Group, which is actively encouraging governments to support airlines. The CEO of parent company Lufthansa Group (see below) previously confirmed it is in discussions with the Belgian government about obtaining state support. The latest report also states that companies also requesting aid from the Belgian state include Air Belgium, TUI Group (both listed in this table), Sabena Aerospace, Aviapartner and Swissport,
The Brussels Times, Tijd, Lufthansa
4/4/2020
Cathay Pacific
Prior to the announcement on 8th April of an Airport Authority (AA) relief package worth HK$2 billion ($258 million), including an offer to purchase around 500,000 tickets in advance from the four Hong Kong-based carriers, Cathay Pacific had said in an emailed response to the media that a prior HK$1 billion ($129 million) relief package by the AA was not enough.
The Airport Authority (AA) on 23rd March launched a HK$1 billion ($129 million) relief package for the "airport community" in the form of a HK$670 million ATC charges waiver for 2019/2020 and a sum of HK$330 million, both from the government. (see State Support table for more information)
Nikkei Asian Review, SCMP
3/25/2020
Delta Airlines
Delta Airlines has seen its financial assistance demands met through the $58 billion bailout air carriers in the CARES Act signed on 27th March by US President Donald Trump. CEO Ed Bastian said in a message to employees on 29th March that Delta is "deeply grateful" of the government and said that, as a result of the grants and financial assistance package, "there will be no involuntary furloughs or reductions in pay rates across our US industry for the next six months."
Delta Airlines, like other major US carriers, expressed its demands through the A4A trade association (see above). The airline had confirmed in separate statements (reflected in previous versions of this table) that it was engaged in conversations with the government.
Message to employees
3/29/2020
EasyJet Switzerland
A spokesperson for EasyJet Switzerland, an EasyJet subsidiary, told Swiss business news agency Awp Finanznachrichten that the airline is in contact with a government taskforce in charge of aviation-specific support measures. The Handelszeitung newspaper previously reported the airline had asked the Swiss federal government for a liquidity injection.
According to the Handelszeitung report, airline suppliers including HNA-owned airport service provider Swissport have applied for state aid.
Awp Finanznachrichten, Handelszeitung
3/31/2020
El Al Israel Airlines
El Al said on 7th April that the Israeli Treasury had rejected the firm's request for a state loan of $350 million. In response, the airline said it has turned to the Israeli government for assistance. In late March, El Al chairman Eli Defes said the carrier was "six week away from collapse." Earlier, in a letter to employees, El Al CEO Gonen Usishkin said that assistance of $200-$300 million from the state is critical for the company. Usishkin said the airline's revenue has almost completely dried up due to Israel's border closure. "The government has two alternatives. One is the airline's collapse and the loss of its NIS 2.5 billion ($694 million) contribution to GDP (...) the second alternative is a $200-300 million state loan that will enable El Al to recover and quickly resume regular activity." Previous reports said El Al estimated it would need some $700 million to stay afloat.
El Al has not been state-owned since 2005. The beleaguered carrier in early March said it expected revenue to decline by $140-160 million for the period from January to April 2020 as a result of the suspension of multiple lines and declining demand.
The Times of Israel, The Yeshiva World, Globes
4/7/2020
European Aviation Industry Joint Statement
The joint statement, titled 'Europe's aviation industry is facing an unprecedented liquidity crisis -- the European Union must act now!' welcomes "initial actions" by the European Commission in areas such as state aid, but urges EU member states to: 1) provide financial support "as quickly as possible to the whole travel ecosystem." 2) take "all the necessary measures" to ensure short-term financial viability of travel enterprises 3) set up "an organised consultation procedure" to exchange updated information and address urgent issues, and draw up lines for mid and long-term solutions.
The joint press statement was issued by Airlines for Europe (A4E), Airline Catering Association (ACA), Airports Council International (ACI EUROPE), Airport Services Association (ASA), The European Travel Agents' and Tour Operators' Associations (ECTAA), European Regions Airline Association (ERA), European Travel Retail Confederation (ETRC) and EU Travel Tech (EUTT).
4/3/2020
European Regions Airline Association (ERA)
ERA on 7th April welcomed a decision by Eurocontrol member states to defer ATC fees [see 'State Support']. Previously, on 25th March, the association said it is "pleased" that the need for a substantial package for the aviation sector was not overlooked in an EU Transport Ministers meeting on 19th March, but underlined that the ministers "provided no clear and timely decisions" to alleviate the pressures on the aviation industry. It also joined A4E in expressing disappointment that the European Commission did not agree on limiting compensation obligations for airlines under the EU261 regulation.
ERA represents 52 airlines and 148 companies involved in European air transport. The airlines represented include Air Nostrum, ASL Airlines, Air Malta, Binter, Braathens regional Airlines, Eastern Airways, HOP!, KLM Cityhopper, SATA Air Acores and TAP Express.
ERA
4/7/2020
Federation of Norwegian Aviation Industries (NHO Luftfart)
NHO Luftfart has seen most of its recent demands met. The industry federation had asked the Norwegian government on behalf of airlines for NOK 6 billion to 8 billion ($513 million to $684 million) in state guarantees to help struggling carriers. Most of this would go to Norwegian Air Shuttle. The Norwegian government finally agreed to provide NOK 6 billion [see State Support table].
NHO Luftfart has over 50 member companies employing over 12.000 people in Norway, including airline businesses, helicopter services, airports, technical services, ground handling and other aviation related businesses.
NRK
3/19/2020
GOL Linhas Aereas
In an investor update, the airline said it "will continue to focus on delivering cost savings, protecting jobs, working with the Brazilian Government, and preparing for the return to normal service in due course" and added it further supported "governmental actions to offset, at least partially, the impact of Covid-19 on the passenger transportation industry." In the investor call, CEO Paulo Kakinoff valued a potential credit from Brazil's state development bank BNDES at 3 billion reais ($574.64 million) to be repaid over five years with payment starting only on the third year.
GOL has grounded the majority of its fleet.
Reuters, GOL investor update
4/7/2020
Greek airlines: Air Mediterranean, Blue Bird, Ellinair, GainJet, Lumiwings and Orange2Fly (joint letter)
The six airlines send a letter to the Greek government calling for financial help as their liquidity is being depleted. The airlines said they could collapse without state aid.
The carriers are charter and scheduled airline operators with small aircraft fleets of two to 10 aircraft.
naftemporiki.gr
3/29/2020
IAG
IAG CEO Willie Walsh said on an investor call that IAG has NOT asked for state aid. "Governments would expect airlines to look at self help before they would call on governments to provide state aid." He said that IAG would, however, make use of any general state-support for employees where it becomes available.
IAG (British Airways, Iberia, Vueling, Aer Lingus, LEVEL, Air Europa) has been vocal against state support for airlines in the recent past, including the UK government bailout rescue of Flybe in 2019.
Reuters
3/16/2020
Icelandair
In a company update on 6th April, the Icelandair Group would work closely with the Icelandic government in the upcoming process of "strengthening the long-term capital structure of the Company."
Icelandair's liquidity position is still "well above" its $200 million minimum level, but assuming minimum revenue generation in April and May, the company expects to dip below that minimum level in the coming months.
Icelandair Group
4/6/2020
India - Federation of Indian Chambers of Commerce and Industry
FICCI Aviation Committee Chairman Anand Stanley said in a letter on 2nd April to Civil Aviation Minister Hardeep Singh Puri that the sector needs an urgent bailout. "The government may immediately provide direct cash support to Indian carriers, so that airlines can meet their fixed costs, at least for the period where loss of revenues and liquidity is directly attributable to the government's directive to cease operation," Stanley said. "The government could undertake some policy measures for at least 20% contribution towards the total salary bill of employees with a gross salary of INR 30,000 or less per month," he added in the letter.
India has suspended flights until 14th April amid a three-week nationwide lockdown.
TravelBixMonitor.com
4/2/2020
JetBlue
JetBlue has seen its financial assistance demands met through the $58 billion bailout air carriers in the CARES Act signed on 27th March by US President Donald Trump. CEO Robin Hayes said in a statement on 27th March that JetBlue "applauds" President Trump and the government for swiftly enacting the CARES Act. In an update on 3rd April, the airline said that "even if we get the payroll support [through the CARES Act], we still need to raise additional money to pay our other operating expenses. We will be talking to the government and other lenders in the coming weeks."
JetBlue, like other major US carriers, expressed its demands through the A4A trade association (see above). The airline had confirmed in separate statements that it was engaged in conversations with the government.
Jetblue
4/3/2020
KLM
KLM CEO Pieter Elbers said on 1st April that a capital injection by the state is a possibility. Elbers thinks KLM is in relatively good shape and will, "with government help," be in a good position "to face the storm." According to Elbers, no airline can cope with the crisis without aid. Elbers said separately that KLM is not working on "disentanglement scenarios" separating from Air France, instead saying "we're working on financing."
France and the Netherlands each have a 14.3% stake on Air France-KLM. [See France in State Support table for comments on possible French state support for the airline group]
NU.nl, Reuters, RTL
4/1/2020
Korea Civil Aviation Association (KCA)
The KCA has demanded the South Korean government offer a bailout package to airlines amid the unparalleled crisis. KCA warned that the pandemic put the Korean carriers on the brink.
According to the report, Korean carriers are expected to have $5.22 billion in losses due to the coronavirus outbreak in the first quarter of the year.
Airline Geeks
4/7/2020
LATAM
[See 'Chile' in the State Support table for more details] Incoming LATAM CEO Roberto Alvo has renewed calls for government assistance during another TV interview on 29th March. Alvo said the measures could encompass anything from a nationalisation of the airline to loans and loan guarantees similar to those already provided by other countries to their airlines. In a prior TV interview Alvo said that LATAM has asked the countries in which it operates help to overcome the Covid-19 crisis, as all airlines around the world are in need of liquidity. Alvo pointed at Virgin Atlantic and Norwegian as examples of airlines making similar requests. The director of LATAM Colombia, Santiago Alvarez, called on the Colombian government in an El Tiempo article on 24th March to delay tax collection, waive aircraft parking fees and offer government loans to airlines.
Alvo's previous comments were dismissed by Chile's economy minister but more recent reports say LATAM is holding talks with the Chilean government about possible state aid [see 'Chile' under State Support table].
Reportur, La Tercera, CNN Chile, El Tiempo
3/29/2020
Lufthansa Group
Lufthansa is "in intensive negotiations with policymakers" in Germany, Austria, Switzerland, Italy and Belgium on how to mitigate the consequences of the crisis, including "potential legislative measures to support liquidity," which could include "for example, the deferral of taxes or other fees; the potential use of loans and guarantees, if necessary, which government has made available to those companies most affected by the corona crisis," CEO Carsten Spohr said during the Q4 2019 earnings call on 19th March. Commenting on the ongoing talks on 27th March, Spohr said "we feel a great determination in Berlin and in our home markets that Lufthansa should and must stand up to global competition." Reuters reported on 2nd April that Berlin is in talks to provide Lufthansa with billions of euros in state aid and could take a stake in the airline. A Bloomberg report on the same day noted that the amount of the bailout would hinge on whether the airline refunds passengers with unused tickets.
Spohr also said as part of the 2019 Annual Report announcement that "the longer this crisis lasts, the more likely it is that the future of aviation cannot be guaranteed without state aid." Lufthansa's request for state aid contrasts with its criticism of state airline rescues as early as January this year, when Lufthansa criticised state-owned Polish airline LOT's takeover of Germany's Condor.
Reuters, Bloomberg, N-TV, Seeking Alpha, Lufthansa
4/2/2020
Malaysia Airlines
Malaysia Airlines has asked for support from the government, sources have told Bloomberg. The airline confirmed in an emailed statement late on 25th March that it has been in talks with the government on emergency measures to help airlines sustain through the crisis. The carrier said it had not discussed mergers with other airlines.
The airline is wholly owned by Malaysia's sovereign wealth fund, Khazanah Nasional Bhd.
Bloomberg
3/25/2020
Malta Business Bureau
The Malta Business Bureau called on the Maltese government to make full use of a relaxation of state aid rules by the EU, making special mention to airlines including Air Malta.
In addition to Air Malta, Malta is also home to several charter airlines and Ryanair subsidiary Malta Air.
Malta Today
3/17/2020
Middle East Airlines (MEA)
MEA, owned by the Bank of Lebanon, has not receive governments support but says the government owes it $120 million without specifying the basis of the debt.
MEA President Mohammed Hout said the airline is losing $1 million everyday since flights were interrupted on 18th March due to government restrictions.
Libanews
3/26/2020
oneworld, SkyTeam and Star Alliance
The three airline alliances issued a joint statement calling on governments and stakeholders to take action to "alleviate the unprecedented challenges faced by the global airline industry amid the COVID-19 pandemic".
The three global alliances represent 60 of the world's largest airlines and represent approximately 55% of the world's capacity in ASKs.
SkyTeam
3/16/2020
Pakistan International Airlines (PIA)
A spokesman for PIA told Bloomberg losses and debt of PIA have become too great for the company to handle alone and that options suggested to the government include a debt-to-equity swap and issuance of long-term bond.
Using the Z-score method developed by Edward Altman in the 1960s to predict bankruptcies, Bloomberg listed airlines at highest risk of bankruptcy. PIA topped the list.
Bloomberg
3/26/2020
Qantas
Qantas has told the government it expects a $4.2 billion loan if Virgin Australia is bailed out, according to the Sydney Morning Herald. Qantas CEO Alan Joyce has been critical of suggestions that embattled rival Virgin Australia could receive federal government support, arguing that it should not be propping up one company over others over this crisis. Joyce said assistance should not be offered to businesses that had been "badly managed" and that it would be a case of "survival of the fittest" in the airline sector. Virgin Australia has accused Qantas of spreading rumours that it would collapse.
Australian Prime Minister Scott Morrison and Treasurer Josh Frydenberg have both said nationalising companies was not currently on the Australian government's agenda. The chairman of the Australian Competition and Consumer Commission (ACCC), Rod Sims, said in response to Joyce's statements that Australia has gone "into this crisis with two airlines, we need to come out of this crisis with two airlines."
Sydney Morning Herald, ABC, Daily Mail Australia
4/1/2020
Qatar Airways
Qatar Airways will seek government support, CEO Akbar al-Baker told Reuters on 29th March. Al-Baker warned that the airline was burning through cash and only had enough to sustain operations for a "very short period".
Qatar Airways is state-owned.
Reuters
3/29/2020
Regional Airline Association (RAA)
The RAA, like A4A, saw its demands met in the $58 billion provisions for air carriers under the CARES Act signed by US President Donald Trump on 27th March (see State Support table). In a statement issued the same day, RAA "applauded" the House for its "quick" passage and President Trump for his immediate signing. "In the coming days, RAA will work closely with the Secretaries of Treasury and Transportation to ensure the direct financial assistance, a crucial element for regional airlines, is accessible and apportioned in a manner that allows regional airlines to directly support their workforce."
The RAA's demands to congress, now met, were last expressed in a letter to the US Congress on 20th March signed by the CEOs of ExpressJet, Envoy Air, Air Wisconsin, Piedmont Airlines, Empire, Trans State Holdings (GoJet, Compass and Trans State), PSA Airlines, Cape Air, Endeavor Air, SkyWest Airlines, Horizon Air, RAVN Alaska, Mesa Airlines, Republic Airlines. Compass and Trans State (operating as United Express) have permanently ceased operations in recent weeks.
RAA
3/27/2020
Regional Airline Association of Australia (RAAA)
The association has praised the Australian federal government over its A$198 million ($118 million) package for regional airlines. The support package is for route subsidies designed to provide a reduced service for those regional communities that are in danger of losing their current scheduled air service, plus an additional A$100 million ($61 million) in direct financial support for smaller airlines [see 'Australia' under State Support table].
The RAAA on 25th March had said that the initial A$715 million ($425 million) financial assistance package for airlines was nor enough to support regional carriers.
Australian Flying, RAAA
3/31/2020
Russian Association of Air Transport Operators (RATOA)
RATOA has pleaded with Russia's transport ministry to take urgent measures to protect Russia's air transport industry from collapse. RATOA's proposed range of measures include waiving value added tax (VAT) payments, boosting state subsidies for regional air travel and the freezing of airport handling fees.
Flagship carrier Aeroflot has said it is under "enormous financial pressure" while UTair is in a "particularly difficult situation", according to Alexander Neradko, the head of the federal air transport agency Rosaviation.
Russian Aviation Insider
3/20/2020
Russian regional airlines
The senator representing the Russian far eastern Magadan province has appealed to the government to add 12 smaller regional airlines to the list of Russia's 'strategic enterprises' that may expect to receive state support in times of economic downturn [see State Support table for more details on the strategic enterprises list].
The regional airlines comprise Aurora Airlines, IrAero, Aeroservis, Siberian Light Aviation, Yamal, Yakutia, Polar Airlines, Khabarovsk Airlines, Kamchatka Aviation Enterprise, Chukotavia, National Air Medical Service and Russian Helicopter Systems.
Russian Aviation Insider
3/31/2020
SAS
SAS has been given 3.5 billion Swedish kronor ($350 million) in credit guarantees by the Swedish and Danish governments [See 'Denmark/Sweden' in the State Support table for more details]. The airline warned in a 7th April statement that while "pleased" to be receiving assistance from Denmark, Sweden and Norway [see Norway in this table], "the earmarked amounts will not suffice to secure and safeguard critical infrastructure if the situation is prolonged."
SAS is part-owned by Sweden (14.82%) and Denmark (14.24%) with the remainder held by private owners.
Dagens Naeringsliv
3/11/2020
SATA Air Acores
The airline told the Lusa news agency that it is ready to use "any tools" of financial assistance at its disposal and said it was studying internally "the different levels of aid" available.
The airline's parent company, SATA SGPS is wholly owned by the government of the Autonomous Region of the Azores.
Lusa, Noticias ao minuto
4/1/2020
Spanish carriers
Iberia, Globalia (parent company of Air Europa), Vueling, Volotea and Air Nostrum have reportedly written to the Spanish Transport Ministry and state-owned bank Instituto de Credito Oficial (ICO) to explain their liquidity needs. Ministry and ICO officials were reportedly due to meet on 1st April to discuss the needs of the airlines. Iberia told newspaper La Informacion on 4th April that the only state aid it has accessed so far are wage subsidies for furloughed workers.
The report states that airlines in Spain have around 90% of their fleet grounded.
El Confidencial, La Informacion
4/4/2020
Swiss International Air Lines (SWISS)
SWISS CEO Thomas Klühr told the Sonntagsblick newspaper that he counts "on the fact that the Federal Council is aware of the importance of SWISS," indicating hopes the Swiss state will step in to help the airline deal with the impact of the coronavirus. In a separate statement at a SWISS news conference on 19th March, he said "we must assume that all of Europe's airlines will need state support"
SWISS is part of the Lufthansa Group, which is actively encouraging governments to support airlines. The CEO of parent company Lufthansa Group (see above) has confirmed it is in discussions with the Swiss government about obtaining state support.
Swissinfo.ch
3/15/2020
The Scheduled Airlines Association of Japan
The association has reportedly asked the government for $18 billion in government aid for Japanese carrier, the Nikkei Asian Review reported on 6th April.
At the start of March the association issued a press release calling on the Japanese government to introduce tax exemption measures (such as a waiver on landing and parking fees, and fuel taxes) and requested urgent loans for airlines.
Nikkei, The Scheduled Airlines Association of Japan
4/6/2020
Ukraine International Airlines (UIA)
UAI President Evgeny Dykhne said on 27th March the airline has written "the relevant appeals" for state assistance, including a loan from a state bank with favourable terms. According to the Kyiv Post, Dykhne also told website Ukrainska Pravda on 1st April that he has asked the government for subsidies for UIA and other aviation industry enterprises, or at least a "stabilization loan with clear repayment periods," and said that the state could "mobilize its own banks to help the aviation industry." He also evoked the possibility of cancelling payments for air navigation services and airport charges for a short period of time after the quarantine is lifted.
UIA is the largest Ukrainian airline and has a fleet of around 35 aircraft. One of their aircraft, a 737-800, was downed shortly after take-off from Tehran in January. Dykhne believes the Ukrainian government has not yet helped the airline because billionaire Ihor Kolomoisky, who is reportedly accused of bank fraud costing the state $5.5 billion, co-owns the enterprise. "For some reason, the government believes that everything done for aviation is done for Kolomoisky, and it's not in the trend to do anything for Kolomoisky now. Therefore, nothing happens."
CFTS, Kyiv Post
4/2/2020
Virgin Atlantic
Virgin Atlantic is seeking a £500 million ($620 million) bailout from the UK government comprising a loan and credit guarantee which would make it the first UK carrier to receive state aid in the current crisis, the Travel Weekly reported on 3rd April. The airline previously appealed to the UK government for support for the UK aviation sector, not just itself, comprising: Emergency credit facilities to a value of £5-7.5bn ($5.8-8bn) and slot alleviation for the full summer 2020 season.
Virgin's requests come after the UK gave defunct carrier Flybe, backed by Virgin, a 106 million pounds ($138 million) in levied passenger duties in January. This request and the latest plea by Virgin have been criticised by rival IAG.
Travel Weekly, Virgin Atlantic
4/3/2020
Virgin Australia
The Australian Financial Review published an 'exclusive' article on 2nd April claiming that the Australian government would be prepared to let Virgin Australia fail and facilitate the entry of a new carrier into Australia's domestic market. Virgin Australia has asked for a A$1.4 billion ($848 million) loan from the Australian government. The airline wants the loan to be part of an industry package worth up to $5 billion ($3 billion), could be converted to an ownership stake in if not repaid in two to three years. "It is a preliminary proposal and remains subject to approval by the Virgin Australia Holdings board and the Australian government and may or may not include conversion to equity in certain circumstances," Virgin said in a statement to the Australian Stock Exchange.
Virgin Australia, which reportedly already around A$5 billion ($3 billion) in debt, has a market value of A$675 million ($409 million), meaning the government could become a major owner if proposed the debt cannot be repaid. Virgin Australia Holdings, which owns the airline and Tigerair Australia, is owned by Etihad (20.94%), Singapore Airlines (20.09%), Nanshan Group (19.98%), HNA Group (19.82%) and the Virgin Group (10.42%).
Australian Financial Review, Sydney Morning Herald, ASX
4/2/2020
Viva Air
Colombian LCC Viva Air said measures introduced by the Colombian government so far are "insufficient" as the maximum support each airline is able to access is $1 million. "We need larger loans, but not necessarily stratospheric. We ask for reasonable taxes, not zero taxes, with a grace period of between two and three years and with a payment period of five years. They are reasonable requests that would help us get through this crisis," Viva Air CEO Felix Antelo told La Republica newspaper.
La Republica, Reportur
4/7/2020
Wizz Air
Wizz Air CEO József Váradi told Bloomberg on 1st April that the airline has enough cash to survive 1.5 years and called on states to resist handing out aid to airlines. "Most European airlines have been badly mismanaged when it comes to liquidity (...) now they're all begging for state support. Governments should only be stepping in in areas of employment and reducing charges such as air-navigation costs," he said. Váradi said he's concerned that Germany in particular might dole out billions of euros in backing for Lufthansa, saying that would "completely destroy the market" and set a precedent for bailouts with a social agenda. Only the U.K. appears to be taking a measured approach, he said, with a pledge to provide aid only as a last resort and then on purely commercial terms. Váradi previously stated in an operational update in late March that "this [Covid-19] situation is posing a significant threat on the aviation industry and we call on governments to take non-discriminatory steps which will benefit all airlines."
In the same operational update, Wizz Air, one of the strongest LCC credits, said it is "confident in its ability to survive even a potential prolonged grounding substantially beyond the current estimates for the impact of COVID-19 in Europe" given the "significant balance sheet strength and liquidity" of the company.
Wizz Air
4/1/2020
Ishka research
Click here to download the tables.