Covid-19 bailouts: Italian minister pledges $3.2 bn for Alitalia (7th May)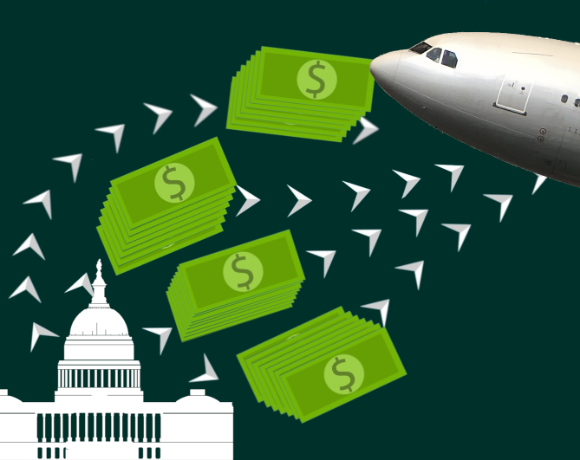 This is the eighth updated summary of airline demands for state support and bailout proposals by governments around the world.
The tables below contain the demands or stakeholder approaches of approximately 121 carriers (including airline subsidiaries inside holding groups) and 23 industry associations, as well as the policies or proposed measures of 57 countries and EU-level entities. Ishka estimates that as of 7th May governments are preparing or executing $93.70 billion in confirmed bailouts or assistance measures for airlines globally. Unconfirmed reports suggest the total tally could be as high as $114.21 billion.
Ishka's definition of government support for airlines encompasses any monetarily quantified relief measure provided by states or state-backed entities, including deferrals of taxes or operational charges, state-backed commercial loans and the nationalisation of airlines.
The tally of confirmed bailouts grew by a $1.16 billion over the past week, a small increase compared to the $15.7 billion jump of the week prior. The $1.16 billion rise owes to:
- Garuda Indonesia receiving three loan facilities from state-owned Bank Rakyat Indonesia (BRI) with a total value of $382 million, announced on 5th May. A further RP741.89 billion ($49 million) were also added to the tally to reflect a package of financial incentives for airlines introduced in February;
- Ishka's inclusion of a New Zealand aviation spending package announced in March worth NZ$600 million ($363 million) – previously not reflected;
- IAG accessing a £300 million ($371 million) government loan from the Bank of England's Coronavirus Corporate Finance Facility (CCFF) on the second week of April, which the airline announced on 7th May.
The tally of bailout packages still in the works (those yet to be confirmed) grew from $19.30 billion last week to $20.50 billion accounting for the following:
- A pledge by Italian Industry Minister Stefano Patuanelli on 7th May to inject fresh capital worth at least €3 billion euros ($3.24 billion) in Alitalia;
- The Russian subsidy package was revised up by $9 million to $317 million to reflect recent and more accurate reports.
- The Lufthansa bailout was revised down to €9 billion ($9.7 billion) from the previously reported €10 billion ($10.98 billion) following confirmation by the airline on 7th May.
The Ishka View
Two beleaguered carriers received key backing this week to see them through the immediate future: Norwegian and Alitalia. The Scandinavian airline unlocked a further NOK 2.7 billion ($263.5 million) in government aid after a heavily-discounted share issue and the conversion of nearly $1.2 billion debt into equity, which has made lessors the majority owners of the airline, holding a combined 53.1% of shares according to recent reports. These developments allow Norwegian to avoid bankruptcy but put lessors in an unusual position: owners of an airline with no significant cashflow that will remain fully grounded (bar seven aircraft) until March 2021.
In the case of Alitalia, the state backing should take it a bit further than the immediate future. The government has pledged to inject Alitalia with funds four times larger than previously reported: €3 billion ($3.2 billion) versus previous estimates of up to €700 million ($755 million). Industry Minister Stefano Patuanelli said the new Alitalia would continue to operate with the current fleet of less than 100 aircraft, but "it will have to be ready to add new aircraft." Some previous reports had speculated that its fleet was to be halved – not an unreasonable measure in these current times.
Meanwhile, as more airlines negotiate state aid to weather the Covid-19 crisis, it is appropriate to ask whether public backlash and dissenting experts could get in the way of some of those plans. Airline bailouts have made little or no progress in the UK and Australia due in no small part to public disapproval, and the tide does not appear to be changing. This week, Oxford University published a survey of 230 experts, including officials from financial ministries and central banks, which ranked unconditional airline bailouts as the worst performer in economic and environmental terms among a series of Covid-19 financial relief measures. Large bailout packages currently under negotiation are likely to heed the example set by France in introducing environmental requirements or measures to compensate the taxpayer. This may not be limited to major economies – in Colombia, significant opposition to a possible taxpayer-funded bailout for Avianca emerged this week.
State support tally
The charts below tally financial support for airlines (converted to US dollars) confirmed by 26 nations or public entities and, separately, proposed or unconfirmed financial assistance by nine other states. For a detailed table: Click here to download the tables.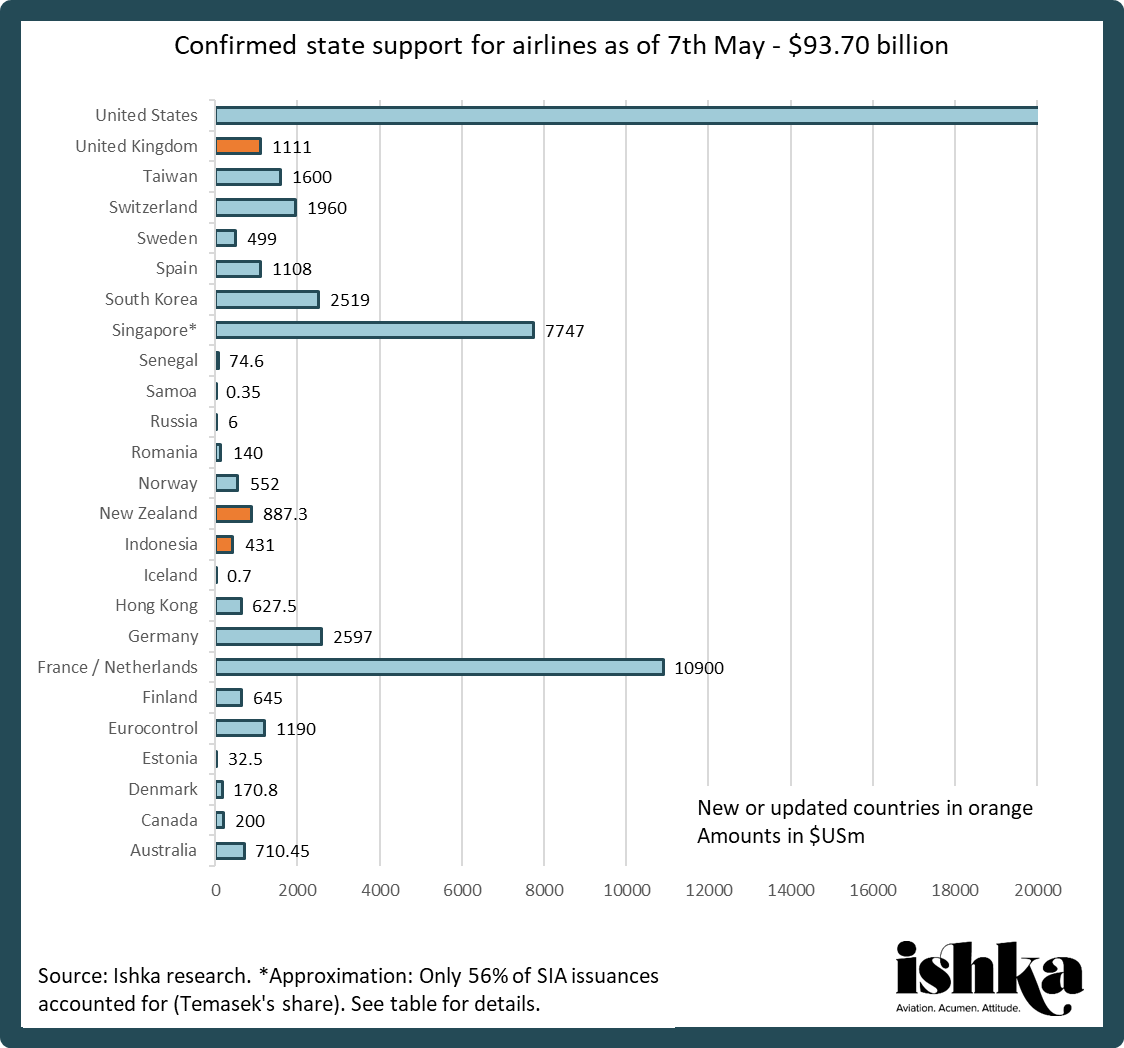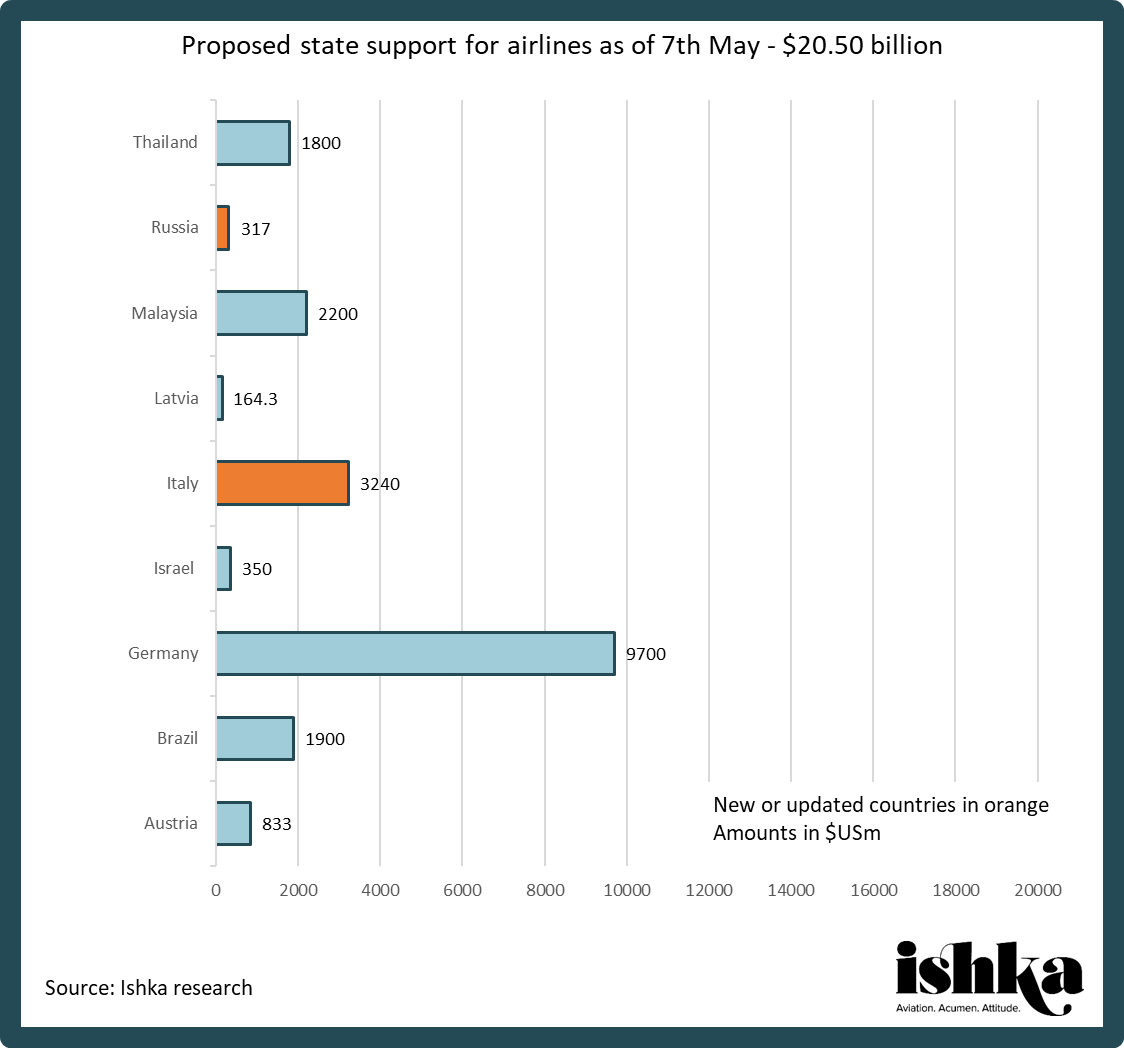 State Support
To view the latest table containing policies or proposed measures of 57 countries and EU-level entities: Click here to download the tables.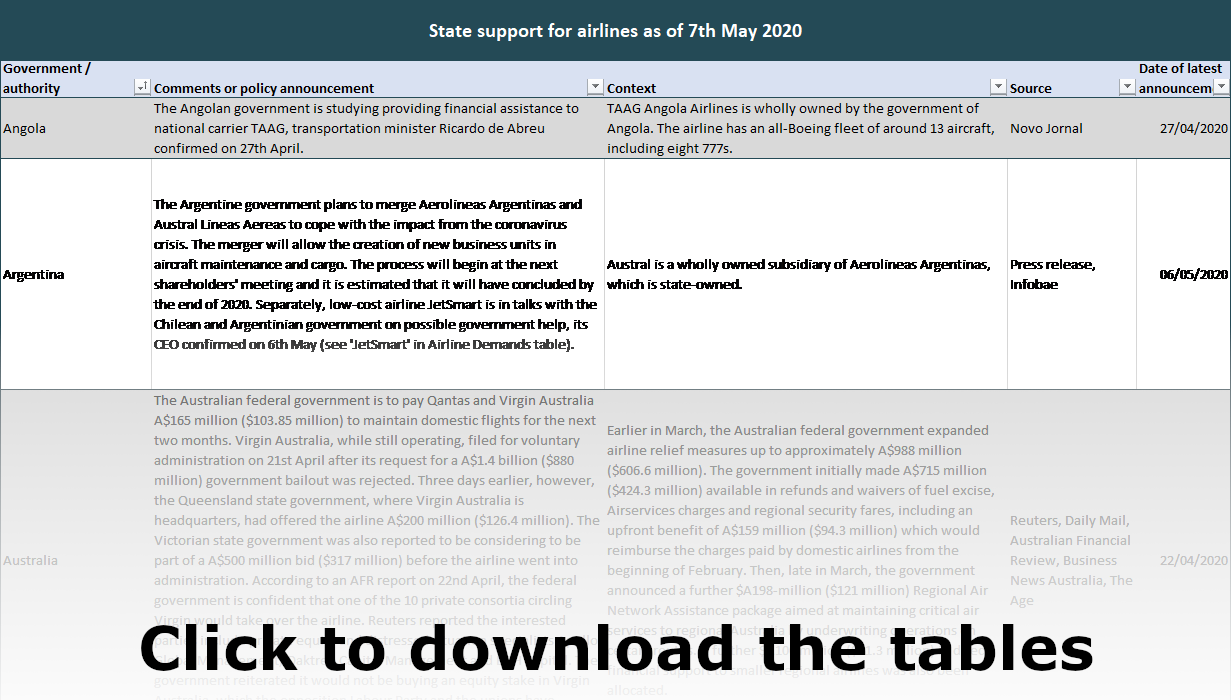 Airline demands
To view the latest table containing demands or stakeholder approaches of 121 carriers (including airline subsidiaries inside holding groups) and 23 industry associations: Click here to download the tables.