Covid-19 bailouts: Brazil downsizes bailout offer, others retrench (14 May)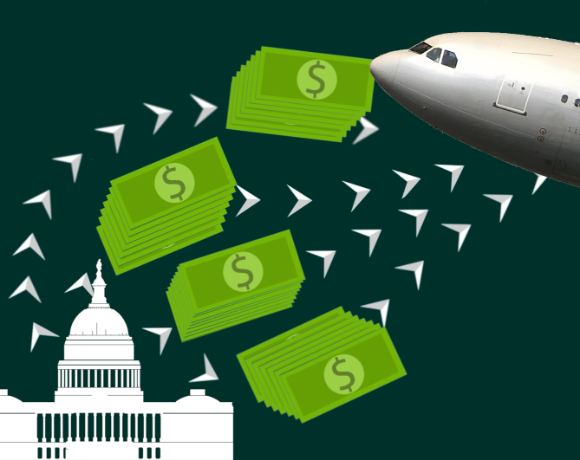 This is the ninth updated summary of airline demands for state support and bailout proposals by governments around the world.
The tables attached contain the demands or stakeholder approaches to date of 124 carriers (including airline subsidiaries inside holding groups) and 24 industry associations, as well as the policies or proposed measures of 59 countries and EU-level entities. Ishka estimates that as of 14th May governments are preparing or executing $94.3 billion in confirmed bailouts or assistance measures for airlines globally. Unconfirmed reports suggest the total tally could be as high as $114.18 billion.
Ishka's definition of government support for airlines encompasses any monetarily quantified relief measure provided by states or state-backed entities, including deferrals of taxes or operational charges, state-backed commercial loans and the nationalisation of airlines.
The tally of confirmed bailouts grew by only $0.6 billion over the past week:
- Latvia approved an investment of up to €250 million ($271.5 million) into the equity of airBaltic to help it through the Covid-19 crisis, the airline announced on 7th May;
- Reunion, the French overseas department, agreed to grant a €10 million ($10.8 million) loan to SEMATRA, the parent company of Air Austral;
- A Russian cabinet meeting approved 23.4 billion roubles ($314.7 million) in subsidies to Russian airlines on 7th May.
The tally of bailout packages still in the works (those yet to be confirmed) shrunk from $20.50 billion to $19.88 billion following reports that Brazilian state development bank BNDES on 13th May offered airlines a 4 billion reais ($680 million) rescue package, smaller than the 10 billion reais ($1.7 billion) previously reported. The amounts for Latvia and Russia (now confirmed) were deducted from the tally while two were added:
- Indonesia is finalizing a $1 billion financial bailout plan for Garuda Indonesia to help it stave off a debt default, Bloomberg reported on 11th May;
- Israel has reportedly offered government backing for 80% of a $400 million loan to help El Al through the coronavirus crisis, as well as NIS 100 million ($28.5 million) in state-backed loan guarantees to help Arkia and Israir, according to reports on 8th and 13th May. The amounts are higher than the previously reported $350 million being considered for El Al.

Food for thought
Meanwhile, a comment by IAG CEO Willie Walsh during the group's recent Q1 earnings call provides some food for thought on how bailouts may shape the future competitive landscape. Walsh noted that while a lot of state aid debt "may be cheap on the current environment," it would actually be "quite expensive" in terms of where the industry was and argued that this pricier debt may "influence decisions" that recipients make going forward. Walsh's comments may have been at least partly aimed at Air France, who on 6th May announced details of its €7 billion ($7.55 billion) French bailout package.
The first loan, a €4 billion syndicated facility, must be repaid with a coupon annual rate equal to EURIBOR (floored at zero) plus a margin of 1.25% in the first year, 2.50% in the second year and 3.75% in the third year (including the cost of the state guarantee); while the €3 billion state loan has a coupon payable annually equal to EURIBOR 12 months (floored at zero) plus a margin of 7% for the first four years, 7.5% for the fifth and 7.75% for the sixth.
The Ishka View
Could governmental support to the aviation sector be beginning to waiver? The total bailout tally, including reported support packages in the works, saw a slight weekly decrease for the first time (from $114.21 billion to $114.18 billion). While the decrease is negligible, it reflects some degree of retrenchment by governments, particularly in Latin America. In addition to Brazil downsizing its offer, Colombia let Avianca fall into bankruptcy this week and the governments of Chile and Mexico, home to some of the region's largest carriers, remain silent about providing support to their home airlines.
Public opposition to airline bailouts, or any large corporate bailout for that matter, throughout much of the world may explain some of the government reticence to extend aid, but Ishka suspects other issues may be weakening the rationale behind rescuing airlines. They could include the question of supporting businesses with little medium-term demand visibility, the fragility of airline jobs even after lockdowns are lifted, and the environmental impact of the industry. Employment and environment have, at least to the eyes of the public, been at the forefront of bailout considerations in Belgium and Austria, where Lufthansa subsidiaries have been in discussions to receive state aid for well over a month now. An amendment to the EU State Aid Temporary Framework introduced on 8th May, which includes an emphasis on green and digital twin transition policy alignments, could give states more leverage in introducing green requirements.
State support tally
The charts below tally financial support for airlines (converted to US dollars) confirmed by 27 nations or public entities and, separately, proposed or unconfirmed financial assistance by six other states. For a detailed table: Click here to download the tables.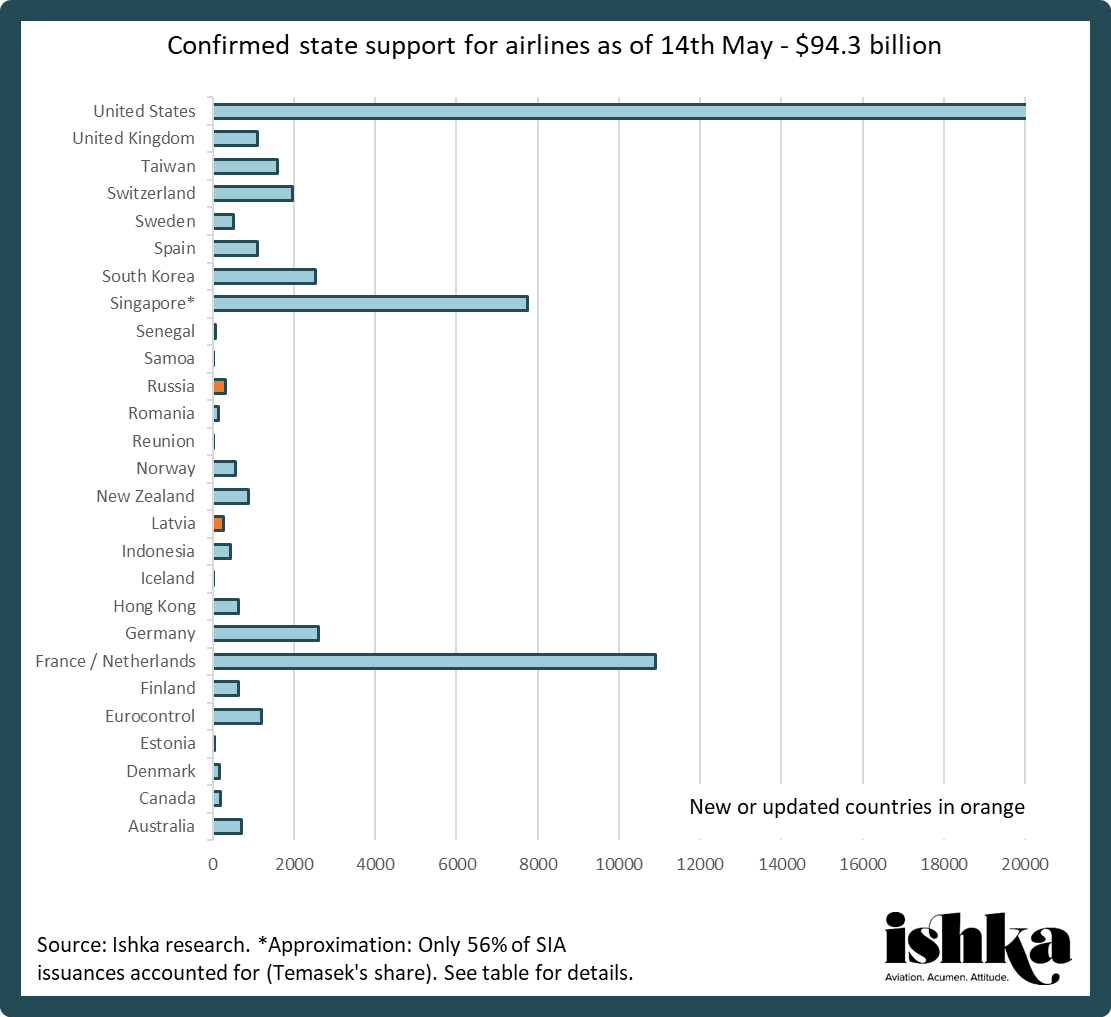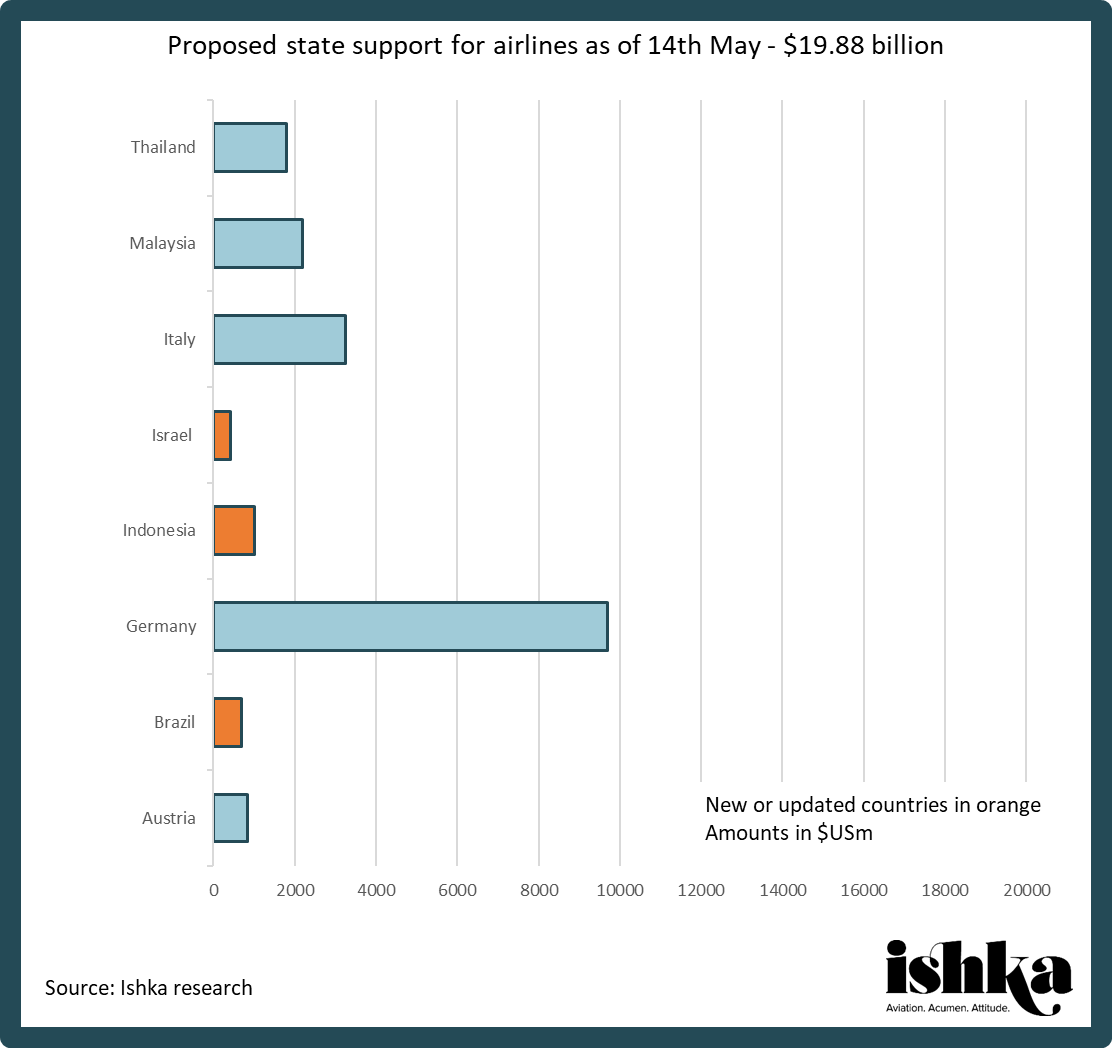 State Support
To view the latest table containing policies or proposed measures of 59 countries and EU-level entities: Click here to download the tables.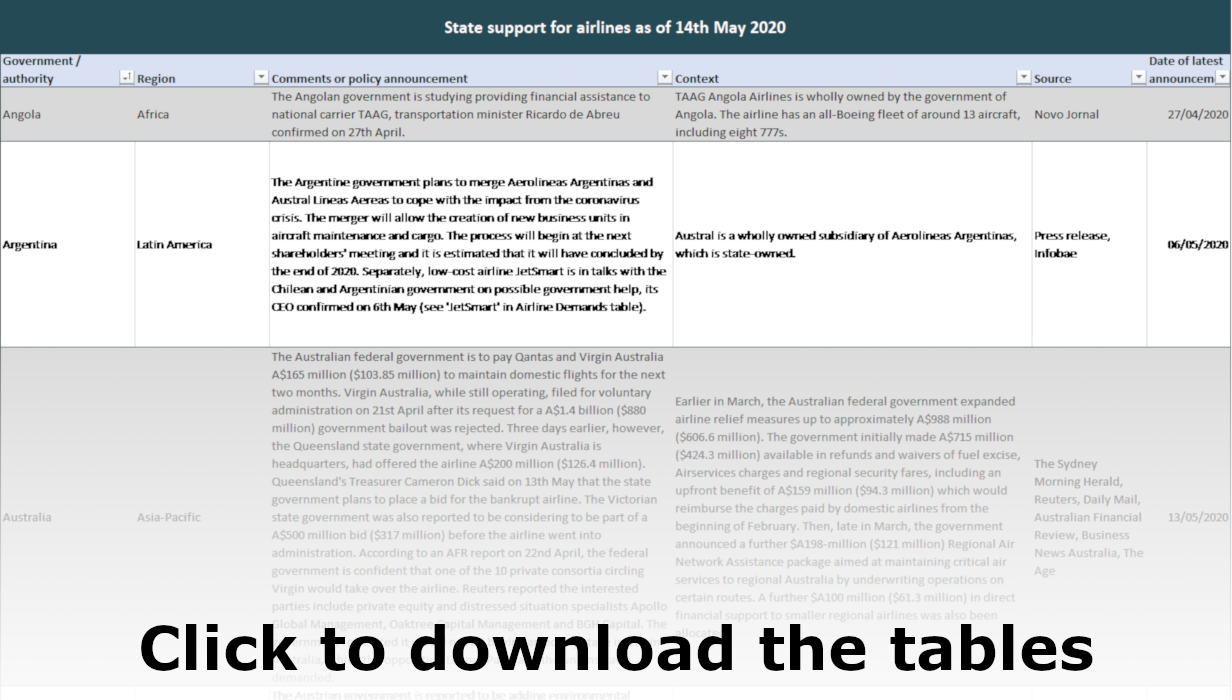 Airline requests
To view the latest table containing demands or stakeholder approaches of 124 carriers (including airline subsidiaries inside holding groups) and 24 industry associations: Click here to download the tables.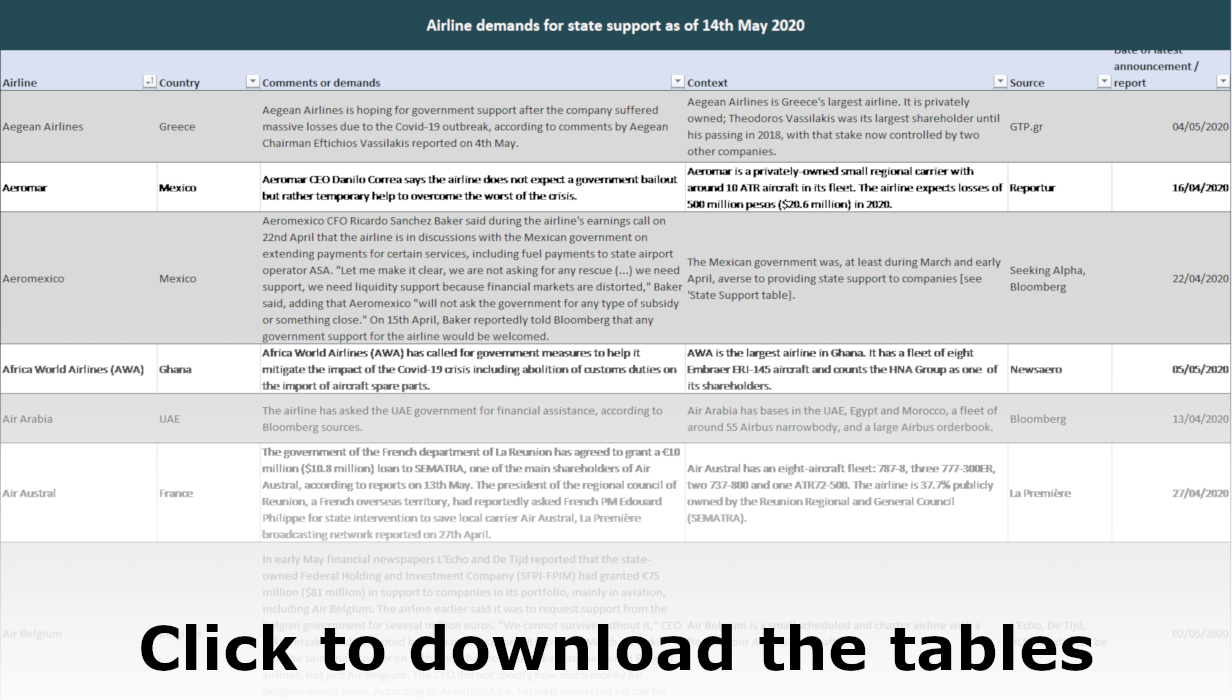 ---

More related insights: