Covid-19 bailouts: Lufthansa gets aid, Latin America rethinks support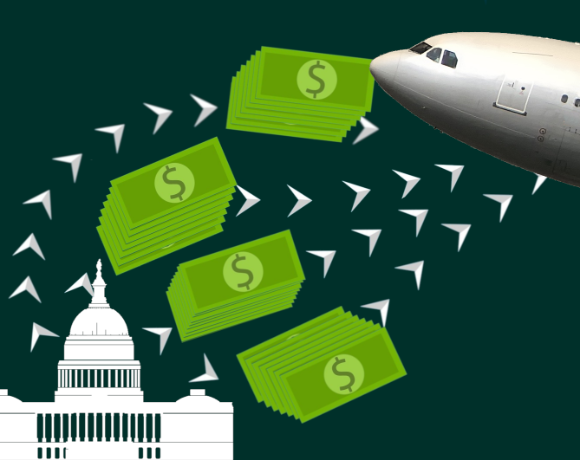 This is the eleventh updated summary of airline demands for state support and bailout proposals by governments around the world.
The tables attached contain the demands or stakeholder approaches to date of 128 carriers (including airline subsidiaries inside holding groups) and 24 industry associations, as well as the policies or proposed measures of 67 countries and EU-level entities. Ishka estimates that as of 28th May governments are preparing or executing $105.89 billion in confirmed bailouts or assistance measures for airlines globally. Unconfirmed reports suggest the total tally could be as high as $114.27 billion, lower than last week after Thailand dropped plans for a cash injection of approximately $1.8 billion in Thai Airways, which has gone into bankruptcy protection.
Ishka's definition of government support for airlines encompasses any monetarily quantified relief measure provided by states or state-backed entities, including deferrals of taxes or operational charges, state-backed commercial loans and the nationalisation of airlines.
The tally of confirmed bailouts grew by $10.25 billion since the last update with the following additions:
- The Fijian Parliament on 25th May approved a government guarantee for Fiji Airways for loans totaling FJ$455 million ($202.7 million);
- Lufthansa on 25th May obtained approval by Germany's Economic Stabilisation Fund (WSF) for stabilisation measures and loans of up to €9 billion ($9.9 billion);
- The Rwandan government will increase funding to national carrier RwandAir by approximately $25 million in the next fiscal year to help it respond to the COVID-19, reports said on 21st May;
- UK firm Dart Group, the parent company of Jet2, announced on 15th May that has so far withdrawn £100 million ($122.3 million) from the Bank of England's Coronavirus Corporate Finance Facility (CCFF).
Thailand's decision to drop a plan to provide state aid to Thai Airways and the confirmation of the Lufthansa bailout means that the tally of bailout packages still in the works has shrunk from $19.88 billion to $8.38 billion.
IATA's bailout tally: how does it compare?
The International Air Transport Association (IATA) on 26th May released an analysis on state aid to airlines. According to IATA, in total governments have committed to $123 billion in financial aid to airlines of which $67 billion are loans that will need to be repaid and the remainder consists of wage subsidies ($34.8 billion), equity financing ($11.5 billion), and tax relief/subsidies ($9.7 billion).
Except for the US CARES Act payroll grants, which are tailored to US carriers, Ishka has not included wage subsidies to airlines into its state support tally, as wage support schemes are usually accessible by all or most employers in their respective jurisdictions.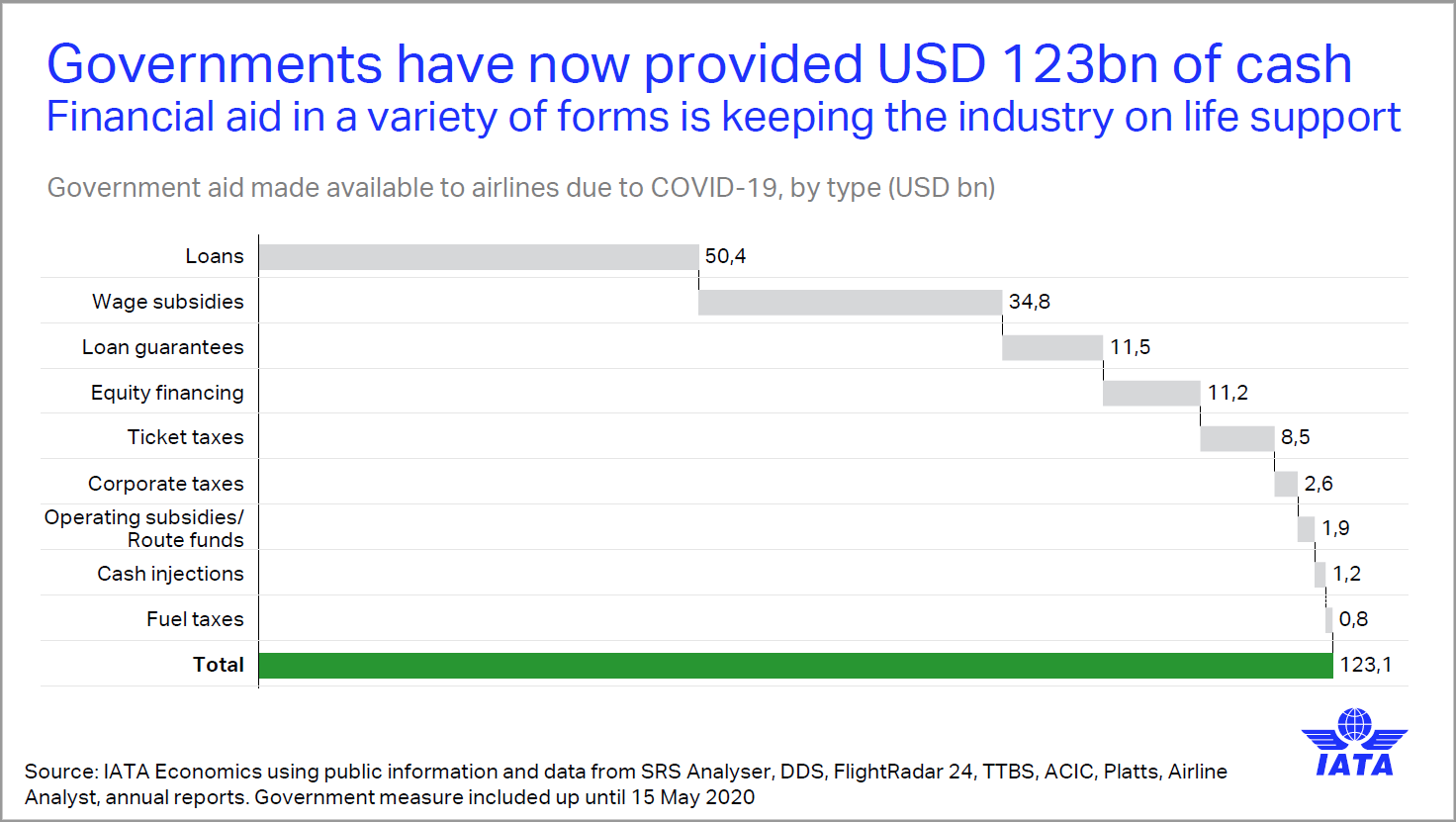 Source: IATA
IATA notes that over half the relief provided by governments to airlines creates new liabilities and warns that paying off the debt owed to governments and private lenders "will mean that the crisis will last a lot longer than the time it takes for passenger demand to recover." In an upcoming Insight, Ishka will examine some of the most frequent conditions and terms tied to state aid for airlines so far.
The Ishka View
The €9 billion ($9.9 million) Lufthansa bailout makes Germany the second-largest provider of state aid to airlines after the US. Germany has provided approximately $12.5 billion including previous loans for the TUI Group and Condor. An important feature of the Lufthansa package is the apparent lack of green strings compared to the Air France-KLM bailout and the 20% stake the German government will take in the airline group (as a silent shareholder except in the event of a takeover). To gain EU Commission approval, that stake would need to be temporary and limited to six years to prevent market disruption. Some details are yet to still be ironed out, including whether Lufthansa will give up coveted slots in Frankfurt and Munich. The airline says the package is the only viable way of maintaining solvency, leaving it with little option but to accept terms. Some of the precedents set by the German package, particularly the state minority takeover, could help unlock similar points of contention in the Austrian and Belgian negotiations with Austrian Airlines and Brussels Airlines.
Meanwhile, in Latin America, the governments of Colombia and Chile have softened their stance on airline support. Both states initially refused bailouts for the recently bankrupt Avianca Holdings and LATAM. However, both governments have now signalled that they may provide state support to their respective carriers through their restructuring process. Airlines in the region and IATA have decried the lack of state support for air carriers in recent months. The latest IATA analysis shows that Latin America only accounts for negligible 0.2% of all government aid to airlines worldwide. Ishka wonders, however, whether rather than lagging behind the rest of the world, more countries will follow Colombia's and Chile's examples in letting air carriers go bankrupt before providing support. Thailand, for instance, appeared to close to disbursing funds but ultimately decided to strip Thai Airways of its state-owned status to allow for a court restructuring process.
State support tally
The charts below tally financial support for airlines (converted to US dollars) confirmed by 29 nations or public entities and, separately, proposed or unconfirmed financial assistance by eight other states. For a detailed table: Click here to download the tables..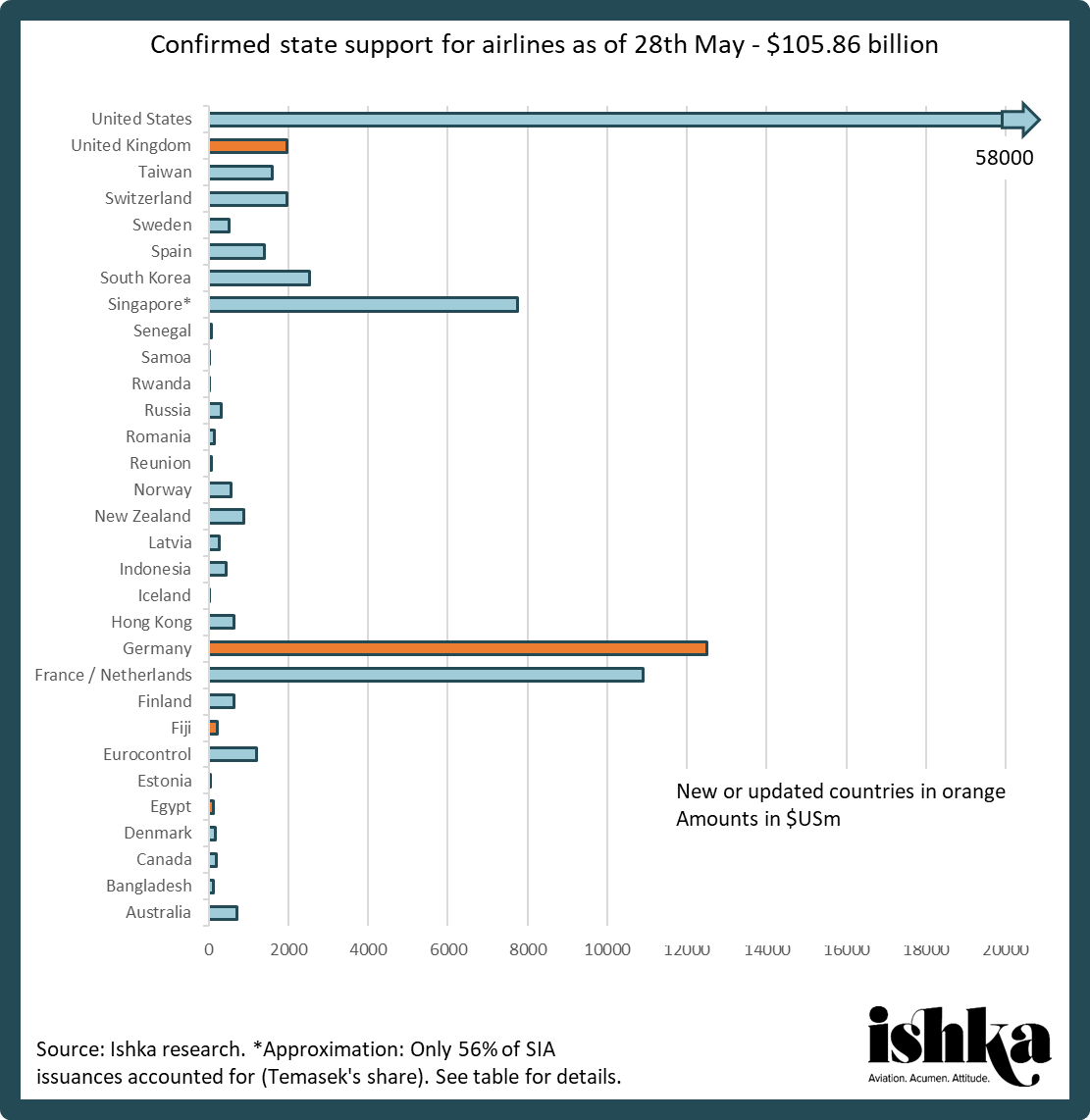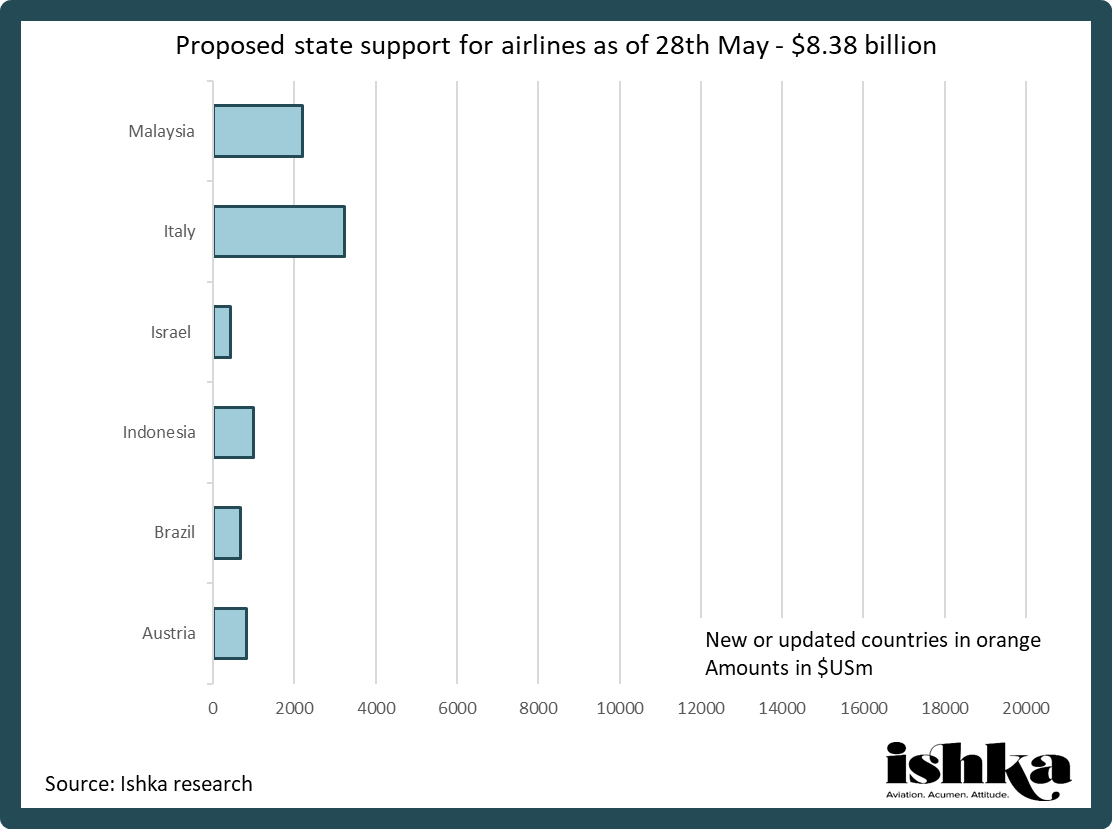 State Support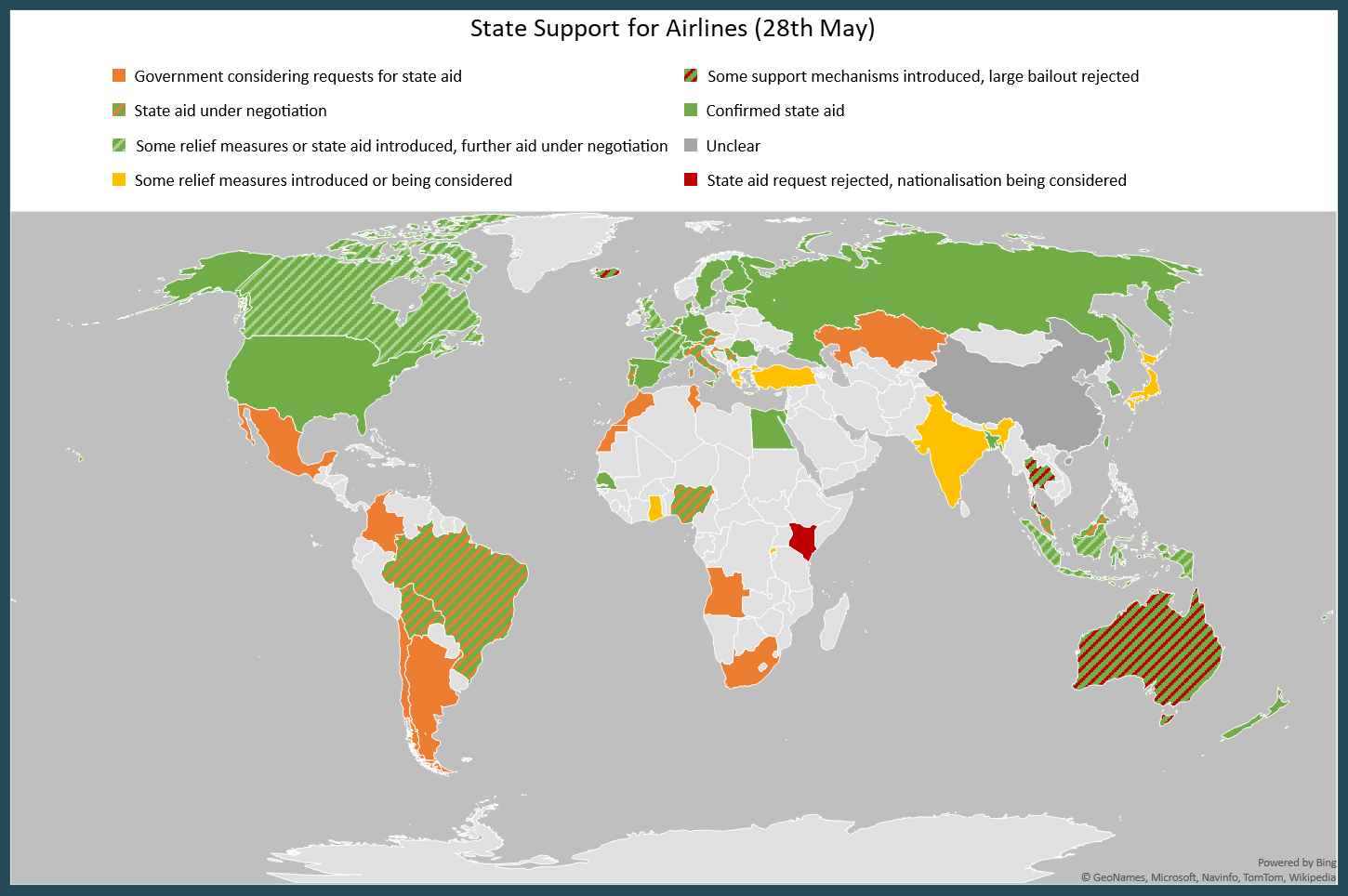 To view the latest table containing policies or proposed measures of 67 countries and EU-level entities: Click here to download the tables.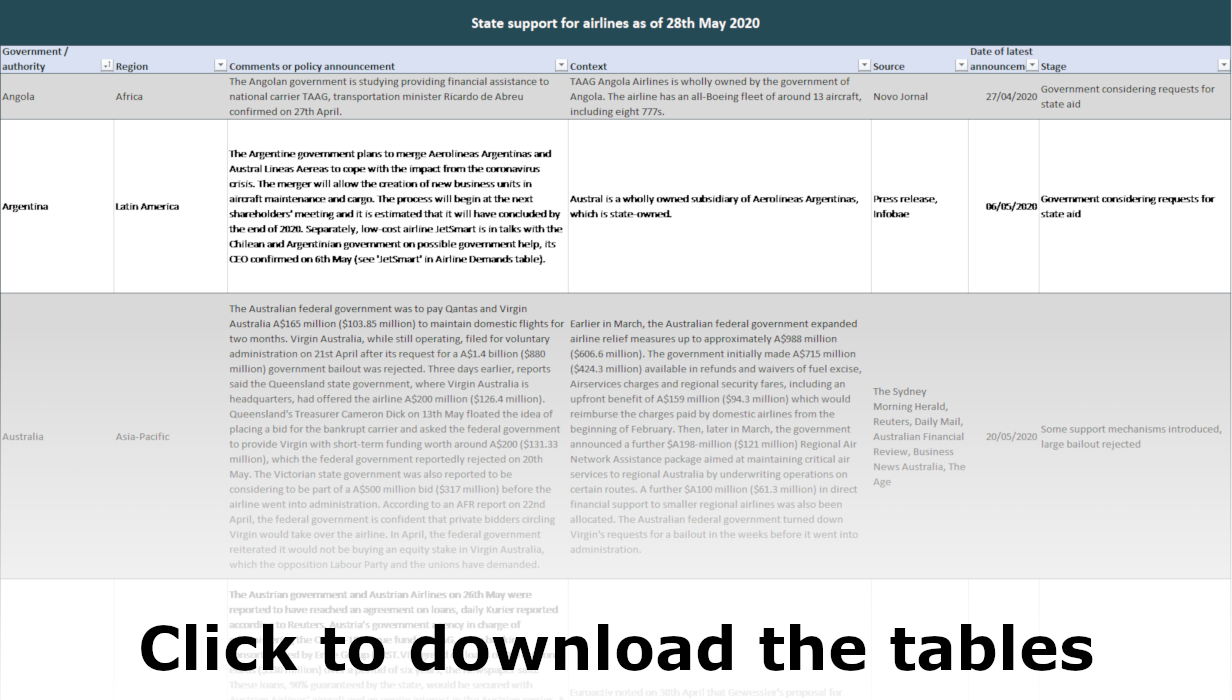 Airline requests
To view the latest table containing demands or stakeholder approaches of 128 carriers (including airline subsidiaries inside holding groups) and 24 industry associations: Click here to download the tables.