Covid-19 bailouts: Garuda, Aeroflot aid among $2.9bn tally uptick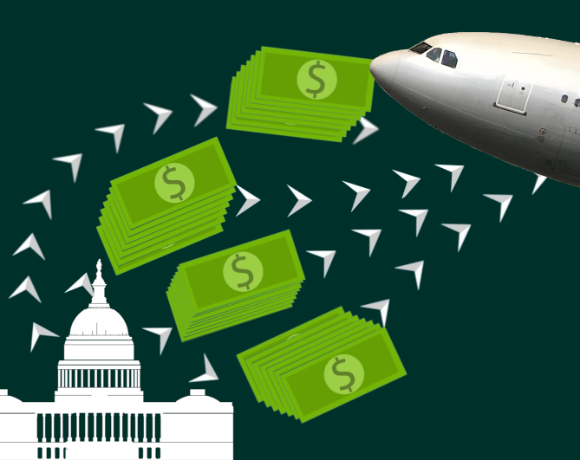 This is the seventeenth updated summary of airline demands for state support and bailout proposals by governments around the world.
The tables attached contain the demands or stakeholder approaches to date of 139 carriers (including airline subsidiaries inside holding groups) and 30 industry associations or stakeholders, as well as the policies or proposed measures of 74 countries and EU-level entities. Ishka estimates that as of 16th July governments are preparing or executing $121.25 billion in confirmed bailouts or assistance measures for airlines globally. Unconfirmed reports suggest the total tally could be as high as $129.39 billion.
Ishka's definition of government support for airlines encompasses any monetarily quantified relief measure provided by states or state-backed entities, including deferrals of taxes or operational charges, state-backed commercial loans and the nationalisation of airlines.
The tally of confirmed bailouts grew by $2.91 billion since the last update through the following changes and additions:
- An article in El Pais on 3rd July confirmed that Volotea has received a loan guaranteed by state guarantor ICO of €100 million ($112 million). The airline had announced at the end of June that it was negotiating a loan.
- The regional government of Jeju Island in South Korea halved a budget allocation for the purchase of shares of Jeju Air from 8 billion won ($6.6 million), announced in June, to 4 billion won ($3.3 million), MK reported on 10th July.
- Singapore's The Straits Times reported on 3rd July that the precise amounts contributed by sovereign wealth fund Temasek to Singapore Airlines earlier this year were S$8.8 billion ($6.3 billion) for the airline's rights issue as well as about S$3.35 billion ($2.4 billion) for mandatory convertible bonds issued by the carrier. The combined $8.7 billion is higher than Ishka's previous estimate of $7.5 billion.
- The Russian government has provided Aeroflot with a state guarantee for a five-year loan worth 70 billion rubles ($990 million), Russian Prime Minister Mikhail Mishustin announced on 14th July.
- Israeli private carrier Israir on 9th July signed an agreement with the government to receive a credit line of NIS 140 million ($40.7 million), The Jerusalem Post reported. The amount is higher than the reported NIS 100 million ($28.5 million) in state-backed loan guarantees reportedly offered to Israir and Arkia in May.
- A senior Indonesian parliamentary official, Aria Bima, announced on 15th July that the parliament (DPR) has agreed to a plan to bail out Garuda Indonesia by purchasing mandatory convertible bonds worth Rp8.5 trillion ($600 million) to be issued later this year.
The tally of bailouts still in the works (those yet to be confirmed) declined from $8.97 billion to $8.1 billion with the confirmation of the Volotea, Aeroflot and Garuda measures noted above. It also saw the following additions:
- Air Europa is reportedly negotiating another loan with state participation of between €200 million and €250 million ($228 million to $285 million).
- The Moroccan government plans a package of 6 billion dirhams ($624 million) in aid to state carrier Royal Air Maroc (RAM) to help it get through the pandemic crisis, Finance Minister Mohamed Benchaaboun said on 13th July.
- State-owned carrier Air India raised Rs 900 crore ($120 million) for the months of April, May and June through banks as working capital loans, which were guaranteed by the government, according to an unconfirmed report by India's The Economic Times on 13th July citing government sources.
The Ishka View
There were some concerns earlier in the pandemic around developing countries being less inclined to support airlines due to budget constraints. While this remains the case, as there are yet to be many large-scale bailouts outside North America, Europe and Northeast Asia, an increasing number of countries outside of those regions are moving to help carriers. In addition to Indonesia and Morocco (mentioned above), Tunisia is also reported to be drawing up a plan that would involve a capital increase of Tunisair, which (despite being majority-owned by the government) was initially told to rely on its own resources. This week there were also reports that airlines in Colombia could be eligible to apply for large business credit lines, including Avianca and EasyFly. LATAM, meanwhile, withdrew its request for government aid in Colombia following the formalisation of the second tranche of DIP (debtor-in-possession) financing from Oaktree Capital.
Meanwhile, Ishka notes that while debt continues to represent the vast portion of airline state aid to date (see May IATA tally in Insight: 'Covid-19 bailouts: Lufthansa gets aid, Latin America rethinks support'), the list of most frequent state aid mechanisms is more varied. For the 53 governments or authorities to have publicly introduced state aid measures, whether as specific airline bailouts or sector-wide initiatives, the most common measures adopted are: subsidies in the form of budget allocations (14), state loan guarantees (14), operational fee waivers or discounts (12), state equity injections (12), state loans (12), state bank loans (7), flights subsidies (5), large business state loan programmes (5), tax waivers or deferrals (5) and contributions by sovereign wealth funds (3). Other bespoke measures, including some which have only been proposed, have been nationalisations, mergers and international development bank financing.
State support tally
The charts below tally financial support for airlines (converted to US dollars) confirmed by 38 nations or public entities and, separately, proposed or unconfirmed financial assistance by 12 other states. For a detailed table: Click here to download the tables.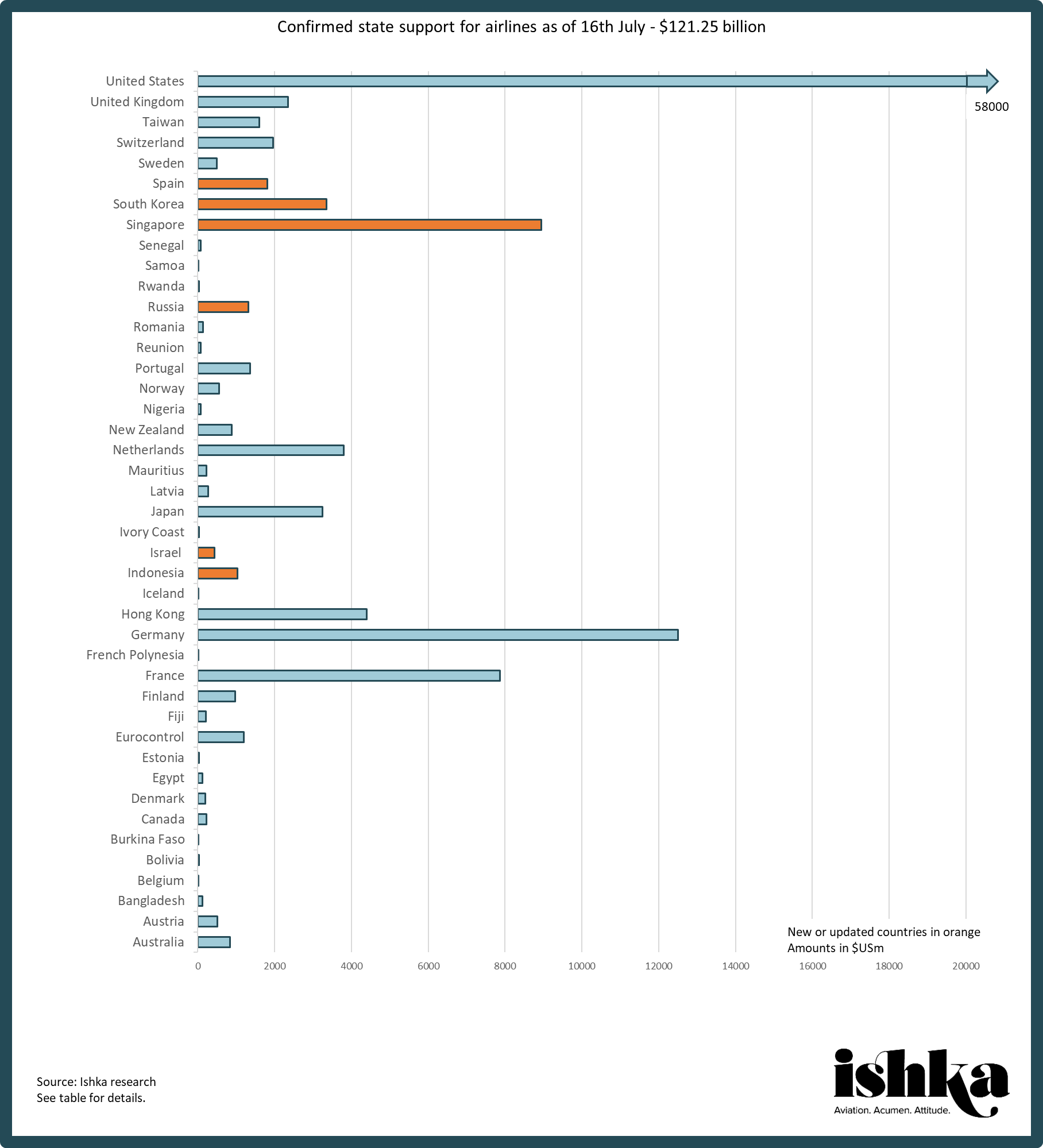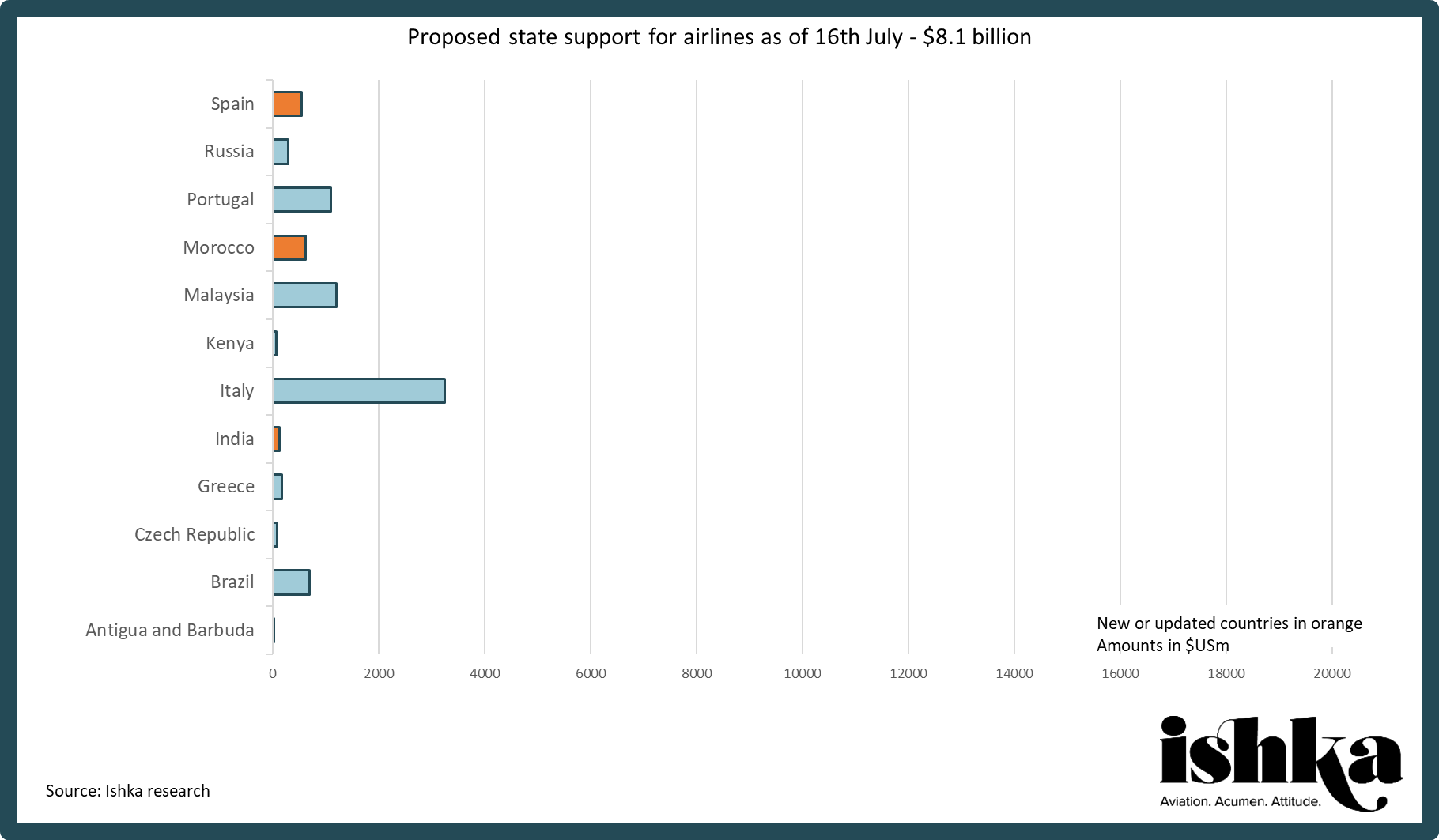 State Support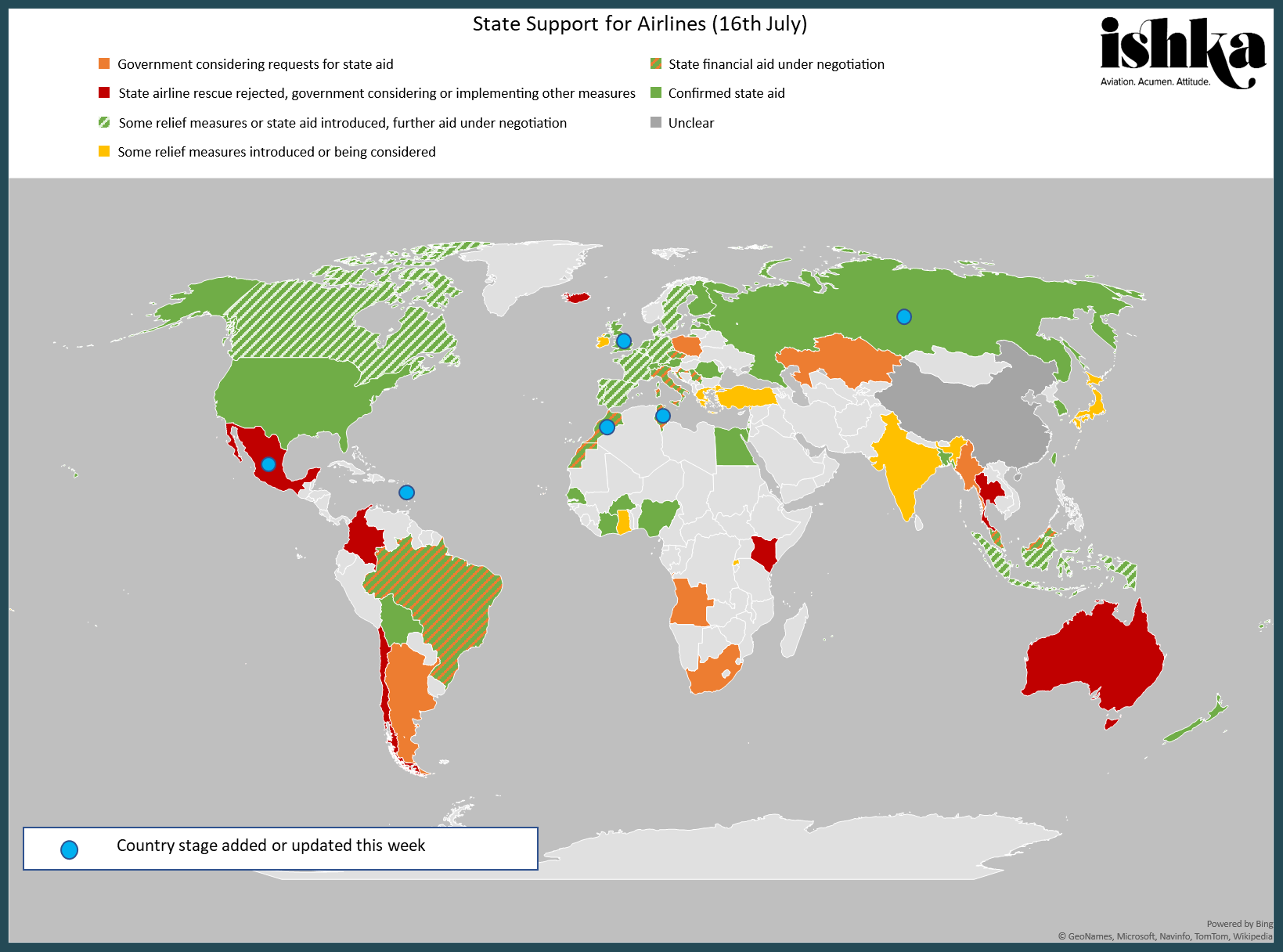 Note to readers: The map categories of 'State aid request rejected, nationalization being considered' (previously applied to Kenya) and 'Some support mechanisms introduced, large bailout rejected' (Iceland, Thailand, Australia) have been merged into the more concise 'State airline rescue rejected, government considering or implementing other measures'. Chile and Colombia, whose governments refused to bail out LATAM Airlines Group and Avianca Holdings ahead of their US Chapter 11 filings in May, have been included in this new category.
To view the latest table containing policies or proposed measures of 74 countries and EU-level entities: Click here to download the tables.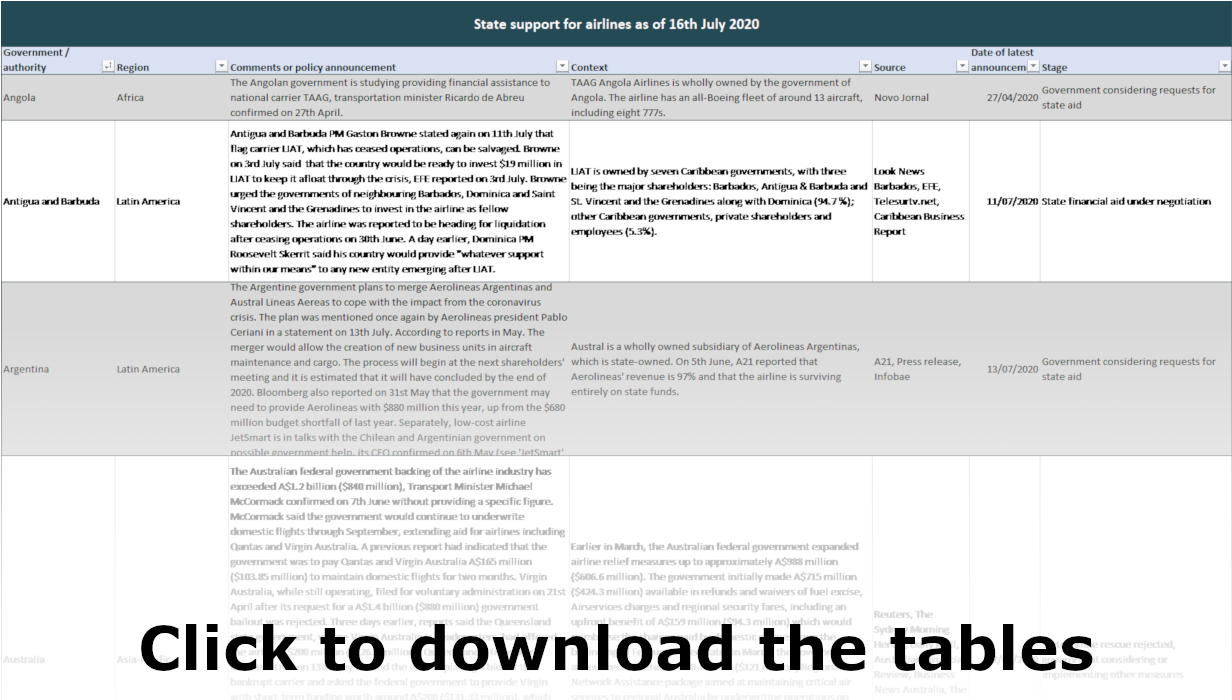 Airline requests
To view the latest table containing demands or stakeholder approaches of 139 carriers (including airline subsidiaries inside holding groups) and 30 industry associations: Click here to download the tables.