Covid-19 bailouts: US majors support 'clean' CARES Act aid extension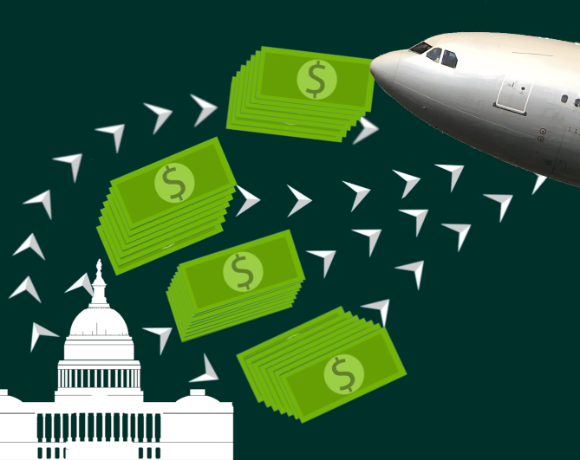 This is the eighteenth updated summary of airline demands for state support and bailout proposals by governments around the world.
The tables attached contain the demands or stakeholder approaches to date of 140 carriers (including airline subsidiaries inside holding groups) and 30 industry associations or stakeholders, as well as the policies or proposed measures of 77 countries and EU-level entities. Ishka estimates that as of 24th July governments are preparing or executing $121.94 billion in confirmed bailouts or assistance measures for airlines globally. Unconfirmed reports suggest the total tally could be as high as $128.93 billion.
Ishka's definition of government support for airlines encompasses any monetarily quantified relief measure provided by states or state-backed entities, including deferrals of taxes or operational charges, state-backed commercial loans and the nationalisation of airlines.
The tally of confirmed bailouts grew by approximately $690 million since the last update through the following changes and additions:
- The Moroccan government was confirmed to have allocated 6 billion dirhams ($624 million) in aid to state carrier Royal Air Maroc (RAM) to help it get through the pandemic crisis, according to a Fitch Ratings review of the country's revised budget published on 20th July.
- In Russia, state aid was announced for the following airlines:
- State bank Sberbank will provide a loan of 1.8 billion rubles ($25 million) to five companies of the Aeroflot group, including the airlines Aurora, Rossiya and Pobeda. The loan is part of state programme of low-interest 2% loans launched in June to help enterprises in Russia.
- JSC Izhavia, an airline based in Izhevsk, is due to receive 153 million rubles ($2.1 million) from the Udmurtia authorities, Kommersant reported on 21st July.
- The Yakutia Republic's stabilisation fund for enterprises hit by the pandemic has provided 250 million rubles ($3.5 million) to support local airlines, including a 120 million rubble ($1.7 million) loan for Yakutia Airlines.
The tally of bailouts still in the works (those yet to be confirmed) declined from $8.1 billion to $6.98 billion with the confirmation of the Moroccan state aid as well the removal of $1.1 billion previously linked to Portugal. Portuguese Finance Minister Joao Leao in June had said the government was to provide a €950 million ($1.1 billion) loan to TAP Air Portugal, which at the time appeared to be an additional support measure to the €1.2 billion ($1.36 billion) loan approved days earlier by the European Commission. As of 24th July, the €1.2 billion loan, approved by the government on 17th July, appears to be the only support mechanism in place.
Other notable changes to the unconfirmed tally include:
- Possible loans of up to RM1 billion ($234 million) for AirAsia which, according to CGS-CIMB Research, could be up to 80% guaranteed by state financial guarantee insurer Danajamin Nasional Bhd.
- Belgian media outlet VRT reported on 21st July that the Belgian government and Lufthansa have reached an agreement about the rescue of Brussels Airlines. The Belgian government will reportedly lend €290 million ($335 million) to the airline.
US PSP extension
Three months have passed since US airlines agreed to the terms of the Payroll Support Programme (PSP) available under the US CARES Act (see Insight: 'CARES Act: US to hold 0.5% to 3% in airline stock warrants'), which helps airlines cover up to 75% of payroll costs until the end of September. With that deadline fast approaching, several unions representing aviation workers have been pleading for another $32 billion to keep them employed through March next year.
The biggest US airlines, however, do not want an extension on the same terms they agreed earlier this year. Airlines for America (A4A), a trade association representing major North American airlines, told Politico on 23rd July that it only would support a "clean" extension of the PSP without "extraneous conditions," and underlined that the request comes from unions and not the industry itself.
The Ishka View
The recent union pleas for a PSP extension and the A4A statement mark the start of a second chapter in the campaign for state support for airlines. The US was one of the first countries to introduce a financial aid package for airlines earlier this year, and while major carriers only reached deals with the US Treasury on terms for loans in the past few weeks (the other component of the CARES Act support package), the 30th September deadline brings about a new debate: how much longer should governments support carriers in their current size? The A4A statement suggests layoffs are inevitable and its member airlines will not be making any sacrifices to avoid or delay them.
State support tally
The charts below tally financial support for airlines (converted to US dollars) confirmed by 44 nations or public entities and, separately, proposed or unconfirmed financial assistance by 11 other states. For a detailed table: Click here to download the tables.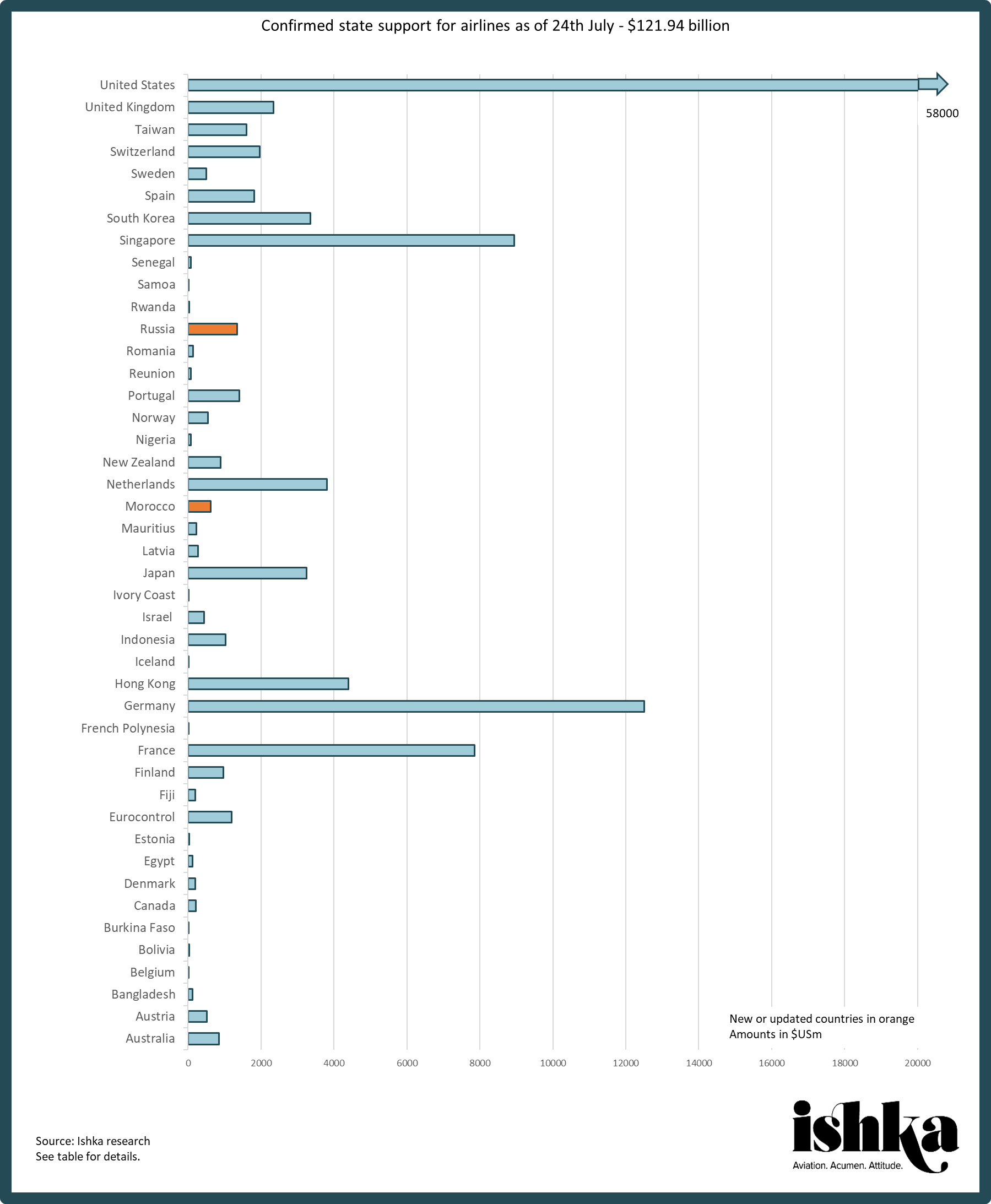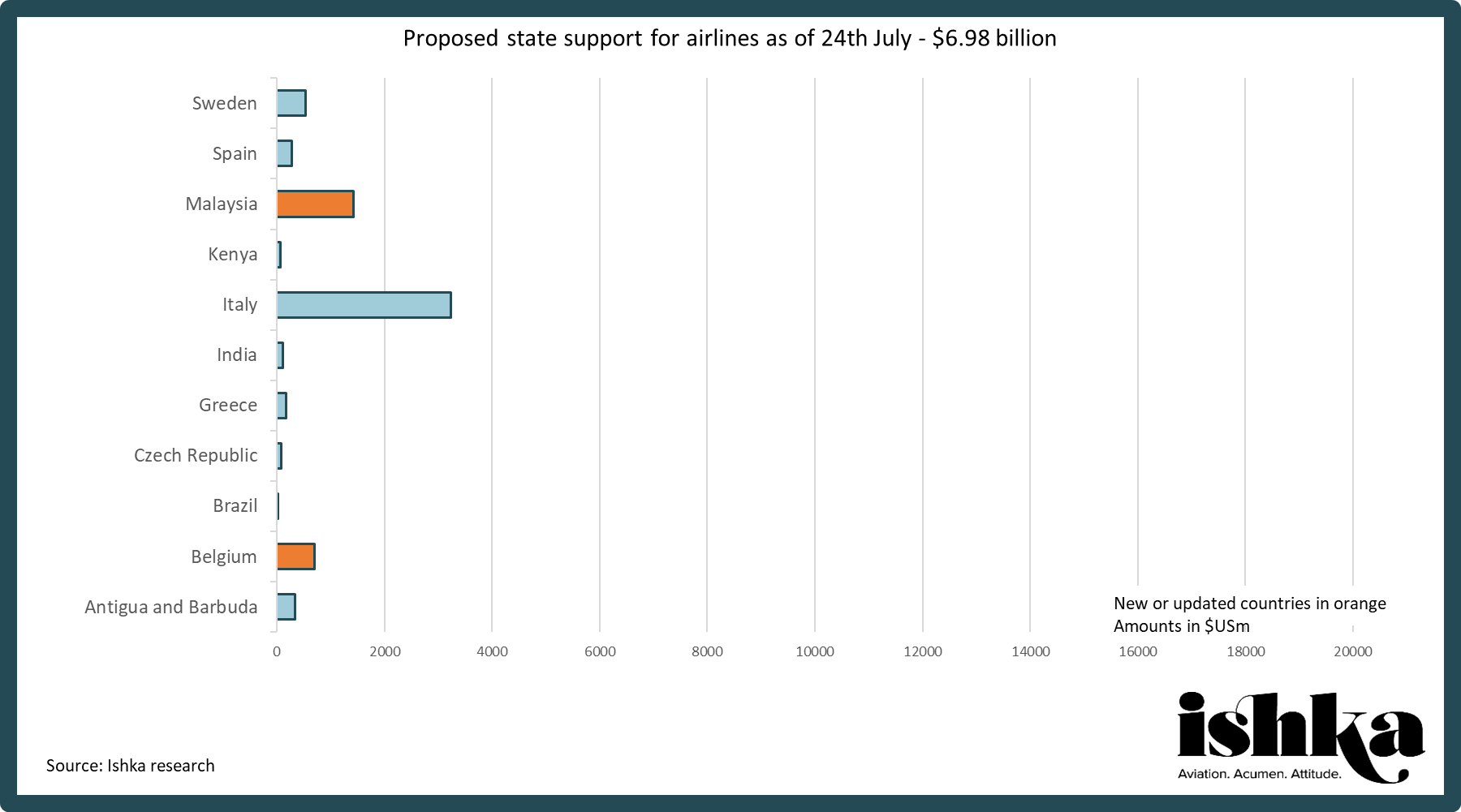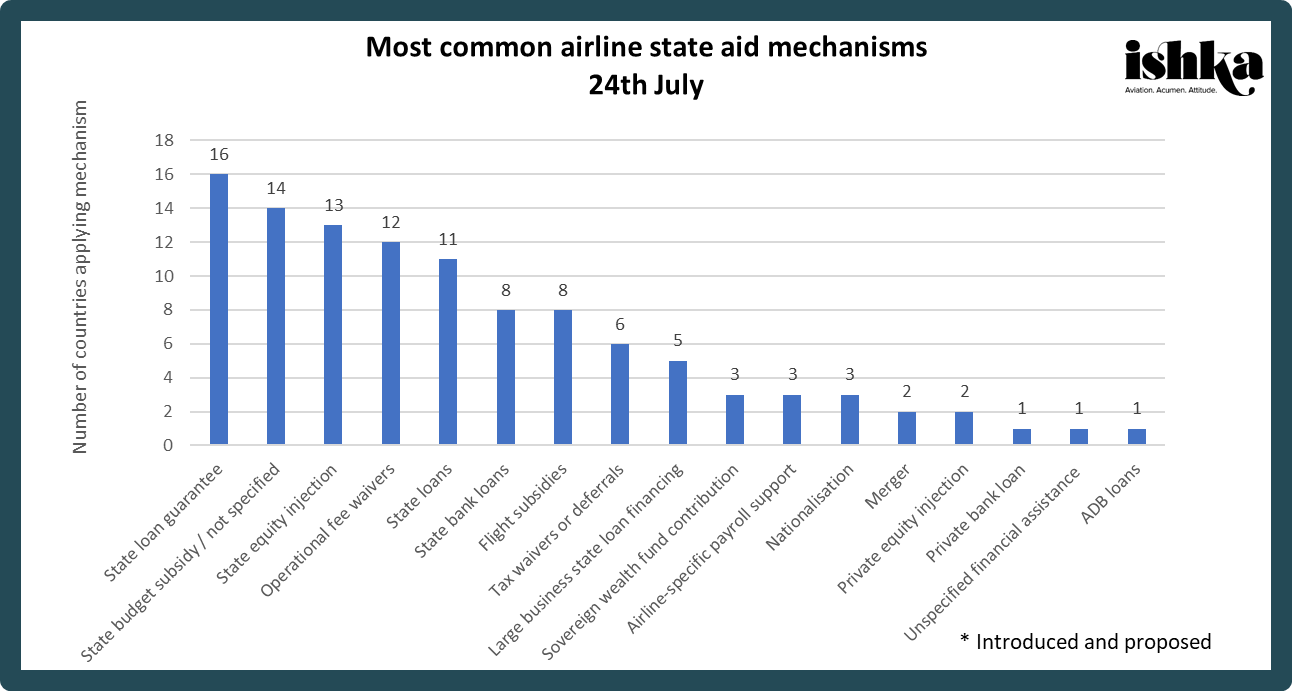 State Support
To view the latest table containing policies or proposed measures of 77 countries and EU-level entities: Click here to download the tables.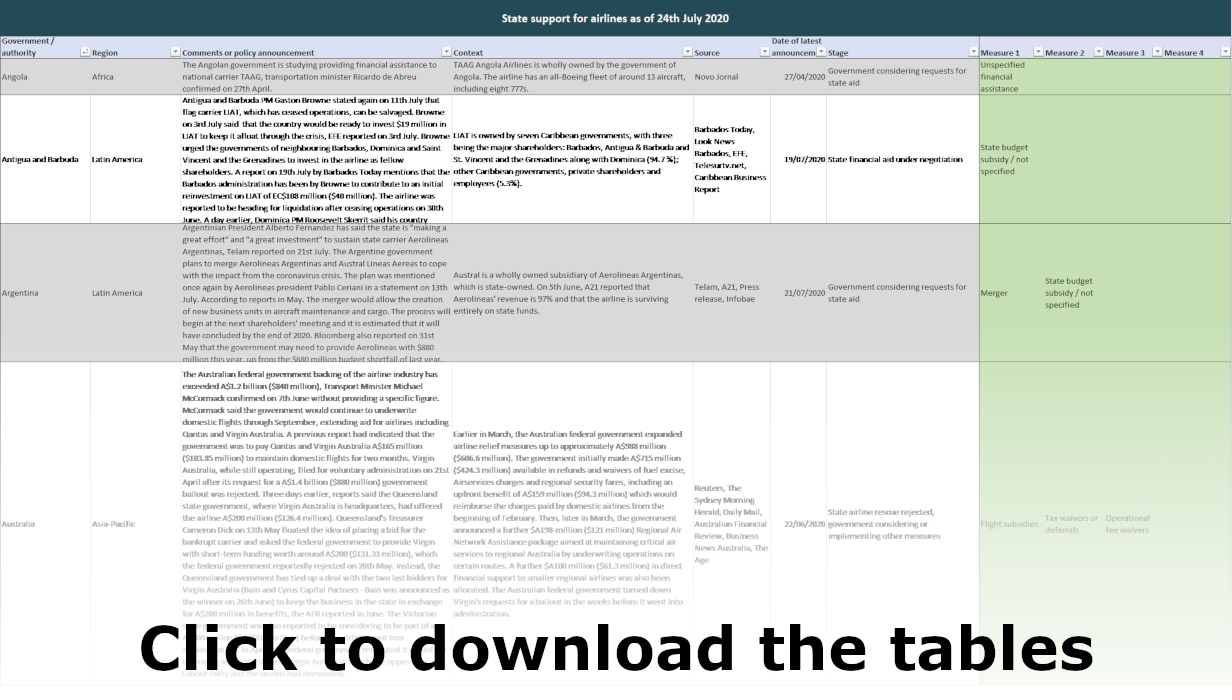 Airline requests
To view the latest table containing demands or stakeholder approaches of 140 carriers (including airline subsidiaries inside holding groups) and 30 industry associations: Click here to download the tables.