Ishka's guide to US PSP and why a PSP4 remains unlikely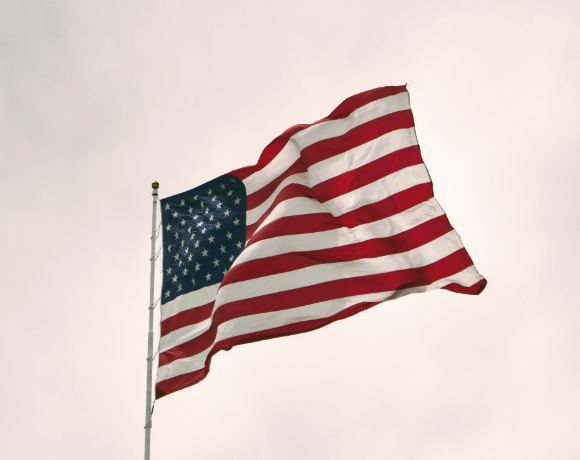 Ishka believes US airlines are unlikely to get a new extension to the government's multi-billion Payroll Support Programme (PSP) following a recent state debt repayment trend and the recovery in US domestic air travel.
The US government has been one of the most active nations in offering support to national airlines, allocating $87 billion worth of grants and loans to passenger and cargo carriers, approximately 45% of Ishka's global state aid tally.
Ishka examines US Treasury data on Payroll Support Programme (PSP) and CARES Act Loans (excluding the $5 billion for contractors) and breaks down every allocation into debt and grants. A complete dataset is available for download: Click here to download the data.
Four takeaway stats
A total of $87 billion has been provided to US passenger and cargo airlines through US CARES Act Treasury Loans ($25 billion for passenger carriers and $4 billion for cargo carriers) and three iterations of the Payroll Support Programme (PSP): PSP1 ($29 billion), PSP2 ($15 billion) and PSP3 ($14 billion). Here are Ishka's four key takeaways from allocations under the two programmes:
- High utilisation of funds: As of 22nd June 2021, 86.6% ($75.3 billion) of the $87 billion total (CARES Act loans and PSPs) had been disbursed. PSP deployment is at 93.4% ($54.2 billion) and US CARES Act Treasury Loans is at 72.8% ($21.1 billion in agreed debt facilities).
- Airlines not keen on US Treasury Loans: While 17 airlines do have $21.1 billion in standby liquidity through CARES Act loans, only $1.9 billion has been disbursed. Of the amount withdrawn by airlines, most ($1.35 billion) has already been repaid.
- PSP utilisation increased after PSP1: Approximately 88.9% ($25.79 billion) of the PSP1 allotment was allocated to airlines, but utilisation increased to 98.5% ($14.78 billion) and 97.4% ($13.64 billion) for PSP2 and PSP3 respectively.
- Top 10 US airlines take lion's share: 92.4% of the $75.3 billion in utilised funds has gone to the 10 largest carriers (see airlines in the table below). This includes 91.3% ($49.51 billion) of all allocated PSP funding ($54.2 billion) and 95% ($20.06 billion) of all allocated CARES Act loans ($21.1 billion). However, four of the top 10 carriers (Allegiant, Delta, Southwest, and Spirit) did not apply for CARES Act Loans.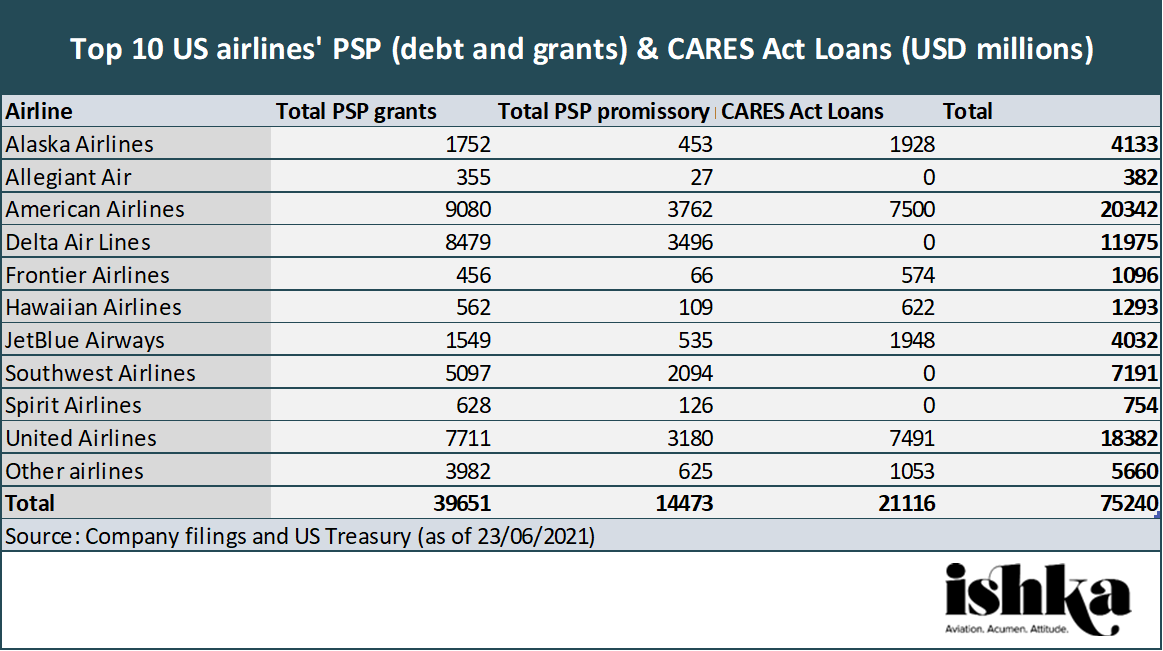 Click here to download the data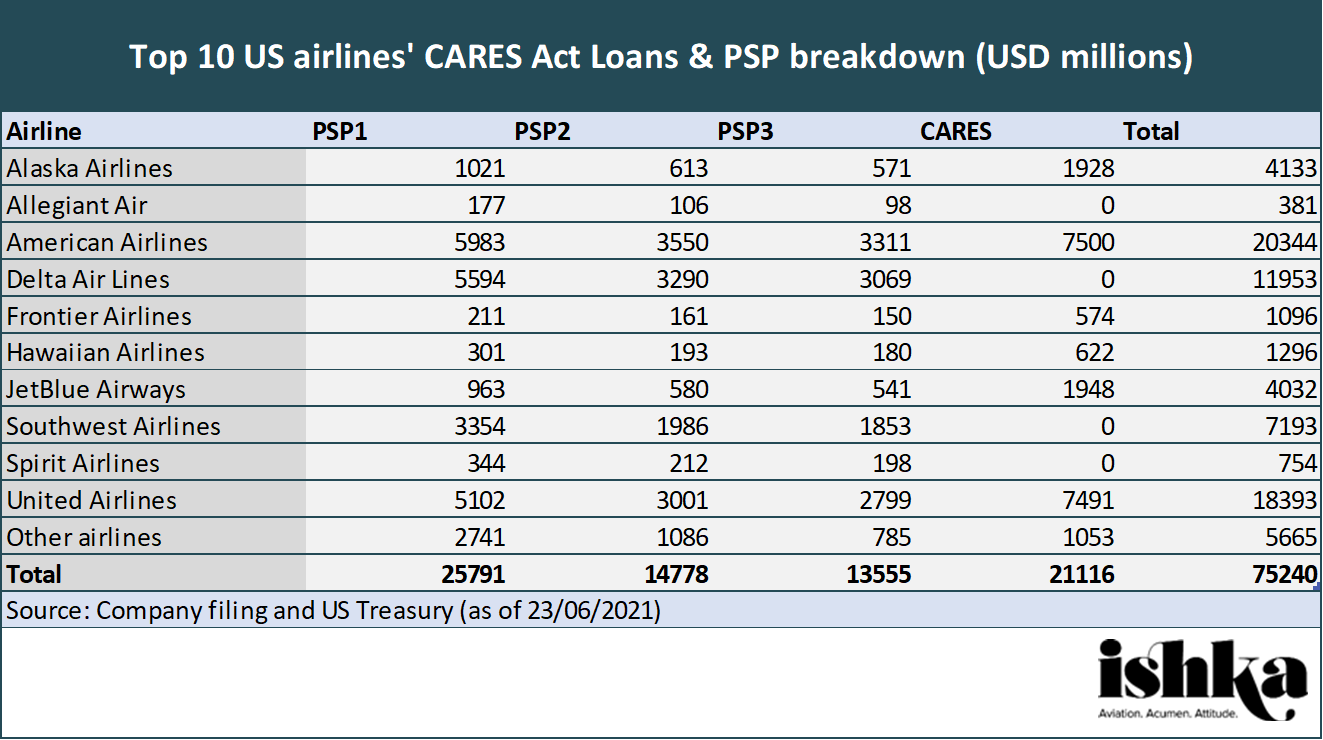 Click here to download the data
The complete dataset (Click here to download the data) contains a breakdown of all passenger and cargo carriers that received funding through Payroll Support Programmes (PSP) and CARES Act loans. PSP allocations are broken down into debt ("promissory notes") and grants.

A fourth PSP 'unlikely'
US airlines will be supported by PSP3 funds until the end of September but they are "unlikely" to need a new extension to the programme, especially for operators primarily operating domestic routes, a senior airline executive has told Ishka. The source said that while labour groups may still lobby for a fourth PSP, further support (if any) would likely largely target the three airlines with international travel exposures.
"The capital markets are quite constructive so I assume we'll see more and more of that," the source noted in reference to the IPOs of Frontier and Sun Country earlier in the year, adding that the debt markets are also likely to remain supportive of airlines looking to repay PSP debt.
At least two carriers have hinted that a fourth extension is unlikely or not currently contemplated. Southwest Airlines CEO Gary Kelly said during an earnings call on 22nd April that new state aid under a hypothetical fourth iteration of the PSP would be "hard to argue [for]" given improving travel demand.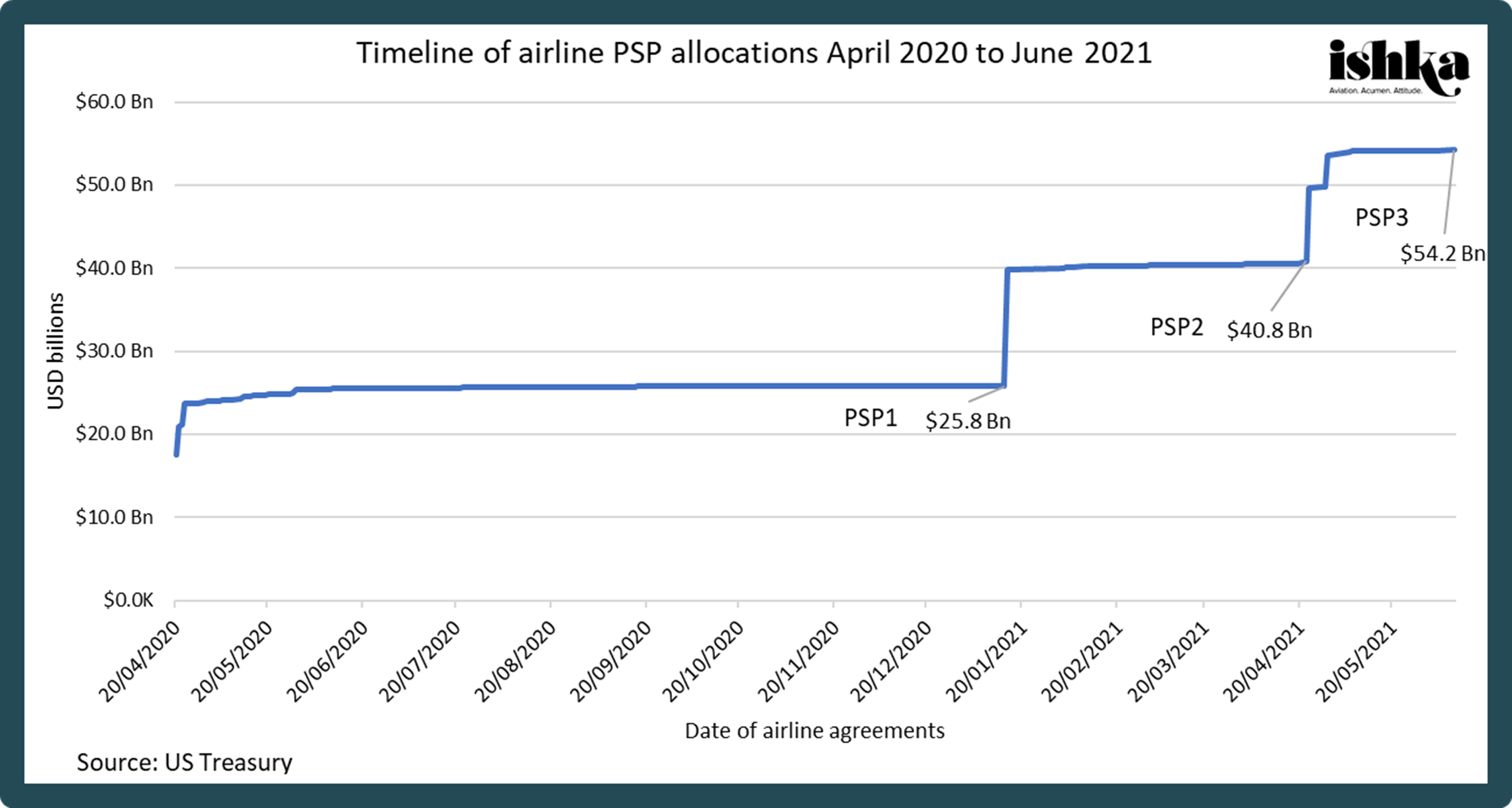 Click here to download the data
"I will admit [PSP 4] is not anything that I've contemplated. I'm very grateful that we've gotten not one, not two, but three PSPs. To be totally open on the question, we feel like we're on the cusp here of achieving breakeven. It's hard for me to argue that Southwest would need any further support," Kelly commented at the time.
More recently, on 11th June, United Airlines announced in a letter to employees that it will not furlough flight attendants when PSP3 ends on 1st October. In response, the Association of Flight Attendants (AFA) union declared that United's announcement made it "clear" that the PSP has "worked" as the industry is now on its "way out" of the crisis.
Tighter restrictions than debt burden
The largest US carriers will be coming out of the crisis having taken $16.4 billion in government debt – provided there is no PSP4 and they make no further disbursements from the $19.2 billion still available to 17 of them under Treasury Loan Agreements. This combined $16.4 billion is approximately 10% of the $163 billion in US airline debt as of year-end 2020, according to Airlines for America (A4A).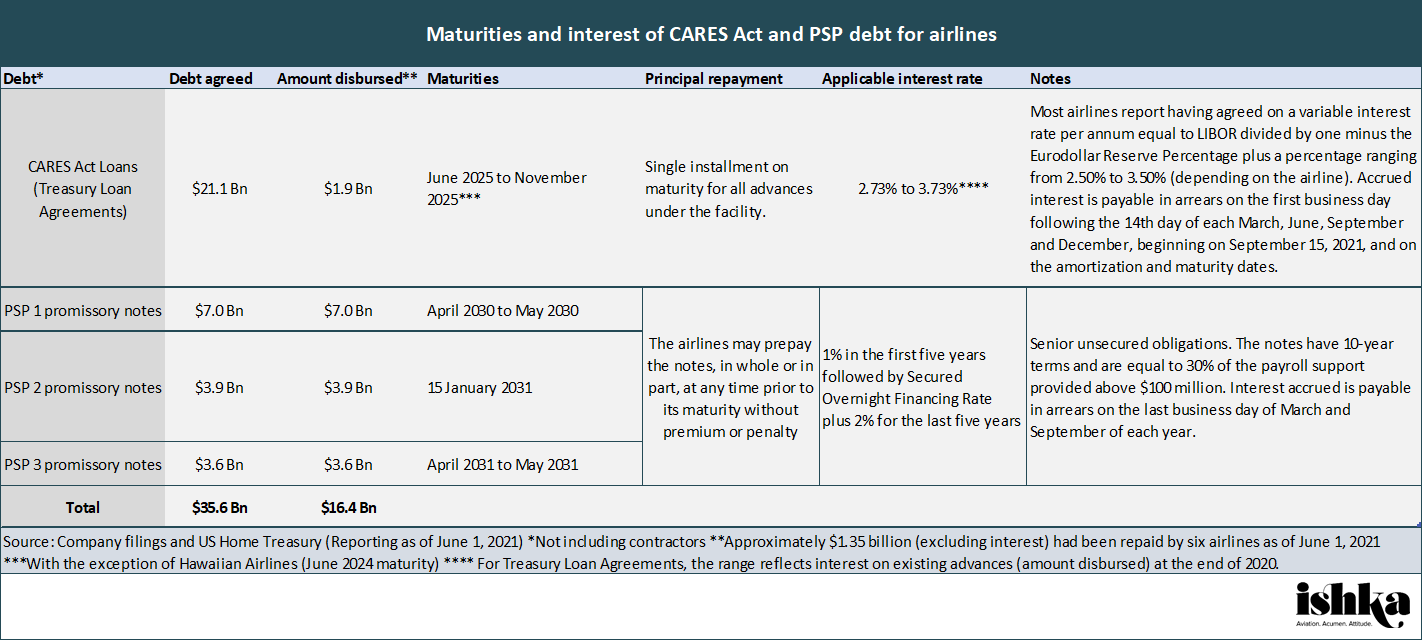 Click on the table to see a larger version or Click here to download the data.
For the next four to five years interest on the 10-year PSP promissory notes (the predominant airline government debt and payable at any time) will remain at 1% - significantly cheaper than the 4.2% and 3.3% average coupon of USD unsecured airline bond issuances in 2020 and 2019 respectively. More recently, however, JetBlue was able to price $650 million five-year notes in a private placement at a 0.5% coupon, signalling improving cost of borrowing for at least some US carriers.
Airlines have been more motivated to repay US Treasury Loans due to their stringent limitations, including a restriction on stock purchases and dividend payments until one year after the facilities are repaid. Six carriers (Hawaiian Airlines, Alaska Airlines, United Airlines, Sun Country, SkyWest, and American Airlines) have already repaid in full their US Treasury Loans, representing $1.35 billion in principal or over 70% of the total borrowed by all carriers.
The Ishka View
US airline executives were displeased in mid-April 2020 when they discovered that the promised PSP grants under the CARES Act would in fact not be entirely grants, but also debt, for the largest applicants. Nevertheless, after three iterations the programme has proven successful in both saving jobs and reducing the cash burn of US carriers. While the balance sheets of US airlines are unquestionably more leveraged now than 18 months ago, PSP promissory notes are comparatively a small part of their liabilities and have attractive repayment terms at 1% over the next four to five years. Ishka understands airlines are already beginning to pay back some of that PSP debt, and as accessibility to debt markets grows that trend is likely to continue.
At this stage in the recovery, the need for a fourth PSP is questionable. The three major US airlines, American Airlines, Delta Air Lines, and United Airlines, all reported modest positive cash operations in Q1 2021, while airline executives noted that they had observed an uptick in travel bookings for summer (see Insight: 'US majors see uptick in summer bookings after a tough Q1'). A successful vaccination rollout, decreasing number of cases, and fewer travel restrictions have no doubt played a key part in this. However, Ishka believes the extensive aid provided by the US government has also helped in this recovery by retaining most of the airlines' workforce. As a reference point, the Transportation Security Administration (TSA) announced on 12th June that over two million people were screened at airport security checkpoints the day before – a number not seen since March 2020.