Ishka's guide to popular freighter conversion programmes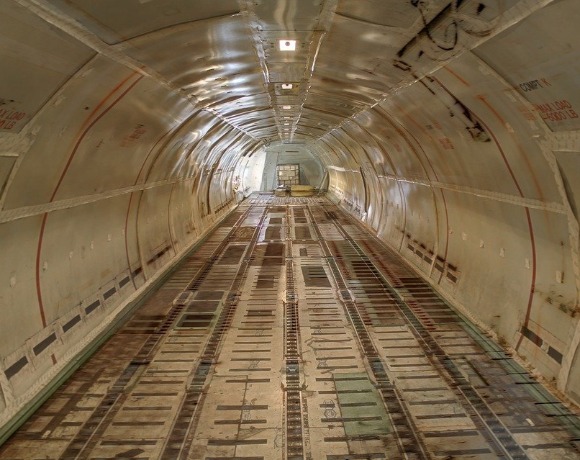 The freighter conversion market has seen a huge uptick in demand due to the Covid pandemic. Passenger airlines have been forced to downsize fleets, increasing passenger aircraft availability, and affordability, for freighter conversion. Ishka research indicates that there are approximately 13,490 stored aircraft – more than half (58%) are listed without a current operator (see Insight: 'Remarketing Watch: Airlines say 'PBH conversation or no conversation' for new leases').
Ishka notes that the pandemic has accelerated interest among aircraft owners looking to convert current-technology aircraft into freighters. Conversion firms have launched new programmes and opened new facilities to cope with increased demand.
Boeing is set to open two new 737-800 conversion facilities in Costa Rica with the first opening in early 2022 and the second following later in the year. Tel Aviv-based Israel Aerospace Industries (IAI) has announced plans to open a new 777-300ER conversion facility in South Korea in 2024 anticipating strong interest in the 777 programme. China-based Sine Draco is preparing to offer an A321 freighter conversion programme as it hopes to obtain approval from the Federal Aviation Administration (FAA) for its design later this year.
Increasingly young passenger aircraft are being converted into freighters as owners look for a way to earn income from aircraft prematurely returned from airlines. According to Cargo Facts, BoComm Leasing sent a 10-year-old 737-800 to be converted to a freighter aircraft in November, making it the youngest 737-800 to be converted.
The table below summarises the currently available cargo conversion providers for new technology aircraft types. There are seven major conversion companies: Aeronautical Engineers, Inc. (AEI), IAI, Boeing, Elbe Flugzeugwerke (EFW), PEMCO World Air Services (PEMCO), Precision Aircraft Solutions and Singapore Technologies Aerospace.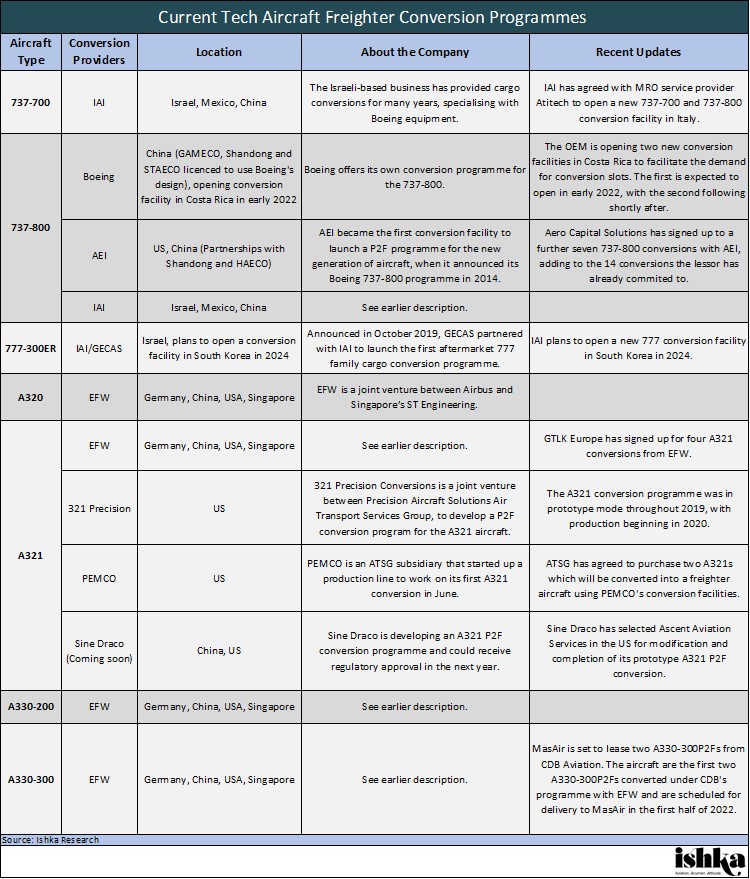 Click on the table to see full size.
Cargo revenues continue to rise
Investors are increasingly looking to convert unwanted new-technology passenger aircraft thanks to a steady rise in cargo demand during the pandemic. Boeing has forecasted 1,500 freighter conversions will be needed over the next 20 years to meet growing demand, 1,080 of which will be standard-body aircraft, including both 737s and A321s.
Meanwhile, passenger revenue has fallen over the last two years to roughly 55% of 2019 levels, according to IATA figures (see table below). IATA forecasts that the cargo revenues will continue to increase through 2021.
Converting aircraft can cost owners millions of dollars, however, aircraft owners confide that investing in freighter conversion is still preferable to receiving no income, paying expensive storage fees and maintenance for a stored aircraft that continues to face an uncertain future. Freighter lease rates are also typically higher than passenger leases rates for equivalent vintages.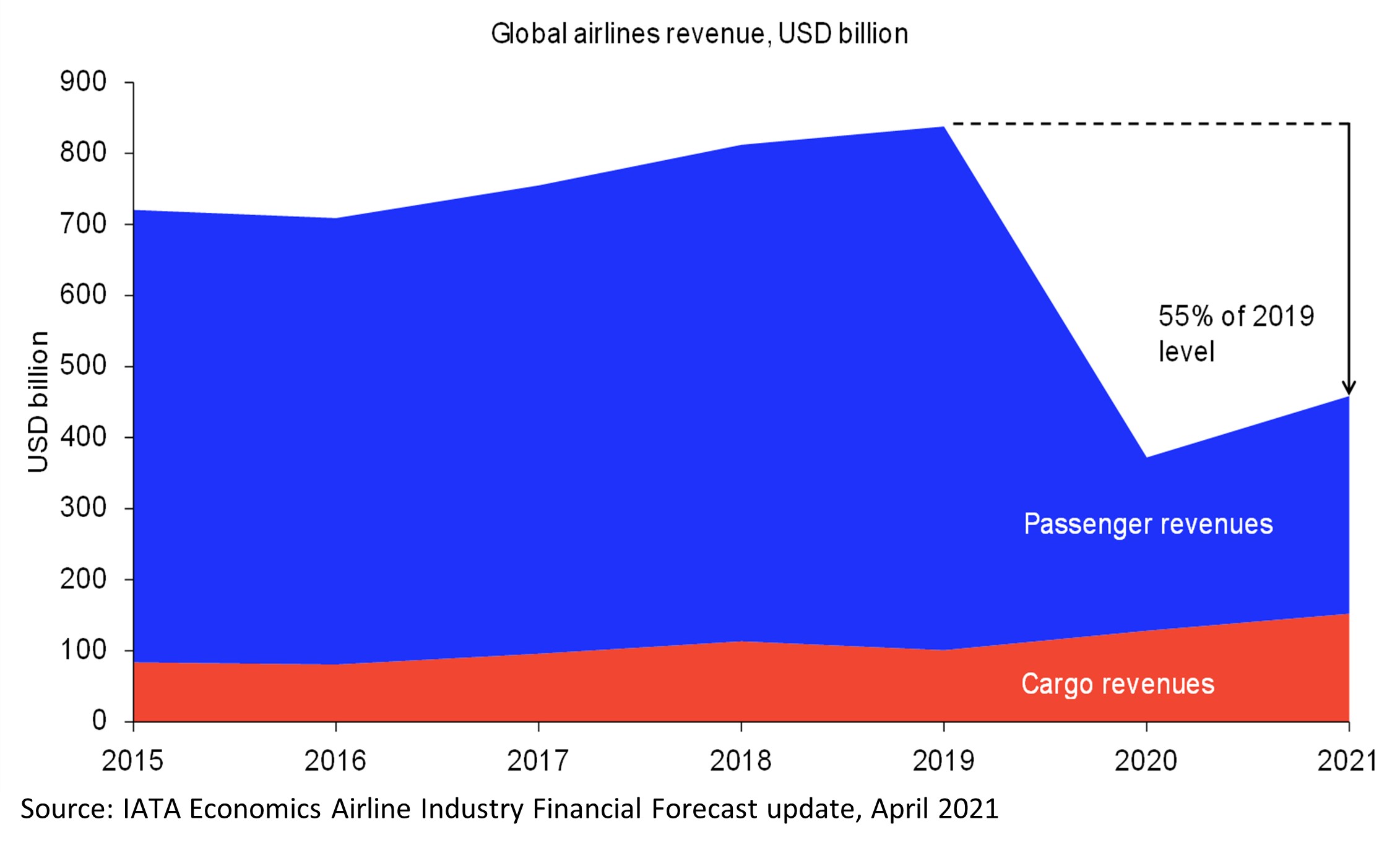 A321s and 737-800s the most popular conversions
A321s and 737-800s have the most conversion programmes available and several investors are seeking to convert these aircraft types into freighters. EFW, 321 Precision and PEMCO currently offer conversion programmes for A321s, while Boeing, AEI and IAI currently offer 737-800 conversion programmes.
Ishka research indicates there are currently 46 737-800s and 7 A321s actively being remarketed on three of the most popular remarketing sites, indicating the availability of this aircraft type to investors that may be considering freighter conversion.
The 737-800 is primarily used to carry express cargo on domestic or short-haul routes. Express delivery operators have been experiencing a surge in e-commerce business that is forecast to keep growing, leading to increasing demand for 737-800 freighters.
BBAM on 12th July announced it has signed agreements for 12 737-800 converted freighters, bringing the lessor's total orders and commitments for converted 737-800s up to 31. Steve Zissis, CEO of BBAM said "we are growing our Boeing order book to meet the strong demand we see worldwide for narrowbody freighters." The converted aircraft will be the first to be converted at Boeing's newly announced facilities in Costa Rica from 2022.
The A321 now has access to new freighter conversion programmes and it is seen as a strong replacement candidate for older 757 freighters, many of which are set to retire. It is also a competitor to converted 737-800 freighters. The first A321 converted freighter was delivered by Vallair to Qantas on 27th October 2020. Gregoire Lebigot, Vallair CEO commented "the A321 is the future of freighter conversions" pointing to the environmental benefits of its 20% reduction in fuel burn, and its unique capacity for fourteen container positions in the upper deck and ten more on the containerised lower cargo deck compared to the 757. The A321 converted freighter also has room for 50% more capacity than a Boeing 737 converted freighter.
Cargo Aircraft Management, a subsidiary of Air Transport Services Group announced on 29th June it has committed to purchasing its first two A321s for freighter conversion at PEMCO's conversion facilities in the US. Mike Berger, chief commercial officer at ATSG said the aircraft "is very well suited for air-express service and e-commerce fulfilment over shorter routes and with smaller payloads as a complement to our existing fleet of more than 85 larger Boeing 767 converted freighters, and with better performance than Boeing 757 freighters or any Boeing 737 freighter variants."
The Ishka View
One appraiser speaking at Ishka's Dublin festival noted that new generation freighter lease rates have fallen from around $200k per month to an average of $170k-$180k per month, signalling that market supply is increasing. The risk with converting a large number of passenger aircraft into freighters is that the freighter market may become oversupplied. When international long-haul travel eventually does recover, the return of available belly space will impact the cargo market as a whole and claw back some demand that has gone to dedicated freighters. However, the increase in belly space capacity is more likely to impact the demand for widebody freighters rather than standard-body converted freighters from 737-800 and A321 feedstock.
For now, the supply of converted freighters is still manageable. New aircraft being converted are being placed with customers to replace a large number of older freighter aircraft which are being retired. As the vaccine rollout continues globally, investors are weighing their options and assessing whether it is better to wait for a recovery in demand for passenger aircraft or spend the money and convert their aircraft.