A year after Ch. 11, Latin America's big three see modest 10% fleet cut – for now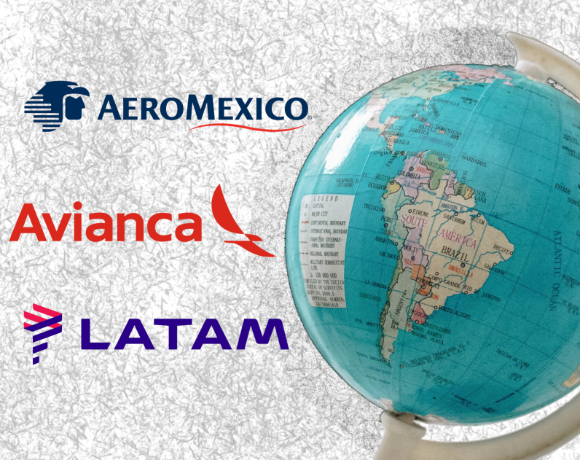 Cooperative lessors restructured leases and depressed market opportunities have enabled Latin America's 'big three' carriers (LATAM, Avianca and Aeromexico) to progress through their first year of Chapter 11 restructurings with only modest net fleet cuts. Ishka's analysis of the three airlines' fleets shows approximately 566 combined passenger and cargo aircraft as of 1st July 2021, a 5.8% or 35-aircraft cut from the 601 aircraft operated in March 2020 when the pandemic began to spread.
However, current fleet estimates based on CAPA Fleets and company filings do not tell the complete story. When accounting for recently announced aircraft sales, remarketed aircraft or sale mandates, the current combined fleet stands around 540 aircraft or a 10% decrease (61-aircraft cut) – a relatively humble change for Latin America's three largest carriers.
For much of 2020, the aircraft market held its breath as Latin America's 'big three' signaled their intention to reject leases and return aircraft, such as LATAM's notorious EETC rejection (see Insight: 'Lessons in rejection: LATAM's decision to drop its EETC aircraft'). However, while some leases were indeed rejected, pragmatism prevailed among aircraft creditors who overwhelmingly agreed to power-by-the-hour (PBH) terms and, in some cases, appear to have convinced the carrier to keep aircraft despite initial attempts to reject them.
Spooling down… and up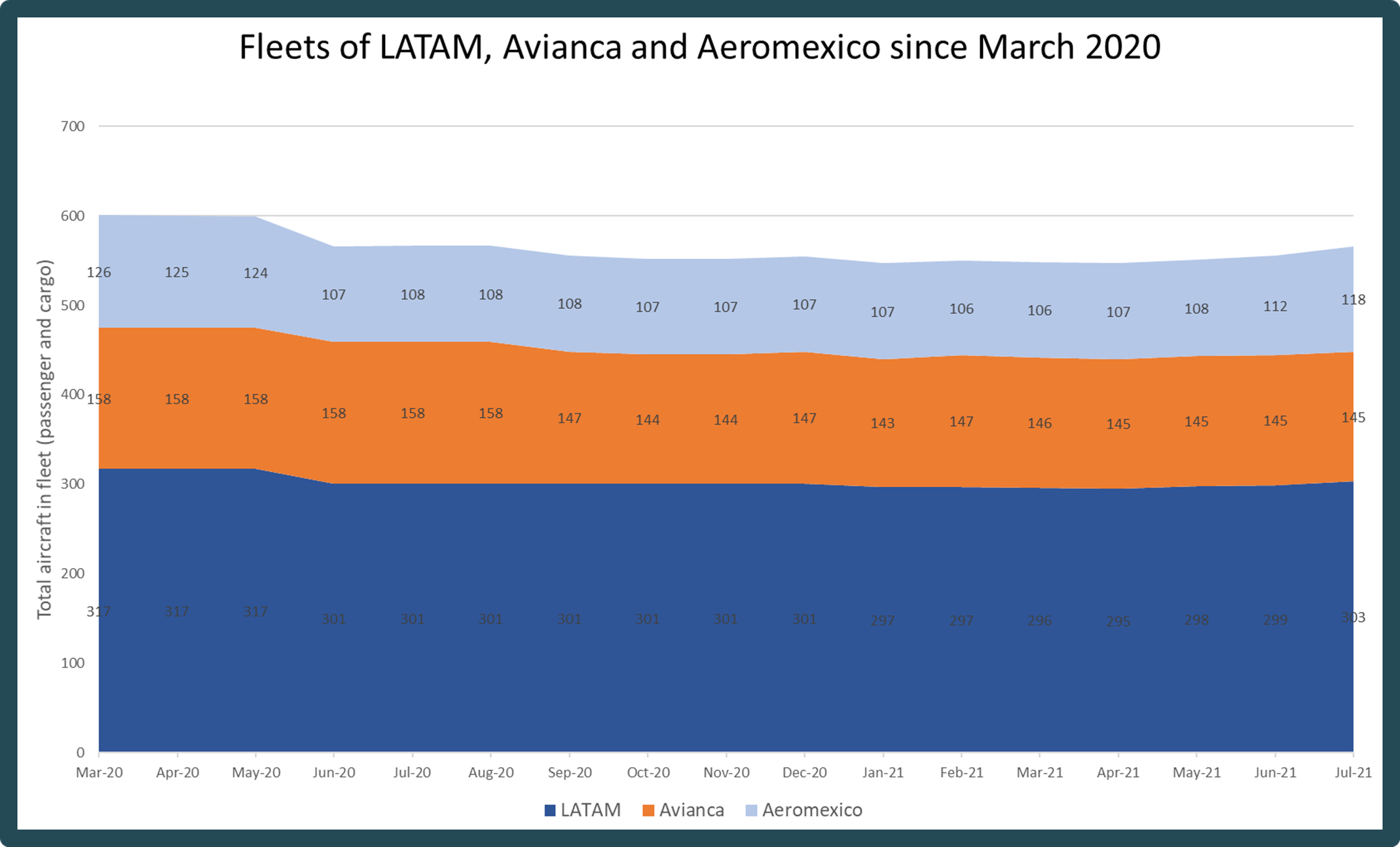 Source: Company filings and CAPA Fleets
Click here to download the data.
At first glance, the fleets of LATAM, Avianca, and Aeromexico do not appear to have changed drastically despite extensive restructuring efforts through their respective Chapter 11 processes. But the above chart hides a comprehensive overhaul of lease agreements (see Ishka's Restructuring Watch series for ongoing coverage), some aircraft replacements, and some new aircraft additions more recently.
Chiefly, the Mexican flag carrier has grown its narrowbody fleet overall by more than doubling its 737 MAXs through orderbook deliveries and will soon induct 12 more on lease from DAE. A buoyant domestic market (see Insight: 'USA & Mexico's domestic resurgence, easyJet passenger numbers up, Jet2 revenues drop 89%') has made narrowbody expansion a near-term priority for Aeromexico.
Exiting aircraft
The table below lists 50 aircraft Ishka understands have exited the three carriers since March 2020 based on company filings (some of which are already a few months old), CAPA Fleets, and spotter observations. A more detailed breakdown is available in the downloadable file ( Click here to download the data. ).
| | | | | |
| --- | --- | --- | --- | --- |
| Aircraft | Number of aircraft | Average age | Engines | Former operators |
| A320-200 | 10 | 18.4244 | V2500 | LATAM Brasil |
| E170 | 9 | 15.93533333 | CF34 | Aeromexico Connect |
| A319-100 | 5 | 15.0668 | CFM56-5B | Avianca Ecuador, LATAM Brasil |
| 737-700 | 4 | 17.3735 | CFM56-7B | Aeromexico |
| 737-800 | 4 | 20.22925 | CFM56-7B | Aeromexico |
| ATR72-600 | 4 | 6.68775 | PW12 | Avianca |
| 767-300 | 3 | 23.761 | CF6 | LATAM Chile, LATAM Cargo Colombia |
| A321-200 | 4 | 6.48 | V2500, CFM56-5B | Avianca, LATAM Chile |
| A330-300 | 2 | 8.5835 | Trent 700 | Avianca |
| 787-9 | 2 | 5.8 | Trent 1000 | LATAM Chile |
| A350-900 | 2 | 5.7 | Trent XWB-84 | LATAM Brasil |
| A320neo | 1 | 6.417 | PW1100G | LATAM Chile |
The above table and attached list ( Click here to download the data. ) are by no means definitive. It includes five of the 17 aircraft rejected under LATAM's EETC last year, but three (two A321s and one 787) could soon join others rejected under that EETC in making their way back to LATAM under new leases. It also does not include the following:
- Eleven A350-900s which LATAM is due to permanently retire. Seven of them (leased from AerCap) were recently remarketed to Delta Air Lines.
- Eleven ATR72-600s being returned by Avianca and which Blueberry Aviation was mandated earlier this month to manage and remarket.
- Nine 767-300ERs LATAM plans to sell to Jetran, which were still accounted for in CAPA Fleets and the airline's most recent filings.
Excluding the three ex-EETC aircraft mentioned earlier and including the aircraft being retired or remarketed, the list of exiting aircraft would stand around 78 aircraft currently and in the near term.
Ishka's analysis intentionally avoids solely focusing on court actions such as authorisations to reject or abandon aircraft, which as the EETC shows are not a definitive confirmation of aircraft permanently exiting the fleets. Other examples of this are an Aeromexico 737-800 (XA-AMW) which saw its lease rejected on 15th July 2020 but has since resumed operations. Conversely, an Aeromexico 737-800 with registration N858AM saw its lease rejected on 1st July 2020 but the aircraft had been removed from service as early as January 2020.
A view by aircraft types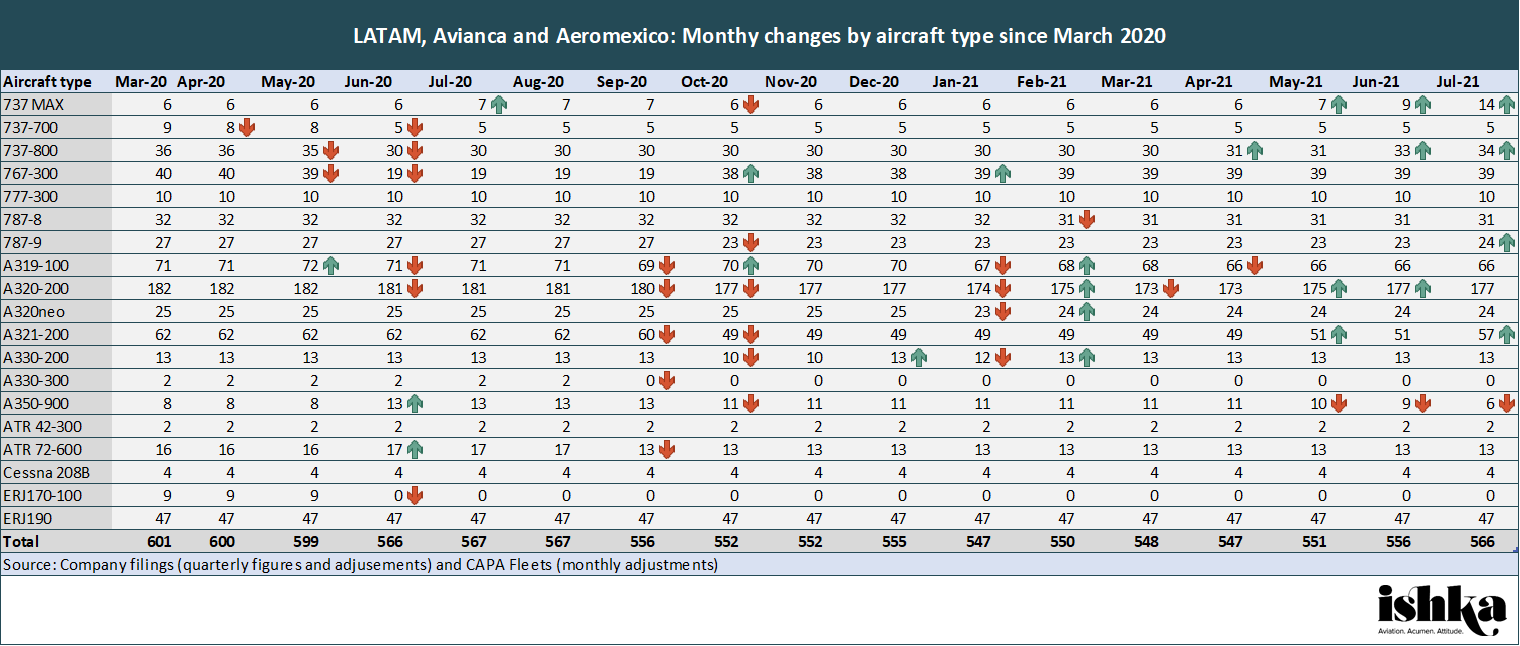 Source: Company filings and CAPA Fleets
Click here to download the data.

Taking again a holistic view, the 35-aircraft net cut from March 2020 to July 2021 is commensurately spread between aircraft types although A320ceo Family jets, which are operated in high numbers by both LATAM and Avianca, saw a commensurate 15-aircraft reduction.
Another large decline was for the Embraer 170, which regional offshoot Aeromexico Connect completely phased out during 2020 after already taking out some units in the year prior (13 down to nine by March 2020 to now zero – most of them headed for retirement). Aeromexico's 737-700 sub-fleet had also seen pre-pandemic fleet cuts before another four were slashed over the past 18 months.
The A350 figure tells an incomplete story. LATAM, which is moving to an all-Boeing widebody fleet, has already retired the type from service and is in the process of disposing them, but still held onto 11 of the type as of the end of Q1 (LATAM reporting) and six as of early July (CAPA Fleets). The increase in A350s halfway through the crisis corresponds to Qatar Airways returning subleased units.
The Ishka View
The somewhat modest fleet cut by Latin America's three largest carriers would have seemed like a counterintuitive outcome in the Spring of 2020, when nearly all forms of air travel ground to a halt and Latin American governments shunned airline pleas for state support. One year on, the outlook is very different. The absence of remarketing opportunities and the tactical expectation for large, restructured carriers to thrive in the incoming recovery have convinced lessors that these three airlines continue to be the best place for many of their aircraft, given the current market conditions. Vmo Aircraft Leasing, the successful bidder of the 17 aircraft disposed of via auction, has been active in placing many of the aircraft back with LATAM. Separately, the company is currently a related party in a lawsuit regarding an auction of aircraft formerly in Norwegian's EETC (see Insight: 'Hudson files lawsuit against Ares and Wilmington for conducting "sham" aircraft auction').
However, lessors with exposure to Latin America's 'big three' are by no means resting on their laurels. Aircraft on lease to at least some of the carriers have been known to be offered to airlines prepared to pay more than just a PBH rate. Earlier this year, SMBC Aviation Capital submitted a series of aircraft on lease to Avianca as bids in a Pakistan International Airlines (PIA) RFP to dry lease eight narrowbodies (see Insight: 'Buyer's market: PIA gets 128 narrowbody bids for eight-aircraft RFP').
As mentioned earlier in this report, this fleet analysis is by no means definitive. In recent weeks, LATAM and Aeromexico filed to extend restructuring plan deadlines to later this year, gaining valuable time in which to observe (and react to) the air travel recovery. This means more fleet decisions could yet be taken. For example, in March this year LATAM announced the conversion of eight 767-300ERs over a 30-month period, reacting to a buoyant cargo market. One of those aircraft (CC-CXD, leased) appears to have been flown to Singapore for conversion this month after a year on the ground. Ultimately many of these restructurings so far have been a cost-saving exercise rather than a more aggressive attempt to significantly reduce their fleets.
To learn more about Latin America and how Covid-19 has disrupted the region's aviation sector, register for the upcoming Ishka+ Latin America Briefing live from 5th August 2021.