Lessor CEOs: Engine shortages 'good for us' as aircraft demand climbs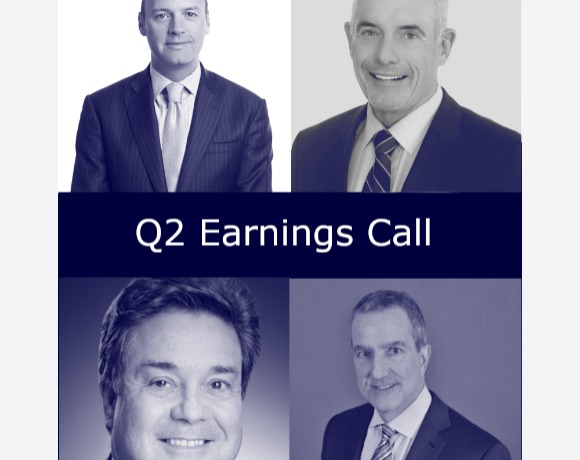 Ishka reviews some of the key market concerns raised by AerCap, Air Lease Corporation (ALC), Aircastle, Chorus Aviation, and Fortress Transportation and Infrastructure Investors (FTAI, now FTAI Aviation following a spin-off) in their recent earnings calls, including the impact of engine shortages, signs of rising demand for aircraft, high interest rate headwinds, and the knock-on effects of the Russian invasion. The five earnings calls were held between 13th July and 11th August.
Engine shortages: Headache for some, boon for others
New equipment shortages have been a recurring concern among major lessors over the past 12 months, with most of the attention directed at narrowbody production rates by the two main OEMs. But while Airbus and Boeing face production issues of their own, a shortage of new engines has created opportunities for several lessors.
ALC CEO John Plueger acknowledged that OEM issues have resulted in "several months" of delays on its Airbus and Boeing narrowbody deliveries. "The biggest factor that leads to single-aisle delays really is engine deliveries. […] I think the broad answer is that recovery is more dependent on engine delivery than anything else." Aircastle CEO Mike Inglese did not observe "any immediate easing of [OEM] supply chain issues" and speculated that widebody aircraft, specifically the Airbus A330, could return to service as a result of new aircraft production issues.
AerCap and FTAI Aviation looked at the upside. "What do airlines do in the meantime [as engine manufacturing delays persist]? They turn to the leasing companies where delivery certainty is higher as we have closer in time delivery slots or we provide already built aircraft," AerCap CEO Aengus Kelly commented. FTAI CEO Joe Adams commented: "It's good for us. I like that fact that, it's harder to make new airplanes because it makes owning the ones we own better […] there's a lot of demand for the existing 737 NG and A320ceo assets. [...] to the extent new deliveries get stretched out, it just extends the longevity of the fleet that we own."
A seller's (and lessor's) market
A lack of new aircraft supply is propelling demand for aircraft, but so are other factors. Leisure travel demand has begun surpassing pre-pandemic highs in northern hemisphere regions, and lessors anticipate aircraft demand as travel gradually reopens in Asia. As a result, secondary market aircraft demand and leasing activity are rising, even in the face of recessionary conditions.
ALC and Aircastle agreed that demand for narrowbody aircraft has been strong, and with current OEM issues, both noted of the potential of a single-aisle aircraft shortage. Plueger also noted that widebody aircraft have seen increased demand as well as a "higher pace" of lease extensions, in turn supporting aircraft values and lease rates.
Engine-focused lessor FTAI Aviation said the positive momentum was being felt throughout its service offering from aircraft leasing to its PMA and engine module factory and used serviceable material (USM) parts. "Lease rates have returned to at, or above, pre-COVID levels and improving asset utilisation is pushing maintenance reserve collection up, while inflation is driving higher per hour and cycle rates. Asset prices are also up. We took advantage by selling about a $100 million book value of assets for a gain of $55 million. And we have more asset sales coming in Q3 and Q4," Adams commented.
FTAI's recent asset sales included cargo aircraft (Boeing 757s and 767s taken from Russia and Ukraine, and "some" 747s). "We don't know when the cargo market will slow down, but we don't want to miss it," Adams remarked on the recent sales.
AerCap noted "greater demand" for lease extensions feeding into "higher lease rates," while recent aircraft sales were able to achieve "healthy margins." "In April/May of this quarter, following the Russian invasion of Ukraine, there was a pause on [aircraft] buyers coming into the market but that's changed dramatically now. And we have a good few assets in the [sales] pipeline already for the second half," Kelly commented.
According to Chorus Aviation, some of AerCap's upcoming sales could be regional aircraft. "There are opportunities out there […] NAC is focusing on narrow-body aircraft; AerCap has the GECAS regional portfolio, which is not core to their business, etc," Joseph Randell, president and CEO of Chorus Aviation, commented. Conversely, the Canadian lessor said it has received "strong interest" in DHC-8-300s phased out from airline subsidiary Jazz Aviation earlier this year – an example of "strong demand for regional aircraft" in a "recessionary period."
Eyes fixed on interest rates
Lessors are faced with more demand for their existing assets but the rise in base rates has impacted the cost of debt for leasing firms. However, several of the analysed entities reported being well-insulated or facing inconsequential immediate changes because of the hike in interest rates.
AerCap and ALC emphasised that much of their interest line is fixed (90% and 92% respectively) in the form of unsecured bonds with long outstanding maturities. On the airline side, Plueger noted that rising interest rates have resulted in airlines looking to extend lease agreements before they expire, supporting aircraft demand.
Chorus highlighted that interest rates created market volatility but it is seeing "some of this settling out now." Asked whether higher interest rates would impact its mid-teen asset equity return targets, CFO Gary Osborne said he has not seen "any real change" so far, with Randell further clarifying that the firm "still targets the same rate of returns in the leasing segment."
Processing Russia-Ukraine impacts
Russia's invasion of Ukraine poured cold water over the world's economy during the second quarter, accelerating inflation, creating market uncertainty, and sealing off the Russian market for Western firms amid retaliatory sanctions. For aircraft lessors, it meant the loss of aircraft and a race to secure insurance compensation.
FTAI provided the most insight into the status of its aviation insurance claims. "We're making good progress by supplying all information requested by the insurers regarding our $290 million in claims for assets lost in Russia, Ukraine. With three different buckets of claims, we think it is possible to realise a partial recovery by year-end 2022 with the balance collected in 2023 and 2024," Adams commented.
Aircastle has been able to collect $25 million from letters of credit from its former Russian lessees and is pursuing remaining letters of credit and insurance claims. The lessor also continues to "pursue discussions" with the former lessee of two freighters to recover the assets, neither of which were impaired as part of Aircastle's $251.9 million Q1 Russia-related charge.
As for AerCap, the lessor refused to be drawn into comparisons between its China exposure and Russia experience. "I think China is a very different market to Russia," Kelly commented. ALC Executive Chairman Steve Hazy, commenting on the recent South China Sea tensions, said the lessor has been in "close communication" with the Civil Air Administration of China.
The Ishka View
The aircraft leasing sector would probably be facing bigger headwinds in the face of global recessionary trends were it not for the diminished supply of new aircraft over the past three years – a persisting trend. AerCap CEO Aengus Kelly reminded analysts that if production rates had not declined during the pandemic, an additional 2,000 aircraft would be flying today – equivalent to more than a year of narrowbody production. Nevertheless, the industry still has some way to go to recover its pre-pandemic financial health, with deferral balances outstanding for most lessors (albeit slowly coming down), and insurance claims for aircraft stranded in Russia up in the air. Lease extensions granted as a result of the pandemic – in exchange for accommodating payment deferrals – and more recently in the face of OEM delays, could also presage higher-than-average lease returns when OEM production finally ramps up.