Ishka announces 2022 Deal of the Year Award Winners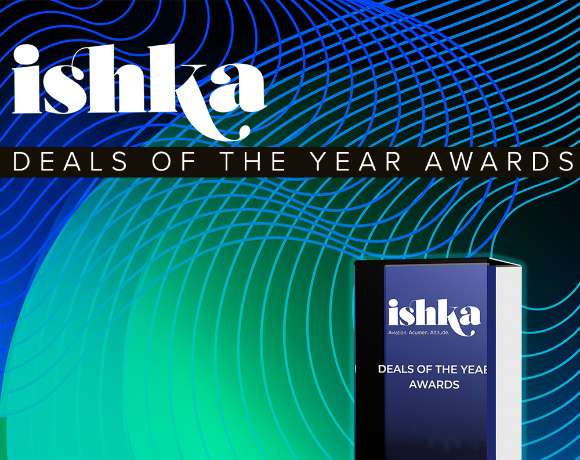 Ishka will be celebrating with the winners at 5.30pm at an informal drink reception at the sixth annual Ishka Aviation Finance Festival on the 23rd of May in Dublin at the Conrad Hotel (near Stephen's Green).
The very next day is Ishka's Trading Summit: Engines, Freighter & Part-Out on the 24th of May at the Conrad Hotel. The summit is a forum dedicated to dealmaking around midlife and end-of-life assets. Connecting engine lessors, aircraft asset managers, MRO shops, operators and more. To find out more about the awards drinks, or getting access to either of the two conferences please contact Richard Jacques (richard@ishkaglobal.com), or James Ward (James@ishkaglobal.com).
Ishka would like to offer a very warm and sincere thanks to all the institutions that emailed deal submissions.
The Ishka 2022 Deal of the Year Award Winners
Best Americas Deal 2022: LATAM's $2.8bn DIP to Exit Financing
As LATAM exited a two-year bankruptcy process it approached JP Morgan to help convert $1,150mm DIP-to-Exit Bridge Facility to 5Y and 7Y High Yield Bonds, and Goldman Sachs to finance a $1,100 DIP-to-Exit Term Loan B.
The final financing was secured by an impressive range of assets, including the equity of subsidiary guarantors as well as receivables from LATAM's loyalty programme, intellectual property, and UK and US airport slots. The final financing was one of the few airline USD bond issuances to occur in the second half of 2022 when the capital markets where rocked by the rapid hike in interest.
Winning borrower and participants: LATAM, JP Morgan-left lead on high yield Bond, Goldman Sachs- left lead on Term Loan B. Barclays, BNP Paribas, and Natixis acted as joint bookrunners. Other companies involved: Delta, Qatar Airways and Costa Verde as strategic partners. Legal advisors: Milbank and White & Case.
Best European Deal 2022: PT Lion Group's French Restructuring

This was a €1-billion-plus ($1.1 billion) restructuring conducted in the French courts involving a group of lessors and the French subsidiaries of Indonesian airline group Lion Air. After several months of negotiations with the court-appointed administrators, bilateral agreements were reached with all lessors enabling the Paris Commercial Court to validate an exit from the proceedings without the need to present a continuation plan. By using a consensual and innovative contractual exit, Lion Air was able to agree a restructuring involving multiple international lessors, whilst preserving the confidentiality of all the individual bilateral agreements.

Winning borrower and participants: Lion Air, Watson Farley & Williams advised the lessors, Stephenson Harwood advised Singapore-based Transportation Partners on the Lion Air restructuring.
Best Asian Deal 2022: MAG's 20 A330neo deal with Avolon
This was the largest leasing deal struck last year and Avolon's largest leasing deal to date. The $2-billion deal was split between the placement of 10 Airbus A330neo aircraft from Avolon's orderbook and 10 A330neo aircraft to be acquired from Malaysia Aviation Group (MAG) via sale and leaseback. This was a widebody deal of considerable scale agreed with MAG the year after airline subsidiary Malaysia Airlines had worked with its lessors on a UK Scheme of Arrangement restructuring in 2021.
Winning borrower and participants: Avolon and MAG. Morgan Lewis Stamford LLC as legal counsel for Malaysia Aviation Group Berhad, MAB Leasing Limited and Malaysia Airlines Berhad.
Best MEA Deal 2022: Air Seychelles' Restructuring
Air Seychelles officially exited a year-long restructuring in November 2022. One of the biggest challenges facing Air Seychelles was debt arranged by its previous 40% shareholder Etihad Airways, specifically $1.2 billion of bonds issued by EA Partners (an Etihad financing vehicle) involving the securitisation of loans to various Etihad Alliance partner airlines, including Air Seychelles. This was a complex restructuring negotiation with bondholders and Air Seychelles influenced by the position vis-à-vis other airlines involved in the EA Partners bonds. The final deal saw creditors agree to a 66.67% haircut to claims.
Winning borrower and participants: Air Seychelles, WFW as Air Seychelles advisor, Mayer Brown advising a group of bondholders. Georges & Co attorneys as local counsel.
Best Capital Markets Deal 2022: Iberia 2022-1 EETC
This was a $462-million private placement agreed in April 2022 for Iberia funding three Airbus A320neos and two Airbus A350-900s and structured as a sustainability-Linked EETC with a JOLCO. Split between a $260 million Class A series of notes with a 13.7-year door-to-door tenor and a 10.2-year $62.987 million Class B notes. This was the first sustainability-linked EETC completed in the private placement market and issued in the immediate aftermath of the Russian invasion of Ukraine, which disrupted debt markets. Under the sustainability structure, the certificates are tied to the airline's expected fuel efficiency for 2025 with 25bp coupon step-ups in both classes if Iberia misses its target.
Winning borrower and participants: Iberia (IAG), JP Morgan as sole structuring & placement agent, and NBB as the JOLCO equity provider. Milbank represented JP Morgan; Allen & Overy participated as lead counsel for Iberia with Nishimura & Asahi as Japanese counsel.
Best Commercial Debt Deal 2022: SAS's $700mn DIP Financing
This was a $700 million DIP financing combining several of Scandinavian Airlines System's (SAS)intangible asset classes (such as landing slots, and parts of the airline's loyalty programme) with the hard assets including aircraft and engines. This was the first DIP financing to focus on multiple asset classes and the first to be completed while bankruptcy proceedings were continuing.
Winning borrower and participants: SAS, funds managed by Apollo Global Management as lender. Seabury Securities LLC and Skandinaviska Enskilda Banken AB as investment bankers, Seabury as restructuring advisor, and FTI Consulting is as financial advisor to SAS. Weil, Gotshal & Manges LLP as global legal counsel to SAS. Norton Rose Fulbright as special aviation counsel to SAS. Mannheimer Swartling Advokatbyrå AB as Swedish legal counsel to SAS. Akin Gump as lead counsel to Apollo. Watson Farley & Williams as special aviation counsel to Apollo.
Most Innovative Deal of 2022: PK ALIFT Warehouse Financing
This was a novel $650 million warehouse facility with a 15-year tenor (three-year availability, plus 12-year amortization period) to finance underlying third-party aviation loans held by affiliates of PK AirFinance. This is the first aviation loan transaction funded using SUBI technology (where loans are held by a lending entity, and the cash flows derived from that entity and passed on to the borrower are the assets financed), and the first warehouse financings across all asset classes to adapt Delaware Series Limited Partnership interests to fund newly originated loans. The result was a financing that created a permanent lending structure with the capacity to support multiple SPV financings without the need to novate or transfer loans.
Winning borrower and participants: PK AirFinance, Apollo Global Securities LLC as arranger, Mizuho and RBC as co-administrative agents, Milbank representing the borrower and servicer, and Vedder Price representing the lender.
Best Used Aircraft/ Engine Deal 2022: Air France's Perpetual Bonds
The transaction was a novel structure which provided investment-grade financing for Air France backed by a portfolio of spare aircraft engines. The €500 million ($552 million) Air France perpetual bonds qualified as equity under IFRS and allowed the airline to repay French state aid incurred during the Covid-19 Pandemic.

Winning borrower and participants: Air France, Apollo Global Management, Deutsche Bank as advisor to Air France, Milbank LLP and Jeantet as advisors to Apollo Global Management. Skadden, Arps, Slate, Meagher & Flom acted as advisor to Air France.
Best Restructuring Deal 2022: Aeromexico's Chapter 11 Restructuring
This was a transformational restructuring for Aeromexico which covered roughly $5.5 billion of debt, assets and commitments that achieved approximately $2 billion in estimated savings. The restructuring included Aeromexico's Boeing orderbook and associated power-by-the hour agreements with CFM, all operating leases, JOLCO financings, all debt facilities, and MRO service agreements to reduce the cost basis of Aeromexico's fleet. It also sourced Boeing 737 MAX and NG aircraft at attractive rates to modernise the fleet while taking advantage of market conditions.
Winning borrower and participants: Aeromexico, White & Case LLP as special aviation counsel, Davis Polk & Wardwell LLP as bankruptcy counsel acting for Aeromexico, SkyWorks Capital, LLC as fleet advisor, AlixPartners, LLP as strategic advisors, and Rothschild & Co as financial advisors to Aeromexico with respect to the overall restructuring. Other legal advisors: Clifford Chance
Best Lessor Deal of 2022: SMBC's $2.5bn Term Loan and RCF
This was a five-year $1.8-billion unsecured term loan and $710-million revolving credit facility (RCF) with recourse to SMBC Aviation Capital Limited to help fund the acquisition of Irish leasing platform Goshawk Aviation. This was the largest funding transaction in the aircraft leasing sector in 2022 and it was increased by an additional $815 million during syndication. It alsointroduced SMBC Aviation Capital to 14 new banking relationships.
Winning borrower and participants: SMBC AC, ANZ and Citi acting as joint global coordinators. Mandated lead arrangers: BNP Paribas, DBS Bank, OCBC and Cathay United Bank, KDB Bank, Caixa Bank, ICBC London, HSBC, Apple Bank, KeyBank and China Everbright. Hogan Lovells as Legal Counsel.
Editor's Choice 2022: NAC's Restructuring
This was the first successful restructuring of a major aircraft operating lessor using Chapter 11 which covered approximately $6.3 billion of the company's secured and unsecured debt. The restructuring was complex and was implemented over two stages – a deferral and standstill implemented in 2020 pursuant to an Irish scheme of arrangement, followed by a long-term restructuring implemented pursuant to a pre-arranged US Chapter 11 process. The restructuring eliminated nearly $4.1 billion of debt while adding $537 million of additional liquidity.
Winning borrower and participants: NAC, Watson Farley & Williams, Weil Gotshal & Manges LLP, Akin Gump, Milbank, Clifford Chance, Norton Rose Fulbright, A&L Goodbody, and Dillon Eustace.
Missing your institution on a deal summary? Please email Dickon Harris (dickon@ishkaglobal.com).