CEO Interview: John Slattery leads Embraer outside the 'Valley of Death'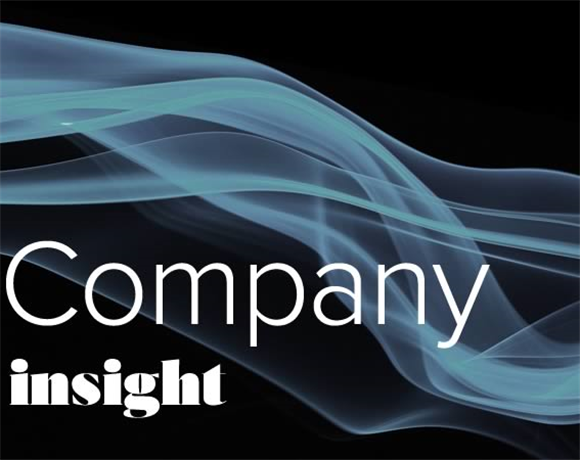 Ishka spoke to Embraer's new CEO John Slattery who took the helm at the Brazilian OEM in June this year. Slattery is bullish about its prospects in the crowded regional jet market. With the next generation E2 Jet due to enter service in 2018, labour-union scope clauses remain a formidable obstacle to sales in the United States, however the second-hand market appears robust.
The Ishka view is that Embraer is better placed than Mitsubishi to deal with existing scope clause regulation in the North-American market. Unlike Mitsubishi, Embraer can fall back on the E1 jet which is permissible under union regulations. The OEM proudly boasts that since January 2013 it has won 80% of the seats in the 70-130 seat category in North America.
Ishka: How are you filling the gap between the E1 and the E2 in terms of filling slots?
John Slattery, CEO of Embraer (JS): The big concern for many airframe OEMs when you launch the programme, is what we call 'the valley'. And for some OEMs in the past that has proven to be the valley of death where they did not make it from the current generation to the new generation. The drivers for that could be a lack of PDP financing, weak balance sheets, or not having a strong enough portfolio of customers. Embraer has not experienced any of those. In fact, Embraer is enjoying a little bit of a hump and not a valley. What I mean is, our production rates, our delivery rates, have gone up and not gone down as you would normally expect in the absence of deliveries prior to the entry into service of the new technology aircraft. So, our deliveries this year are larger than they were last year, and last year was larger than the year before.
It´s a bit of an anomaly that Embraer has experienced relative to other OEMs, but the reason is demand from the airlines. Remember the technology of the E-Jets, the average age of the incumbent fleet, is still only five or six years old. So, it's all new technology. New cockpit, fly-by-wire, and new technology engines on the GE platform on the E1. And airlines have requirements today, so we´re addressing those requirements with the E1. We´re continuing to sell the E1 even this year, and next year I expect to sell significant numbers of the current generation technology of aircraft, and we will comfortably be delivering E1s in sizes at least to the end of this decade.
Ishka: Where do you see the second-hand market now?
JS: We recognise that in the last six months, due to a couple of discreet movements of fleets of aircraft, there has been a growth in the availability of pre-owned aircraft. That has proven to be a unique competitive advantage for Embraer. For example, at the most recent G20 meeting in China, the CAAC [The Civil Aviation Administration of China] issued a new policy document that requires start-up airlines to launch with specific sized aircraft before they can get 737s and A320s. The E190 falls directly into the crosshairs of the definition of the aircraft that is aligned with that new policy document. The fact that there is now some excess inventory in the global marketplace means we can deploy some of that equipment in a timely fashion to those airlines that are looking to get their AOCs [Air Operator Certificates] and get operating in the next six to twelve months.
In addition to that, we have just received type certification for the E170 and the E175 in Russia and I think that will also facilitate the movement in very short order of significant numbers of that type of aircraft into the Russian market. So, we're seeing plenty of opportunities. I understand that there are a number of new operators that have been signed up as E-Jet operators by Nordic Aviation Capital (NAC) in particular that haven´t been publicly announced yet. So, there has been a lot of activity over the last 90 days, on closing out either LOIs [Letters of Intent], or full lease agreements or purchase agreements. Governing a significant percentage of that was, I accept, some excess inventory, so, I don´t think we´re going to see that same level of inventory available when you get to December 31st.
Ishka: Do you think the economic life of regional jets are decreasing generally and is there pressure on this due to the transition?
JS: No, I don´t. I believe the technical life of the E-Jets is about 25 years as a passenger operator. It´s still to be proven whether we can see if there is a freighter conversion capability of the aircraft that my friends in Boeing and Airbus have successfully deployed with their narrowbodies as they have aged. But generally, I'm comfortable with 25 years, the same as the 737 and the A320. And notwithstanding the fact that we are a slightly higher cycle ratio aircraft than, let´s say, a 737 or an A320. Our aircraft, on a relative basis are higher cycle limited airframes. For example, specifically, the A320 is a 60,000 cycle limit per aircraft. The E-Jet is an 80,000 cycle limit per aircraft. So, there is plenty of capability for the aircraft to be deployed and to run its full utility life.
I don´t believe that the arrival into service of the new technology E2s in the first semester of 2018 will in any way inhibit or limit the life of the E1. I think what´s going to happen, and we´re already seeing it, are new operators procuring or leasing the E1s as they age. Perhaps because they don´t have the balance sheet capability to acquire new aircraft directly from the manufacturers, or their business plan requires them to have lower capital access aircraft.
I think you´re going to continue to see this, and as we broaden the franchise footprint it's going to provide a lot of liquidity for the operator base. Today, we have some 70 operators in 50 countries for the E-Jets. I have a plan to get to 100 operators over the next number of years, in well over 50 countries. And that in itself becomes self-feeding and self-fulfilling. So, as operators want to exit, you´ve got new operators coming in, wanting to take those aircraft and those operators that want to exit older aircraft, they´re obviously prime targets to get into the new technology E-Jets.
Ishka: The US is obviously a very big market for regional jets, how much of a barrier are scope clauses for the sale of the E2?
JS: It is true that the current MTOW (Maximum Take-Off Weight) limitations on scope in the United States do not facilitate the sale of the E175-E2. Neither does it facilitate the sale of the MRJ 90, but in some ways, for Embraer, that really doesn´t matter because we´re continuing to sell the current E175 in significant numbers. We have increased the capability of that aircraft. We have reduced the fuel burn by 6.4% percent, by making improvements to the winglets, so the wing profile has now changed on the E175. The capabilities of that aircraft are continuing to be accepted by the North American market, as evidenced earlier this year when the Alaska Air Group made a significant order for 30-plus units on the E175 and 30 options on the aircraft. So, that's a manifestation of the demand matching the solution that we have which is the E175, the current generation, with the current demands.
In the future, if scope clauses are changed, we have a solution for that as well. It's the E175-E2. But we are not disadvantaged at Embraer, because we have a solution which is a new technology solution. It´s the E-Jet that´s available today.
An important point here is that if you take the last few years or so since January 2013, we have won 80% of the orders in our category in North America. That's important for a couple of reasons. Obviously, the passenger experience is a factor; the airlines are voting with their cheque books and reflecting what the passengers want. But, separately, there´s now an incumbent base, a significant incumbent base of pilots that are trained on the E-Jets. And in the fullness of time when the E2 becomes a solution that the North American airlines will require, and will be interested in procuring, there´s no simulated training to go from the E1 to the E2, so we have a unique competitive advantage.
Ishka: The C-Series has made some big strides recently, how does your strategy differ from that of Bombardier?
JS: Positioning, in one word. It is in our DNA at Embraer to listen to the customer and then deliver a solution for what the customer wanted. When we designed the E2, we spent an enormous amount of time with our airlines through airline advisory board meetings, with our leasing company partners, listening for where the product-positioning gap was, as they saw it, and we re-defined the gap. So, through that process, we identified that the E175 should grow a little bit, by one row. That there wasn´t a demand for the E170 as we perceived it going forward and that we found we needed to grow the upper end of the market, the E195, by three rows. We also have improved the range of both aircraft quite significantly, so we spent our time on product positioning and matching the product positioning with exactly what the airlines requirements were.
Our aircraft are designed to complement the 737s and the A320s. Our aircraft are not designed to compete against the 737s and the A320s. One of our competitors has elected to build an aircraft that will compete with Boeing and Airbus. Whether that´s right or wrong, I don´t know, I just say it´s not our strategy. Our strategy is the 70 to 130+ seat market. An aircraft that can fly, let´s say 2,500 nautical miles, closer to 3,000 in the case of the E190-E2 and 2,500 in the case of the E195-E2. That, we believe, is in the sweet spot of the airlines requirements. And our fuel burn benefits over the C Series is up to 10%. The E195-E2, for example, is the same weight as the CS100, but it carries 10% more passengers. So listening to the customer, and then our product positioning, that´s our competitive advantage.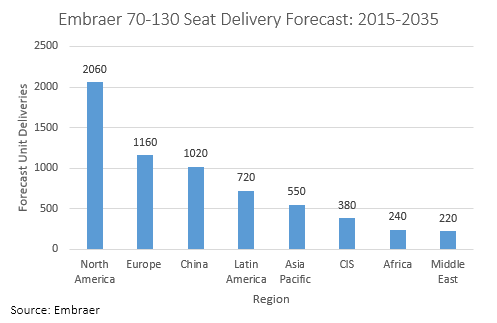 Ishka: So, ignoring the underlying asset just for a moment, what are you providing in terms of after-sales support or sales support that Bombardier isn´t?
JS: We have an aspiration in Embraer to be the number one airframe OEM in the world in terms of after-sales support as defined by the metrics that are important to the airlines. We spend an enormous amount of time ensuring our customers have the dispatch reliability that they require. The definition of success in aftersales support for me comes in one percentage number. What is your dispatch reliability around the world? And today, Embraer enjoys a dispatch reliability of between 99.3% and 99.5% around the world. That speaks to the capabilities of supporting the aircraft after it enters service.
Ishka: You signed some large deals with AerCap and Aircastle, recently but what is your strategy generally for leasing sales?
JS: Today on the E2 we have three lessors, AerCap, Aircastle, and ICBC. We still have NAC with a speculative order on the E1s. Our strategy is very clearly defined and we´re being very public about this. We don´t believe that, for our space, in our segment, that you should have more than three or four lessors with speculative orders at any one time.
Today, we don´t have any targets to bring a fourth lessor to the programme until we have placed a significant percentage of the orders with those existing lessors for the E2. And on the E1, separately, we are working with our partners in NAC to place their aircraft over the next 24 months. We are making significant strides on that as you would expect, both to existing operators and potentially to new operators. So, we don´t believe that you should have more than 20%-25% of your matured delivery stream with lessors, and I don´t believe you should have more than 3-4 lessors on the programme at any one point in time.
We have a dedicated centre of excellence in Embraer, overseen by our vice president, Martyn Holmes, to support our lessors and ensure the placement of new aircraft, and the placement of pre-owned aircraft as they naturally come off lease from their first or second leases. We have about a third of our global feet being financed by the lessor community. I believe that´s a good solid percentage. In fact, I think with the E2, that´s probably going to grow to 40%. And that´s combined with the lessors that order speculatively, and lessors that do sale-and-leaseback financing for airlines after the aircraft delivers.
Ishka: What´s the next step after the E2?
JS: The E3. And then the E4, and then the E5.
Ishka: So, I´m taking it that there will be a regional jet market around in the next 20 years?
JS: Yes, I believe so. Demand will come from cosmopolitan areas that need to be served profitably by airlines. I believe when you look at the LCC [Low Cost Carrier] segment for example, where seat mile cost has been the focus. As the LCC operators of, let´s say China as one of the bigger emerging markets in the world, as their airlines want to continue to grow, but need to grow profitably, the fleet smart solution that Embraer presents is one of focusing on profitability. Because without profitability you have no sustainability.
So, these airlines are now looking to grow beyond the original large cosmopolitan areas that they dumped 737s and A320s into. Because of the trip cost of flying to smaller secondary or tertiary airports in smaller cosmopolitan areas, airlines will very quickly, and have very quickly realised, that they can´t do that profitably with larger gauge equipment. Therefore, I believe in the future, that the E-Jets, the larger E-Jets such as the E190 and E195, will be deployed increasingly by network carriers around the world in their mainline network, but also by LCCs as they look to grow beyond serving just the larger cosmopolitan areas.
Ishka: Obviously, the market place is quite crowded at the minute. How many OEMs can the regional jet market sustain?
JS: Today, Embraer enjoys a 60% market share of the deliveries of aircraft between 70 and 130 seats. In a duopoly environment that would be an excellent performance. In an oligopoly environment, which is where we operate, it really is very special to enjoy that level of confidence and support that Embraer humbly has received from our customers.
Competition forces Embraer to be more competitive. Competition forces us to provide even stronger after sales support. Competition forces us to listen to our customers better. It makes us a stronger company. But we are almost 50-years-old. We have been developing the aircraft and we´ve sold and delivered successfully into the market over 8,000 airplanes. That level of tacit knowledge on the E-Jet programme alone, there's over 15 million hours of experience on that airplane alone. It´s that level of experience that our airline customers are looking for when they're thinking about who is the sustainable party they want to be doing business with for the next 20 years. And Embraer seems to be winning a very significant portion of those sales. It´s very difficult to develop profitably and deliver sustainably a commercial jet aircraft that delivers the dispatch reliability that I mentioned to you earlier. And airlines don´t take that lightly. They focus a lot of time on the capabilities of the OEM. So, some OEMs have dreams. Embraer focuses on capability and execution. We keep our head down. We listen to the customers and we execute. So, that's my response to the competitive environment. It forces us to be better. So, I'm grateful for the competition.
Ishka: What effect do you think this will have on aircraft prices and lease rates?
JS: I come from a leasing background and it´s in my DNA to ensure that there is stability on the lease rates that are enjoyed by our leasing partners and, I would say, enjoyed by our airline partners on the E-Jet programme. Airlines want stability. They want long-term capability from an OEM.
In the event a competitive manufacturer comes to the marketplace with a very cheap offering, my experience in twenty years in commercial aviation has been that airlines take a second and a third look and tend to be very cautious about accepting something that, on the face of it, is too cheap. If it´s too cheap, it´s probably too cheap. We deliver a stable solution. The best airlines in the world have chosen Embraer. You think about the franchise footprint we have in western continental Europe: Air France, KLM, Lufthansa, British Airways, Alitalia, LOT Polish. In North America, on the other side of the Atlantic from where we are, American, Delta, United, JetBlue, Alaska. These are the marquee names. These are guys that want sustainability. They want a proven solution and they want something that the passengers appreciate. They want the dispatch reliability that we can deliver. And we're just going to focus on listening to the customers and trying to deliver the best possible solution and not get distracted with some anomalous behaviour by some of our competitors.
The Ishka View

The Ishka view is that Embraer is better placed than Mitsubishi to deal with existing scope clause regulation in the North-American market. Embraer can fall back on the E1 jet which is permissible under union regulations. However, the Mitsubishi Regional Jet (MRJ) is not, and as a new entrant to the regional jet market, Mitsubishi faces challenges in the US. Nevertheless, both OEMs will benefit from directing their sales campaigns towards other markets as well, especially to Europe and China which together are a larger potential market than North America in the coming 20 years.

Embraer's positioning with the E1 and E2 range of models appears to be a sound 'family' approach and the order books support that view, with over 200 of the current E1 family still to be delivered and over 250 of the new E2 family on order. The OEM has also clearly worked hard at addressing the issues of delivering on product support and in meeting customer requirements. As a result Embraer is well positioned from a product strategy perspective to benefit from the regional market sector.

---

More related insights: