What could a downturn mean for aircraft values?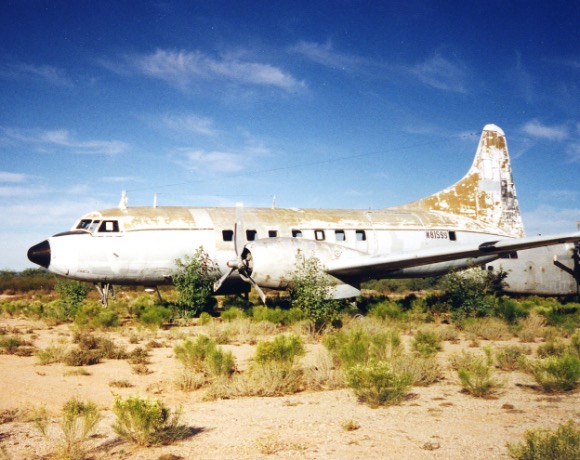 In my previous Ishka Insight, (Are OEM forecasts painting too rosy a future?) we analysed the manufacturers' medium term production plans and concluded that the announced rates were rather optimistic and that any downturn during the period would result in a significant increase in surplus capacity.
What would that mean to values and lease rates? Would a new downturn be in line with previous ones or would it create a more severe shock to the system? To answer these questions we referred to our existing modeland kept the same four inputs:

Traffic growth
Load factor
Capacity utilisation
Aircraft surplus

To build a credible potential downturn scenario we analysed previous downturns (starting in 1980). We will examine the next three years ending our analysis in 2020. Each of the forecasted statistics is based on an average of the last four recessions. For example – traffic growth will grow by only a 7% total between the end of 2017 and the end of 2020 under our scenario.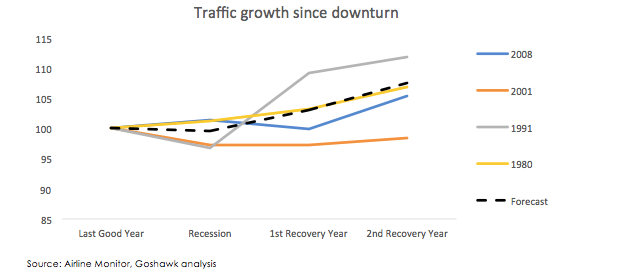 Let's assume 2017 is still a very good year from a demand perspective (April's traffic numbers have been remarkably good) and traffic grows by 8%. The analysis above gives us growth rates for years 2018-2020.
Next – load factor. It turns out the relationship between actual and expected load factor (based on simple linear trend) has not been consistent across the downturn periods – sometimes it was still above trend, sometimes it was below. Hence the forecast assumes a small drop from trend (and currently observed levels). This will increase the requirement for aircraft as lower load factors mean more seats given the same traffic.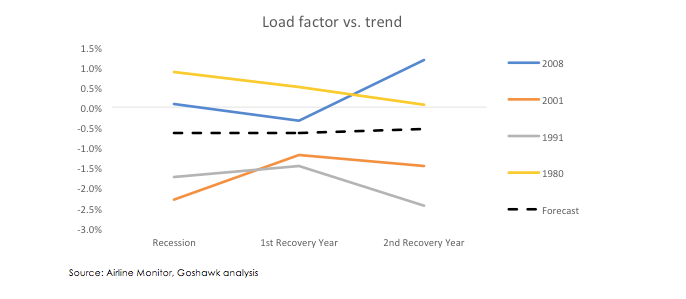 Utilisation, as defined by Goshawk, is slightly easier to analyse – it drops considerably as airlines react to a slower demand. It is much easier to drop utilisation than it is to postpone new deliveries, so utilisation is generally a warning sign, especially when the downturn kicks in early in the year.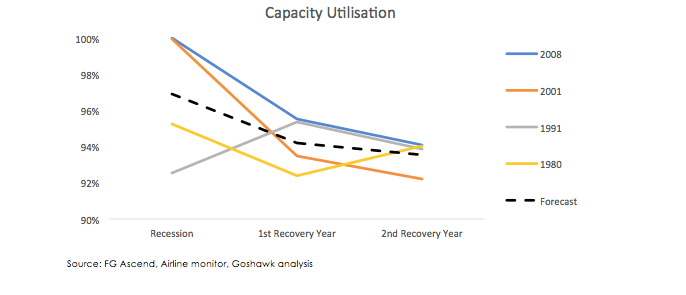 Last, but not least – the expected aircraft surplus. Here, we are looking at year-on-year changes to surplus. The highest increase is obviously felt in the first recession year, when surplus grows by 5p.p. on average before stabilising at the new level in the next couple of years.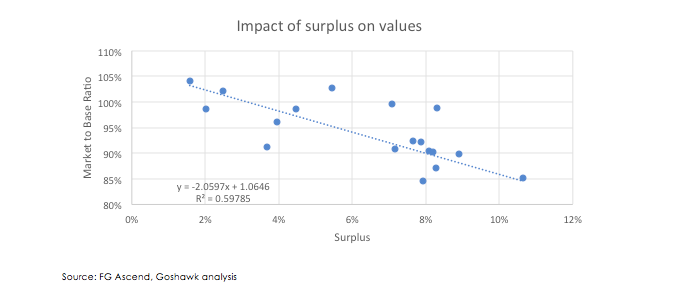 We are looking at a 7p.p. (5+2) increase in surplus in this scenario, meaning that market values would drop from current market/base equilibrium down to 85% of base and stay there until early 2020s. This is not unprecedented and while investors would prefer those swings not to happen, they are part of doing business in this sector.


Konrad's View

While the manufacturers' production rates are optimistic, a realistic downturn scenario would not result in a significantly different level of surplus and movement in values to the ones seen in the past. Different aircraft would be affected differently based on age, liquidity and other criteria but the overall impact on the sector would be manageable and in line with history.

Many of the points raised in this insight will be discussed at our unique scenario planning session at Ishka's Aviation Finance Innovation Festival. Held on 5th-6th July in Dublin at Clontarf Castle.

For full details about the event, and to read the agenda, please visit the event website. Alternatively to register your interest, or for any enquiries, email Tomas Preselo at [email protected]