Have airline yields recovered for North American carriers?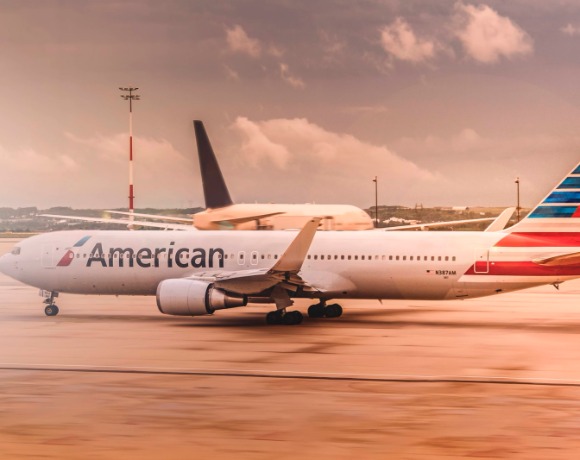 Airline yields have been one of the most talked about metric in the industry. 2015 and 2016 saw airlines face significant revenue headwinds and pricing pressures. The revenue generated per passenger kilometre saw a downward trend for the majority of airlines, if not all. However, things were expected to improve starting from 2017. Ishka's study has found that relative to 2016, yields have indeed improved, albeit by varying extent, for a majority of the North American airlines (Since all the major North American airlines have already reported their full year 2017 results, the study is focussed on this region's airlines). This is especially important as unit costs have also started to creep up. It, however, remains to be seen whether improvements in unit revenues & yields manage to outpace unit costs.
The following table highlights the quarterly yields across the major North American carriers over the past two years. After falling until 2016, yields appear to have trended upwards in 2017.
Passenger yields per RPKs in US$ cents

Source: Ishka Calculations & Bloomberg
Note: Original traffic data reported in miles which has been converted to kilometres using a miles to kms conversion factor of 1.60934. SkyWest discontinued publishing RPMs and ASMs from Q3 2017 as it believes they are not meaningful to its capacity purchase agreements and business model.
The following chart shows 2017 passenger yields per RPKs indexed to 2016.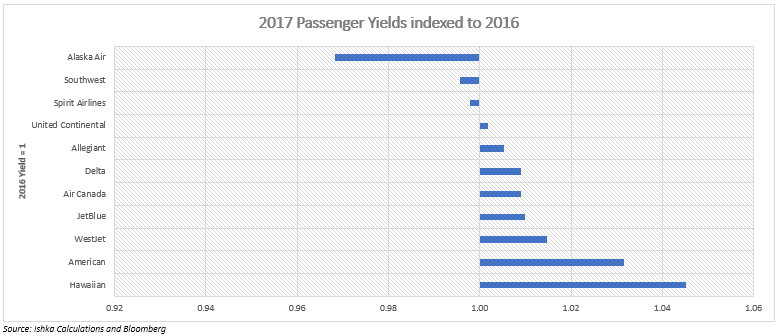 Both Canadian carriers in the study experienced a reasonably strong turnaround in yields. As per Air Canada, its yield recovery was driven primarily by the increased demand for its higher yielding business and premium economy product and also a general rise in the local domestic traffic that was happy to pay relatively higher fares. Its local competitor, WestJet, which is now increasingly targeting the North Atlantic segment saw one of the strongest recovery among all the airlines studied for this report. The Canadian LCC also leveraged the improving economic conditions in its home market to boost its average earnings per passenger kilometre. In addition, it believes that the higher yielding connecting passengers are also contributing to its healthy yield trends.
In the US, the situation appears to be more mixed. While the full-service carriers have seen some recovery in their yields the LCCs are yet to fully enjoy the benefits of an improving revenue environment. Price discounting by the budget carriers limited yield recovery to some extent. Among the biggest improvers has been Hawaiian which continues to go from strength to strength. It posted another set of strong results in 2017. The carrier, which is in midst of a fleet transformation and modernisation programme has seen its per unit revenues get a boost from the addition of more premium product portfolio. The carrier also attributed the improving pricing environment to the prudent capacity management in the US during 2017. This is consistent with Ishka's findings as highlighted in a previous report on traffic and capacity trends (Airlines maintain capacity discipline as traffic picks up in 2017).
The network carriers, Delta, United and American, also benefitted from better capacity trends in domestic US. A stronger, and robust, local economy also boosted pricing to some extent. Internationally, the biggest improvement was on the Latin America segment.
Among the carriers that are yet to see a recovery in yields, Alaska is continuing to see some revenue pressures as it undergoes integration with Virgin America. The airline has said that it has taken steps to improve its unit revenue performance and expects to see some positive results in 2018. Allegiant, an ULCC continues to aggressively price its tickets while seeking to maximize its ancillary revenues. Southwest's yields have been pressured by the ULCCs pricing, nevertheless, there seems to have been a modest recovery in the second half of 2017.
The yield recovery was also disrupted to some extent by the severe weather that hit Mainland US during the year. 2017 also did see some instances of a price discounting particularly by some budget carriers which was replicated to a limited extent by some FSCs like UAL.
The Ishka View

The yield trends are in-line with expectations and with airlines' comments. The first half of 2018 should give a better indication on whether the revenue environment is truly improving or not. This is especially important as operating costs have started to creep up. The US airlines, in particular, are likely to see a higher outlay towards personnel expenses, after amendments to labour contracts, and towards fuel as crude oil prices also gradually rise relative to the lows of 2015 and 2016. Airlines, also, after a point could pass on the higher fuel costs to their customers as fuel surcharges which should help to offset increased costs. However, the impact could widely vary. Yields fluctuations are a function of various factors such as changes in an airline's product offerings, changes in airline's route network, changes in fleet composition, industry capacity, among other things. As such, it remains to be seen whether the improvements in the revenue environment can outpace the rise in operating expenses. Nevertheless, airlines are much more optimistic about the future trends and highlighted that yields will continue to recover in 2018.