Monday 13 August 2018


Wizz tests lessors with "super aggressive" RFP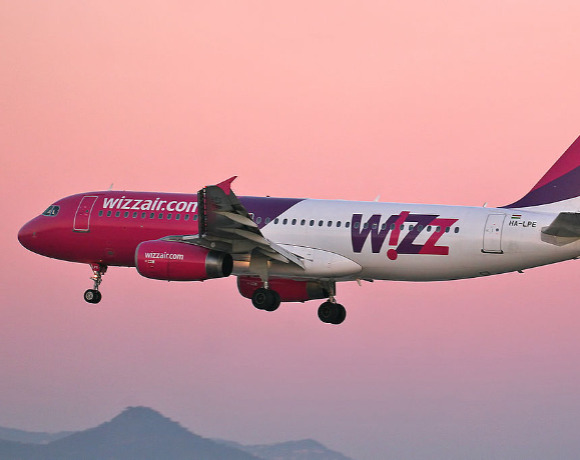 Wizz Air (Wizz) is testing lessor appetites with its latest request for proposals (RFP). The Hungarian low-cost airline currently has an RFP in the market for 10 A321neos, according to multiple market sources. Ishka understands that Wizz has requested euro-denominated leases and indicated that bids with maintenance reserves will not be considered. The airline is offering 9 or 12 years leases either on fixed or floating terms.
Bidding has been fierce according to market sources as the sale/leaseback market continues to remain lively, especially for in-demand new aircraft assets such as A321neos. Lessors state that most sale/leasebacks RFPs are now regularly receiving between 40 and 50 bids. Ishka understands that Wizz is already in the process of evaluating bids and has written to lessors who have already bid indicating that they need to offer leases with a lease rate factor below 0.5 if they want to be shortlisted.
"I was blown away", comments one source familiar with the deal after Wizz provided guidance to lessors bidding on the deal last month. Another source described Wizz's response as "super aggressive" and added: "You are struggling to understand how someone can make money on this." Sources indicate that several lessors have already walked away from the RFP but others indicate that they are still in the process.
Wizz declined to comment when contacted by Ishka.

Wizz'ing below a 0.5 LRF?

Could Wizz succeed in pushing lessors past a 0.5 LRF? Judging by recent sale/leaseback campaigns, Wizz appears to be asking lessors to go below current market rates. At Ishka's recent Dublin Aviation Festival the clear majority of lessors (57%) claimed that lease rates factors on sale/leasebacks were between 0.60-0.64. However, lessors privately indicate that, in reality, lease rate factors for several recent RFP campaigns for both A320neo and 737 MAXs conducted in the last six months have closed around 0.57 and 0.58 for top-tier carriers.
"There is a consensus that for new-tech narrowbodies the market is steering towards 0.55 LRF," confirms one European lessor. "People have gone nuts for Wizz. Wizz had 40 - 50 responses to their RFP and I heard some of the Japanese lessors have been kicked out and hadn't made it through," he adds.
Wizz's recent RFP in a further indicator as to how much the market has shifted in a few short years. Back in 2015, Ishka understands that the airline was in the market for similar requirements for Airbus equipment and having a preferred lease rate factor of 0.70 – 0.74, with an asking price of "$40 million-something" according to sources.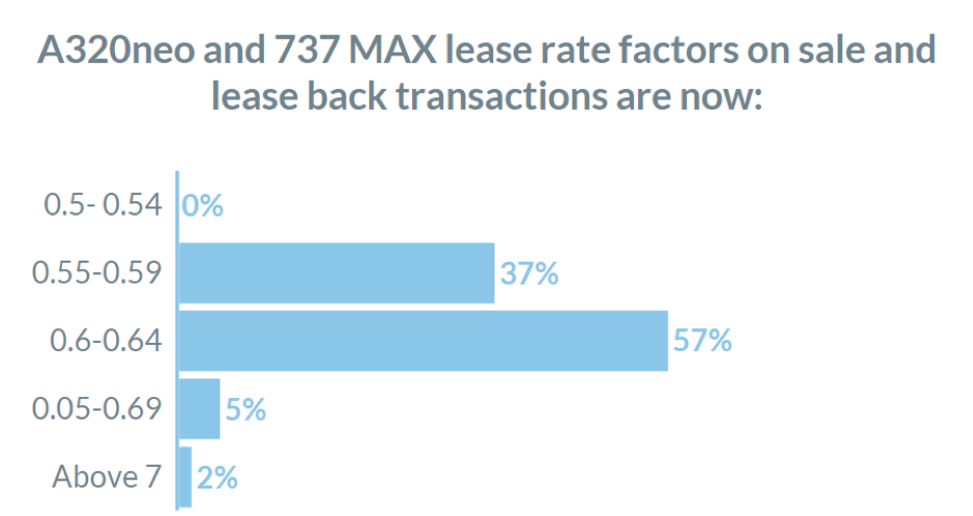 Source Ishka Dublin Aviation Festival
The Ishka View

Wizz appears to be marshaling lessors to a new lower standard LRF for new-tech narrowbody sale/leasebacks. Lessors differ on current sale/leaseback leases rates. The consistent trend among sale/leasebacks has been tighter and tighter terms and airlines are aware of this. Many carriers with large delivery streams, like Wizz, are using the lease rates achieved in their RFPs last year as the standard to beat in this year's RFP process. Has Wizz really received sub 0.5 LRF offers? It is hard to tell yet until the RFP process is over. Many believe a 0.5 LRF to be a natural floor for most lessors - any lower and few can ensure they earn any return on their investment. Not all airlines will be able to command the terms Wizz has insisted on lessors, and lease rates far below 0.6 are still only reserved for the better carriers – for now. Even if it fails to get the sub 0.5 LRF it craves what Wizz has done is succeeded in pushing the 40 lessors active in the sale/leaseback market to give their very best offers.
---

More related insights: