Floreat picks MUFG to shop for aircraft portfolio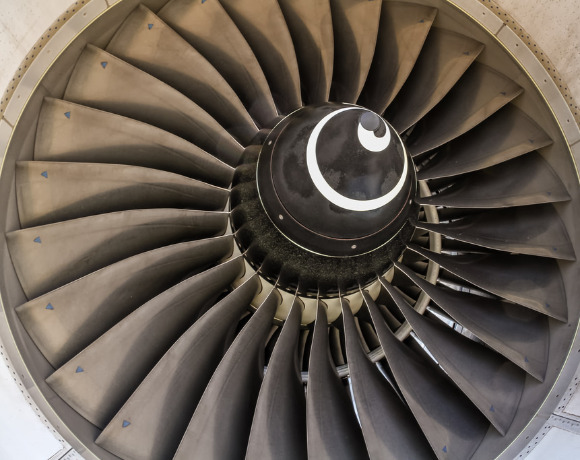 London-based privately held investment group, Floreat, is seeking to acquire a portfolio aircraft to create a second Luxembourg–registered securitised note, Floreat Aviation Notes (FAN 2).
Ishka understands that Floreat has mandated MUFG to acquire around 7-10 aircraft, aged between 4- 6 years, to create a $500 million portfolio for the new deal. The deal, which will be structured as a tradable dollar-denominated listed bond, is set to have a target cash yield of around 7% and a target IRR of around 8-9%. Under the terms of the agreement, MUFG will arrange the debt financing of the portfolio with Floreat and its clients providing the equity.
The deal target date is Q4 2018 and, like FAN 1, the new securitisation will include a Sharia-compliant tranche. The static portfolio is envisaged to contain a mix of narrow and wide-body aircraft, but with no regional jets or A380s, and with a minimum weighting of 40% of wide-bodies.
Floreat Capital Markets issued the FAN 1 in December 2016 and was unusual in several respects. It represents a rare non-US aircraft securitisation and was Sharia-complaint. In addition, the deal had unusually low leverage (53% as issuance) especially in comparison to E-notes in recent US aircraft ABS. While a typical aircraft ABS is tranched into A, B and C notes. Floreat states that FAN 1 resembles a mixture of B and C series notes combined with an equity note.
"The risk profile is an amalgam of stretched senior, mezzanine and equity tranches. It is structured this way to address the conservative investment appetite for the families' capital we manage" explains Mark Rogers, a Managing Director at Floreat Capital Markets.
"We like real assets backed by long-dated contracted cash flow and aircraft leasing is a scalable and attractive asset class for us. Since the launch of the notes, we have also attracted capital from several large institutional investors who are keen to invest alongside Floreat. Our internal funds continue to hold a sizeable portion of the notes, assuring investors of a solid alignment of interest."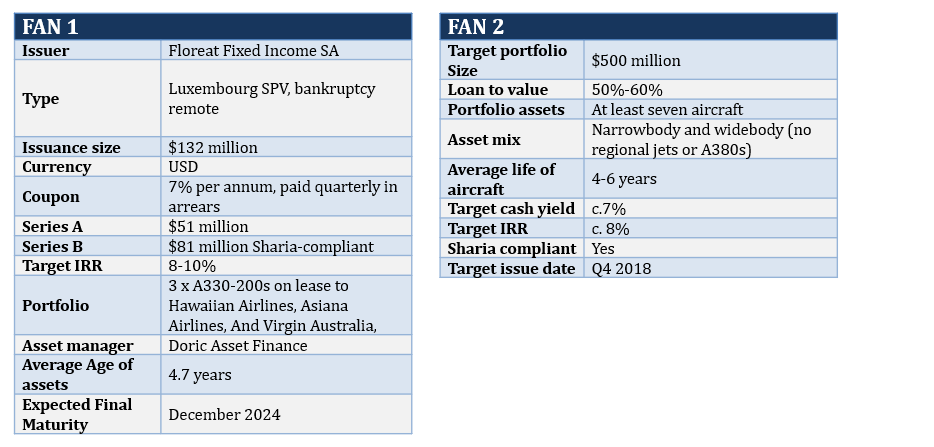 Floreat's team states that FAN 1 was deliberately designed to be as conservatively leveraged and as transparent as possible to meet Floreat's internal investment needs for real assets with long-dated revenue streams. As a result, the notes were structured to generate a 7% coupon whilst the low leverage allows for the senior debt to be repaid over the life of the 12-year operating leases. The note holders are ultimately exposed to the residual values of the three Airbus A330 aircraft that make up the portfolio, however, this low leverage reduces residual value risk on termination of the leases when the aircraft are re-marketed and sold.
"We are not interested in the double-digit IRRs which is what many of the investors are looking for, adds Floreat Capital Markets partner, Ben Churchill. "Our IRR targets are high single digit and we are much more focused on the income aspect, which differentiates our offering from other aviation backed investments."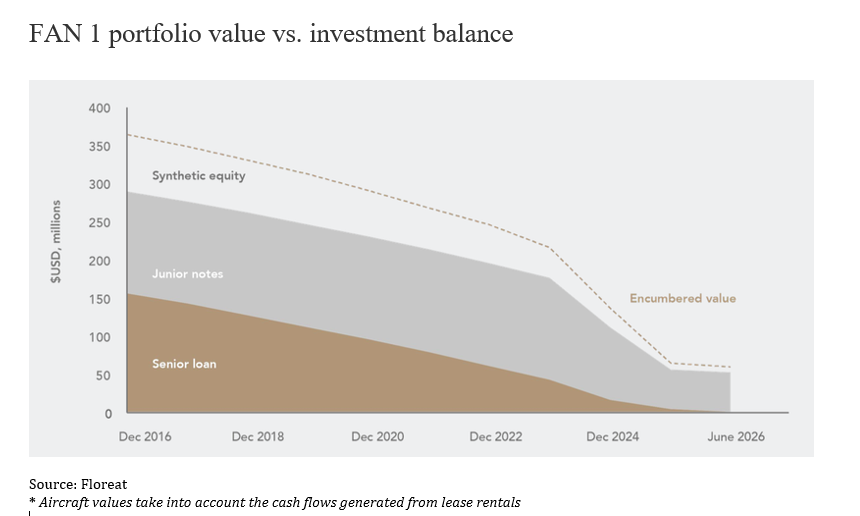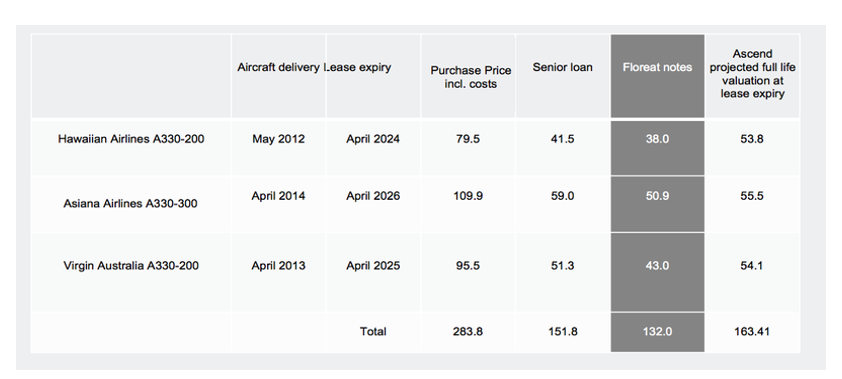 The Ishka View

The challenge facing Floreat and its mandated portfolio manager, MUFG, is now to source the right assets for its latest securitisation. The market has moved since the family firm issued FAN1, and even widebody assets are becoming slightly harder to source. FAN1 stood out because it offered investors a lowly leveraged securitised equity note backed by leased aircraft. It also offered a welcome degree of transparency in the space.
The focus on cash yield, rather than total IRR, and a conservative bet on residual values differentiates it from comparable deals in the space. Having a Sharia-compliant structure means it will appeal to Islamic aviation investors, many of whom are likely to be looking to diversify away from the ME3 carriers which have historically utilised a considerable amount of Islamic financing. Floreat itself is also unusual among investors as a family office with its own internal originating team that allows external investors to participate. It retained a sizeable chunk of equity in FAN 1 and will do the same for FAN 2. FAN 1 was focused on picking core assets for performing second-tier carriers, it seems likely that Floreat will follow the same investment thesis when picking its second aircraft portfolio.
---

More related insights: