A380 KG investors eke out minimal returns
As the first Airbus A380 is set to be scrapped, German KG retail investors have finally got more clarity on what their total returns may look like when the first A380 closed-end fund expires.
The aircraft is owned by DS 129, a closed-end fund launched in 2007 by fund provider Dr Peters Group (Dr Peters). Dr Peters, which manages four used A380s in funds, plans to part-out two of them after failing to secure a buyer for the ex-Singapore Airlines (SIA) superjumbos at the end of a 10-year lease agreement.
A report by Scope explains that investors are set to make total returns of between 2.2% to 3% depending on the three possible part-out prices offered to investors by Dr Peters (see chart below). Investors are expected to receive the payouts from these sales in 2019 and 2020. The returns are well below those anticipated at the time of the fund's launch (originally expected to be between 7% and 8% p.a.).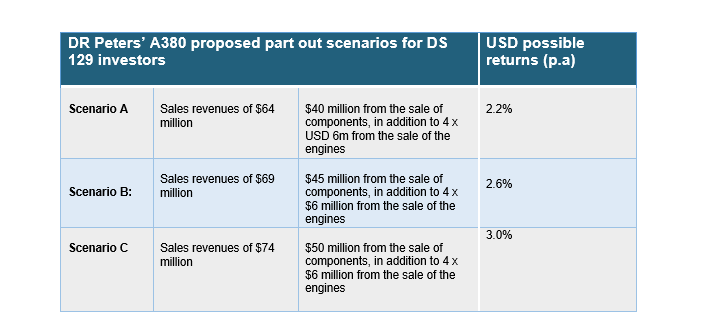 Source: Scope and Ishka
Returns esti15.07.2018/ Forecast returns (p.a)* for DS 129 investors
* The scenarios are calculated for USD-investors.
The first two aircraft were returned to the German investor in late 2017 and Dr Peters had struggled to release the plane or sell it. The option to sell the aircraft in parts was presented to investors as the only viable alternative. DS 129 shareholders and those of its equally-affected sister fund agreed with an overwhelming majority (99%) to scrap the plane. The two A380s will be sold for components, but not scrapped entirely, with the Trent 900 engines leased back to Rolls-Royce for spares. DR Peters has mandated VAS Aero Services, based in the US, to handle the component sales.
Investors' possible returns
Scope's analysis assumes that investors joined in 2007 and paid the usual premium of 5%. It also factors in the amount needed to repay the outstanding bank loans on the fund. At the end of April 2018, Ishka understands there is $29.5 million of outstanding debt. Proceeds from the sale of the components and engines will initially be used to repay bank loans and then be distributed to investors following the senior loans' redemptions in 2019 and 2020.
"Under Scenario A, which is the most pessimistic scenario presented by Dr Peters, the investors will have got paid 7.25% a year from 2009 to 2016, but only 2.25% per year in 2017 and nothing this year and then the assumption is that they will get 14.5% in 2019 and 53.25% in 2020 after the bank gets paid," explains Scope's Frank Netscher.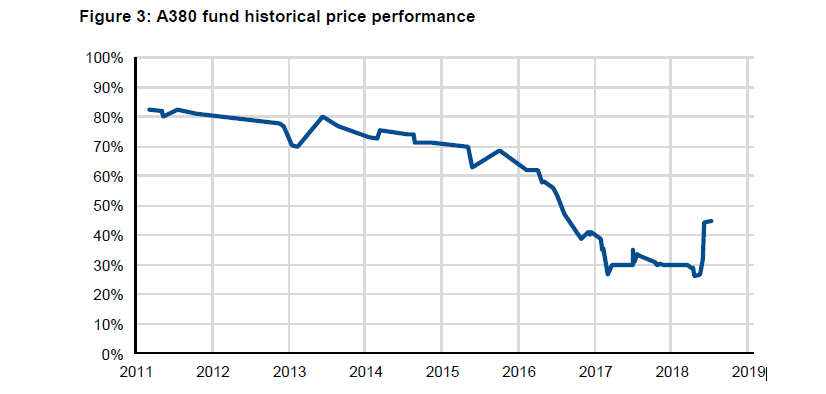 Assuming that Dr Peter's proposed part-out figures are correct, many KG fund investors are likely to have earned slightly higher returns because of the favourable currency exchange since the fund launched in 2007. Investors that always switched their USD payments back into Euros are potentially set to see returns of approximately 4% to 5% under the three scenarios set out by Dr Peters.
Investors appear to have reacted well to the news and the trading price in the A380 fund has actually picked up. In theory, again assuming the part-out scenarios by Dr Peters are realistic, an investor deciding to invest in the fund now which is trading at 45% would get a gross return of more than 20% per annum. "Even after assuming around 5% of fees taken by secondary brokers, the stock exchange, and for the asset manager who needs to swap out of the existing shareholder and takes a fee for that, and therefore a net trading price of 50% with everything included the final IRR would be approximately 14.5%," explains Netscher. This opportunity is likely to be negligible as the likelihood of many existing shareholders selling out their position now, and effectively making a loss, is very small.
The Ishka View

Dr Peters decided to scrap the aircraft only after exhausting various alternatives with British Airways, Hi-Fly and Iran Air, according to news reports. The big question is whether the part-out prices described by Dr Peters materialise or not. If it does investors may finally realise a small gain of anywhere between 2.2% to 3% in USD or as much as 4% to 5% if they had continually switched their USD payment back into euros. What they will not be achieving is the 7% - 8% p.a. returns originally forecasted when the funds launched.
In many ways, Dr Peters represents a test case for the twenty-odd A380 German retail funds set to mature in the next few years. Not all of these aircraft will be parted out, but Dr Peters sets a worrying precedent for the long-term future of the world's largest commercial aircraft.