in Lessors and Lease Rates , Capital Markets
Thursday 10 January 2019


Capital markets outlook for lessors: going like hot cakes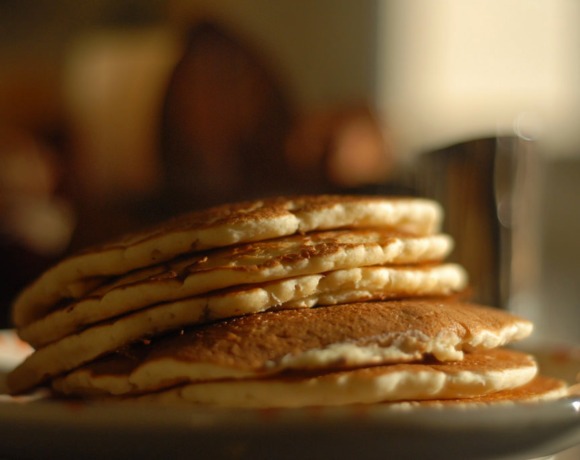 Such has been investor belief in lessors' ability to diversify away risk and generate consistent long-term returns, that in 2018 most operating lease platforms were able to both secure new (or to upsize existing) facilities and tap the capital markets at historically low prices – almost regardless of their business models. Traffic growth and airline profitability have held up at historically high levels, despite measurable increases in oil prices and a series of interest rate hikes by the U.S. Federal Reserve Board (the Fed) over the past twelve months, boosting the optimistic outlook on the sector from creditors and investors alike.
The market for asset-backed securitizations (ABS) remained lively in 2018, as lessors' interest in portfolio sales was both reinforced and met by investors' unflagging appetite for exposure to aircraft across the economic life spectrum. Notable transactions included: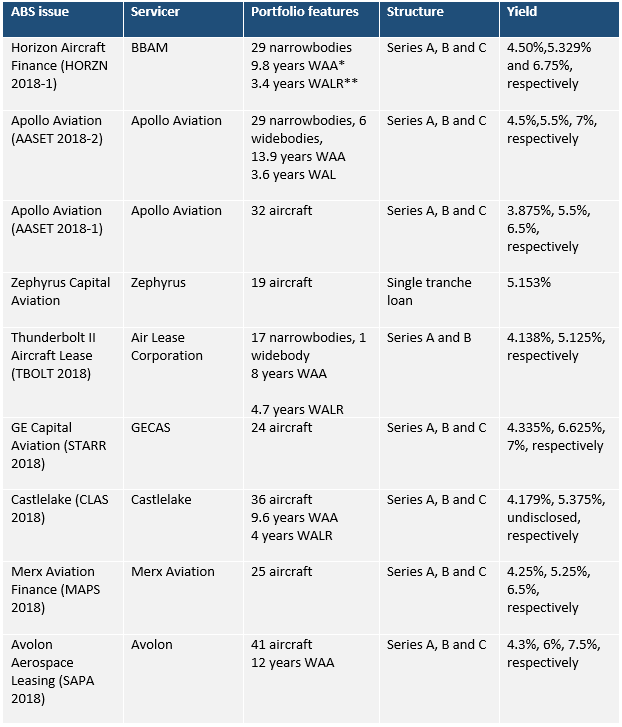 Source: Ishka research.
According to the projections of Boeing and Airbus, the funding requirement for both incremental and replacement aircraft will continue to grow over the near and medium term as the proportion of the planet's population capable and willing to travel (the so-called propensity to fly) continues to increase. Lessors' current share of the global fleet ownership has reached ca. 40%, and according to estimates is likely to remain there; this implies obvious growth in lessors' financing needs in absolute terms. Purchase commitments (orderbooks) of the top seven publicly listed lessors alone—Air Lease Corporation, AerCap, Avolon, SMBC Aviation Capital, BOC Aviation, FLY Leasing and Aircastle—have been estimated to be ca. $90 billion. This is a substantially larger amount than $52 billion worth of top lessors' public capital market issuances scheduled to mature over the next 5 years. The ABS market for aircraft may be dwarfed by the volumes of securitizations in other asset classes—by way of comparison, aircraft ABS amount to little more than 7% of ABS in the consumer automobile industry— but its strategic importance for the aviation industry cannot be overestimated.
Concerns have emerged that the quality of ABS issuances brought to the market in the more recent past is in some ways inferior to earlier issuances both in terms of the desirability of the securitized assets and the credit profiles of the lessees. Even though most pools brought to the market in 2018 were heavily weighted towards narrowbodies, most consisted of mid-aged aircraft and placed with mostly unrated airlines in predominantly emerging-market jurisdictions. On the other hand, there has been a degree of ABS standardization in recent years, with the majority of issuances now containing significant creditor-friendly features: single waterfall structures, stricter operational and financial covenants and triggers, faster amortization profiles and deeper reserves.
Simultaneously, lessors' improving credit profiles have expanded and deepened their access to unsecured financing: as of mid-2018, the share of unsecured financing in top lessors' capital structures fluctuated between almost 100% (at SMBC) to ca. 60% (at AerCap). The receptiveness of bond markets to the leasing industry's investment proposition implies corporate bond issuance in the space will persist.
The Ishka View
As of early 2019, the Fed appears likely to slow down the pace of interest rate increases; the pressure on oil prices is also easing off. Coupled with resilient passenger traffic growth, this suggests that the benign financing environment that has played a crucial role in both the aircraft leasing industry's performance and that appeal to investors in recent years is unlikely to abate in the foreseeable future. Despite lessors' general preference for unsecured financing, ABS remains an important and highly attractive channel for them—both from the standpoint of pricing competitiveness and for strategic reasons.