Airlines snapping up aircraft bargains left by HNA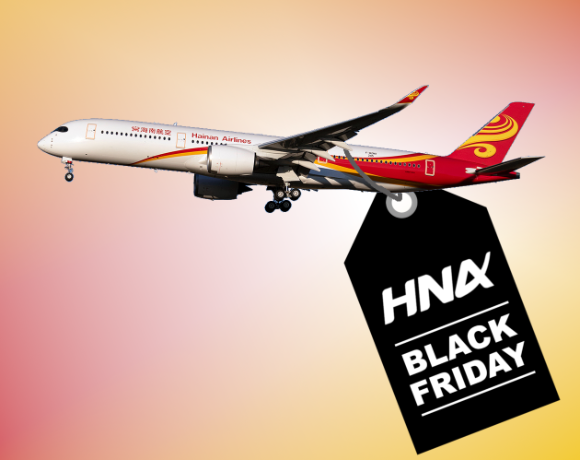 New aircraft not taken up by HNA Group subsidiaries are being leased and purchased by airlines around the world at discount prices, with one lessee reporting "world-record lease rates" for at least two Avolon A320neos and one airline reportedly obtaining a 55% discount on two 787-9s from Boeing.
Avolon, 70%-owned by HNA, has been re-marketing aircraft unabsorbed by airlines of its parent group. According to a recent preliminary bond offering memorandum seen by Ishka, the Dublin-based lessor "continues to experience from time to time lease payment delays" by HNA-affiliated airlines. The lessor declined Ishka's request for comment.
'World-record' lease rates
One airline claiming to benefit from HNA's woes is Kuwait-based Jazeera Airways. CEO Rohit Ramachandran told analysts during the carrier's Q3 2019 earnings call on 5th November that Jazeera has been opportunistically "looking at which lessor is in trouble" and going after their "distressed units."
"Then we get them at lease rates that are practically world-record lease rates for A320neos. The last few airplanes, plus the next four airplanes next year, we have secured at far lower than market prices for the A320neo lease," Ramachandran commented. It is not clear which aircraft or lessor Ramachandran is referring to.
CAPA Fleets lists two A320neos operating for Jazeera and two more due to be delivered – all Avolon aircraft. One of the aircraft in operation with the airline (MSN 7936) was spotted in a Beijing Capital Airlines livery last year in Toulouse but was never delivered to the Chinese carrier.
In a preliminary bond offering memorandum dated 24th July 2019 by one of Avolon's parent entities, the lessor is said to have terminated an agreement to deliver two aircraft to Beijing Capital Airlines. Lessee security deposits were "due to be returned to the airline."
Ishka understands that another Avolon A320neo previously due for Beijing Capital Airlines (MSN 7875) was ultimately delivered to Air Malta in June last year while an Avolon 787-9 (MSN 62170) initially due for HNA-owned Suparna Airlines was instead delivered to the UAE Government as a VIP aircraft.
Avolon declined to comment.
'Discounted' 787s
The 787 not taken up by Suparna was not the only brand-new Dreamliner from HNA's orderbooks that ultimately went to other operators. Vistara's first Boeing 787-9 (MSN 62730, currently undergoing flight testing) was also due for Hainan Airlines before it was taken up by the Indian carrier.
Biman Bangladesh has also taken 787s due for Hainan Airlines. Last month, the airline's board approved the purchase of two 787-9s (MSNs 60327 and 60328) with a discount of around 55%, local newspaper The Business Standard reported. Biman CEO Mokabbir Hossain told the newspaper that "Biman had plans to increase its fleet but the offer from Boeing made the process faster."
Boeing's current list price for the 787-9 is $292.5 million, putting the reported 55%-discounted purchase price at around $131.6 million.
Avolon: HNA payment delays
In a preliminary bond offering memorandum dated 24th July 2019, Global Aircraft Leasing Co. Ltd. (a wholly-owned entity of HNA-controlled Bohai Leasing which owns 70% of Avolon) notes that "Avolon has previously experienced and continues to experience from time to time lease payment delays by its affiliated airlines, including Hainan and other lessees affiliated with HNA."
As of 30th June, the HNA Consolidated Group had $122.5 million "outstanding amounts due and payable to Avolon or its subsidiaries." The amount matches a breakdown of Avolon receivables by HNA Group airlines as of 30th June provided in the same document – excluding $1 million of receivables from Aigle Azur, which filed for bankruptcy in early September (see Insight: "Aigle Azur files for bankruptcy after failed leadership coup").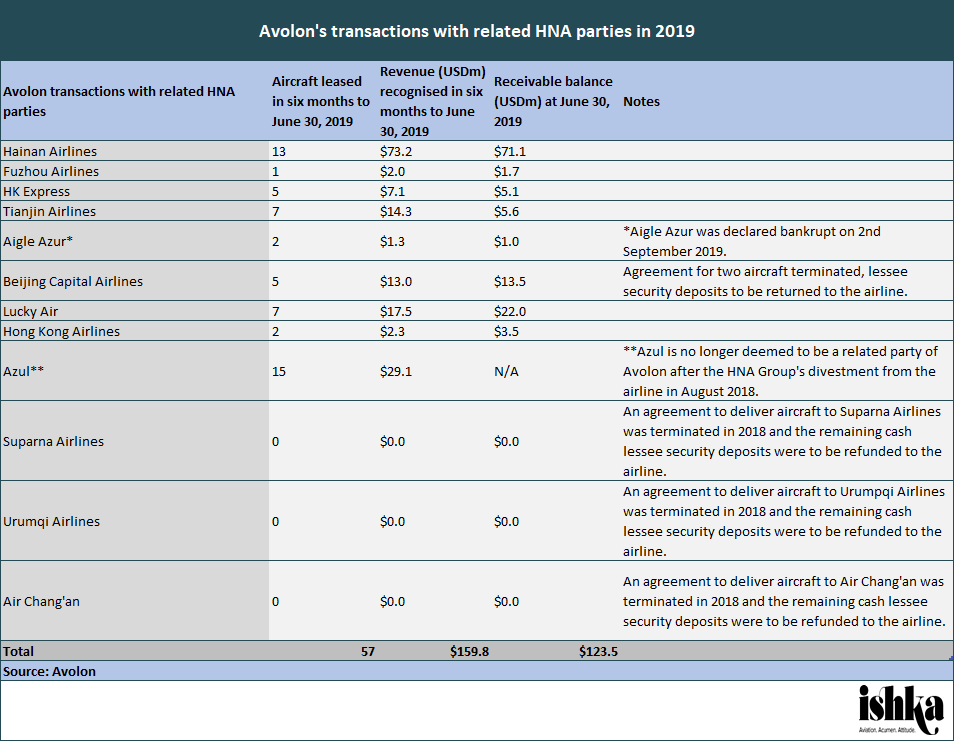 Source: Preliminary Offering Memorandum by Global Aircraft Leasing Co., Ltd. For Senior PIK Toggle Notes due 2024
The $1.55 billion 144A/Reg S senior unsecured notes (GALCLD 6 ½ 9/15/24) were issued on 31st July. Avolon declined to comment on the contents of the July memorandum.
The Ishka View
As an HNA-owned entity, Avolon is likely to be taking the brunt of the fleet restructuring of its parent group. Approximately 6% of Avolon's portfolio by net value is leased to Hainan Airlines (13 aircraft) while a total of 35 aircraft were leased to airlines of the HNA Group as of 30th June (excluding Azul, Aigle Azur and HK Express – the latter of which is in the process of being acquired by Cathay Pacific). Bloomberg reported in October that the HNA Group had reached out to fellow Avolon shareholder Orix to sell its 70% stake in the lessor. Orix reportedly decided it was not interested in pursuing the deal, partly due to potential pressure on its credit rating. Since then, Ishka has heard rumours that HNA remains in price negotiations with Orix.