Covid-19: Airline demands vs government support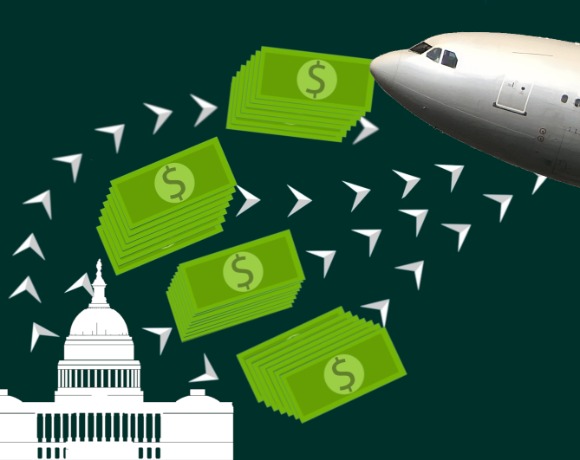 Update: This report was updated once on 20th March to include developments late on 19th March, including a NOK 6 billion ($552 million) guarantee package from the Norwegian government which includes NOK 3 billion ($276 million) for Norwegian Air Shuttle and a NZ $900 million ($524 million) government loan from the New Zealand government for Air New Zealand.
Extraordinary circumstances require extraordinary measures. The Covid-19 outbreak now represents the biggest crisis to have ever hit aviation. Ishka provides a summary of both the demands by airlines and the current levels of state support and bailouts offers.
The tables below include airlines and industry groups representing operators of half of the world's commercial aircraft in service.
Airline requests
The table below lists the demands (or hints at possible need for state aid) by 12 large airlines, four airline trade associations (including Europe and North America's largest) and one country business council. The passenger airlines listed below or represented by these associations operate more than half of the world's commercial passenger fleet.
Airline demands for state support as of 19th March 2020
Airline
Country
Comments or demands
Context
Source
Date
Airlines for America (A4A) - trade association
United States
1) Immediate grants within 15 days designed and implemented by the Department of Treasury: up to $25 billion for US passenger airlines, up to $4 billion to US cargo airlines. 2) Medium to long-term liquidity loans: Unsecured zero-interest loans or loan guarantees provided by the Federal Reserve 3) Tax relief: rebate of federal taxes paid into AATF for Q1 2020, temporary aviation excise tax repeal on tickets, cargo and fuel through December 2021
Demands far exceed post-9/11 package approved by the US congress in 2001, which comprised $5 billion in grants and up to $10 billion in loan guarantees for airlines.
A4A
3/16/2020
Airlines for Europe (A4E) and European Regions Airline Association (ERA) - trade associations
Europe
1) Defererment or waiver of aviation taxes at EU or national level, including provisions applicable to aviation in the Energy Taxation Directive (Council Directive 95/60/EC). 2) EU261 clarity: Immediate clarity for airlines and passengers on COVID-19 counting as an extraordinary circumstance under Regulation 261/air passenger rights 3) Slot rule: Waiver of the 80/20 airport slots rule beyond the summer 4) "stimulus package" from EU funds for airlines via guarantees or credit facilities
A4E members account for more than 70% of Europe's air journeys. They include Aegean Airlines, airBaltic, Air France-KLM, Cargolux, easyJet, Finnair, Icelandair, IAG Group, Jet2, Lufthansa Group, Norwegian, Ryanair Holdings, Smartwings, TAP Air Portugal, TUI Group, and Volotea.
A4E - Open letter to EU Transport Ministers
3/18/2020
ALTA (Latin American and Caribbean Air Transport Association)
Latin America
ALTA called on governments in Latin America to work with the air travel industry to "guarantee its viability." ALTA asked for relaxed slot rules and reduction of taxes and other levies. Speaking to Reuters on 17th March, ALTA chief Luis Felipe de Oliveira said he has been sending lettres to governments and called for "drastic and immediate action."
ALTA represents "90 percent of the region's commercial air traffic."
ALTA, Reuters
3/6/2020
Brussels Airlines
Belgium
Brussels Airlines, part of the Lufthansa Group, has requested aid from the Belgian State for 200 million euros ($217 million) to avoid bankruptcy in a few months, according to Belgian financial newspapers De Tijd and L'Echo.
Brussels Airlines is part of the Lufthansa Group, which is activately encouraging governments to support airlines.
Tijd
3/17/2020
Delta Airlines
United States
"We are in discussions with the White House and Congress regarding the support they can provide to help us through this period. I'm optimistic we will receive their support."
Delta Airlines, like other US carriers, is represented by A4A (see A4A demands above).
Company Filings
3/13/2020
El Al Israel Airlines
Israel
El Al estimates it will need some $700 million to stay afloat.
El Al in early March said it expected revenue to decline by $140-160 million for the period from January to April 2020 as a result of the suspension of multiple lines and declining demand.
Times of Israel
3/10/2020
Federation of Norwegian Aviation Industries (NHO Luftfart)
Norway
NHO Luftfart has asked the Norwegian government on behalf of airlines for NOK 6 billion to 8 billion ($513 million to $684 million) in state guarantees to help struggling carriers. Most of this would go to Norwegian Air Shuttle.
Norwegian CEO Jacob Schram said on 13th March that the airline welcomed the removal of aviation taxes by the Norwegian government but said it is "crucial" for the government to work on solutions for a "phase two." He asked for these solutions "to come quickly."
NRK
3/19/2020
IAG
UK / Spain
IAG CEO Willie Walsh said on an investor call that IAG has NOT asked for state aid. "Governments would expect airlines to look at self help before they would call on governments to provide state aid." He said that IAG would, however, make use of any general state-support for employees where it becomes available.
IAG (British Airways, Iberia, Vueling, Aer Lingus, LEVEL, Air Europa) has been vocal against state support for airlines in the recent past, including the UK government bailout rescue of Flybe in 2019.
Reuters
3/16/2020
Jetblue
United States
"We have been coordinating with Airlines for America (A4A) and other U.S. airlines to ensure government leaders understand the threat to our global economy if air travel is not supported. When this pandemic passes – and it will – air travel will play a major role in getting life back to normal and supporting economic recovery. We are going to need significant government help to do that"
Statement to employees. Jetblue, like other US carriers, is represented by A4A (see A4A demands above).
Jetblue
3/18/2020
LATAM
Chile / Brazil
Incoming LATAM CEO Roberto Alvo said in a TV interview that LATAM has asked the countries in which it operates help to overcome the Covid-19 crisis, as all airlines around the world are in need of liquidity. Alvo pointed at Virgin Atlantic and Norwegian as examples of airlines making similar requests.
Alvo's comments were dismissed by Chile's economy minister (see other table).
CNN Chile
3/17/2020
Lufthansa Group
Germany
"The longer this crisis lasts, the more likely it is that the future of aviation cannot be guaranteed without state aid." CEO Carsten Spohr said during the 2019 Annual Report announcement.
Earlier, Spohr said in a video to staff seen by Reuters that "We have decided to speak to the governments of our home countries not only about easing burdens as before but also about active support when this becomes necessary." Lufthansa's request for state aid contrasts with its criticism of state airline rescues as early as January this year, when Lufthansa criticised state-owned Polish airline LOT's takeover of Germany's Condor.
Lufthansa
3/19/2020
Malta Business Bureau
Malta
The Malta Business Bureau called on the Maltese government to make full use of a relaxation of state aid rules by the EU, making special mention to airlines including Air Malta.
In addition to Air Malta, Malta is also home to several charter airlines and Ryanair subsidiary Malta Air.
Malta Today
3/17/2020
oneworld, SkyTeam and Star Alliance
Global
The three airline alliances issued a joint statement calling on governments and stakeholders to take action to "alleviate the unprecedented challenges faced by the global airline industry amid the COVID-19 pandemic".
The three global alliances represent 60 of the world's largest airlines and represent approximately 55% of the world's capacity in ASKs.
SkyTeam
3/16/2020
SAS
Sweden
SAS chief Rickard Gustafson told newspaper Dagens Naeringsliv that he does not believe all airlines will survive without state aid. The airline will see state emergency aid.
SAS, which is part-owned by Sweden and Denmark, has halted most flights and temporarily laid off 90% of staff.
Dagens Naeringsliv
3/11/2020
Swiss International Airl Lines (SWISS)
Switzerland
SWISS CEO Thomas Klühr told the Sonntagsblick newspaper that he counts "on the fact that the Federal Council is aware of the importance of SWISS," indicating hopes the Swiss state will step in to help the airline deal with the impact of the coronavirus. In a separate statement at a SWISS news conference on 19th March, he said "we must assume that all of Europe's airlines will need state support"
SWISS is part of the Lufthansa Group, which is activately encouraging governments to support airlines.
Swissinfo.ch
3/15/2020
TUI Group
UK / Germany
TUI Group, the parent company of the TUI group of airlines, has "decided to apply for state aid guarantees to support the business until normal operations are resumed."
The group said it has cash and available facilities of approx. 1.4bn euros ($1.52 billion).
TUI Group
3/15/2020
Virgin Atlantic
United Kingdom
Virgin Atlantic has appealed to the UK government for support for the UK aviation sector, not just itself, comprising: Emergency credit facilities to a value of £5-7.5bn ($5.8-8bn) and slot alleviation for the full summer 2020 season
Virgin's request comes after the UK gave defunct carrier Flybe, backed by Virgin, a 106 million pounds ($138 million) in levied passenger duties in January. This request and the latest plea by Virgin have been critised by rival IAG.
Virgin Atlantic
3/17/2020
Ishka research
Ishka research, sources listed in the table
Click here to download the tables.
The scale of demands and the geographical spread is unprecedented. In the case of the US, they far exceed the post-9/11 package approved by the US congress, which comprised $5 billion in grants and up to $10 billion in loan guarantees.
Government offers
The table below lists the offers of support (or hints at the possible provision of state aid) by 14 nations including the US as well as the European Union, which acts on behalf of 27 member countries.
State support for airlines as of 19th March 2020
Government / authority
Comments or policy announcement
Context
Source
Date
Australia
Australian federal government unveiled airline relief measures made up of refunds and waivers of fuel excise, Airservices charges and regional security fares totalling A$715 million ($424.3 million), including an upfront benefit of A$159 million ($94.3 million) which would reimburse the charges paid by domestic airlines from the beginning of February.
The Qantas Group (including Jetstar) is slashing all international capacity and 60% of domestic capacity until the end of May. Virgin Australia has suspended all international traffic until mid-June and reduced domestic capacity by 50%.
AFR
3/18/2020
Brazil
A spokesman for Brazil's Infrastructure Ministry said details of the aid for airlines were still being worked out on 17th March.
Earlier, Brazilian economy minister Paulo Guedes said the government has postponed aviation tax collection for three months.
Reuters
3/17/2020
Chile
Chile economy minister Lucas Palacio told local news outlet Emol that it was "wishful" thinking for LATAM to be asking for state support. "I don't think they [LATAM] should be on TV asking for state help."
Incoming LATAM CEO Roberto Alvo had earlier said in a TV interview in Chile that LATAM had asked the countries in which it operates for help to overcome the Covid-19 crisis.
Emol
3/17/2020
China
China's aviation authority, the CAAC, announced in early March a series of financial measures to encourage airlines to resume services. All qualifying international scheduled passenger services will receive CNY0.0176 ($0.003) per available seat kilometre (ASK) for routes that are operated by multiple airlines and CNY0.0528 ($0.01) per ASK if operated by one airline; The scheme will apply to all services up to 30th June.
See Insight: 'Coronavirus prompts Chinese airlines to seek rental holidays'
CAPA
3/4/2020
European Commission
The European Commission (EC) has granted the temporary suspension until June 2020 of the 80-20 "use it or lose it" rule for airport slots. The EC is set to give member states increase flexibility with budget deficits and state aid.
The relaxation of slot use rules until June allow airlines to begin putting in place measures to cope with the fall in traffic, but IATA has noted it is a shorter period than airlines had requested (to October).
IATA, EC
3/10/2020
EU Transport Ministers
European Union transport ministers from the 27 member countries agreed to consider providing financial assistance for transport operators during an emergency video conference on 18th March.
A4E demands (see separate table) were directed at this meeting. The association, together with IATA, reacted in "dismay" at the lack of introduction of an "emergency amendment to Regulation 261" to erase passenger compensation for passengers at this current time and which could have provided flexibility for airlines to offer rebooking or vouchers instead of refunds.
IATA, A4E, NHK
3/18/2020
France
French finance minister Bruno Le Maire, commenting on the possibility of France increasing its stake on Air France-KLM beyond its current 14.3, said "it goes without saying that we will not take any decision (...) without close consultation with our Dutch partner."
Le Maire previously said France would "help all companies in which the state has a stake… Whatever it costs we will be at their side."
La Tribune
3/18/2020
Italy
Government has announced the re-nationalisation of Alitalia under an emergency rescue plan which also includes €600 million of additional funding for the airline.
Alitalia has been a loss-making carrier for many years and was in the (frequently adjourned) process of being sold.
AFP
3/17/2020
Korea Development Bank
The state-owned KDB is consdering lending up to KRW400 billion ($326 million) in unsecured loans to the seven South Korean LCCs to be distributed based on their cash reserves. Separately KDB and the Export-Import Bank of Korea will lend KRW200 billion ($163 million) to support the acquisition of Eastar Jet by Jeju Air.
See Insight: 'Coronavirus: South Korean airlines take further financial hit'
Seoul Economic Daily via Ch-Aviation.com
3/17/2020
New Zealand
The New Zealand governmand has offered a NZ $900 million ($524.3 million) to Air New Zealand. The airline will be able to call on the loan if its cash reserves fall below an undisclosed level over the next two years, and the government - which already owns 52% of the company - will have the ability to turn the loan into shares in the airline. The loan facility will be provided in two tranches: one of $600m ($349.5 million) with an effective interest rate initially expected to be between 7% and 8%, and a second tranche of $300m ($174.7 million) with an effective interest rate expected at 9%.
Air New Zealand plans to reduce long-haul capacity by 85% through to June 30. and will only operate minimal repatriation services. Trans-Tasman services have been reduced by 80% over the same period.
RNZ
3/19/2020
Norway
Norway has granted a tax cut to Norwegian and on 19th March it announced a guarantee package of NOK 6 billion ($552 million) that will limit some of the damage to air transportation. NOK 3 billion ($276 million) of the guarantee package will be allocated to Norwegian. The government has also introduced temporary exemptions for three months from the Competition Act for Norwegian and SAS to cooperate.
On 16th March Norwegian announced it would cancel 85% of flights, temporarily lay off 7,300 staff. CEO Jacob Schram said "We appreciate that the authorities of Norway have communicated that they will implement all necessary measures to protect aviation in Norway." On 13th March Schram said the airline was in need of further liquidity and asked for solutions "to come quickly."
NTB, Check-in.dk
3/19/2020
Portugal
No announcement yet, but Portuguese newspaper Expresso reports the central government is contemplating helping carriers in Portugal following increased flexibility from Brussels on budget deficits and state aid.
TAP Portugal has announced increased flexibility for customers to change bookings but it is yet to announce any significant capacity cuts, other than flights to the US.
Expresso.pt
3/17/2020
Russia
Moscow has promised to unlock the equivalent of $4 billion to help businesses withstand the coronavirus pandemic, especially in the tourism and aviation sectors, by allowing them to defer tax payments.
Flagship carrier Aeroflot said it is under "enormous financial pressure" while UTair is in a "particularly difficult situation", according to Alexander Neradko, the head of the federal air transport agency Rosaviation.
AFP
3/17/2020
Taiwan
Taiwan's civil aviation regulator said its airlines could apply for subsidies and loans backdated to 15th January.
A report on the Taipei Times on 19th March said EVA and China Airlines, Taiwan's biggest carriers, expected operations to deteriorate until the next quarter due to negative travel advisories and Taiwan's ban on foreign visitors.
Reuters
3/14/2020
United Kingdom
UK Transport Secretary Grant Shapps has chaired talks with Britain's airlines and airports about a potential multibillion-pound rescue plan. A senior source said it was being made clear to airlines that any assistance would be conditional on ensuring critical routes remain open. Chancellor Rishi Sunak said on 17th March that the government was discussing "a specific potential support package for airlines and airports."
Talks follows Virgin Atlantic's plea for state support (see other table).
The Guardian
3/19/2020
United States
President Trump on 16th March: "We are going to back the airlines 100%." Commenting on A4A's request for $25b and $4b grants for passenger and cargo airlines, he said "We're going to be looking at it very strongly." A republican proposal introduced in the US Senate on 19th March would grant up to $58b in secured loans for airlines, but bars cash grants and could result in the government getting equity stakes.
The $50 billion in grants and loans for US passenger airlines demanded by A4A (see separate table) is greater than the approximately $38 billion in operating revenue by the four largest US airlines in Q4 2019 (Delta, American Airlines, United and Southwest).
The White House, Reuters
3/16/2020
Ishka research
Ishka research, sources listed in the table
Click here to download the tables.
Reality: Airlines have less than 3 months of cash
So what is the level of urgency? According to IATA, most airlines (over 75%) around the world had less than three months of cash and equivalents at the start of 2020 as a ratio of non-avoidable costs (see chart below). As of 17th March, markets with more than 10 cases of Covid-19 covered 94% of global passenger revenues.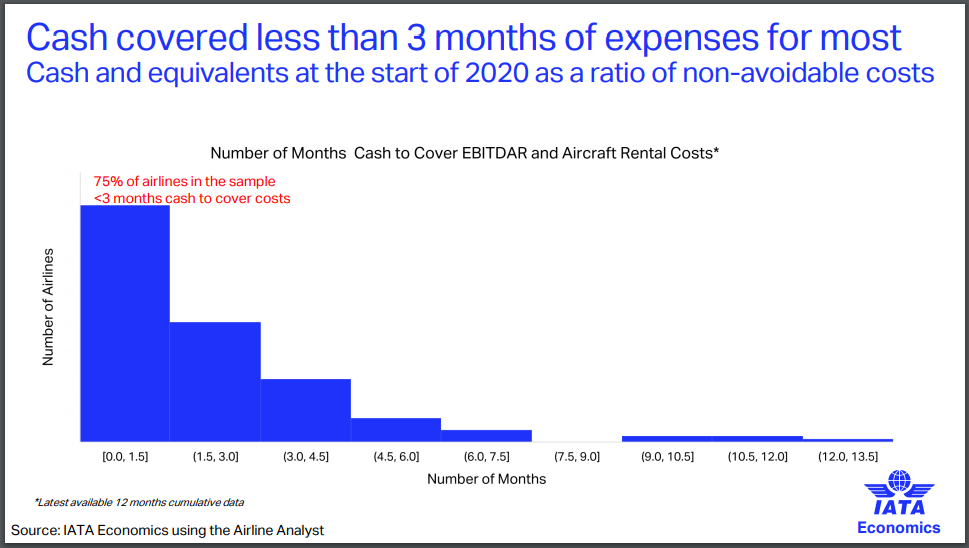 Source: COVID-19, Airlines' Liquidity Crisis. 17th March 2020 Presentation, IATA.
IATA proposes three ways in which governments can help the airline industry, many of which have already been expressed by airlines or offered by governments featured in the tables above. They are:
- Direct financial support for carriers to compensate for reduced revenues, and therefore support liquidity due to travel restrictions imposed as a result of Covid-19;
- Loans, loan guarantees and support for the corporate bond market by the Government or Central Bank, either directly to the airline or to commercial banks that may be reluctant to extend credit to airlines in the present situation in the absence of such a guarantee.
- Tax relief: Rebates and/or suspension on all employer imposed payroll taxes paid to date with an ongoing review for the rest of 2020, deferral or reduction in income taxes to date in 2020 and/or an extension of payment terms for the rest of 2020, along with a temporary waiver of ticket taxes and other Government-imposed levies.
IATA estimates airlines urgently need $150 billion to $200 billion in capital to overcome the Covid-19 crisis. Coincidentally, this estimate sits close to the share value lost by airlines. A Reuters analysis published on 18th March shows the Covid-19 pandemic has wiped 41%, or $157 billion, off the share value of the world's 116 listed carriers.
The Ishka View
State financial support will be crucial for the survival of most airlines around the world whether in the form of capital injections on loan guarantees. Ishka believes IATA estimates are only likely to grow, considering that the association's $113 billion global revenue hit projection from 5th March was based on passenger traffic declines up until that point. Things have gotten much worse since, particularly in Europe and North America.
Requests by airlines for state aid will not be without controversy. Before the Covid-19 crisis, the sector was already under heavy scrutiny for its cosy fiscal allowances. In addition, the aviation sector as a whole was being also being scrutinised for its impact on the environment. The fact that many of the airlines requesting financial support have spent years using profits for share buybacks and to pay out attractive dividends to shareholders has also not gone unnoticed by critics.
While still early in this crisis, Ishka wonders whether bailouts in the coming days or weeks will be followed, in the medium to long-term, by new regulations requiring airlines to retain additional capital. Following the 2008 US bank bailout, the public has grown understandably weary of public bailouts, and it would be reasonable to expect some degree of backlash at similar measures now. In addition, carriers who have insisted on staff taking unpaid leave, and which have unionised workforces, should expect demands for higher compensation once those airlines return to profitability.