Covid-19: Airline demands vs government support (26th March)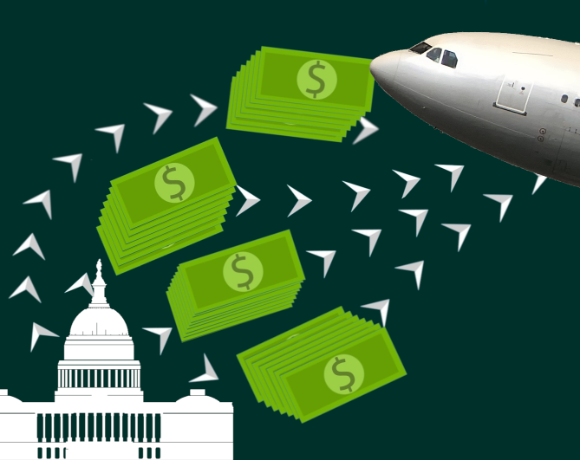 UPDATE: This report was updated on 27th March to include Finland's state guarantee for Finnair.
Ishka updates and expands last week's summary of airline demands for state support and bailout offers by governments around the world.
The tables below include airlines and industry groups representing operators of over half of the world's commercial aircraft in service.
Ishka estimates that, including unconfirmed reports, governments are preparing or executing close to $70 billion in bailouts for airlines around the world based on reports collected so far. Most of that is the $58 billion for US airlines included in the $2 trillion relief package bill being passed by the US Congress.
Airline requests
The table below lists the demands (or hints at possible need for state aid) by 18 carriers and airline groups as well as 14 trade associations and industry groups, including the three largest airline alliances and largest regional airline associations. Collectively, the airlines represented operate the vast majority of the world's passenger aircraft.
Airline demands for state support as of 26th March 2020
Airline
Country
Comments or demands
Context
Source
Date announced or published
Air Belgium
Belgium
Air Belgium will request support from the Belgian government for several million euros. "We cannot survive without it," CEO Niky Terzakis said as quoted by Belgian newspaper HLN.
Air Belgium is a small scheduled and charter airline with a fleet of four A340-300 aircraft.
HLN
3/23/2020
Airlines for America (A4A) - trade association
United States
A4A will see most of its recent demands met when the US House of Representatives passes a coronavirus financial stimulus package bill into law. The package includes $58 billion for airlines (see State Support table). On 21st March, A4A member CEOs urged Congress to move swiftly to pass the bill to ensure jobs are saved, otherwise airlines would be forced to furlough workers. The CEOs highlighted that over the previous decade "73% of their operating profits" were reinvested back into their "people and product." They also warned debt markets "are closing up." More importantly, the CEOs said that if the loans and/or loan guarantees are enacted, carriers will commit to "placing limits on executive compensation, eliminating stock buy backs over the life of the loans, and eliminating stock dividends over the life of the loans."
The bill satisfies A4A's recent key demands: grants of up to $25 billion for US passenger airlines and up to $4 billion to US cargo airlines as well as equally-sized loan guarantees, for a total of $58 billion. The 21st March letter was signed by the CEOs of: Alaska Air, American Airlines, Atlas Air, Delta Air Lines, FedEx Express, Hawaiian Airlines, JetBlue Airways, Southwest Airlines, United Airlines, UPS Airlines as well as the A4A CEO.
A4A
3/21/2020
Airlines for Europe (A4E) and European Regions Airline Association (ERA) - trade associations
Europe
[Unchanged since last update] A4E's demands are: 1) Deferment or waiver of aviation taxes at EU or national level, including provisions applicable to aviation in the Energy Taxation Directive (Council Directive 95/60/EC). 2) EU261 clarity: Immediate clarity for airlines and passengers on COVID-19 counting as an extraordinary circumstance under Regulation 261/air passenger rights 3) Slot rule: Waiver of the 80/20 airport slots rule beyond the summer 4) "stimulus package" from EU funds for airlines via guarantees or credit facilities
A4E members account for more than 70% of Europe's air journeys. They include Aegean Airlines, airBaltic, Air France-KLM, Cargolux, easyJet, Finnair, Icelandair, IAG Group, Jet2, Lufthansa Group, Norwegian, Ryanair Holdings, Smartwings, TAP Air Portugal, TUI Group, and Volotea.
A4E - Open letter to EU Transport Ministers
3/18/2020
Airlines UK
United Kingdom
In a letter from Airlines UK to transport secretary Grant Shapps seen by Sky News the industry group urged the government to suspend - rather than defer - air passenger duty payments for six months and waive ATC and CAA charges. It also repeated a call (shared by A4E) for a moratorium of claims under the EU261 passenger rights regulation. In the letter Airlines UK said carriers should also be permitted to issue vouchers instead of refunds and, should refunds be required, carriers should be permitted to defer payment until the crisis period is over. Separately, in a letter published in its website, Airlines UK "welcomes" the prior announcement that the UK government will enter into negotiations with individual airlines seeking bespoke support, and underlined it is "essential" that the economy-wide measures announced so far are "implemented as quickly as possible" to support airlines.
Airlines UK members include British Airways, DHL, EasyJet, Jet2, Norwegian, Ryanair, TUI Airways, Virgin Atlantic and Titan Airways. KLM is an associate member.
Airlines UK, Sky News
3/25/2020
ALTA (Latin American and Caribbean Air Transport Association)
Latin America
ALTA made the following requests to governments in its region: 1) Provide financial relief to the industry by injecting cash flow and reducing and/or waiving taxes, fees and charges to airlines, airports, air navigation providers and services associated with air transport operations that together would support the return of flights 2) Facilitate debt renegotiation, refinancing and credit lines 3) Adjust working conditions as a contingency measure and relieve social charges 4) Facilitate cargo traffic by streamlining administrative work and reducing costs 5) Flexibility of rules so that the industry can quickly operate after the contingency is over
ALTA represents "90 percent of the region's commercial air traffic." The latest letter seeks to reiterate ALTA's message to governments on 6th March, when they asked for states to work with the air travel industry to "guarantee its viability," including relaxing slot rules, reducing taxes and other levies. Speaking to Reuters on 17th March, ALTA chief Luis Felipe de Oliveira said he has been sending letters to regional governments and called for "drastic and immediate action."
ALTA, Reuters
3/24/2020
American Airlines
United States
"We will continue to look at ways to ensure we're in the best financial shape possible. That includes engaging in conversations with the U.S. government about the need for financial assistance to protect the U.S. airline industry." "The government is solidly behind American and our industry, and we are grateful. To that end, [CEO] Doug [Parker] remains in Washington, D.C., along with other airline CEOs, making the case for an aid package. Team member needs and our future are at the forefront of his motivation as he does this work, and more information will be coming soon." - 8-K Filing on 19th March.
Parker's comments marked a change in the position of American Airlines. Just nine days earlier, Parker said during a JPMorgan Industrials conference call that while in Washington in the first week of March to meet with President Trump " not one CEO asked for government financial relief. Rather, we asked how we can work together with our government to help the United States avoid becoming paralyzed with fear."
Company Filings
3/19/2020
Arab Air Carriers' Organization (AACO)
Middle East and North Africa
AACO is calling on Arab governments to adopt 1) tax relief for airlines for a period of two years 2) speedy financial support packages for airlines to retain workers 3) government-supported grace period from paying lenders and suppliers 4) exempt airlines from paying user charges at airports and air navigation service providers 5) exempt airlines from passenger rights regulations 6) suspend slot rules in Arab airports 7) compensate airlines for net costs of sanitisation and monitoring to contain the spread of the virus
AACO represents 33 airlines in the Middle East and North Africa, including EgyptAir, Air Arabia, Emirates, Etihad, Flydubai, Flynas, Gulf Air, Kuwait Airways, MEA, Oman Air, Qatar Airways, Royal Air Maroc, Royal Jordanian and Saudia
AACO
3/19/2020
Association of Asia Pacific Airlines (AAPA)
Asia-Pacific
AAPA says Asia-Pacific airlines are facing revenue shortfalls of more than $60bn this year. It has called on governments to "rapidly" implement emergency relief measures such as: 1) suspension of payroll taxes, deferment or reduction in income taxes, extension of payment terms, waiver of ticket taxes & other government levies, taxes, dues and charges for 2020 2) Direct financial support for reduced revenues and liquidity support due to travel restrictions 3) Extension of interest-free loans or loan guarantees, and support for corporate bond markets either directly or to commercial banks to extend credit for affected companies 4) Direct financial support for individuals facing loss of livelihoods
AAPA's 15 airline members are: Air Astana, ANA, Asiana Airlines, Bangkok Airways, Cathay Pacific, China Airlines, Eva Air, Garuda Indonesia, Japan Airlines, Korean Air, Malaysia Airlines, Philippine Airlines, Royal Brunei, Singapore Airlines and Thai Airways
AAPA
3/19/2020
Air Transport Association of Canada (ATAC)
Canada
In a letter to the government, ATAC made an "urgent appeal for immediate government financial support to the air transport industry of Canada." Without state aid, it warned, Canadian carriers could go bankrupt "in the near term." ATAC requested an emergency call with senior decision makers to discuss financial aid for "all air carriers."
ATAC members include Chorus Aviation, Flair Airlines, Inuit Air, Sunwing and around 70 other small operators. Air Canada, WestJet and Air Transat are not part of ATAC.
ATAC
3/16/2020
Azul
Brazil
CEO John Rodgerson was quoted by Brazilian newspaper O Globo as saying that airlines "are not facing management issues, but the collateral effects of a war against a virus," and in backing the need of state support for airlines, pointed at the US plan to facilitate $50 billion in grants and loan guarantees to passenger airlines.
Brazil is reportedly working out a financial assistance package for airlines worth approximately $2 billion (see State Support table).
O Globo
3/24/2020
Brussels Airlines
Belgium
Brussels Airlines, part of the Lufthansa Group, has requested aid from the Belgian State for 200 million euros ($217 million) to avoid bankruptcy in a few months, according to Belgian financial newspapers De Tijd and L'Echo.
Brussels Airlines is part of the Lufthansa Group, which is actively encouraging governments to support airlines. The CEO of parent company Lufthansa Group (see below) has confirmed it is in discussions with the Belgian government about obtaining state support.
Tijd, Lufthansa
3/19/2020
Cathay Pacific
Hong Kong
In an emailed response to the media, Cathay Pacific said the latest HK$1 billion ($129 million) relief package announced by the Hong Kong International Airport Authority is not enough. "We are of the view that significantly more much-needed immediate assistance, which is commensurate with the scale of this crisis, still needs to be provided."
The Airport Authority (AA) on 23rd March launched a HK$1 billion ($129 million) relief package for the "airport community" in the form of a HK$670 million ATC charges waiver for 2019/2020 and a sum of HK$330 million, both from the government. (see State Support table for more information)
Nikkei Asian Review, SCMP
3/25/2020
Delta Airlines
United States
[Unchanged since last update] "We are in discussions with the White House and Congress regarding the support they can provide to help us through this period. I'm optimistic we will receive their support."
Delta Airlines, like other US carriers, is represented by A4A (see A4A demands above).
Company Filings
3/13/2020
El Al Israel Airlines
Israel
In a letter to employees, El Al CEO Gonen Usishkin said that assistance of $200-$300 million from the state is critical for the company. "The state must decide whether it wants a national airline, or whether it believes that aviation security is not an important and substantial element of our national security." Usishkin said the airline's revenue has almost completely dried up due to Israel's border closure. "The government has two alternatives. One is the airline's collapse and the loss of its NIS 2.5 billion ($694 million) contribution to GDP (...) the second alternative is a $200-300 million state loan that will enable El Al to recover and quickly resume regular activity." Previous reports said El Al estimated it would some $700 million to stay afloat.
El Al has not been state-owned since 2005. The beleaguered carrier in early March said it expected revenue to decline by $140-160 million for the period from January to April 2020 as a result of the suspension of multiple lines and declining demand.
Globes, Times of Israel
3/25/2020
European Regions Airline Association (ERA)
Europe
ERA said it is "pleased" that the need for a substantial package for the aviation sector was not overlooked in an EU Transport Ministers meeting on 19th March, but underlined that the ministers "provided no clear and timely decisions" to alleviate the pressures on the aviation industry. It also joined A4E in expressing disappointment that the European Commission did not agree on limiting compensation obligations for airlines under the EU261 regulation.
ERA represents 52 airlines and 148 companies involved in European air transport. The airlines represented include Air Nostrum, ASL Airlines, Air Malta, Binter, Braathens regional Airlines, Eastern Airways, HOP!, KLM Cityhopper, SATA Air Acores and TAP Express.
ERA
3/25/2020
Federation of Norwegian Aviation Industries (NHO Luftfart)
Norway
NHO Luftfart has seen most of its recent demands met. The industry federation had asked the Norwegian government on behalf of airlines for NOK 6 billion to 8 billion ($513 million to $684 million) in state guarantees to help struggling carriers. Most of this would go to Norwegian Air Shuttle. The Norwegian government finally agreed to provide NOK 6 billion (see State Support table).
NHO Luftfart has over 50 member companies employing over 12.000 people in Norway, including airline businesses, helicopter services, airports, technical services, ground handling and other aviation related businesses.
NRK
3/19/2020
IAG
UK / Spain
[Unchanged since last update] IAG CEO Willie Walsh said on an investor call that IAG has NOT asked for state aid. "Governments would expect airlines to look at self help before they would call on governments to provide state aid." He said that IAG would, however, make use of any general state-support for employees where it becomes available.
IAG (British Airways, Iberia, Vueling, Aer Lingus, LEVEL, Air Europa) has been vocal against state support for airlines in the recent past, including the UK government bailout rescue of Flybe in 2019.
Reuters
3/16/2020
Jetblue
United States
[Unchanged since last update] "We have been coordinating with Airlines for America (A4A) and other U.S. airlines to ensure government leaders understand the threat to our global economy if air travel is not supported. When this pandemic passes – and it will – air travel will play a major role in getting life back to normal and supporting economic recovery. We are going to need significant government help to do that"
Statement to employees. Jetblue, like other US carriers, is represented by A4A (see A4A demands above).
Jetblue
3/18/2020
LATAM
Chile / Brazil
[Unchanged since last update, see 'Chile' in the State Support table for more details] Incoming LATAM CEO Roberto Alvo said in a TV interview that LATAM has asked the countries in which it operates help to overcome the Covid-19 crisis, as all airlines around the world are in need of liquidity. Alvo pointed at Virgin Atlantic and Norwegian as examples of airlines making similar requests.
Alvo's comments were dismissed by Chile's economy minister (see other table).
CNN Chile
3/17/2020
Lufthansa Group
Germany
Lufthansa is "in intensive negotiations with policymakers" in Germany, Austria, Switzerland, Italy and Belgium on how to mitigate the consequences of the crisis, including "potential legislative measures to support liquidity," which could include "for example, the deferral of taxes or other fees; the potential use of loans and guarantees, if necessary, which government has made available to those companies most affected by the corona crisis," CEO Carsten Spohr said during the Q4 2019 earnings call on 19th March. Spohr added that if there was a need for Lufthansa to get extra liquidity "obviously, the German government would be ready to extend it to us," but added that that is "not our concern on the next days."
Spohr also said as part of the 2019 Annual Report announcement that "the longer this crisis lasts, the more likely it is that the future of aviation cannot be guaranteed without state aid." Lufthansa's request for state aid contrasts with its criticism of state airline rescues as early as January this year, when Lufthansa criticised state-owned Polish airline LOT's takeover of Germany's Condor.
Seeking Alpha, Lufthansa
3/19/2020
Malaysia Airlines
Malaysia
Malaysia Airlines has asked for support from the government, sources have told Bloomberg. The airline confirmed in an emailed statement late on 25th March that it has been in talks with the government on emergency measures to help airlines sustain through the crisis. The carrier said it has not discussed mergers with other airlines.
The airline is wholly owned by Malaysia's sovereign wealth fund, Khazanah Nasional Bhd.
Bloomberg
3/25/2020
Malta Business Bureau
Malta
[Unchanged since last update] The Malta Business Bureau called on the Maltese government to make full use of a relaxation of state aid rules by the EU, making special mention to airlines including Air Malta.
In addition to Air Malta, Malta is also home to several charter airlines and Ryanair subsidiary Malta Air.
Malta Today
3/17/2020
oneworld, SkyTeam and Star Alliance
Global
[Unchanged since last update] The three airline alliances issued a joint statement calling on governments and stakeholders to take action to "alleviate the unprecedented challenges faced by the global airline industry amid the COVID-19 pandemic".
The three global alliances represent 60 of the world's largest airlines and represent approximately 55% of the world's capacity in ASKs.
SkyTeam
3/16/2020
Qantas
Australia
Qantas CEO Alan Joyce has been critical of suggestions that embattled rival Virgin Australia could receive federal government support, arguing that it should not be propping up one company over others over this crisis. Joyce said assistance should not be offered to businesses that had been "badly managed" and that it would be a case of "survival of the fittest" in the airline sector. Virgin Australia has accused Qantas of spreading rumours that it would collapse.
Australian Prime Minister Scott Morrison and Treasurer Josh Frydenberg have both said nationalising companies was not currently on the Australian government's agenda. The chairman of the Australian Competition and Consumer Commission (ACCC), Rod Sims, said in response to Joyce's statements that Australia has gone "into this crisis with two airlines, we need to come out of this crisis with two airlines."
ABC, Daily Mail Australia
3/24/2020
Regional Airline Association (RAA)
United States
In a letter to the US Congress, the CEOs of RAA members say "time is running out" and called for "an assistance package that relies on secured loans/or excise tax relief" to help the regional airline industry. The CEOs said "the industry will not survive" without help in the form of "direct financial assistance or through unsecured Treasury loans." The CEOs accept that Congress may have conditions "it wishes to impose" such as "sensible restrictions on stock buyback, dividend payments and executive compensation." "We believe there are appropriate conditions for those accepting grants and loans."
The RAA represents 22 regional airlines in the US and Canada. The letter was signed by CEOs of the following airlines: ExpressJet, Envoy Air, Air Wisconsin, Piedmont Airlines, Empire, Trans State Holdings (GoJet, Compass and Trans State), PSA Airlines, Cape Air, Endeavor Air, SkyWest Airlines, Horizon Air, RAVN Alaska, Mesa Airlines, Republic Airlines. Compass and Trans State (operating as United Express) have permanently ceased operations in recent weeks.
RAA
3/20/2020
Regional Airline Association of Australia (RAAA)
Australia
The association says the A$715 million ($425 million) financial assistance package from the Australian government is appreciated but "will not assist an operator who has a grounded fleet" due to mounting fixed costs. For Regional Express, Australia's largest independent regional airline, the package translates into about A$1 million per month, insufficient to cover the A$10 million in weekly losses it expects.
The federal relief measures are made up of refunds and waivers of fuel excise, airservices charges and regional security fares totalling, including an upfront benefit of A$159 million ($94.3 million) in reimbursements for all airlines.
Smart Aviation Asia-Pacific
3/25/2020
Russian Association of Air Transport Operators (RATOA)
Russia
RATOA has pleaded with Russia's transport ministry to take urgent measures to protect Russia's air transport industry from collapse. RATOA's proposed range of measures include waiving value added tax (VAT) payments, boosting state subsidies for regional air travel and the freezing of airport handling fees.
Flagship carrier Aeroflot has said it is under "enormous financial pressure" while UTair is in a "particularly difficult situation", according to Alexander Neradko, the head of the federal air transport agency Rosaviation.
Russian Aviation Insider
3/20/2020
SAS
Sweden
[Unchanged since last update, see 'Denmark/Sweden' in the State Support table for more details] SAS chief Rickard Gustafson told newspaper Dagens Naeringsliv that he does not believe all airlines will survive without state aid. The airline was to seek state emergency aid.
SAS, which is part-owned by Sweden and Denmark, has halted most flights and temporarily laid off 90% of staff.
Dagens Naeringsliv
3/11/2020
Swiss International Air Lines (SWISS)
Switzerland
[Unchanged since last update] SWISS CEO Thomas Klühr told the Sonntagsblick newspaper that he counts "on the fact that the Federal Council is aware of the importance of SWISS," indicating hopes the Swiss state will step in to help the airline deal with the impact of the coronavirus. In a separate statement at a SWISS news conference on 19th March, he said "we must assume that all of Europe's airlines will need state support"
SWISS is part of the Lufthansa Group, which is activately encouraging governments to support airlines. The CEO of parent company Lufthansa Group (see above) has confirmed it is in discussions with the Swiss government about obtaining state support.
Swissinfo.ch
3/15/2020
TUI Group
UK / Germany
[Unchanged since last update] TUI Group, the parent company of the TUI group of airlines, has "decided to apply for state aid guarantees to support the business until normal operations are resumed."
The group said it has cash and available facilities of approx. 1.4bn euros ($1.52 billion).
TUI Group
3/15/2020
Virgin Atlantic
United Kingdom
Virgin Atlantic founder Richard Branson has committed to investing $250 million into his companies, including Virgin Atlantic. The airline previously appealed to the UK government for support for the UK aviation sector, not just itself, comprising: Emergency credit facilities to a value of £5-7.5bn ($5.8-8bn) and slot alleviation for the full summer 2020 season.
Virgin's request comes after the UK gave defunct carrier Flybe, backed by Virgin, a 106 million pounds ($138 million) in levied passenger duties in January. This request and the latest plea by Virgin have been critisised by rival IAG.
Virgin Atlantic
3/22/2020
Wizz Air
Hungary
Wizz Air CEO József Váradi stated that "this situation is posing a significant threat on the aviation industry and we call on governments to take non-discriminatory steps which will benefit all airlines. This will enable an industry and environment that is healthy, efficient and more environmentally sustainable and will serve passengers through enhancing the mobility of people."
In the same operational update, Wizz Air, one of the strongest LCC credits, said it is "confident in its ability to survive even a potential prolonged grounding substantially beyond the current estimates for the impact of COVID-19 in Europe" given the "significant balance sheet strength and liquidity" of the company.
Wizz Air
3/23/2020
Ishka research
Click here to download the tables.
Government offers
The table below lists the offers of support (or hints at the possible provision of state aid) by 20 nations and state entities as well as the European Union, which acts on behalf of 27 member countries.
State support for airlines as of 26th March 2020
Government / authority
Comments or policy announcement
Context
Source
Date announced or published
Australia
[Unchanged since last update] Australian federal government unveiled airline relief measures made up of refunds and waivers of fuel excise, Airservices charges and regional security fares totalling A$715 million ($424.3 million), including an upfront benefit of A$159 million ($94.3 million) which would reimburse the charges paid by domestic airlines from the beginning of February.
The Qantas Group (including Jetstar) is slashing all international capacity and 60% of domestic capacity until the end of May. Virgin Australia has suspended all international traffic until mid-June and reduced domestic capacity by 50%.
AFR
3/18/2020
Brazil
Brazil's national development bank BNDES is open to providing support for the country's airlines to restructure but is unwilling to assume any of their debt load, bank CEO Montezano said on 23rd March. Brazilian newspaper O Globo reported a day later that the support of BNDES for airlines would be in the region of R$ 10 billion ($2 billion) and that airlines will not be able to use the money to repay existing loans or lessor aircraft rentals.
Earlier, Brazilian economy minister Paulo Guedes said the government has postponed aviation tax collection for three months.
O Globo, Reuters
3/24/2020
Chile
Chilean broadcasted Canal 13 reported on 26th March that LATAM is in discussions with the Chilean government about obtaining state loan guarantees modelled after similar measures in the US. Separately, the president of Chile's Confederation of Production and Commerce (CPC), the domed chartered body of Chilean business, said on 23rd March that LATAM, unlike other Chilean businesses, has the ability to source new debt and capital and should prioritise that before requesting state support.
Active discussions between the government and LATAM would represent a departure from the Chilean government's position only a week ago. Chile economy minister Lucas Palacio had told local news outlet Emol that it was "wishful" thinking for LATAM to be asking for state support. "I don't think they [LATAM] should be on TV asking for state help." Incoming LATAM CEO Roberto Alvo had earlier said in a TV interview in Chile that LATAM had asked the countries in which it operates for help to overcome the Covid-19 crisis (see Airline Demands table).
T13, La Tercera, Emol
3/26/2020
China
[Unchanged since last update] China's aviation authority, the CAAC, announced in early March a series of financial measures to encourage airlines to resume services. All qualifying international scheduled passenger services will receive CNY0.0176 ($0.003) per available seat kilometre (ASK) for routes that are operated by multiple airlines and CNY0.0528 ($0.01) per ASK if operated by one airline; The scheme will apply to all services up to 30th June.
See Insight: 'Coronavirus prompts Chinese airlines to seek rental holidays'
CAPA
3/4/2020
Denmark / Sweden
The governments of Sweden and Denmark are offering credit guarantees 3 billion Swedish kronor ($302 million) to enable SAS to borrow money on the commercial market. In addition to the backing for SAS, Sweden's government also announced a further 3.5 billion Swedish kronor ($350 million) in credit guarantees for other airlines.
Sweden and Denmark own nearly 30% of SAS.
Forbes
3/18/2020
European Commission
The European Commission (EC) has extended the temporary suspension of the 80-20 "use it or lose it" airport slot rule until October. The EC is also set to give member states increase flexibility with budget deficits and state aid.
The relaxation of slot use rules until October, not June as announced earlier in March, complies now with what the airlines had requested. The measure will give carriers more flexibility to cope with the fall in traffic.
IATA, EC
3/20/2020
European Parliament (Tourism Task Force Members of the Transport and Tourism Committee)
The task force is calling on the EU Commissioner for Transport to "take into consideration the travel and tourism sector" when it comes to "all kinds of financial support" under the existing financial instruments and the new Coronavirus Response Investment Initiative (CRII).
National operational programmes under the CRII would then be adapted, where necessary, to channel the funding towards areas and sectors particularly affected in the current circumstances.
European Parliament, Eurocities
3/24/2020
EU Transport Ministers
[Unchanged since last update] European Union transport ministers from the 27 member countries agreed to consider providing financial assistance for transport operators during an emergency video conference on 18th March.
A4E demands (see separate table) were directed at this meeting. The association, together with IATA, reacted in "dismay" at the lack of introduction of an "emergency amendment to Regulation 261" to erase passenger compensation for passengers at this current time and which could have provided flexibility for airlines to offer rebooking or vouchers instead of refunds.
IATA, A4E, NHK
3/18/2020
Finland
Finnish MPs are expected to approve a €600 million ($660 million) state guarantee to flag carrier Finnair.
Finnair is majority-owned (55.8%) by the Finnish state.
Yle.fi
3/20/2020
France
A Bloomberg report on 21st March said Air France-KLM and Airbus were poised to tap French government-backed loans, according to "people familiar with the matter."
Three days earlier, French finance minister Bruno Le Maire commented on the possibility of France increasing its stake on Air France-KLM beyond its current 14.3, saying "it goes without saying that we will not take any decision (...) without close consultation with our Dutch partner." Le Maire previously said France would "help all companies in which the state has a stake… Whatever it costs we will be at their side."
Bloomberg, La Tribune
3/21/2020
Italy
The Italian government plans to take control of Alitalia in a month or so, creating a new company that will start off with a smaller fleet of 25-30 aircraft, union sources told Reuters on 23rd March. A meeting between the industry, transport and labour ministers and the airline's unions is scheduled for 30th March, according to the USB union.
This follows unconfirmed reports that the Italian government could re-nationalise Alitalia under an emergency rescue plan which would also include €600 million ($649 million) of additional funding for the airline. Alitalia has been a loss-making carrier for many years and was in the (frequently adjourned) process of being sold.
Reuters, AFP
3/23/2020
Hong Kong
The Airport Authority (AA) launched a HK$1 billion ($129 million) relief package for the "airport community" in the form of a HK$670 million ATC charges waiver for 2019/2020 and a sum of HK$330 million, both from the government. For the airlines, it includes full waiver for five months on parking and airbridge fees for idle passenger aircraft, and 40% reduction of passenger aircraft landing charges for four months, among other relief measures for airlines covering ramp handling, maintenance and airside vehicle-related fees.
The latest package follows two others by the AA in September 2019 and February 2020, amounting to about HK$1.6 billion, to help airlines and other airport stakeholders cope with the 2019-20 Hong Kong protests and the initial Covid-19 outbreak in China.
Hong Kong International Airport Authority
3/23/2020
Korea Development Bank
South Korea's airlines, including Korean Air, Asiana Airlines, JEJU air and Jin Air, met on 19th March to share cases of airline support from overseas governments and shared opinions on proposals for additional support to be submitted to the South Korean government, according to a KBS report shared by CAPA.
The state-owned KDB is considering lending up to KRW400 billion ($326 million) in unsecured loans to the seven South Korean LCCs to be distributed based on their cash reserves. Separately KDB and the Export-Import Bank of Korea will lend KRW200 billion ($163 million) to support the acquisition of Eastar Jet by Jeju Air.
Seoul Economic Daily via Ch-Aviation.com, CAPA
3/19/2020
Malaysia
Malaysia is "exploring the possibility" of bailing out domestic airlines, according to Bloomberg sources. The ideas include setting up a vehicle to take over the debt of Malaysia Airlines and the AirAsia Group.
Malaysia Airlines is owned by a sovereign wealth fund while the AirAsia Group, one of Asia's largest private low-cost airlines, announced on 26th March it was to ground most of its fleet. AirAsia's long-haul subsidiary, AirAsia X, has reportedly put off aircraft rental payments since February.
Bloomberg
3/25/2020
New Zealand
"Air NZ CEO Greg Foran says doesn't want to speculate on potential for complete renationalisation of Air NZ. He says he'll worry about that if necessary after the period of "a few months," which the $900m loan covers." -- tweet by Bernard Hickey, managing editor of New Zealand online news publication Newsroom Pro.
The New Zealand government has offered a NZ $900 million ($524.3 million) to Air New Zealand. The airline will be able to call on the loan if its cash reserves fall below an undisclosed level over the next two years, and the government - which already owns 52% of the company - will have the ability to turn the loan into shares in the airline. The loan facility will be provided in two tranches: one of $600m ($349.5 million) with an effective interest rate initially expected to be between 7% and 8%, and a second tranche of $300m ($174.7 million) with an effective interest rate expected at 9%.
Bernard Hickey, RNZ
3/20/2020
Norway
Norway on 19th March announced a guarantee package of NOK 6 billion ($552 million) that will limit some of the damage to air transportation. NOK 3 billion ($276 million) of the guarantee package will be allocated to Norwegian, of which the airline has now received the first NOK 300 million ($27.5 million). A condition for receiving the initial amount was that commercial lenders were willing to supply 10%, which to Nordic banks agreed to. The airline is also reportedly in talks with leasing companies, including DP Aircraft, and other creditors to meet the government requirements for the rescue package. A tranche of 1.2 billion crowns is dependent on creditors postponing instalments and scrapping interest payments for as long as the guarantee lasts. Norwegian on 26th March requested that financial creditors will not receive debt service or payments during the forbearance period for this tranche, which will end on 30th June.
The Norwegian government has also introduced tax cuts for airlines and exempted Norwegian and SAS from abiding by the Competition Act for three months to allow cooperation between the carriers. On 16th March, Norwegian announced it would cancel 85% of flights, temporarily lay off 7,300 staff. CEO Jacob Schram said "We appreciate that the authorities of Norway have communicated that they will implement all necessary measures to protect aviation in Norway." On 13th March Schram said the airline was in need of further liquidity and asked for solutions "to come quickly."
Reuters NTB, Check-in.dk, Company Filings
3/24/2020
Portugal
The central government is reportedly likely to firs provide guarantees for loans for TAP Portugal, the country's largest airline, to then be followed by capital injections if required, Portuguese newspaper Expresso reports. Newspaper Publico reports an announcement is due this week.
TAP Portugal is 50% owned by the Portuguese state, 5% by workers and the remaining stake by airline entrepreneur David Neeleman, sister airline Azul (also partly owned by Neeleman), and Portuguese entrepreneur Humberto Pedrosa.
Expresso.pt, Publico
3/22/2020
Russia
VTB Leasing, the lease-finance arm of state-controlled VTB Bank, has granted Aeroflot a grace period from April through to the end of September for lease payments on 67 aircraft - 19% of Aeroflot's entire fleet. These include aircraft Aeroflot subsidiaries Pobeda Airlines, Rossiya Airlines and Aurora Airlines. The subsequent pending debt would be fully paid off in July 2021, in the middle of next year's high season. Aeroflot was also reported to be negotiating lease payment deferrals with other lessors, including Sberbank Leasing, GTLK and AviaAM Leasing.
Moscow has also promised to unlock the equivalent of $4 billion to help businesses withstand the coronavirus pandemic, especially in the tourism and aviation sectors, by allowing them to defer tax payments. Flagship carrier Aeroflot said it is under "enormous financial pressure" while UTair is in a "particularly difficult situation", according to Alexander Neradko, the head of the federal air transport agency Rosaviation.
Russian Aviation Insider, AFP
3/24/2020
Singapore
The Singaporean government will provide S$350 million ($243 million) of support to airlines. Separately, flag carrier Singapore Airlines announced the issue of S$5.3 billion ($3.7 billion) in new equity and raise up to S$9.7 billion ($6.7 billion) on 26th March to bolster liquidity. SIA's largest shareholder (56%) Temasek, a sovereign wealth fund, committed to subscribing to its pro-rata entitlement and backstop the balance.
Singapore Airlines cut its passenger capacity by 96% until the end of April.
CNBC, Singapore Airlines
3/26/2020
Spain
Spanish transport minister Jose Luis Abalos said Iberia "always had and will continue to have" the support of the Spanish government, and admitted to being personally "concerned" about preserving the Spanish identity of Iberia with IAG, an Anglo-Spanish holding company, when asked about the possibility that the UK government could partially nationalise British Airways. Abalos said the Spanish government is in constant contact with Iberia to ensure its liquidity. Abalos said he will call on his EU counterparts to work on a unified policy to support EU airlines.
IAG is incorporated in Spain, where board meetings are held, and is domiciled in Spain for tax purposes. Spain's two largest carriers, Iberia and Vueling, are part of IAG.
El Espanol, Preferente
3/26/2020
Taiwan
[Unchanged since last update] Taiwan's civil aviation regulator said its airlines could apply for subsidies and loans backdated to 15th January.
A report on the Taipei Times on 19th March said EVA and China Airlines, Taiwan's biggest carriers, expected operations to deteriorate until the next quarter due to negative travel advisories and Taiwan's ban on foreign visitors.
Reuters
3/14/2020
United Kingdom
The UK government has told airlines it will only consider stepping in to help them survive the coronavirus crisis once they have explored the possibility of raising capital from other sources including existing investors. "We would expect all companies to be pursuing all possible actions to preserve cash and maximise liquidity, including engaging with shareholders, lenders and the markets, and utilising all available assets and facilities," finance minister Rishi Sunak said in a letter posted by media on Twitter on 24th March. Despite this announcement, the British Airline Pilots Association (BALPA) union released a statement on 25th March saying talks between airlines and the government were "ongoing."
UK Transport Secretary Grant Shapps has chaired talks with Britain's airlines and airports about a potential multibillion-pound rescue plan. A senior source said it was being made clear to airlines that any assistance would be conditional on ensuring critical routes remain open. Chancellor Rishi Sunak said on 17th March that the government was discussing "a specific potential support package for airlines and airports." On 19th March, Sky News reported that the government had drafted in financial advisory firm Rothschild to advise ministers on the package of measures.
Reuters, BALPA, The Guardian, Sky News
3/25/2020
United States
The US Senate voted late on 25th march to a approve a $2 trillion coronavirus rescue package which includes more than $58 billion for the aviation industry: $25 billion in grants, $25 billion in loans, and $8 billion for cargo carriers in grants and loans. Further aid includes $3 billion in grants for contractors such as caterers and a further $17 billion in loans for companies "critical to maintaining national security" – thought to include Boeing. The bill was expected to pass into law after passing through the House of Representatives on 27th March, where Democrats reportedly intend to include environmental and union demands in exchange for receiving aid. These include offsetting carbon emissions in 2025, reduce their overall emissions by 50% by 2050, designate at least one seat on their boards for a union representative, $15 minimum wage, and a requirement to scrap older aircraft and purchase newer equipment.
The cash grants to airlines will go to cover payroll and other employee costs, according to Reuters sources. The package fulfils the demands of airline lobby group Airlines for America (A4A). President Trump previously expressed willingness to support airlines "100%." The $58 billion package is greater than the approximate $38 billion in operating revenue posted by the four largest US airlines in Q4 2019 (Delta, American Airlines, United and Southwest).
The WOFA, The White House, Reuters, Bloomberg
3/26/2020
Ishka research
Click here to download the tables.
Bailout tally: 35% of IATA's estimate
Government or state-backed support in any form listed in the tables above, including unconfirmed reports such as the €600 million ($649 million) for Alitalia or the R$10 billion ($2 billion) Brazil is reportedly preparing, amount to around $70 billion. Ishka notes this is only an approximation and the figure is likely to change as bailout plans move forward or become updated.
The amount is approximately 35% of IATA's estimate of capital needed by airlines to overcome the Covid-19 crisis – up to $200 billion. Most of the tally, Ishka notes, is the $58 billion for US airlines included in the US $2 trillion relief package bill which the House of Representatives is due to pass into law this week.
The Ishka View
The US package is becoming something of a reference point for airlines aspiring to receive state support. Both the incoming CEO of LATAM and the current CEO of Azul alluded to the US rescue package as an example for their governments to follow in making requests for state aid. Airlines meeting in South Korea to study "overseas cases" also have in the US package a good precedent to bargain for more broad state support. Notwithstanding, the individual circumstances of each state and airline will be the ones to dictate measures going forward.
In many cases, the government is already a key shareholder at many of the airlines and thus is expected to play a more active role in supporting them through this period. Singapore Airlines and SAS are examples of this. Public stakes in airlines could become more common as bailouts progress and that includes in the US. The Wall Street Journal reported on 26th March that Treasury Secretary Steve Mnuchin made such a suggestion during last-minute negotiations at the US Congress. Final confirmation on this, and some of the environmental demands tied to airlines proposed by Democrat lawmakers, will come on 27th March, when the bill is expected to pass into law.
Separately, letters by two groups of airline US airline CEOs (A4A and RAA) in the past week alluded to a prediction posed by Ishka last week: that bailouts could be tied to stricter regulations on how airlines deploy capital, including buybacks and dividends (see Insight: Covid-19: Airline demands vs government support). Anticipating pressure by Congress in this direction, the CEOs of the largest US airlines wrote in an A4A letter to Congress on 21st March that if their loan and loan guarantee demands are met, they will commit to "placing limits on executive compensation; eliminating stock buy backs over the life of the loans; and eliminating stock dividends for the life of the loans." The CEOs stop short of committing to any such measures beyond the length of those loans, however. In contrast, the CEOs of the regional airlines (RAA members), went a little further in their letter to Congress, saying they would "appreciate" if Congress wants to impose "sensible restrictions" on stock buybacks, dividends and compensation – no limits mentioned.