Boeing posts decade's worst Q3 results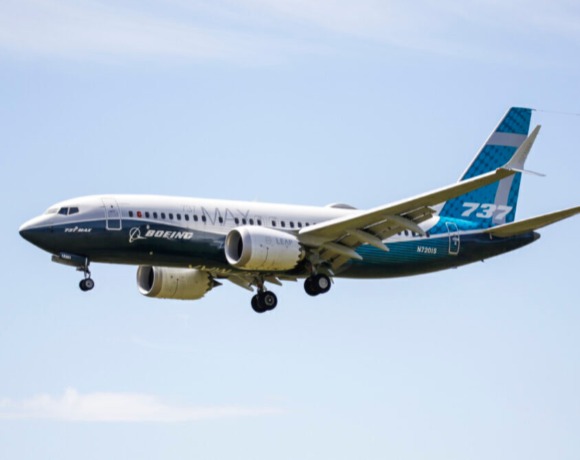 Boeing has reported its worst Q3 results this decade. On every metric supplied, Boeing hit either record lows or highs in what CFO Greg Smith described as "the most difficult [moment] in our company's 100-plus year history."
The OEM is fighting against the double blow of both Covid-19, which CEO David Calhoun predicted would linger over the company for as long as 20 years, and the continued effects of the MAX crisis. Executives also singled out 787 "quality issues" as exacerbating negative cash flows.
Q3 2020 results declined year-on-year (YOY) on every metric except total cash (up 149%) and total consolidated debt (up 147%). Boeing was, however, already deep in the MAX grounding by Q3 2019, posting consistent YOY declines and its first Q3 negative operating cash flow of the decade. Comparing Q3 2020 results to before the two fatal MAX crashes (Q3 2018) shows the full impact of the combined crises on the OEM.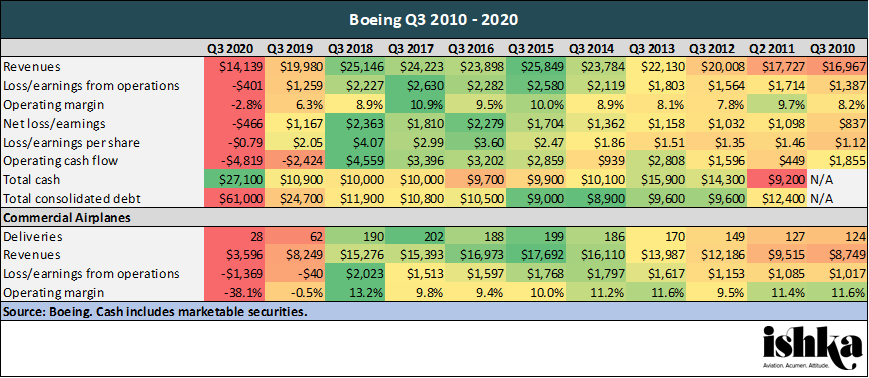 As an example, Boeing has nearly six times the level of debt in Q3 2020 as it had two years' prior ($61 billion versus $11.9 billion). Its operating cash flow is around $9.4 billion lower (-$4.8 billion versus $4.6 billion in Q3 2018), while its overall operating margin is 11.7 percentage points down. On commercial aircraft alone, revenues are down 76% versus 2018 (versus 44% down overall). Q3 2020 deliveries (28 deliveries) are 85% lower than Q3 2018 deliveries (190 aircraft) and 77% below even Q3 2010 levels (124 aircraft).
Correspondingly, Boeing also hit new heights of available cash in Q3 2020 – $27.1 billion or triple both Q3 2019 and 2018's level. Debt, however, remained stable. The planemaker fully drew down its $13.8 billion delayed draw term loan in mid-March and raised a blowout $25 billion in the bond market in April (the world's sixth-largest issuance ever, according to Refinitiv data) after initial hopes of raising only $10 billion to $15 billion. A $9.5 billion bank credit facility remains undrawn.
Despite binging on the debt markets and cash conservation efforts, Boeing expects to be cash flow positive only in 2022. Executives point to the MAX, followed by the 787, as the biggest driving factors here, exacerbated by Boeing's near-term focus on moving its parked fleet, customer-initiated delivery delays and second waves of the virus, Smith explained.
$9.1 billion in MAX concessions
Boeing has now accrued $9.1 billion in concessions and other considerations, its CFO said, with $3.1 billion of cash payments and other forms of concessions made to customers ($500 million in Q3). Smith expects these concessions will continue "over a number of years." Boeing also booked another $590 million of abnormal costs relating to 737 programme this Q3.
Calhoun, however, remains "confident" in the recertification and redelivery timeline, even when prodded by analysts specifically on China. The manufacturer largely held firm on its MAX timeline in its Q3 earnings call. The OEM continues to forecast a restart of deliveries in Q4 2020 and a production ramp up to 31 aircraft per month by the beginning of 2021, with first deliveries being contracted orders that do not require modification.
The pace of deliveries, however, may be slower than anticipated: "We expect to have to remarket some of these aircraft and potentially reconfigure them, which will extend the delivery time frame," said Smith. Boeing now expects to deliver about half of its stored MAXs in 2020 and majority of the remaining in 2021. Currently, 450 MAX aircraft are built and stored in inventory. Calhoun estimated that "more than half" of upcoming MAX deliveries were to customers than have "already been through adjustments" to their delivery timelines.
787: "Quality issues" drive 50-aircraft inventory
Boeing's production is now outpacing deliveries, with Smith highlighting a particularly large number of undelivered 787s. "Most" of the 50-strong 787 inventory is related to "quality issues" and the related necessary rework, said Smith, rather than a lack of airline demand.
The CFO expects deliveries to pick up in 2021, forecasting a "big [Q4 2020]" for 787 deliveries, but admits there is a "real probability" of unsold positions. Boeing announced it would shut down Everett its Washington state 787 productions lines at the beginning of October, consolidating production instead in North Charleston in another move to manage costs. "The reality is that our industry as a whole will simply build less over the coming years," said Smith.
The Ishka View
Some of the hurdles Boeing faces are industry (and world) wide. Calhoun named the virus, specifically its resurgence in Europe, as his chief concern in an CNBC interview – and rightly so, as the world continues to wait for a vaccine. Calhoun was slightly most optimistic in Q3 than Q2 in his predictions for recovery, now expecting a return to 2019 levels in 2023 rather than 2023 to 2024.
Another painful coronavirus-truth for the OEM is that its military division, a place of solace during the MAX grounding, will not escape the virus's reach. Boeing itself now expects "real pressure" on the military market as governments face up to their increased spending through the pandemic.
The MAX grounding (and the 787 quality issues) are, however, Boeing-specific concerns. Boeing is clearly aware of the situation it is in and has (sensibly) nearly tripled its available cash and debt burden on Q3 2018 levels. The company has also been ruthless in cost-cutting measures, suspending its dividend and terminating its share repurchase programme, cutting 130,000 staff, office space and production plants, as well as its planned investment from $6 billion to $2 billion. The company's ample liquidity is the one light in an otherwise gruesome Q3.
Ultimately, while the Boeing CEO did concede losing narrowbody market share to Airbus due to the MAX crisis, Boeing has security in the duopoly. As Calhoun put it: "The airlines need this kind of lift, and we happen to be one of two people in the world that can deliver it."