in Lessors and Lease Rates , Capital Markets
Wednesday 4 November 2020


Are we seeing more 'realism' yet from leased aircraft sellers?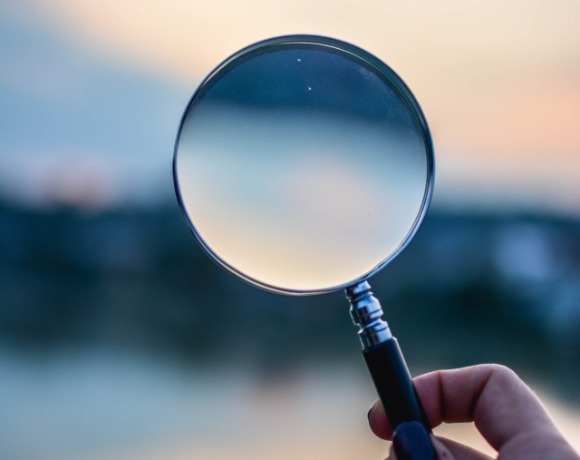 October was a busy month for Aergo Capital. The Irish lessor sold two 737-300s to Star Air Cargo PTY Ltd (Star Air) and acquired a 2006-vintage A321 leased to British Airways (MSN 2653) from Israeli-listed lessor Global Knafaim Leasing (GKL).
Aergo's recent deals represent a rare spot of activity in the secondary aircraft trading market as the Covid-19 crisis continues to severely hamper the normal buying and selling of leased and naked aircraft between lessors. Lessors and asset managers at Ishka's World Tour confirm that bid/ask spreads are "narrowing" on aircraft prices, but add that trading leased aircraft remains challenging.
Aircraft lessors complain that the aircraft trading market has been largely "dead" since summer as buyers and sellers struggle to agree on price. In addition, many potential buyers are struggling to obtain financing for new deals from banks as they have been extremely selective, often preserving capital for existing clients only.
But the recent Aergo trades show that some deals are happening. Ishka understands that GKL had approached potential buyers for that aircraft earlier in the year. It later returned to the market and Aergo made a successful cash offer for the aircraft. Aergo later obtained debt financing from Volofin Capital Management (Volofin) after the deal concluded. The aircraft sold to Star Air are 1997 and 1998-vintage 737-300s (MSNs 28569 and 28869).
Similarly, AerCap reported in its 2020 Q3 trading update that it bought nine new aircraft (eight A320neo family aircraft and one 787-9) and sold seven owned aircraft (two A320 family aircraft, one 737NG, one 747, two 767s and one 777-200ER). The year before the lessor had purchased 16 aircraft and sold 20 in the same period.
'I need long leases attached to great names'
These deals are the exception, say many asset managers, rather than the norm in the current market. Because of the reduced passenger demand and the presence of wide travel restrictions, asset managers are understandably much more cautious as to which airline credits they want to do business with. Due to the lack of demand in the secondary market, the big fear for any leasing platforms currently is that an airline chooses to hand back an aircraft. Many airlines are contemplating large fleet restructurings in which lessors are expected to receive aircraft back. Accordingly, most lessors have a wish list of "20 or so" airline names they would ideally want to do business with, which either have explicit state support or enough capital reserves to allow them to better cope with the crisis. Lessors or asset managers thinking of buying aircraft also want "at least five years remaining" on a lease for transactions.
"It is not 2019 anymore," agrees one senior lessor speaking abut the current trading market on the Ishka World Tour. "It's all about the credit.... all they are really interested in is the best credits on the longest leases." But the question is whether many lessors will choose to sell aircraft leased to airlines which match those criteria. For many leasing platforms these aircraft currently serve as the functioning core of their portfolio, and crucially, are still paying rent. For this reason, there have actually been relatively few trades between lessors but more deals happening directly between good airlines seeking liquidy and lessors, observes one asset manager.

Meeting in the middle when it comes to price
Arguably the biggest challenge for aircraft trading has been falling aircraft prices. Ishka's aircraft values show a steady 20%-35% decline on current market values for many aircraft types since January 2020 (see chart below) – but many aircraft sellers are not yet ready to impose such large discounts on their current assets and crystalise losses.
Several lessors have portfolios of leased aircraft currently in the market (see Insight: 'JSA and CDB Aviation test the market with leased aircraft portfolios'). Asset managers speculate that some of the recent portfolios in the market have functioned as a price discovery exercise for lessors, given how low trading volumes have been in recent months. There are signs, however, that activity is picking up. Separately there are rumours that more lessors have portfolios that are coming to – or already are in – the market.
Lessors argued at the Ishka World Tour that it is hard for buyers and sellers to agree on a price, but add that there has been some "price stabilisation". However, the market is skewed with buyers only interested in the better airline credits. For these deals "there has been some adjustment from sellers and some realisation from the buyers that if they want to get those very good credits they will have to give a very good price. It is not pre- Covid prices but it is not far off," explains a lessor. In contrast for second or third-tier airline names sellers are not yet willing to discount aircraft prices to the "bargain or opportunistic" prices demanded by investors.
One asset manager is more bullish and states that leased aircraft sales can (and are) happening now, but adds he expects to be able to buy more aircraft in Q1 or Q2 2021 when weaker players will stop being able to buy aircraft which will change the competitive landscape. But one European asset manager stated that while many existing players still cautious about acquiring aircraft there are new buyers appearing. Most of these are US private equity (PE) funds that "have had some previous experience" in the space but have not yet committed to deals. Instead, they appear to be getting ready for when opportunities do occur.
The Ishka View
Selling or buying leased aircraft is particularly challenging currently. The supply of leased aircraft from many of the larger lessors, who routinely sold batches of 20 aircraft two or three times a year, has significantly shrunk. In addition, the potential universe of aircraft buyers has also been reduced radically. But there are still pockets of activity as shown by the recent Aergo trades.
For aircraft leased to better airline credits, which is what most buyers are demanding, sellers do seem to be dropping their prices, judging from comments made during the Ishka World Tour, but these are not distressed sales. It is clear that for these stronger airline names buyers are also having to make fairly attractive offers to win deals. It is not just sellers that are becoming more "realistic" about aircraft prices it is also buyers, argue asset managers. Many equity investors exploring the sector are looking at "outsized returns" which asset managers indicate are extremely difficult if investors want to do business with the better airline names, where there is still some competition between leasing platforms.
For now, most aircraft trades are still difficult to complete because while spreads between buyers and sellers have narrowed, they have not quite closed, and financing remains challenging to obtain. There is a fairly widespread expectation among aircraft lessors that trading activity will become easier for buyers after Q1 or Q2 2020 due to further distress in the sector and a thinning of the number of potential aircraft buyers. New investors appear to be circling the space waiting for distressed sale opportunities but they may have to wait a while longer as sellers hesitate to discount further.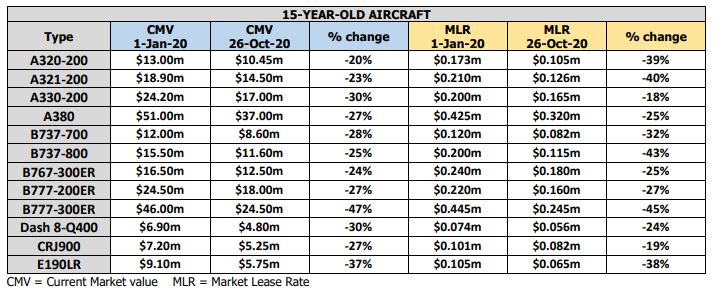 NOTE: The Values behind the above data reflect unencumbered aircraft and reflect what might be achievable based on the prevailing market conditions. ISTAT definitions apply. Values reflect Basic Configuration aircraft in 'half-life' or better condition. In reality, many aircraft are likely to be of a higher than basic specification. This data is for comparative and trend observation purposes. For more detailed appraisal and valuation information please contact the Ishka team.