Wednesday 11 November 2020


ALC Q3: No PBH 'pandemic' as lessor hits record-high liquidity
Airline requests for power-by-the-hour arrangements are not coming at lessors "pandemically", Air Lease Corporation (ALC) CEO John Plueger told analysts on the leasing company's Q3 earnings call this week.
ALC maintained its focus on liquidity this quarter as deferral requests slowed ahead of what executives expect to be a bleak winter for carriers. Despite seeing its revenues down for the third quarter running, the lessor's liquidity is at an all-time high ($7.2 billion) following an "opportunistic" $700 million senior unsecured bond issuance at 2.875% in August, on top of a $6 billion revolver. So far in 2020 ALC has swept up $3 billion in the unsecured debt markets.
At the same time, the lessor is holding back from the sale-leaseback market and "striving […] to avoid" PBH contracts, said CEO John Plueger, which they regard as a temporary form of airline support that will not outlive the crisis. Lessors speaking with Ishka previously have expressed concern over the fairness of hastily-agreed to PBH contracts (see Insight: 'Lessors worry airlines will impose 'abusive' PBH contracts'). ALC, for its part, is keeping a keen eye on "how airlines were treating their lessors", said Plueger.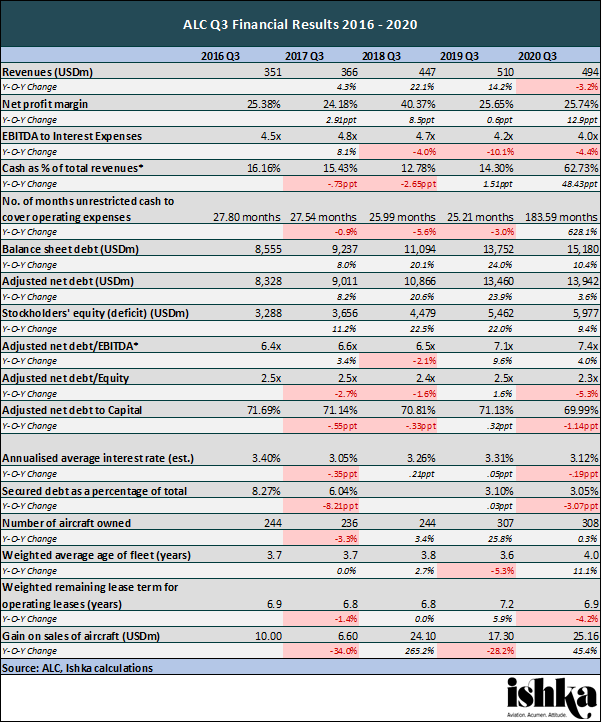 Alongside tapping the unsecured debt markets, reduced capital expenditure has helped boost the lessor's liquidity. ALC slashed 2020's planned aircraft investment expenditure from $6 billion to $2.5 billion and took delivery of less than half the aircraft it had planned to in the quarter – $600 million versus $1.3 billion by book value. ALC has also cancelled 19 MAX orders to date, with some PDPs converted to either cash or balances due at delivery.

Fleet growth by book value (4%) remained tepid on average 2019 levels (14%). ALC executives implied that many SLB transactions in front of them fell short in terms of the quality of the aircraft or yield compared to the average yield of ALC's portfolio. The lessor is looking to couple the sale-leaseback transactions in the market with aircraft from its order book for delivery from 2021, executives said. According to ALC, airlines show growing interest in A220-300 and A321neo aircraft, while used widebodies remain under "significant pressure"; despite the current relative resilience of the freight market, ALC said it would hold back from investing in dedicated freighter aircraft.
Q3 deferral requests slow, but eyes on Q4
ALC posted cash collections of 86% in Q3 and 89% YTD. 58% of its lessees had "accommodations", with deferrals representing 3% of the lessor's current liquidity. 30% ($60 million) of rent deferrals have been repaid to date, while the lessor granted only $11.6 million of incremental deferrals in the quarter. ALC's operating lease revenue for the quarter was $468 million, 5.9% lower than Q2. Now, only "limited" requests for a second round of deferrals are coming through, said Pleuger, though Hazy added that there could be additional requests coming in through the winter.
Lessees representing 6.6% of ALC's fleet, a majority of which are in reorganisations, have been converted to a cash basis of accounting in the lessor's books, since their associated lease receivables exceeded their security packages. "As such, our ability to collect was no longer reasonably assured," said Smith. "Given the uncertainty in the operating environment, it is difficult to predict how this might trend going forward […] As of today, no additional lessees that have been placed on a cash basis, and we continue to receive cash payments from all of these airlines." As of the end of the quarter, 19 ALC aircraft with five airlines are in some form of insolvency proceedings.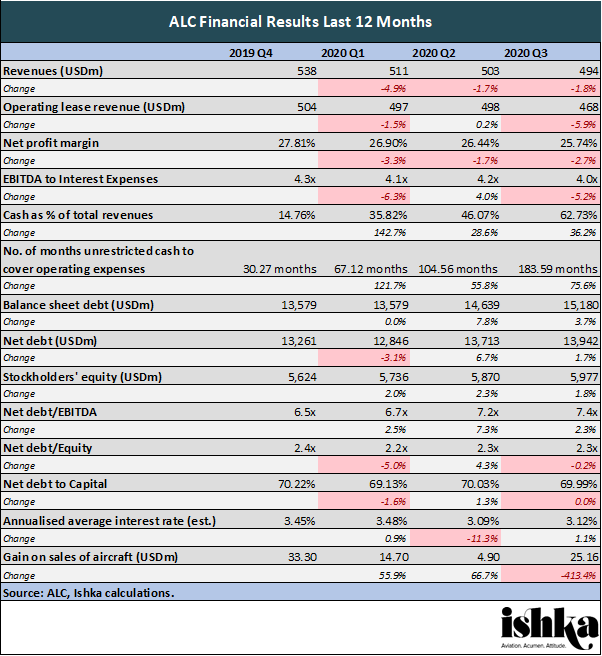 Survival of the fittest
Airlines continue to suffer due to sustained lack of demand and what Hazy dubbed "arbitrary" travel restrictions. "The process of natural selection is taking place" for airlines, said Plueger. "Our job is to pick those that are going to be survivors." Plueger pointed to ALC's decision to take aircraft out of South African Airways – which "has no basis to revive," in Plueger's words – and Air India.
Expecting greater pain, ALC executives also expect a slight resurgence of government support to allow airlines to "transition and survive" the colder months. "But I think the massive aid is already behind us," said Hazy. The chairman highlighted areas for concern in countries like Vietnam, whose aid was minimal and spread between all its airlines, and countries like Poland and the Czech Republic, where aid came (possibly too) slowly.
Instead, the pandemic has strengthened the case of lessors, ALC argued. Hazy highlighted the difference in liquidity positions and credit ratings between top-tier lessors and airlines. ALC's cost of financing is approximately 3%, he said, while top credit airlines were often "more than double" that. "In working with governments and banks to obtain financing, airlines have pledged, mortgaged their most valuable assets, which has resulted in many depleting their borrowing capacity in the future."
"We expect to see further liquidity pressure on the airlines, which will likely lead to further insolvencies, restructurings and deferrals," Plueger told analysts. "The timing of recovery, I leave to your own crystal balls."
The Ishka View
ALC has doubled down on strengthening its liquidity, playing the debt markets opportunistically and more than tripling its cash position YOY. At the same time, the lessor has been holding off on fleet investments and particularly the sale-leaseback market. The lion's share of sale-leasebacks through the pandemic have been driven by airlines' need for liquidity. A knock-on effect of that, ALC implies, is that the aircraft offered up do not always match what some of the biggest lessors are willing to take onto their books – especially lessors focused on maintaining a young fleet, such as ALC.
Lessors continue to express disquiet around power-by-the-hour contracts, which are often a last resort to try to secure any cashflow from floundering lessees. ALC's move from booking certain lease revenues on a cash basis rather than on accrual basis is another sign of the market's wider distress and the precarity of certain airline credits.