A350 prices firm but older A330 values continue to drop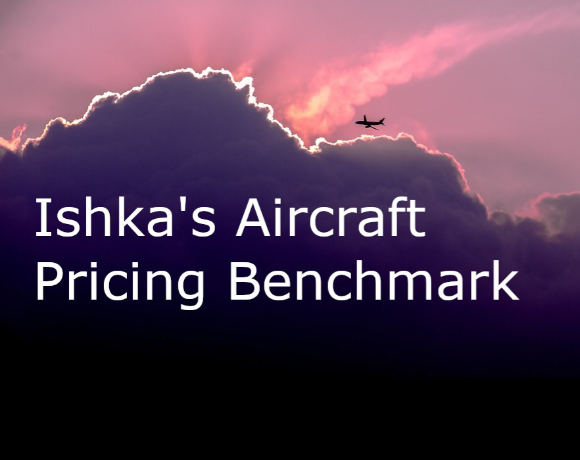 The Covid-19 crisis has severely impacted many twin-aisle aircraft values but lessors confide that they have seen a slight hike in certain widebody aircraft types since January as confidence slowly returns to the market. As an example, the average price of an encumbered A350-900 increased by 10.5% since January to $139.2 million, according to Ishka's Aircraft Pricing Benchmark (APB).
However, many larger aircraft are still seeing a significant decline in residual values. According to Ishka's market survey the value for naked eight and 16-year-old Airbus A330-300s has continued to fall by 21.8% and 14.5% respectively since the start of the year.
The Ishka Aircraft Pricing Benchmark (APB) aims at (anonymously) collecting the market's view every two months. Ishka asks market makers, including buyers, sellers and financiers (lessors, airlines, investors, aviation banks, asset managers, part-out companies, and advisors), their view on the market's pricing and lease rates, and what they see at the two ends of the pricing spectrum. Ishka simply collects and reports on the prices the market sees, with no complex methodologies behind the numbers.
This report reviews twin-aisle prices and lease rate trends.
A350-900s see price rise
Benchmark prices for a new A350-900 are now ranging from $110 million to $165 million for encumbered assets, with the average price increasing by 10.5% to $139.2 million, signalling some volatility in the market, as well as the 'flight to quality' for future-proof assets.
But monthly lease rates (MLRs) for encumbered A350-900s have dropped by 0.6%, with the lower bound of the range dropping from $850,000 - $1.280 million to $750,000 - $1.200 million, with the average now standing at $1.001 million.
Contributors expressed confidence in medium to long-term residual values for the A350-900 stating that as large airlines restart operations, pricing would be supported by interest in younger, more efficient aircraft. Some contributors also believe market prices will claw back towards base values as operations restart.
While some contributors see these assets as a good bet for the future, others are pessimistic about the return of wide-body operations, noting that long-haul, widebody operations are more focused on business travellers and on affluent leisure travellers. Some market contributors stated that the mid-to-long term outlook for these aircraft may be slightly negative as demand will remain subdued.
Few Boeing 787s have traded, but the market is seeing rising supply. With several airlines that operate the B787 under financial stress, supply has increased. Due to Norwegian's restructuring process, many B787-9s are being remarketed, while a quarter of LATAM's 787-9s are also being remarketed. Norse Atlantic is one of the beneficiaries - being able to lease young 787s at attractive rates.
Some of the contributors to the APB stated that the placement market for the 787 seems thin, with few current opportunities. Many believe lessors will keep rather than sell their aircraft until operators are able to add capacity.



APAC restructurings lead to oversupply in eight year-old A330-300s
The average price of an unencumbered A330-300 has decreased by 21.8% since the last APB edition and is now $29.2 million. The price range is also tighter, with the lower bound prices ranging from $21 million to $37.5 million, while the higher band prices range from $23 million to $37.6 million.
Although prices seem volatile, MLRs are clearly trending downwards, with the MLR range for an "off-lease" unencumbered A330-300 ranging from $140,000 - $260,000. Previously it had ranged from $290,000 to $451,000. Overall, MLRs have dropped for the unencumbered A330-300s by around 34.3% since January 2021, and are now $217,000, from a previous average of $330,000.
Many of the aircraft in the current market are coming off lease from Asia-Pacific airlines undergoing restructuring processes, including AirAsiaX and Virgin Australia. Other airlines are also selecting new-gen technology aircraft over the A330-300, including Singapore Airlines and Etihad Airways which are streamlining their fleets.
Contributors to the APB have indicated how difficult remarketing A330s has been, with some stating there is a move towards younger aircraft. Some contributors have mentioned that conversions are being entertained even for young A330s, signalling how a conversion may currently be one of few viable options for the type.
Despite the price instability, contributors have shared that they see some opportunities for the aircraft, including providing it to full-service carriers looking for younger generation aircraft as part of re-fleeting options.


A crowded conversion market sees 16-year old A330-300 prices fall further
Trading has been restrained for 16-year-old aircraft with fewer price points being robust enough to publish for encumbered assets. Despite this challenge, Ishka has collected and analysed data for 16 year-old unencumbered A330-300s. The price range for the aircraft has dropped, with prices now ranging from $15 million to $21.4 million, in comparison to a range of $18 million to $27.9 million reported in January. The average price for the 16 yea-old A330-300 now stands at $18.7 million, a 14.5% drop versus the APB 1st edition, when the price came in at $21.8 million.
The low-end range of prices for the A330-300 has fallen, now ranging from $15 million to $19.6 million, after previously pricing at a range from $18 million to $22.7 million. On the high-end of prices, these have tightened, possibly suggesting the market has stabilised at the high-end (max) price. For this upper range, prices are now between $20 million to $21.4 million, whereas in the 1st edition of the APB prices ranged from $19.4 million to $27.9 million.
Observers shared that muted long-haul travel restrictions and numerous airline restructurings have boosted supply of A330-300s which has impacted the price. Many contributors expect trading to stay muted until "the market speaks", i.e., many expect impairments to register before more significant trading resumes.
Some contributors mentioned that the final act for 16-year-old aircraft might just be parting-out, with others highlighting that the engine market may recover faster, driving more engine-only trades which may support asset prices, especially for the Boeing 777 family.
When reaching this vintage, many of the contributors acknowledged that conversion would be an attractive next step for these assets, but some mentioned that the conversion market is getting a little crowded, as more lessors seek slots. With demand from lessors increasing, conversion costs and lead times have increased, while the number of slots has consequently diminished. Contributors to the APB mentioned how the oversupply in the market has encouraged freighter conversion-seeking operators and lessors to pursue younger aircraft for conversion. It was observed that converting used WBs seems to be happening with younger aircraft – and for some A330s, younger than 10 years old. Contributors also mentioned how the "sweet spot" for conversions could be shifting from 16-18 year old vintages to 12-15 year old aircraft. Others believe that with the restart of belly-cargo operations cargo yields could drop, eliminating some interest in the market.
Despite some questions about the long-term sustainability of the cargo conversion market, other contributors shared some positive views on the B777-300ER conversion program backed by GECAS and IAI. Other contributors mentioned that despite being optimistic on the 777-300ER conversion programme (replacing in part the B767 and some B757 fleets), conversion slots are limited/unavailable, curbing some of the interest in the market. Other 777 conversion programmes are therefore being promoted.

Commentary and analysis
Contributors for the Ishka Aircraft Pricing Benchmark were pessimistic about pricing trends for most twin-aisle aircraft. Many noted a significant asset price softening due to long-haul travel and cross-border complications predicting twin-aisle aircraft would be the last segment of the market to recover to pre-pandemic values. Contributors believed that long-haul international business will not comeback until Q2/Q3 2022, with some also suggesting that expansionary fleet growth may return by Q4 2022.
Many contributors told Ishka that they were currently not taking part in any twin-aisle trading activity, highlighting how the market has paused trading. Many market makers admitted they were waiting for lessors to book impairments before resume trading.
The high-risk and cost involved in parking aircraft and then bringing them back into service means many lessors are preferring to keep he aircraft with, and in the care of, airlines, even at lower monthly lease rates (MLRs).
As most of the international flight operations remain grounded due to border closures, and with several airlines rejecting WB aircraft, a significant oversupply has built up across the market, as evidenced by some of the current remarketing campaigns. Some availability listings show up to 17 younger A330-300s in the market, ranging from five to ten-year-old vintages, with many of those aircraft having previously been operated by Asia-Pacific or Middle Eastern operators.
Several younger aircraft such as the B787-9 and the A350-900 have seen an oversupply from recent restructuring processes such as the Norwegian examinership, and LATAM's Chapter 11 proceedings. In addition to these aircraft, other restructuring processes involving twin-aisle aircraft may soon reach the market, such as Avianca's and Aeromexico.
Most contributors highlighted the substantial headwinds challenging the twin-aisle market, but others mentioned there is still some interest in younger, new-generation aircraft, and also for aircraft where conversion potential is high and where conversion may support future prices (e.g., B777-300ER). Some interest may also exist for A330-300 conversions as the aircraft is currently oversupplied and prices have come down, but contributors generally seemed less animated about the A330.
Some contributors to the Ishka APB also noted that prices could be affected by the entrance of new players in key markets – e.g., the entrance of JetBlue in the transatlantic market with the A321LR could downgauge the average aircraft 'crossing the pond', opening up more interest in the longer-range narrow-bodies.
Related insights:
Twin-aisles, a battered market, with few green shoots