A320neo prices stable while 737 MAX 8 values climb slightly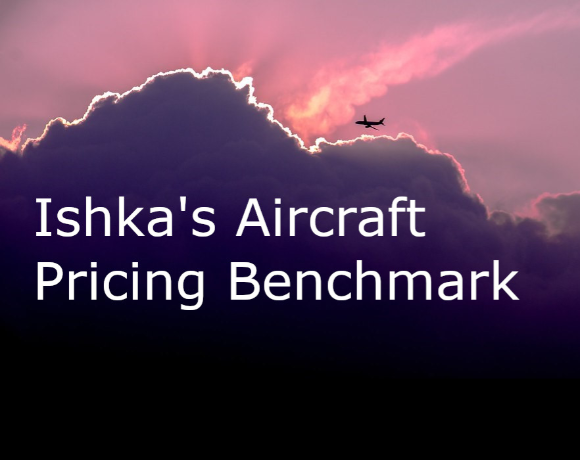 Activity in the single-aisle, new-delivery market is picking up, according to market makers, as sale/leaseback (SLB) deals continue to be popular, especially for narrowbody aircraft, with several RFPs emerging for the Airbus A320neo (see Insight: 'Sale/leaseback market heats up as more Asian lessors chase deals'). This has contributed to the stabilising of A320neo prices at an average of $48.3 million for encumbered aircraft, a slight 0.2% decrease from Q1 2021 but still a 0.4% increase from Q4 2020, according to Ishka's Aircraft Pricing Benchmark (APB).
Despite electrical issues which resulted in the grounding of some Boeing 737 MAX 8 in April, the aircraft's average price has continued to slowly rise in the last nine months to an average price of $47.01 million for an encumbered aircraft, a 3.4% increase from Q1 2021, according to the APB. Contributors mentioned that this slight increase could be a result of Boeing's efforts to clear its white-tail inventory of 737 MAXs (see Insight: 'Boeing 737 MAX inventory lightens amid spring clearance orders').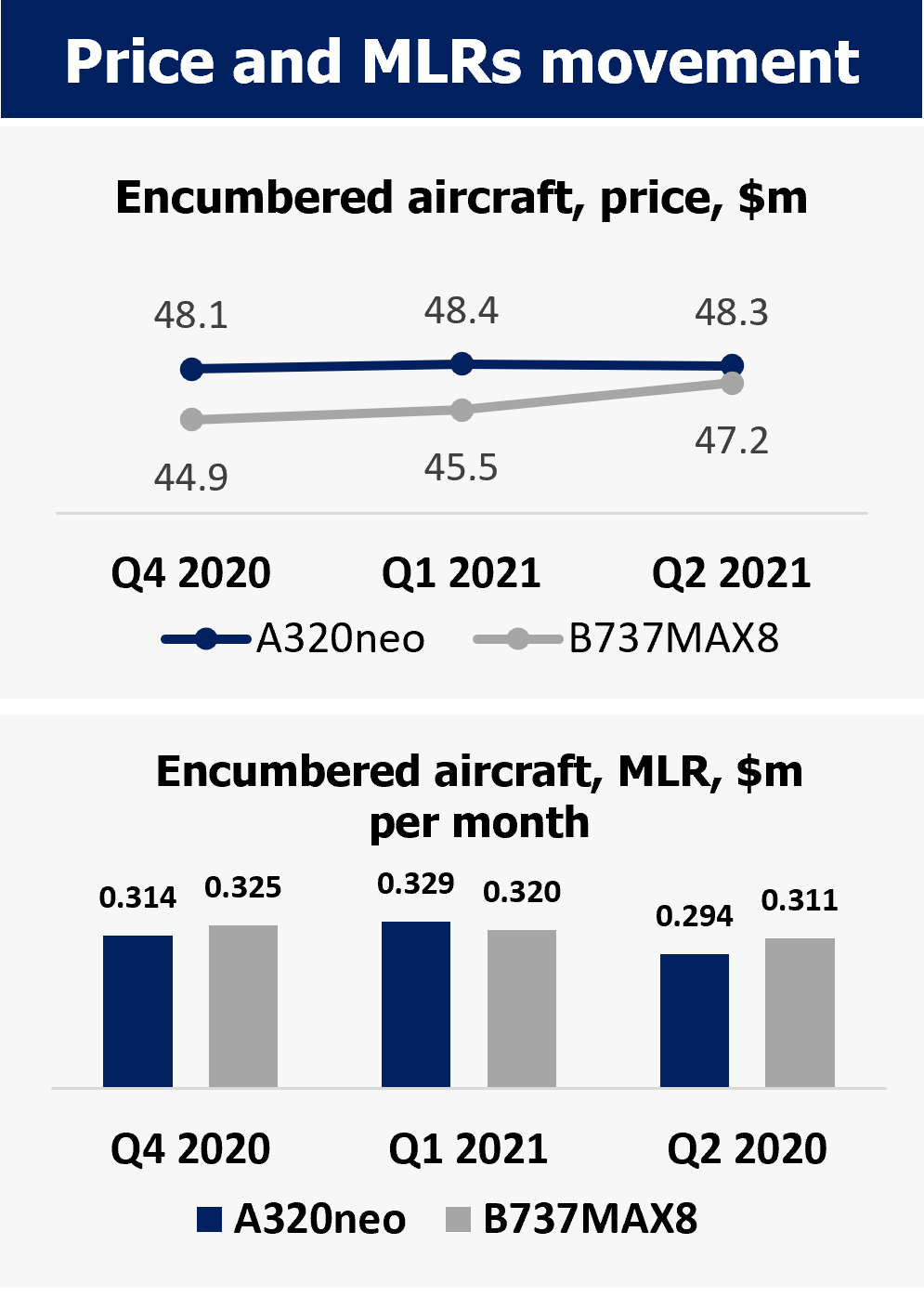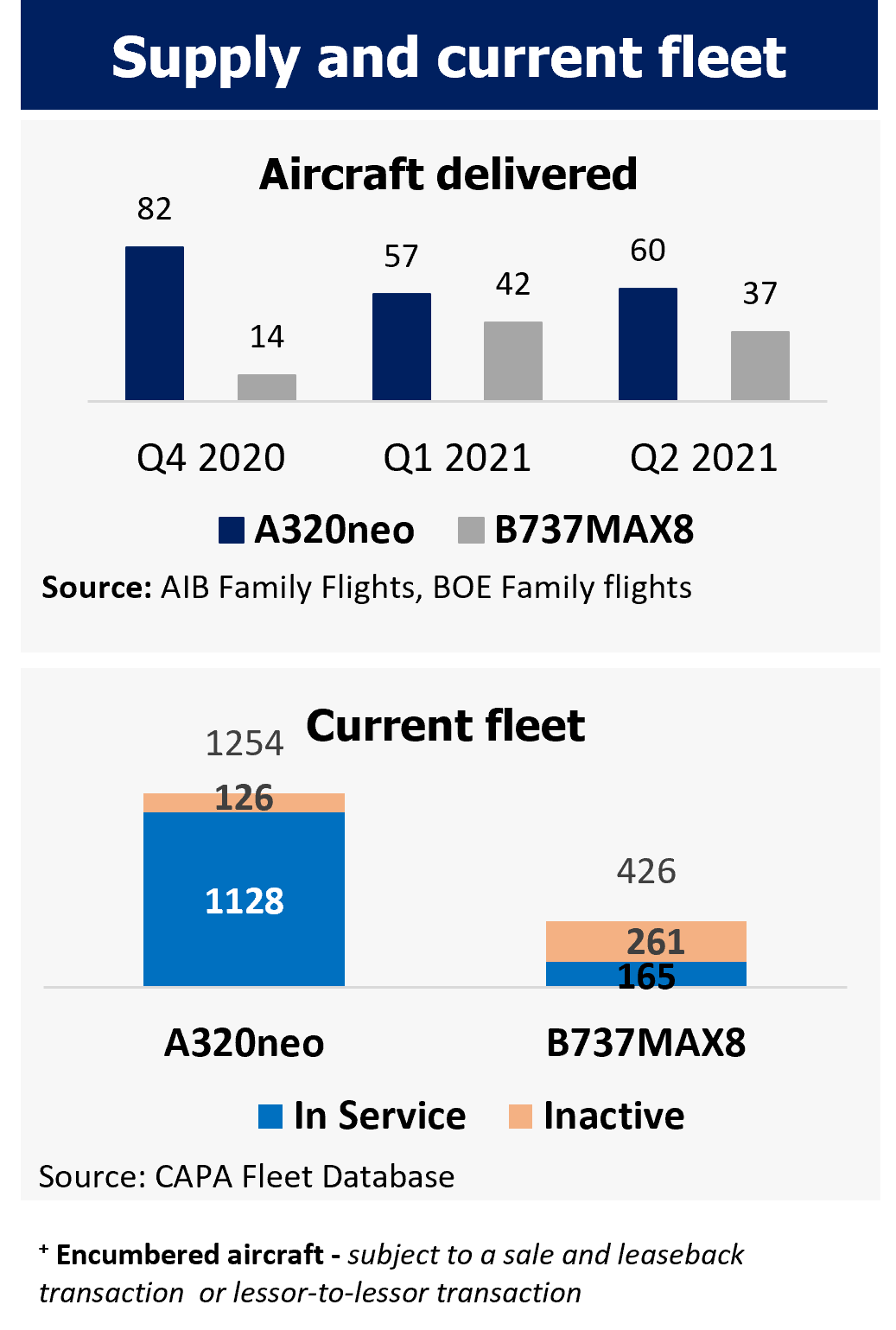 The Ishka Aircraft Pricing Benchmark (APB) aims at (anonymously) collecting the market's view every two months. Ishka asks market makers, including buyers, sellers and financiers (lessors, airlines, investors, aviation banks, asset managers, part-out companies, and advisors), their view on the market's pricing and lease rates, and what they see at the two ends of the pricing spectrum. Ishka simply collects and reports on the prices the market sees, with no complex methodologies behind the numbers.
This report reviews single-aisle prices and lease rate trends.
Stable A320neo market with credit driving trade
In the 2nd Edition of the APB, Ishka stated that contributors "were seeing pre-pandemic pricing for airlines which were deemed creditworthy". This trend has now crystallised even more, with A320neo prices holding steady at an average of $48.3 million.
Lease rates are seeing some further softening (lease rate factors - LRFs - are still narrowing as high purchase prices are more frequent), as a combination of off-lease aircraft and significant cash on hand are driving competition in SLB transactions.
The interest in transactions seems to be recovering at different speeds, with Tier 1 credits receiving several bids, while bids for worse-off credits are not as numerous.
In addition to the upbeat view for the new deliveries, contributors stated that the A320neo is "Teflon-coated", as there is still a large appetite for new equipment, and some RFPs for SLBs will still come to market.
Despite the positive outlook on prices, market makers are still expecting LRFs to narrow further, as banks are still reluctant to re-enter aviation and supply is still high – single-digit A320neos are currently off-lease (mostly Interjet neo aircraft), with a further eight A321neos also off-lease.


737 MAX 8 prices gain momentum while MLRs hold firm
The market is seeing more positive signs around the Boeing 737 MAX 8. Despite its long grounding and electrical issues that reduced deliveries in Q2 2021, prices for the MAX are now recovering. The average price for an encumbered aircraft (lease attached - i.e., SLB or lessor to lessor transaction) now stands at $47.01 million, a 3.4% increase versus Q1 2021.
For unencumbered aircraft, market participants have seen average prices hovering around $43.5 million, despite many participants stating that pricing for unencumbered aircraft is currently "choppy". While some aircraft were selling for around $43 million (to North American start-ups), aircraft for larger and more well-established airlines have sold for as low as $37 million - $38 million.
Boeing is rumoured to be selling white-tail MAXs at $40 million. Boeing Capital is rumoured to have placed three 737 MAX 8s into Flair at $43 million. MAX prices are expected to surge as the backlog is clearing, and the Civil Aviation Administration of China (CAAC) is also looking into flight tests, supporting further price hikes.
Currently, around 14 737 MAX 8s remain off lease or undelivered, many of them former Jet Airways (at least five) or Air Italy (at least three) aircraft.

Commentary and analysis
Several contributors told Ishka that SLB transactions are happening despite several transactions being deferred to 2022/2023.
Market contributors are expecting some price tightening over the coming quarters as the reopening continues, with start-ups looking to acquire new-tech aircraft (e.g., Play acquired a pair of former Interjet A321neos from AerCap).
By the end of Q2 2021, a total of 1254 A320neos had been delivered, with 10% of those aircraft still inactive. For the 737 MAX 8, 61% are still inactive, as the CAAC has still not ungrounded the 737 MAX.
Parallel to Boeing's effort to clear its white-tail inventory, the market is also seeing more MAX aircraft on offer, as reported to the APB.
Contributors have also noticed a growing trend of more aggressive lease terms from lessors, where some are willing to pay for maintenance – effectively handing the airlines cash to keep the aircraft under maintenance programs.
Like in past editions, good credits are preferred, despite a few deals with start-ups and less-than-stellar credits, with several market participants stating that market makers are still undertaking price discovery.