Have aircraft values hit rock bottom yet?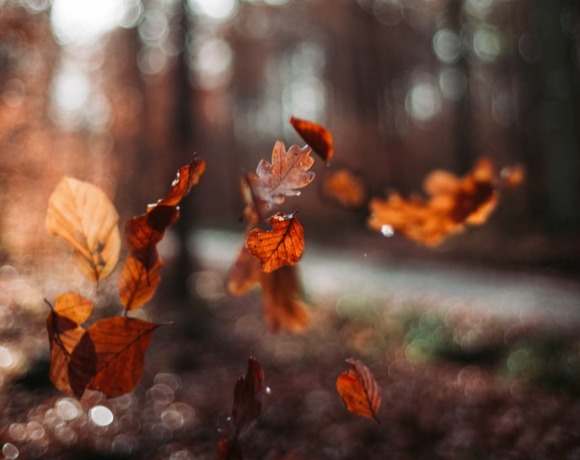 The decline in aircraft values has slowed for new-tech liquid narrowbodies, such as the 737 MAX and the A320neo in the last couple of months, notes Ishka's appraisals team, which suggests that the market correction for certain aircraft types may have reached a natural floor.
Aircraft values across the board have steadily declined throughout the crisis due to the toxic mix of excess capacity, numerous airlines restructurings, and widespread travel bans. However, the plateauing of some aircraft values is a significant first indicator that a potential recovery for aircraft values could (eventually) be on the horizon, argues Eddy Pieniazek, head of Ishka Advisory.
"Generally speaking, the market correction to values for some aircraft types is now done. Not only is it done, but we think that where availability is decreasing a little and aircraft are being put back into revenue service, we are expecting to see some stability, if not recovery, of lost ground in values over the coming weeks and months. But it's not for all – some sectors are still challenged."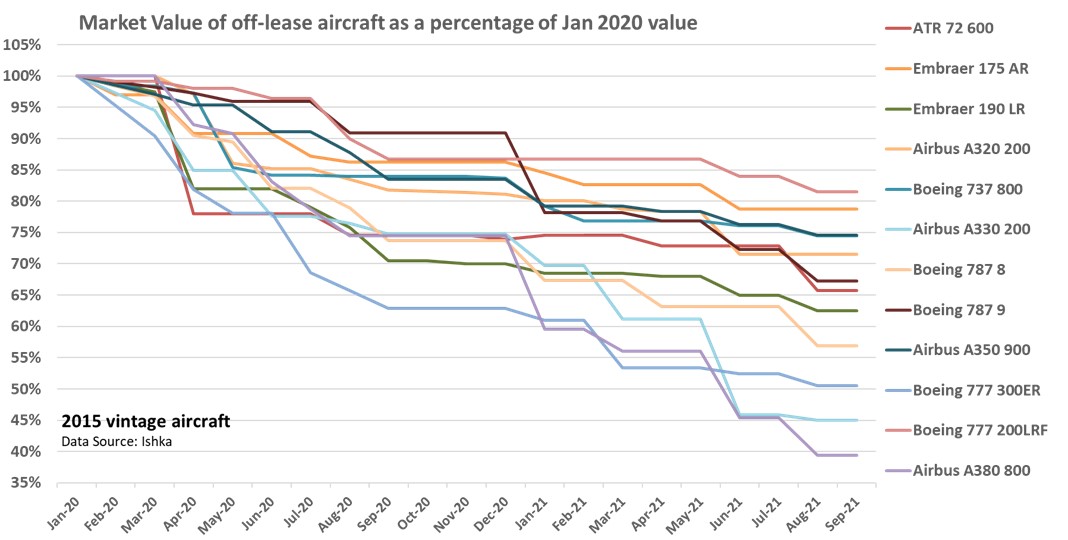 The tide is turning…
Ishka's advisory and appraisal arm notes that aircraft values appear to now be more stable for certain key narrowbody aircraft types such as the A320neo and the 737 MAX. Pieniazek states "the tide is potentially about to turn" for these aircraft types as demand begins to creep back into the market and unplaced capacity finds a home. New technology narrowbody values have also been lifted by an extremely competitive sale/leaseback (SLB) market. Lessors have been aggressively competing to win SLB mandates to build their portfolios, which has helped airlines obtain attractive lease rates for assets, and in some cases, achieve higher purchase prices for aircraft. The graph below, from Ishka's Aircraft Pricing Benchmark, shows how aircraft values for both encumbered and unencumbered new build A320neos and B737 MAX8s are now stable or improving, but lease rates appear to be tightening. Banks, airlines, and lessors have confirmed to Ishka that sale/leaseback remains an attractive option for airlines to raise liquidity.
"Lease rates are increasingly competitive as lessors are pitching against each other to win deals and becoming very flexible with the kind of terms they are offering. The market disruption is not over yet but there are signs that the market is focusing on some of the popular assets and the airlines can benefit from that, if they are looking for liquidity" adds Pieniazek.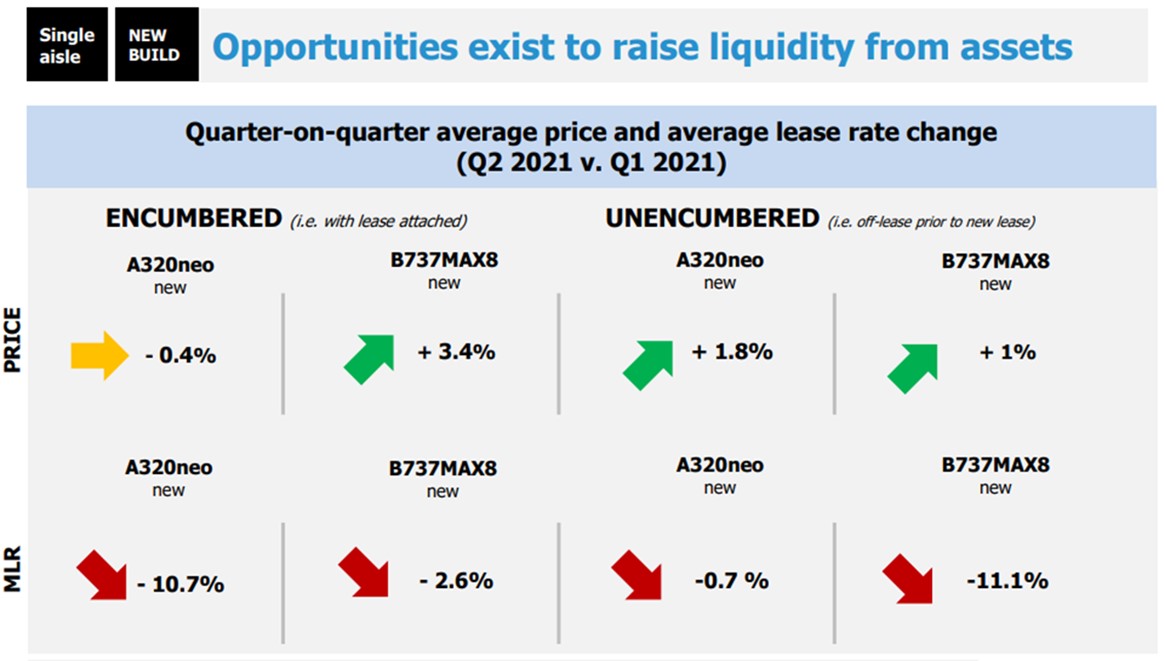 ...but some aircraft types still face pressure
It is important to stress that some aircraft types are still set to face significant pressure in the medium-term. The three most impacted aircraft values are for A380s, B777-300ERs and A330s, as shown in the first graph. Large widebody aircraft values continue to be impacted as the long-haul market remains constrained by cross-border travel restrictions which could easily take a further 12 months to ease.
Older aircraft remain a concern but the decline in values has opened up fresh opportunities, enabling freighter conversions to become more economically attractive propositions, as witnessed by the spate of orders for A321, B737-800, A330-300 and B777-300ER conversion programmes among others. In addition, start-up airlines are springing up to take advantage of attractively priced equipment, both young and old.
The Ishka View
Aircraft values are starting to see some market turnaround especially for some of the more liquid asset types such as the A320 neo and B737 MAX. However, it is important to stress that this is a nascent trend and there is a long way to go before values meaningfully recover. The winter season is coinciding with a stream of markets (and therefore routes) re-opening, the balance of which suggests that values may be stabilising rather than recovering. Nevertheless, as winter approaches, airline restructurings can still have an impact on what happens to aircraft values in Q4 2021.
The increasing competition in the sale/leaseback market is also impacting aircraft values as lessors vie for deals to acquire aircraft in a constrained market. However, Ishka notes that this trend is predominantly for new-technology aircraft. Airlines still seeking to raise liquidity may be tempted to offer a wider range of unencumbered aircraft to the sale/leaseback market, but Ishka notes that after 18 months of various liquidity raises, this option is open to only a small number of airlines.