Lessors respond to new autumn sale/leaseback RFPs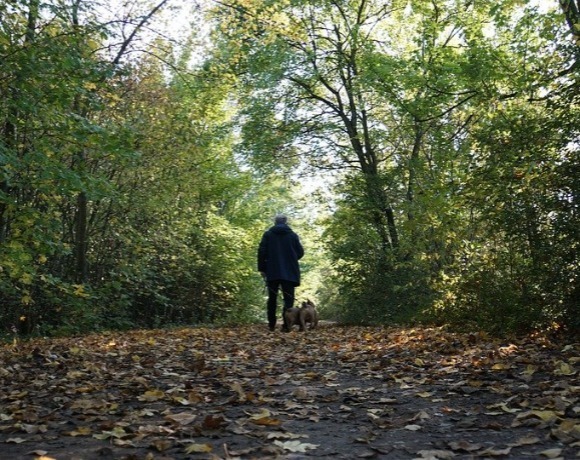 Lessors, bidding on several new sale/leaseback request for proposals (RFPs) that have hit the market since September, say that lease rate factors (LRFs) on new-generation narrowbody aircraft are continuing to tighten.
Lessors confide that returns are "extremely slim" for investors in the competitive sale/leaseback (SLB) market. Several lessors speaking to Ishka in September and October admit that unlevered asset returns for some new deals have fallen, especially for deals with good airline credits for new-technology narrowbody aircraft. Lessors confirm that competition has become more aggressive in recent months with some recent SLB campaigns rumoured to have attracted anywhere between 20 to 50 bidders.
Dynam picks up Wizz Air A320neos
Dynam Aviation Ireland along with its sister company Sato Aviation Ireland have signed a sale/leaseback agreement with Wizz Air for four Airbus A321neos, which was announced on 27th October 2021. The aircraft will be delivered in 2022 and are powered by Pratt and Whitney PW1100G engines.
Recent sale/leaseback RFPs
Flydubai is rumoured to have an RFP in the market for up to 15 new Boeing 737 MAX 8s with a requested lease term of nine years and an option for an additional three years, with no maintenance reserves. The carrier is said to be looking for over $50 million per aircraft.
Air France is understood to have an RFP in the market for four new Airbus A220s, with asking prices of $36 million per aircraft and scheduled deliveries in October 2022, November 2022, December 2022 and February 2023.
Air France is also rumoured to have an RFP for three Airbus A321s – two 1998 vintages and one 1999 vintage. The airline is requesting $11.7 million per aircraft and a lease rental of $120,000 per month, with delivery dates by 27th October 2021.
Go First is understood to have an active RFP for ten Airbus A320neos with asking prices of $50 million per aircraft and lease terms varying between six, eight, 10 and 12 years. Delivery dates are listed as: two in May 2022, one in June 2022, one in July 2022, one in August 2022, one in September 2022, one in October 2022, one in November 2022 and two in December 2022.
Japanese airline Peach is understood to have an RFP for three A320neos and one A321LR in the market, with asking prices of $51.3 million and $61.4 million respectively. Delivery dates for the A320neos are in March, May and August of 2022, with the A321LR's delivery date set for May 2022.
Volaris is rumoured to be marketing an RFP for nine A320neos and five A321neos, with prices of $52 million and $55 million respectively, and delivery dates between 2023 and 2024.
Other rumoured active RFPs in the market include Jeju Air for five Boeing 737 MAX 8s with an unspecified asking price and Gulf Air for 10 A321neos.
Flydubai confirmed that it has an RFP in the market, Volaris declined to comment and Air France, Go First, Peach, Jeju Air and Gulf Air were unavailable to comment when contacted by Ishka.
Narrowbody LRFs tighten
Lease rate factors for new-technology narrowbody aircraft appear to have tightened further and fallen into a band of 0.55 – 0.65 dependent on the airline credit, according to market rumours around closed RFPs. Rumoured SLB prices for Boeing 737 MAX 8s appear to have fallen to below $50 million while rumoured Airbus A320neo prices remain slightly higher. Lessors confide that recent A320neo sale/leaseback campaigns have seen aircraft purchased between $48 million – $52 million, however, they add that airlines emboldened by the current interest from lessors are listing higher suggested purchase prices. At least one airline is rumoured to have asked for up to $56 million for an A320neo in their correspondence with a lessor – but lessors state airlines are not likely to actually receive bids that high.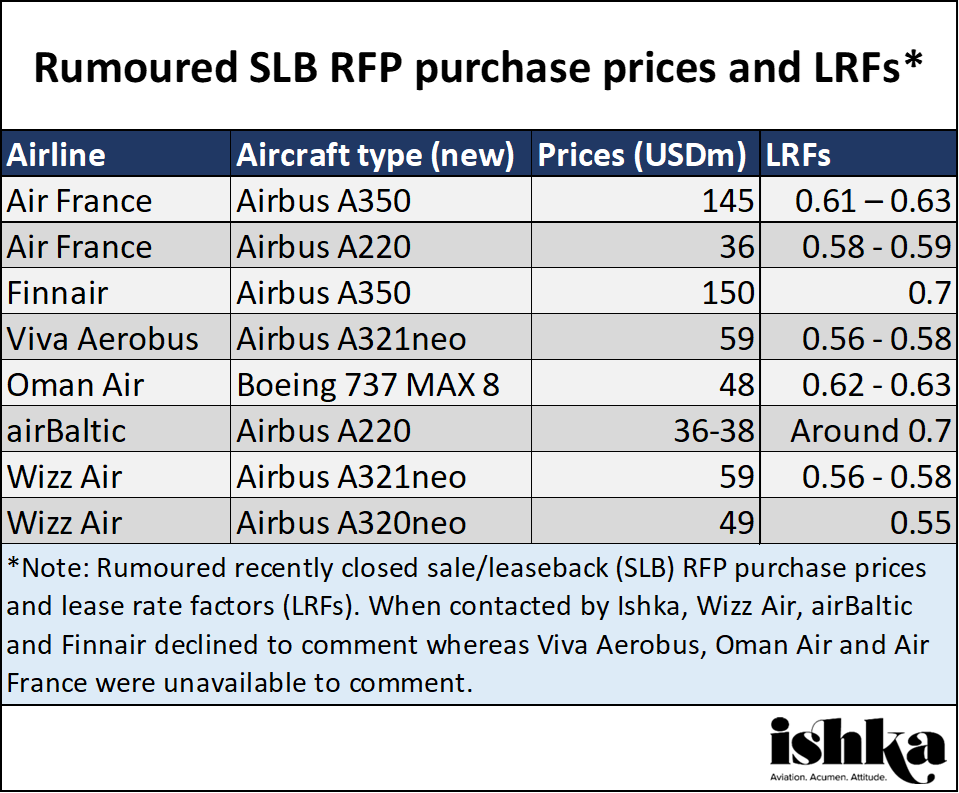 Bank financing revival
Bank financing has returned for some first-tier airline credits, lessors tell Ishka, after a mostly muted pandemic. Two months ago, debt financing, even to top tier credits, was still restrictive, but recently lessors admit that there has been a slight recovery. Lessors speaking with Ishka believe that traditional aviation banks are still reluctant to offer debt to lower tier credits, however, sources of finance such as local banks, bond issuances and private equity funds have made financing indirectly available for a wider group of second and even some third-tier carriers. However, all of the lenders contacted by Ishka confirmed more willingness to fund lessors over most airlines, bar a handful of top-tier carriers, with many citing concerns over uncertain airline revenues in the short-term and the difficulty in getting airline deals through credit committees without some form of non-payment insurance.
Recent sale/leasebacks deals
Sale/leaseback transactions recently announced include:
SMBC Aviation Capital agreed on the sale/leaseback of 14 new Airbus A320neos with Spirit Airlines to be delivered between November 2021 and September 2022, on 15th October.
Icelandair entered into a sale/leaseback agreement with Aviation Capital Group (ACG) for two new Boeing 737 MAX 8s on 1st October. The aircraft are scheduled for delivery in December 2021 and January 2022.
Finnair announced on 28th September that it finalised a sale/leaseback for four 2017 – 2018 vintage Airbus A350s with GECAS and Pacific Investment Management Company. The average lease period is 12 years and the immediate positive cash effect for Finnair is over $400 million.
Air Lease Corporation (ALC) signed an agreement with Spirit Airlines for the sale/leaseback of five new Airbus A320neos on 8th September. The aircraft are set to be delivered to the airline between 2021 – 2022 and will be owned by one of ALC's managed aircraft ventures through funds managed by Waterfall Asset Management.
Click here to download the full database of sale/leaseback deals
The Ishka View
Lessors say they expect the sale/leaseback market to remain competitive with more RFPs being issued over the coming months as airlines aim to raise cash amid waning government support. A source tells Ishka that operators not active previously in the SLB market pre-pandemic have entered the space to raise cash. They add that RFPs are being marketed earlier than they normally would be pre-pandemic, with delivery dates on some RFPs set for 2023 and even 2024.
Lessors indicate that there have been a couple of benchmark deals with lease rates dropping to as low as 0.55 for "exceptional" top-tier credits but these are rare. They add that there is intense competition across good airline credits, and outside those "exceptional" cases, deals can be won at LRFs of around 0.58. However, sources also indicated that aircraft deliveries could pick up next year, resulting in more aircraft searching for lease financing and improving lease rate factors.
Lessors state that terms have been tightening over the last six months due to a lack of sale/leaseback opportunities. However, they express caution over simply using lease rate factors to fully understand the economics of deals. They add that some sale/leaseback LRFs have been distorted by being linked with other business such as the extension of existing aircraft, placement of incremental aircraft or the clearance of receivables. Additionally, the lease rate factor will change significantly with the price level (compared to current market values), the lease term, and (recently) where the first 6-12 months has a lower rent than the remaining term.