Asset managers survey: Returns tighten for new-tech aircraft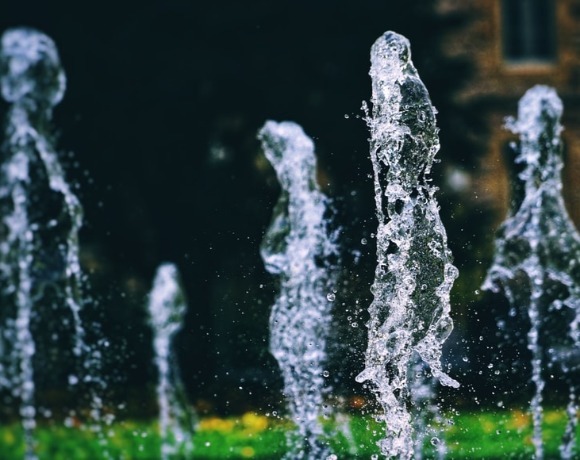 Unlevered asset returns for new-tech narrowbody and widebody aircraft appear to have tightened over the last nine months, according to the latest aircraft asset managers survey conducted by Ishka.
The new survey, which expands on the previous annual asset managers survey, highlights that expected returns for new-tech and young (one-to-three-year-old) narrowbodies (Airbus A320neo and A321neo, and Boeing 737 MAX 8) over the initial lease have fallen from an average of 6.05% in May 2021 to 4.81% (see Ishka's previous returns survey). Expected returns for current-tech four-to-twelve-year-old narrowbodies (A320ceo, A321ceo, and 737-800) have fallen from 8.57% over the initial lease to 7.48%.
For twin-aisles, returns for new-tech and one-to-three-year-old widebodies (Airbus A330neo and A350-900, and Boeing 787-8) have dropped from an average of 7.95% in May 2021 to 6.52% now. For current-tech four-to-twelve-year-old widebodies (A330-300 and Boeing 777-300ER), where there have been fewer transactions and returns appear to be more volatile, average expected returns have climbed from 10.05% over the initial lease last May to 14.25%.
These results indicate that average expected returns for new deliveries and up to 12-year-old narrowbodies have fallen from 7.31% to 6.14%, and for new-delivery to 12-year-old widebodies average expected returns have increased from 9% to 10.38%.
Competitive market drives down returns
Asset managers confirmed there is a large amount of capital seeking to acquire assets, particularly new-tech assets. Typically, this has been via the sale/leaseback market and, where possible, the secondary market. Both markets have seen extremely competitive bidding in recent months, driving down returns. Ishka notes that the reduced number of aircraft deliveries over the last 18 months means that supply is still not able to meet investor demand for new-tech aircraft.
"We see a lot of equity coming into the market, especially from funds established in 2019 and 2020," explains one asset manager, who states many of these recent funds have been particularly active bidders on recent sale/leasebacks which has helped compress lease rate factors.
Another asset manager admits that the market is skewed towards better-quality credits, where returns are more limited, and less interested in lower-tier credits. "Everyone seems to want the same thing and then there is other stuff that nobody wants to touch," said the asset manager.
A330s, B777s least in-demand
Demand for new-tech widebody aircraft dropped significantly during the pandemic due to muted long-haul travel, while new narrowbodies proved to be increasingly popular among lessors. Surveyed asset managers priced new-tech narrowbodies regardless of their age, with most also showing an interest in the most popular new-tech widebody types – the A350-900 and 787-8. A330neos proved to be slightly less popular with the majority of surveyed asset managers, some declared that it is not an asset type they would look to acquire while others pointed to a lack of deliveries.
However, one asset manager told Ishka that "people buy the credit aspect over the aircraft type," adding that if there was an RFP for an A330neo with a good credit, it would be a highly competitive process. Another asset manager confirmed there had been some recent interest from airlines for the asset type, but stated that it might take a while for that dynamic to translate into interest from investors.
On the current-tech side, half of the asset managers surveyed would not target 15+-year-old A320ceos, A321ceos or 737-800s although most showed interest in four-to-twelve-year-olds. Similarly to the A330neo, the majority of contributors would either not look at acquiring A330-300s or 777-300ERs, or admitted that there is a lack of transactions for those aircraft types.
One asset manager admitted that there is a limited market for the A330 and that its part-out valuation is falling, affecting its residual value. Another contributor admitted that although there are current-tech widebodies that are performing "really well" and on long leases, there is a "negative outlook" on the aircraft's residual value once it is returned.
Results: A321neos lead the way, A330s fall behind
Regarded by several asset managers as the most in-demand asset at the moment, the A321neo offered the lowest average returns at 4.38% for new deliveries, and 4.61% for one-to-three-year-olds. It is followed by the A320neo at 4.56% and 4.91%, and then the 737 MAX 8 at 5.05% and 5.35% respectively.
For current-tech aircraft, the 737-800 offered the lowest returns at 6.58% for zero-to-five-year-olds and 11.125% for 15+-year-olds, but trailed the A321ceo's 8.12% in the eight-to-twelve-year-old class with 8.18%. The A321ceo came in just behind the 737-800 in the other two age groups, at 6.7% for the newest build and 12.17% for 15+-year-olds, identical to A320ceos, which presented the highest returns of current-tech narrowbodies with 6.92% and 8.38% for zero-to-five-year-olds and eight-to-twelve-year-olds respectively.
On the widebody side, the A350-900 presented the lowest average returns at 5.75% for new deliveries and 6.17% for one-to-three-year-olds, followed by the 787-8 at 6% and 6.7%, and finally the A330neo at 7% and 7.5%. On the current-tech side, the 777-300ER offered slightly higher returns than the A330-300 in all three age groups, with 12% for zero-to-five-year-olds and 14.5% for both eight-to-twelve and 15+ year olds. The A330-300 followed with 15% for the youngest age class and 15.5% for the older two.
An example of how the average ranges have been derived for two asset types: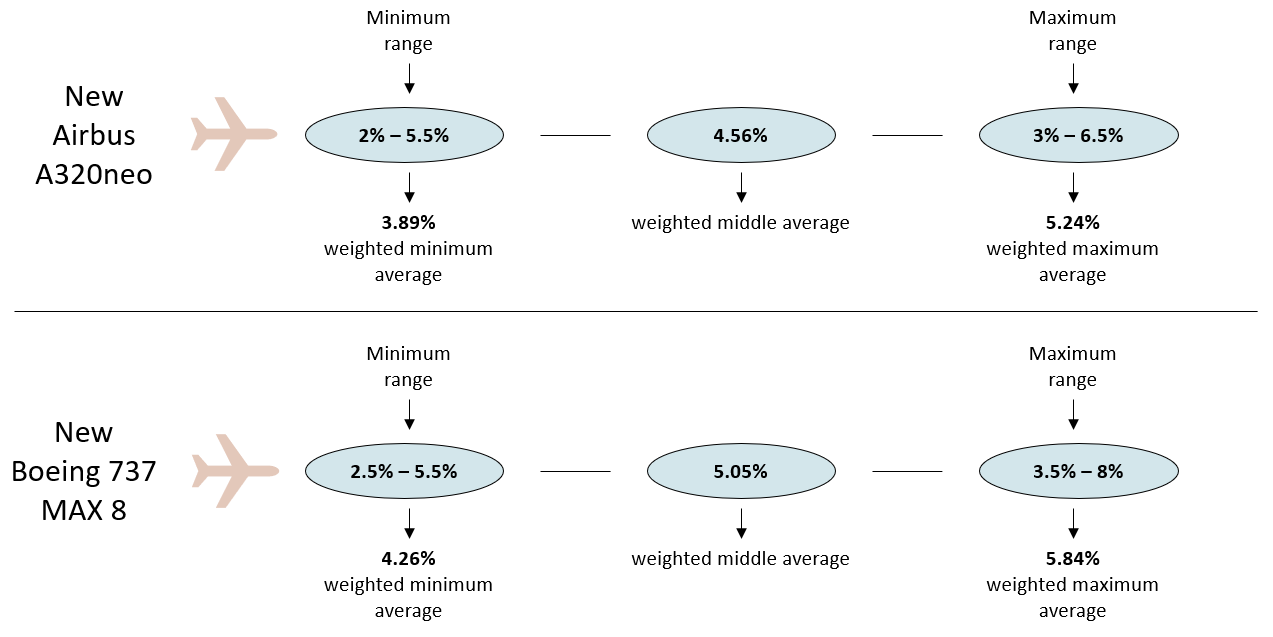 Average expected returns for all asset types surveyed:


MAX returns could rise, freighter demand compresses current-tech NB returns
New-tech narrowbodies were the most in-demand asset class among lessors, with A321neos being identified by most asset managers as the single most popular asset in today's market. Ishka notes that returns for A321neos are particularly low given the amount of investor interest in the asset, even compared to other current-tech narrowbodies. One asset manager stated one reason why the A321neo has become increasing popular is its ability to be used on some long-haul routes. Another described the A321neo as the "poster child asset" in terms of its desirability among investors. Separately, one source tells Ishka that he expects returns on the MAX to decrease i.e. become more popular among investors, and inch closer to expected returns for A320neos, after it was recertified in China in December 2021.
On new-tech widebodies, one asset manager stated that despite A350s being a popular asset type, there is a wide range of returns for one-to-three-year-olds because there is a "handful" of the asset type operated by weak credits, presenting higher potential returns.
On the other hand, asset managers tell Ishka that there are plenty of A320ceos in the market, presenting higher returns compared to A321ceos and 737-800s. This results from the two types' lower availability due to demand for freighter conversions, especially for assets older than eight-years-old. One source adds that there is a lack of supply of 12+-year-old 737-800 which is why its returns are similar to an eight-to-twelve-year-old. Another adds that the A321ceo is "holding its value" and is very popular in the trading market, especially if leased to stronger airline credits.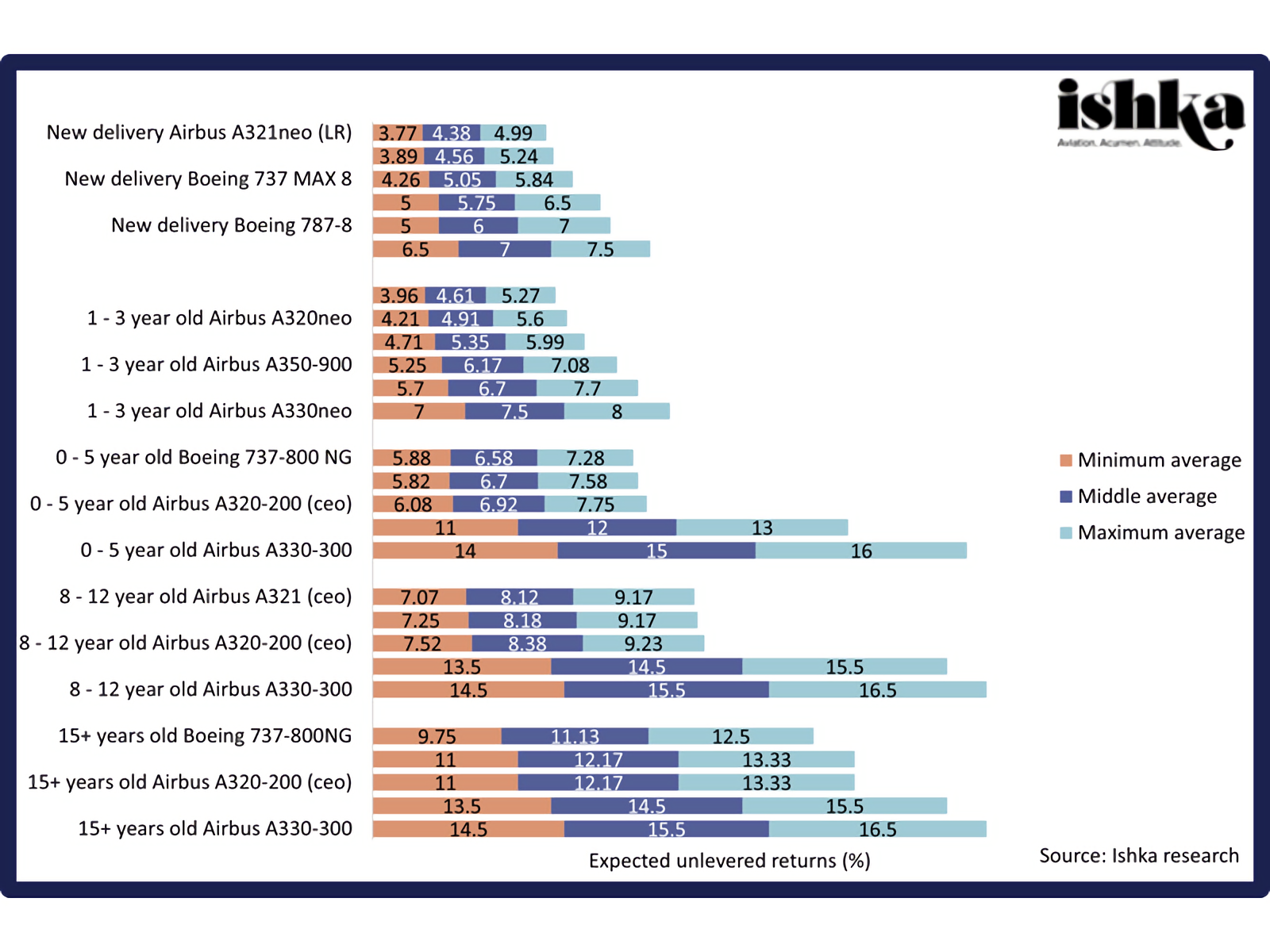 Methodology
The data was collected by asking a select number of asset managers their unlevered asset expected returns based on today's market conditions over the initial lease. Data was collected for new-tech aircraft, including new deliveries and one-to-three-year-olds, and current-tech aircraft, including zero-to-five-year-olds, eight-to-twelve-year-olds, and 15+-year-olds.
Each asset manager provided a range of their target returns. Ishka provides a minimum average, which is the average of the lower end figures, a maximum average, which is the average of the higher end figures, and also a middle average, which is the average of all figures.
The figures provided assume returns over the course of an aircraft's first lease, as returns may differ on lease extensions or secondary leases. The first lease was considered 12 years for all new-tech and zero-to-five-year-old current-tech aircraft, seven years for eight-to-twelve-year-olds, and three years for 15+-year-olds.
Key to note that only two surveyed asset managers provided values for A330neos, A330-300s, and 777-300ERs. Half of the asset managers did not provide figures for 15+-year-old current-tech A320ceos, A321ceos and 737-800s because they would not acquire the specified asset types at the specified ages.
The zero-to-five-year-old age group for current-tech aircraft refers to production dates between 2017 (five-years-old) and the aircraft's final production year, which is: 2020 for A320ceos, 2021 for A321ceos, 2019 for 737-800s, 2020 for A330-300s, and 2021 for 777-300ER, according to Ishka research.
Certain asset types have a notably wider range of unlevered returns. Typically, this range is driven for new aircraft by the underlying credit quality of the lessee and, for older aircraft, by the volatility around residual values of assets and maintenance conditions.
"New delivery" aircraft describes 2021 – 2022 delivery aircraft.
The Ishka View
Ishka understands that unlevered asset returns are a good indication of how in-demand an asset is. However, it is key to note that returns are "heavily" dependent on credit and lease length, and the expected returns asset managers describe depend on differing residual assumptions. One asset manager tells Ishka that returns are "tighter than they should be" when comparing strong and weak credits, adding that, in his view, investors are not getting appropriately awarded for deals with weaker credits today. He admits that recent bidding for certain aircraft has been at levels that he "never considered to be possible" resulting in very low returns. Ishka notes that many of the aircraft being delivered are to better performing credits which is also influencing the types of returns being offered to investors.
Several asset managers expect investor appetite to remain high in 2022, which would keep lease rate factors and expected returns relatively low. However, Ishka notes that some lessors are reluctant to acquire current-tech aircraft citing ESG concerns and the fact that many airlines are likely to begin modernising their fleets. One asset manager admitted that A320ceos would have to be "young" for it to invest in adding that it is difficult to underwrite residual values on A320ceos and 737 NGs as OEMs ramp up production for new-tech narrowbodies. The lessor believes that many asset managers assume there will not be a replacement for A320neos or 737 MAXs for "at least the next 10 years" until propulsion technology advances, which is helping drive several aggressive bidders.