Remarketing Watch: Steady decline in aircraft available for remarketing over past year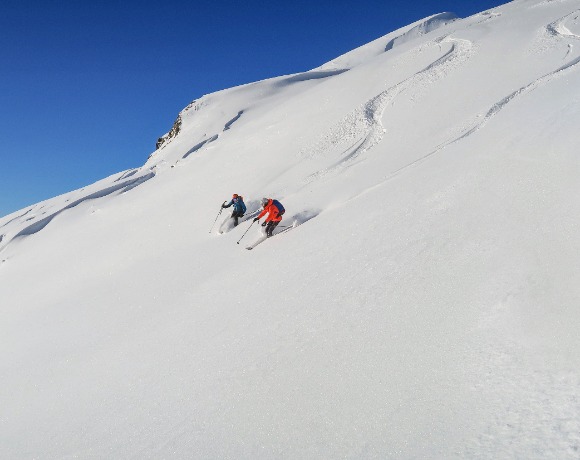 The total number of aircraft listed on remarketing sites has decreased moderately, with 471 aircraft being actively remarketed as Ishka goes to press – down from 493 in October and 497 at the end of August, according to Ishka research. Of the aircraft currently being remarketed, 39% are narrowbodies, 22% are turboprops, 24% are widebodies, and 15% are regional jets.
The current total of 471 aircraft being remarketed is the lowest since Ishka's Remarketing Watch began in April 2021. One of the largest declines over that period has been the number of A320ceos being remarketed, which has dropped to the mid-50s in October/November 2022 having tracked in the high-60s to low-70s for much of 2021 and early 2022.
Ishka also notes a substantial decline in the number of Airbus A330s being remarketed since mid-2021. There are currently 26 of the aircraft being remarketed on the sites covered in this report, down from 55 during the months preceding November last year.
The number of Boeing 737 NGs being remarketed has risen from summer lows over the last few months (see Insight: Remarketing Watch: Availability down prior to summer, with 737 NG still ahead) and is now the second most widely available aircraft being remarketed. However, the number of the aircraft type being remarketed, as with the A320ceo, is still substantially below 2021 levels.
The five most widely available aircraft are Airbus A320ceos, Boeing 737 NGs, ATR 72s, Boeing 737 classics, and Boeing 777s. These five aircraft types make up 37% of the total fleet actively being remarketed. The A320ceo continues to be the most widely available aircraft, with 52 available from the sources analysed by Ishka – down slightly from the 56 being remarketed in October.
Around 17% of all aircraft actively being remarketed are 10 years old or younger and 4% are younger than five years – compared to 20% and 4% respectively in Ishka's October update.
Remarketing websites only capture a fraction of the total amount of aircraft available as larger lessors typically rely on in-house remarketing capabilities, and many aircraft are never advertised on publicly available listings. The breakdown of aircraft being actively remarketed via third-party sites is shown in the graphs below.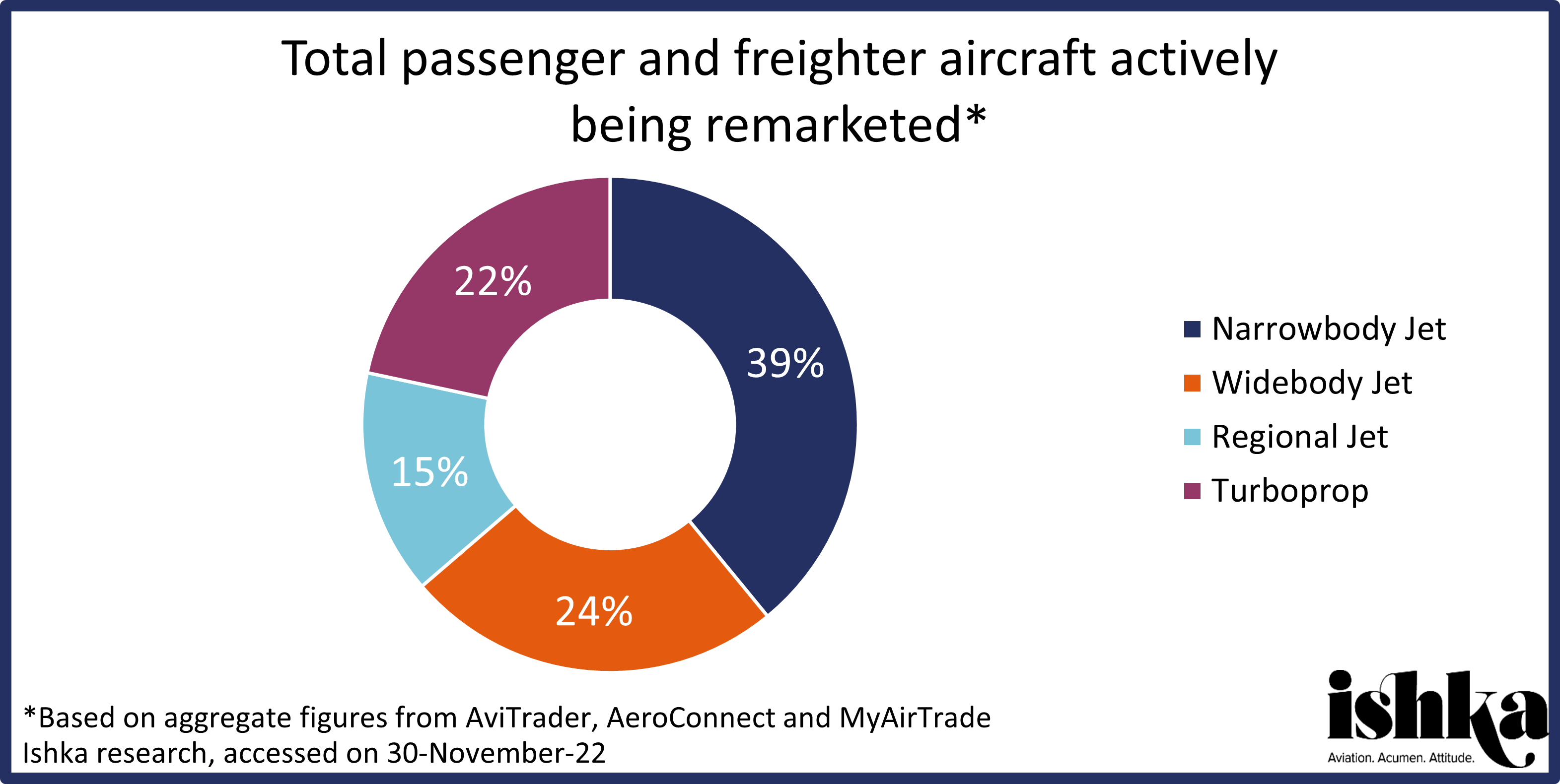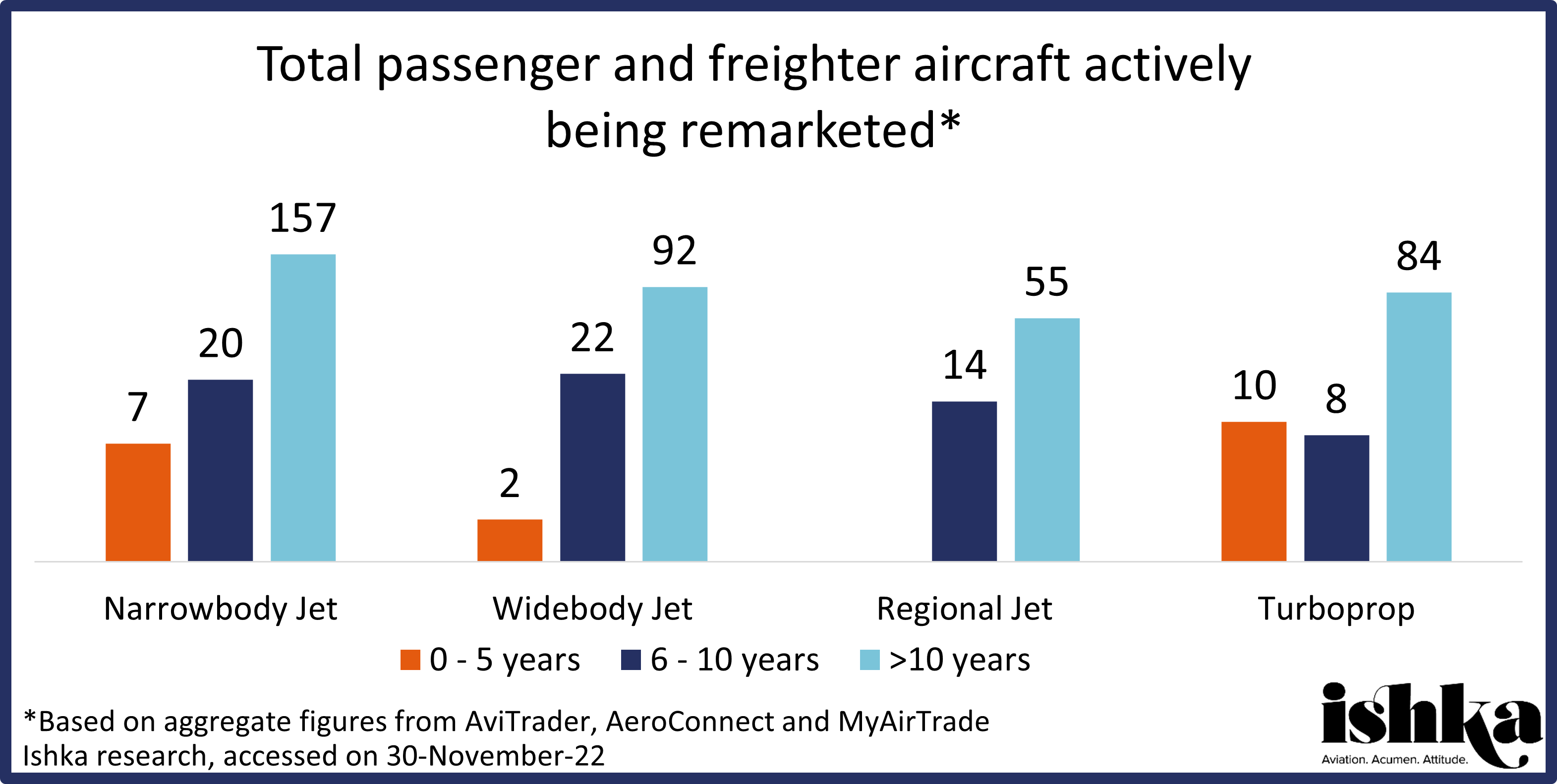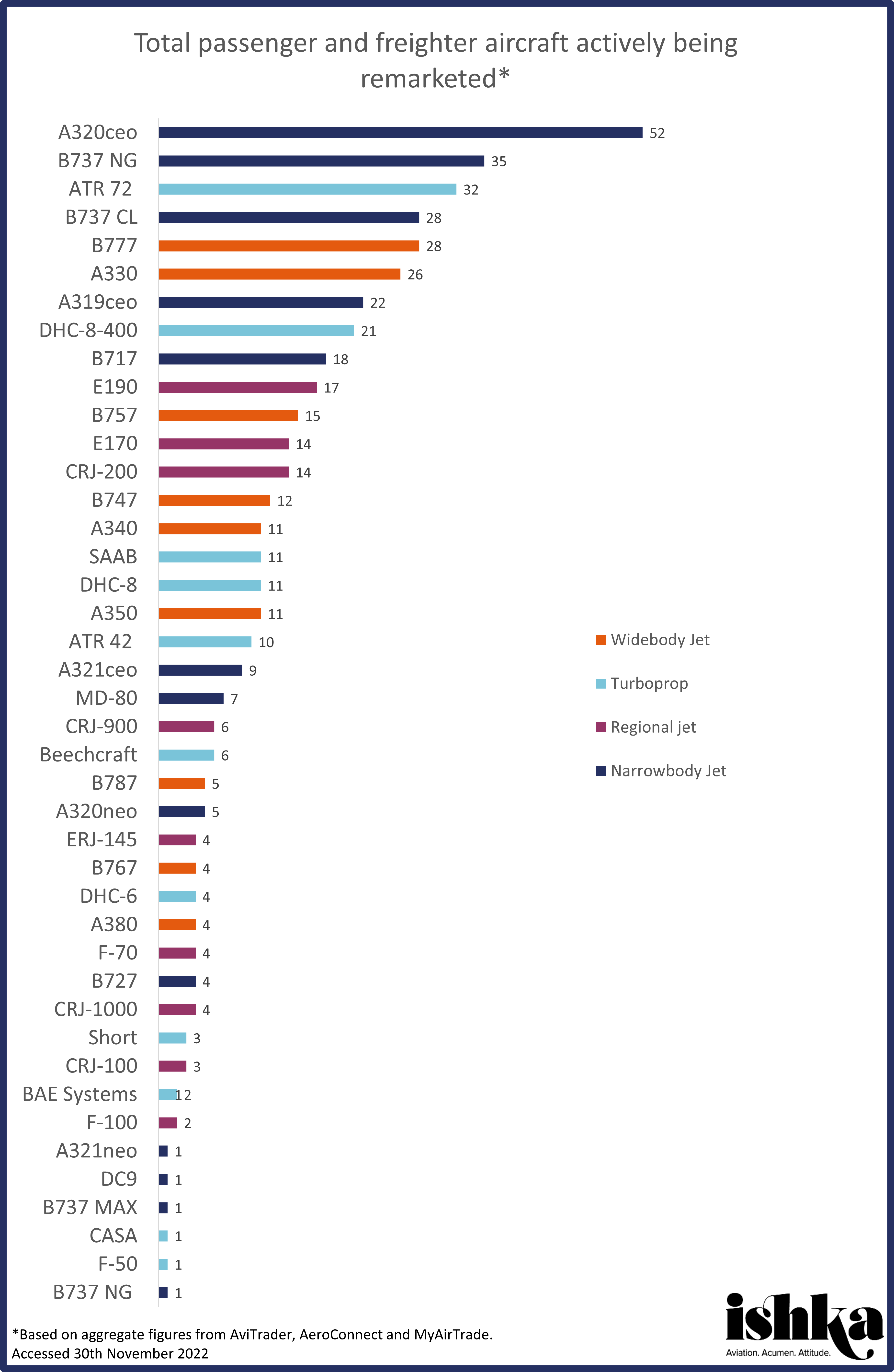 Stored aircraft plateau could be here to stay
The number of aircraft in storage has maintained its plateau, currently sitting at around 1400 above the estimated pre-pandemic level. Narrowbody aircraft continue to make up the largest portion of stored aircraft, with Airbus A320ceo family and Boeing 737 NGs being the most numerous. Unsurprisingly, given the continued grounding of the asset type in China, there are also a large number of Boeing 737 MAX aircraft in storage.
As previously noted in this series, an increased residual amount of Aircraft on Ground (AOG) is normal when coming out of a down cycle. Eddy Pieniazek, Ishka's Head of Advisory, notes a sustained supply/demand imbalance will be necessary to see these numbers change significantly. "It is going to take investment into airframes and engines to bring them back - and that will require a material improvement on demand and continuing levels of underproduction/delivery of new builds," comments Pieniazek.
There are also notably a substantial number – 146 – of A320neo family aircraft currently marked as stored. The operators of these aircraft are mostly Chinese, Indian, and Southeast Asian airlines. The Asia Pacific region continues to lag behind others in terms of its capacity recovery, with ongoing Chinese Covid restrictions well publicised.
Additionally, Indian carriers IndiGo and Go First have recently stated that supply chain issues, and engine scarcity in particular, have forced the grounding of parts of their A320 fleet. The two carriers between them account for 42 of the 43 Indian operated stored aircraft – the majority of which are leased. Indian media reports that the carriers are considering leasing options to fill capacity demands.
Go First is reportedly expecting to take delivery of additional Pratt and Whitney engines, which could help some of its aircraft return to operation. Separately, IndiGo has announced its intention to wet-lease three 777-300ER aircraft from Turkish Airlines for a year, in a partial relaxation of Indian aviation rules which usually restrict such leases to 6 months.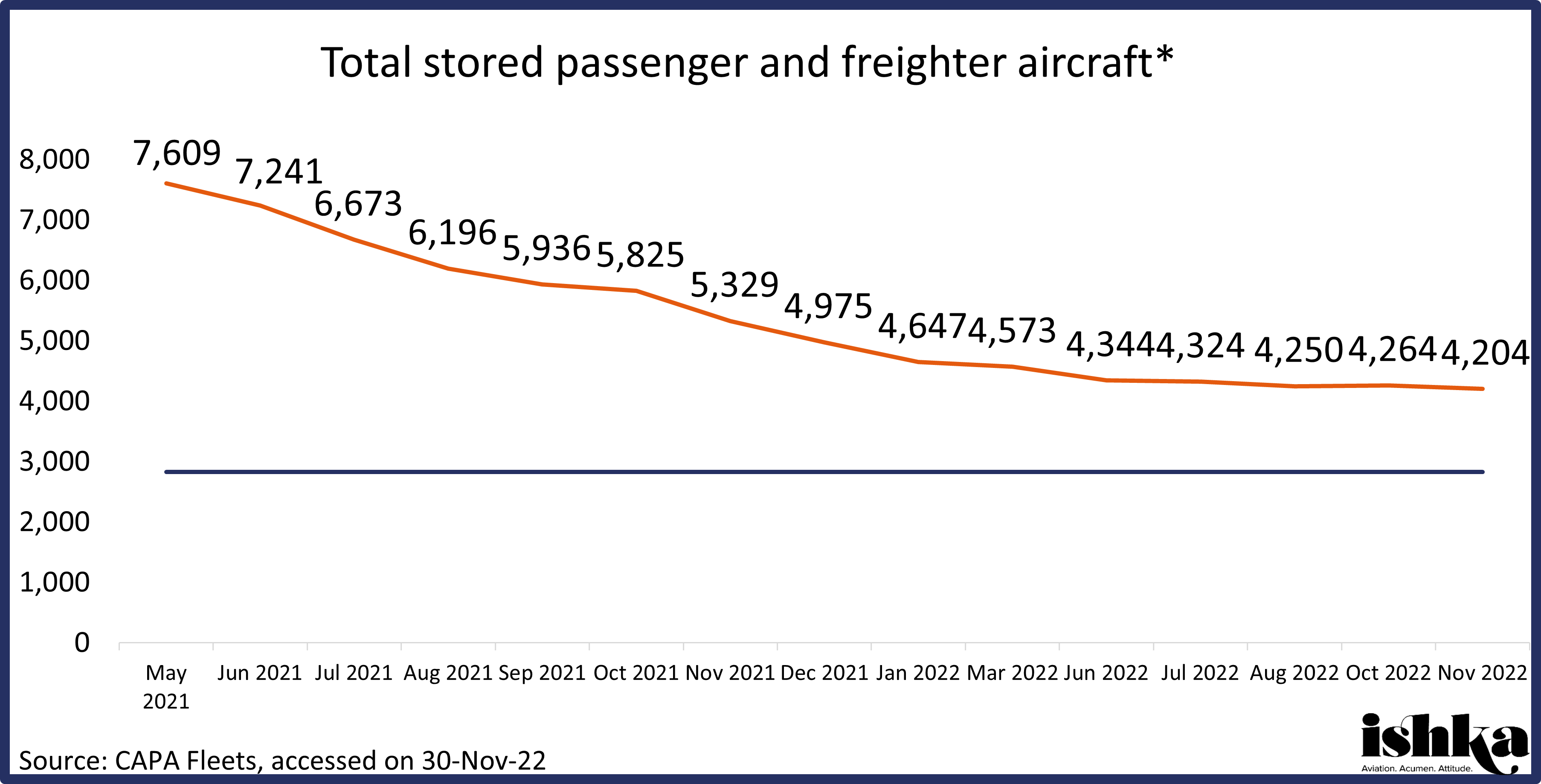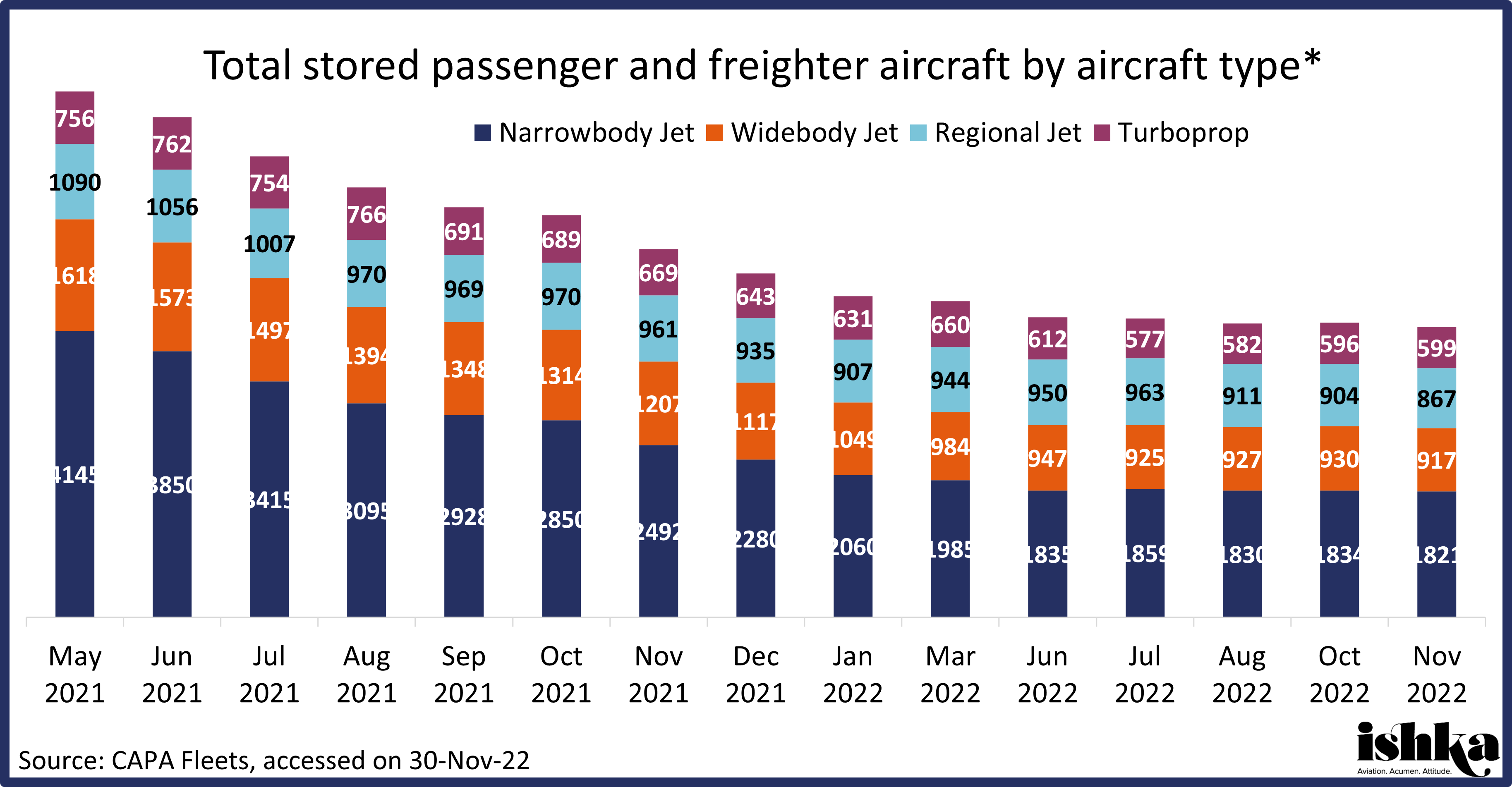 The Ishka View
The number of aircraft being taken out of storage has slowed this year compared to 2021, which suggests that operators and asset owners are avoiding maintenance repairs wherever possible and choosing to fulfil capacity requirements using in-service aircraft.
The costs and difficulty in obtaining timely MRO slots could also be playing a role in the decreased number of aircraft being actively remarketed. "The remarketing reduction might also be a function of some aircraft no longer being offered because they have been parked for so long now that major maintenance could be required before return to service," Pieniazek points out, adding that this extra expenditure could result in decreased appetite from buyers. In this case, the aircraft being actively remarketed might be only those immediately ready to fly.
Boeing confirmed last month that it had begun to remarket 737 MAX aircraft originally bound for China, due to the ongoing grounding of the type within the country. The manufacturer was not forthcoming with specific details, but expressed confidence in market desire to rehome the aircraft when necessary. Boeing had 138 Chinese MAX aircraft in inventory as of the end of October, but has previously stressed that the remarketing of those aircraft will occur gradually, as well as indicating that some of the inventoried engines could be repurposed for new built airframes in light of the engine shortage. Nonetheless, any additional entry of new-build aircraft into the market has the potential to have knock-on effects on the demand for aircraft in the secondary market.
Remarketing Watch Data Sheet December 2022
Click here, or on the image below, to download the data sheet.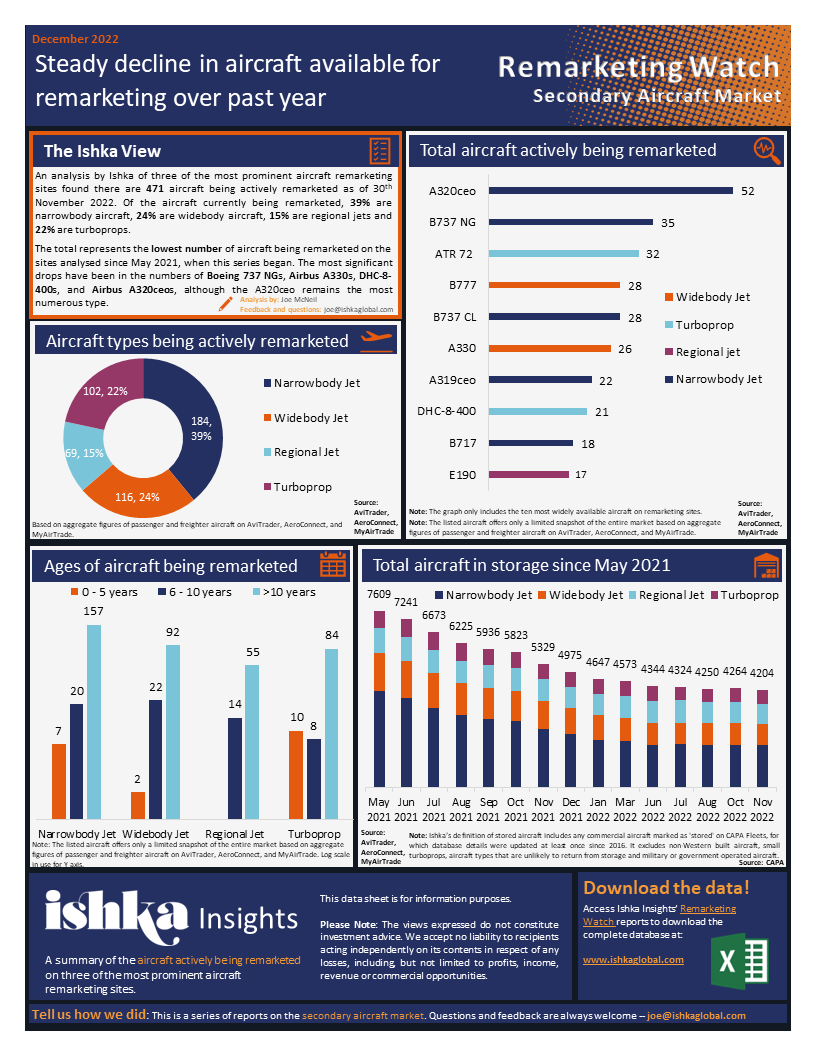 For more data sheets, visit the Insights Data Library